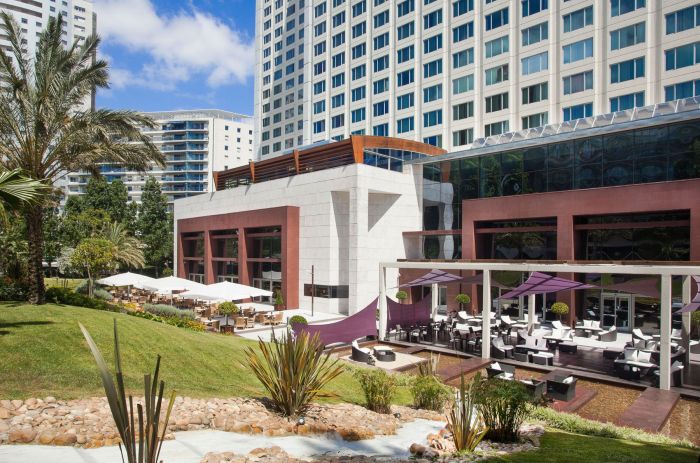 Photos Credit: Corinthia Lisbon
As the largest five-star hotel in Lisbon, the Corinthia has long attracted many corporate travelers and leisure guests. The building had been a hotel for more than 19 years before the Pisani family of Malta, founders of the brand, took it over in 2004. And while it had already gone through radical renovations to raise its status from four to five-star, it is doing so again. Last year they revitalized their Tempus Bar and lobby area, and this year, more rooms are being remodeled.
Of the many conveniences this luxury property offers, Corinthia Lisbon's location is one of its best assets. While removed from the noise and hubbub of everyday city life in Campolide, a metro station lies within a minute's walk with easy access to downtown Lisbon. It also sits close to the private Gulbenkian Museum and the Lisbon Zoo.
Of the 518 accommodations, 24 are suites which offer exclusive access to Executive Club facilities such as breakfast, canapés and drinks throughout the day. The lobby, renovated by London-based interior designers Goddard Littlefair, is spacious and well-lit. For its 10th anniversary celebrations last year, the hotel commissioned three local artists, whose creations now adorn its walls.
Inspired by his dreams, Diogo Navarro painted eight large imaginary landscapes of Lisbon in soft tones, Maria Antónia Santos contributed six paintings inspired by nature and Susana Bravo's images are of Portuguese lifestyles with enduring historical links.
Deep, lush carpets and rugs throughout are the work of Ferreira de Sá in northern Portugal while tooled leather panels, echoing the city's craftsmanship traditions, adorn the reception desk. With corporate clients providing most of its business, the hotel has developed a series of 18 meeting rooms on the first floor. With partitions fully open, the main meeting room, Floriana, can accommodate 850 people seated theater-style while the total conference area accommodates up to 1,400 people. There are also two boardrooms in the Sky Lounge on the 24th floor.
Not everything, however, at the Corinthia is work-related. Those seeking relaxation and physical fitness opportunities are well catered for through restaurants, the spa and gym. British-based Holmes Place manages the latter two on the second floor. The company, which was involved recently in a marathon Zumba workout for 9,000 Lisbonians, manages around 80 gyms, 18 in Portugal. Soon they will be launching a full series of classes at the hotel, including challenging anti-gravity workouts.
The spa itself features 17 treatment rooms, two of which are for couples, a heated indoor pool, and an Acqua area with hydrotherapy pool, Jacuzzi, sauna, steam bath, cold plunge, bucket shower, ice fountain, sensory showers and cooling walk. After exploring Lisbon, the spa's special World of Travel massage is a must to ease tired legs, back and shoulder muscles while you inhale natural relaxing oils.
The on-site Típico restaurant offers plenty of clear natural light from a complete floor-to-ceiling windows and hosts 350 people inside or outside on the terrace. The nearby chef's herb garden guarantees fresh seasoning as well. Típico offers both buffet and à la carte menus offering a gargantuan choice of more than 30 items, ranging from green cabbage soup with sautéed chorizo to red risotto with grilled grouper and traditional pork Cataplana, tenderloin and clams braised with white wine, onion, tomato and bell pepper. The rotisserie alone changes daily, such as leg of lamb on Mondays and orange-flavored roasted duck the next day.
All-in-all Corinthia Hotel Lisbon offers high-quality service and convenience to downtown Lisbon just outside the city's hustle and bustle.