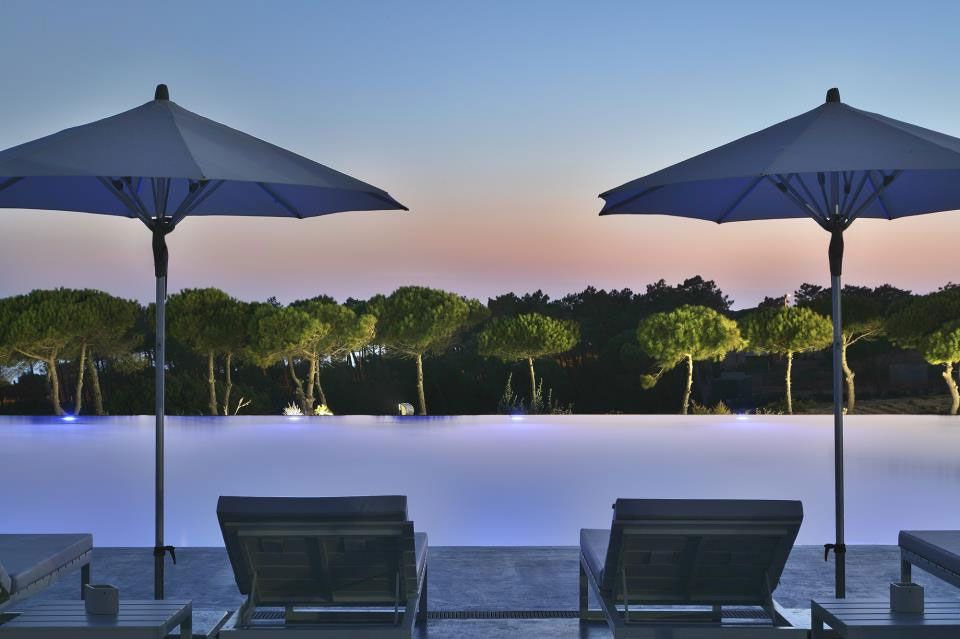 Photo Credit: The Oitavos
Having visited many hotels in many countries, I can easily attest to The Oitavos owning the widest corridors I have ever seen, with enough space to drive a car through. In fact, at a recent auto promotion event, that's exactly what happened, with organizers making full use of the hotel's extensive ground-floor, open plan. Which, in itself, is pretty cool.
Photo Credit: The Oitavos
This Y-shaped property was designed by architect and decorator José Anahory on the scenic Estoril coast. Located twenty minutes outside the Portuguese capital near Cascais, it boasts not only an Arthur Hills-designed championship golf course but also an equestrian center, a heliport, a 10-treatment-room holistic spa (using organic Voya products) with sauna, steam room and Jacuzzi, seawater indoor and outdoor swimming pools, eight tennis courts and a health and racquet club. This is set on the vast Champalimaud-owned Quinta da Marinha estate (four family members still work there).
Photo Credit: The Oitavos
This five-star hotel is ultra-modern in design, its gleaming glass and steel exterior shining like a clean-cut diamond in the midday sun. Its 142 rooms, including 16 deluxe suites, all feature floor-to-ceiling windows and private balconies, with a minimalist décor in shades of gray and white.
Photo Credit: Columbia Hillen
A not-to-be-missed experience during your stay is dinner at the Chef's Table inside the spacious kitchen. To say it was a highlight of our few nights there would be an understatement. The quality of both food and service from Chef Sebastian Fratye, pastry chef Joaquim de Sousa, mixologist Eduardo Alexandre and the rest of the team far exceeded our expectations. The main course was a 40-day matured Portuguese Black Angus steak accompanied by an aromatic Douro red wine from Vila Regia. The whole affair was over three hours long and concluded with a chocolate dessert that blooms like a flower right before your eyes.
Photo Credit: The Oitavos
If you don't manage to snag a box seat at the Chef's Table, the hotel's signature restaurant, The Ipsylon, is another great option. You can also venture over to the Atlantic Pool Bar, which offers casual indoor and outdoor seating or Les Herbes featuring a terrace surrounded by a garden of aromatic herbs. When it comes time to relax, the hotel boasts The Spa & Balneotherapy facility. We enjoyed a full-body massage using eucalyptus oils in one of the intimate couple's suite. The treatment is offered outside year-round, and during warm days, can be experienced outdoors among the sand dunes. In addition to its other activities, the property also hosts outdoor music concerts throughout the summer and a range of other events such as wine tastings.
Photo Credit: The Oitavos
Fancy staying in the middle of a golf course? The Oitavos also offers the 1,076-square-foot Forte villa, complete with private swimming pool, sundeck and personal butler service. The property also offers comprehensive facilities for conferences, its main meeting room accommodating up to 300 people, with several smaller rooms also available. Or can cater to personal events such as weddings, with space in its main ballroom for around 500 guests.