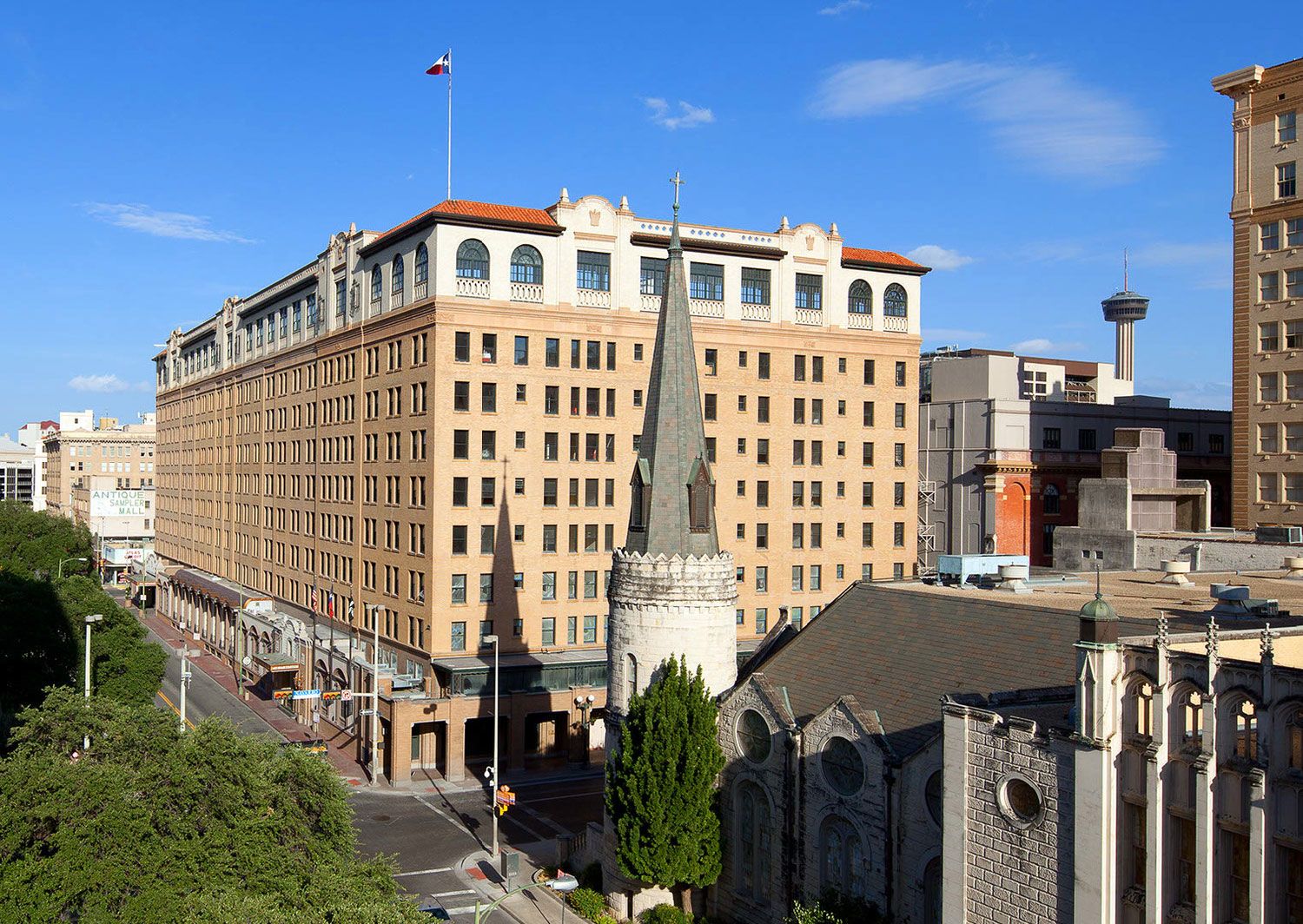 Photos Credit: St. Anthony Hotel (Exterior)
Recently restored, San Antonio's historic St. Anthony Hotel built in 1909, has long been known as "the Waldorf on the Prairie." The 10-story Luxury Collection property, which has played host to everyone from John Wayne and Grace Kelly, Eleanor Roosevelt, Goldie Hawn and a number of Texas governors and U.S. presidents, is a true American landmark. Located just a few blocks from the Alamo, it was a modern marvel when it first opened, with in-room telephones, private baths, doors which opened automatically, and electric lights that turned off when the guest locked their hotel room door.
Peacock Alley
The hotel's lobby, known as Peacock Alley, boasts 12-foot ceilings, French décor, gold leaf-topped columns and a sculpture garden showcasing works in marble and bronze. The property's 277 guest rooms and suites, were recently updated in a contemporary style, part of a multimillion-dollar renovation heralding its entry to The Luxury Collection.
Superior Suite
The most spacious room is the Superior Suite sitting at 830 square feet decorated in neutral color palettes and pops of green. Inside boasts a bedroom, dining table, mini bar, separate living room and a fully equipped workstation. The chic bedroom comes with a king size pillow-top mattress and 300 thread count Fili D'oro linens.
Loggia
The St. Anthony features six dining and drinking venues including the Loggia just off Peacock Alley where breakfast is served daily. The property's signature restaurant, ReBelle, serves cuisine which blends European techniques with bold flavor pairings. Plates can be served individually or shared in order to really get the best of everything the kitchen has to offer. Seafood is shipped overnight and farm-fresh produce is sourced from Texas' vast agricultural locales. Haunt is a great place for mingling with friends over drinks or catching a sports game with the boys. The playfully-named lounge's menu was created by famed local chef Stefan Bowers. Guests are also invite enjoy a drink from the poolside bar or take in sweeping views of downtown San Antonio while lingering on the St. A Sky Terrace and enjoying a beverage from the St. A Sky Lounge.
St. A Sky Terrace
Located nearby the hotel are also a bevvy of attractions such as The Tobin Center for the Performing Arts, the River Walk, San Antonio Museum of Art, AT&T Center, Tower of the Americas and plenty of retail shops. Check in with the concierge to discover some of the area's best-kept secrets, exquisite fine dining restaurants or how to score tickets to see the Spurs.
The St. Anthony Club
Once a members-only establishment, The St. Anthony Club is now open to all and transports guests back to the 1920's through its décor, live jazz and inspired cocktails. Open from 11 a.m. to midnight, it's become a favorite of locals and visitors alike.
Original Venetian Mosaic Tile
As part of the restoration work, museum-quality sculptures, original Venetian-tile mosaics, tapestries and murals were restored. A new book called Dusting Off a Legend: The St. Anthony Hotel, covers its rich history and new future in detail. Nowadays, The St. Anthony is a pleasant mix of vintage San Antonio and today's modern city.
The St. Anthony Hotel
300 East Travis Street
San Antonio, TX 78205
210.227.4392
TheStAnthonyHotel.com