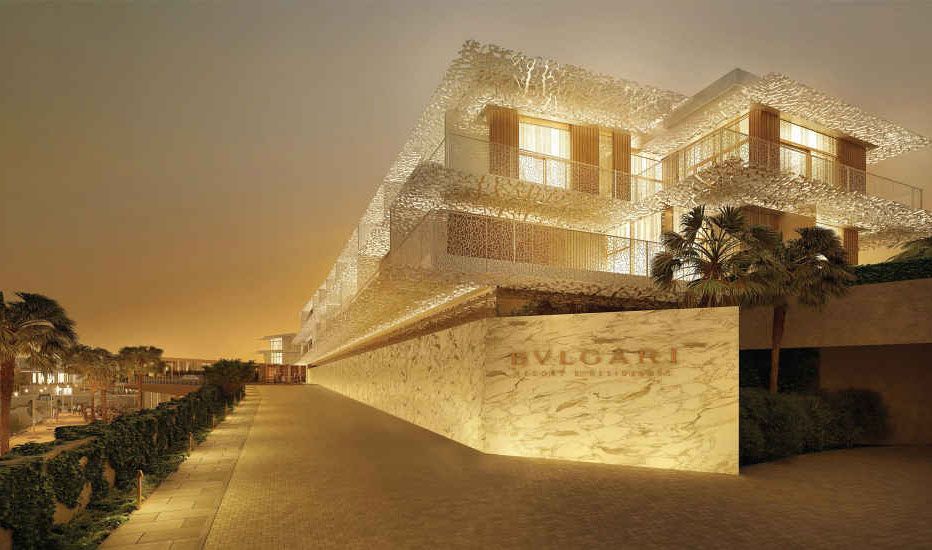 Photos Credit: Bulgari Hotels & Resorts
Lately it seems as if every time we turn around we're learning about a new hotel opening in Dubai. This time its Bulgari who is setting its sights on the Middle Eastern destination for 2017. The United Arab Emirates property will be the fashion brand's fifth hotel. The Italian jeweler already owns hotels in Milan, Bali and London, and will be opening its Shanghai property in early 2017.
The 1.7-million-square-foot Bulgari Dubai will be located on the exclusive Jumeirah Bay Island and will be designed by Italian architectural firm Antonio Citterio Patricia Viel and Partners. Focusing on a Middle Eastern-architectural style paired with Bulgari's Roman-palazzo finesse, the futuristic complex will be shaped like a titanic seahorse which utilizes a mix of rare and precious materials.
The hotel will offer a marina, 100 rooms and suites, 20 residential villas and will be surrounded by landscaped gardens. "We are delighted to launch this visionary project that will convey Bulgari's core values of contemporary design, magnificent craftsmanship and artistic detail," said Jean-Christophe Babin, President and Chief Executive Officer of Bulgari in a statement.
Although we only have renderings thus far, Bulgari's currently open properties have already proved to be drool-worthy hotels. So we can only imagine how glamorous Dubai will be; especially since the Middle Eastern city is already all about its over-the-top luxury.