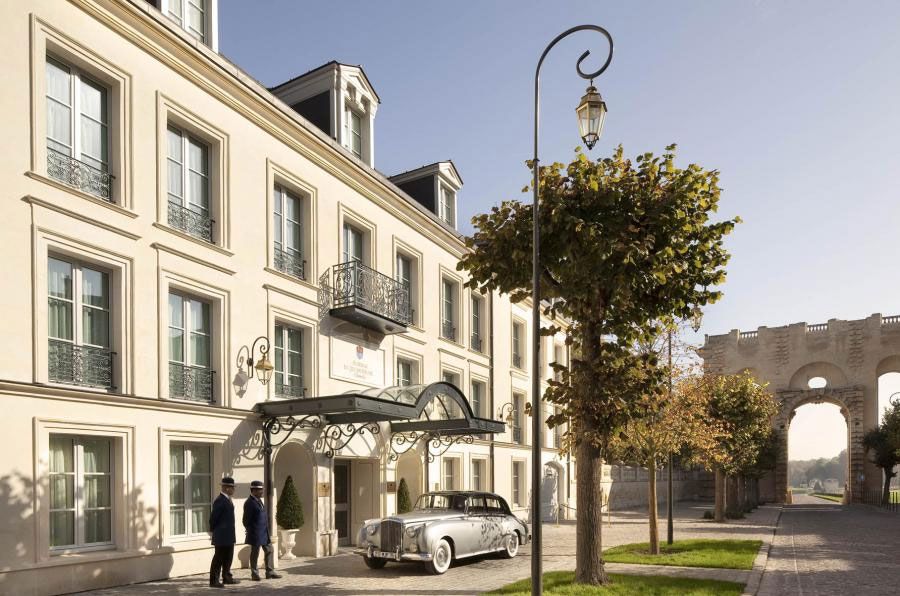 Photo Credit: Auberge Du Jeu de Paume
Located near Paris, the town of Chantilly in France is famous for its château, gardens and equestrian fame. One of the city's best hotels is Auberge Du Jeu de Paume, which sits just a few minute's walk from the Châteaux de Chantilly and its living horse museum and stables. The five-star Relais & Châteaux hotel combines the best of its historical location with modern amenities, 92 luxury accommodations and impressive gastronomy.
Photo Credit: Auberge Du Jeu de Paume
The latter is what makes this hotel really stand tall above the rest. La Table Du Connétable, the Michelin two-star restaurant on the property, is helmed by Chef Arnaud Faye. Chef Faye has worked in some of France's finest establishments and is the recipient of many culinary awards. He has garnered his two stars in only three years. What strikes you at first, is the glassed-in, demonstration kitchen where you can watch the chef and his team prepare each dish with razor focus—even using implements as fine as tweezers to deftly place final touches. What comes out of this kitchen is art.
Photo Credit: Michael Reiss
Servers literally run from the kitchen to ensure that the dishes will be served at their intended temperature. Dining room staff are attentive and anticipate your every need before you request it, without hovering. Following an amuse bouche, we dined on lobster smoked with hyssop, preserved melon, honey and lemon; potatoes and ossetra caviar with Fio di Latte and Tahitian lime broth; and Chanterelles mushrooms cooked with wine and wild garlic, and drizzled with foamy rice and Comté cheese. Dishes ranging from Dory fish to Arctic Char and a lamb course and selection of cheeses were all apart of the evening's fantastic selections.
The Wine Sommelier, Anthony, traded in a law career to pursue his lifelong passion for wine. He prides himself on finding boutique wines that reflect the character and personality of the terroir and maker. His pairing selections were spot-on, and provided an exciting match for the creative cuisine.
Photo Credit: Auberge Du Jeu de Paume
Although this is the hotel's main foodie attraction, the property also houses Le Jardin D'Hiver, an outstanding restaurant serving breakfast, lunch and dinner daily. Every aspect of the eatery is top notch, from the beautifully-set tables to the accommodating and professional maître d' and servers. With Champagne in hand, guests will find dishes such as Pâté en Croûte, Shellfish Risotto with Espelette Pepper and Cod Fish Grenobloise Style. Even on a Wednesday evening, the restaurant was full with diners spilling out onto the patio.
Photo Credit: Auberge Du Jeu de Paume
Aside from the delectable restaurants, the hotel's wellness center is also a treat. The center includes a spa, indoor swimming pool, fitness center and sauna. At Spa Valmont, try the signature treatment called the Thousand and One Chantilly. This includes a full body scrub, massage and a whipped cream body mask followed by a surprise snack topped with whipped cream to cap off a thoroughly relaxing and sensual experience.
Photo Credit: Auberge Du Jeu de Paume
Outside the property, The Domaine de Chantilly which includes the château and museum, is nearby. The museum is home to the second largest collection of antique paintings after the Louvre. The extensive gardens were designed by Le Notre who also designed the gardens of Versailles and the world-renowned Equestrian Center and Museum. Just 25 minutes by train from Paris, and 20 minutes to the Charles De Gaulle Airport, this serene location has become a perfect place to begin or end a trip to Paris.