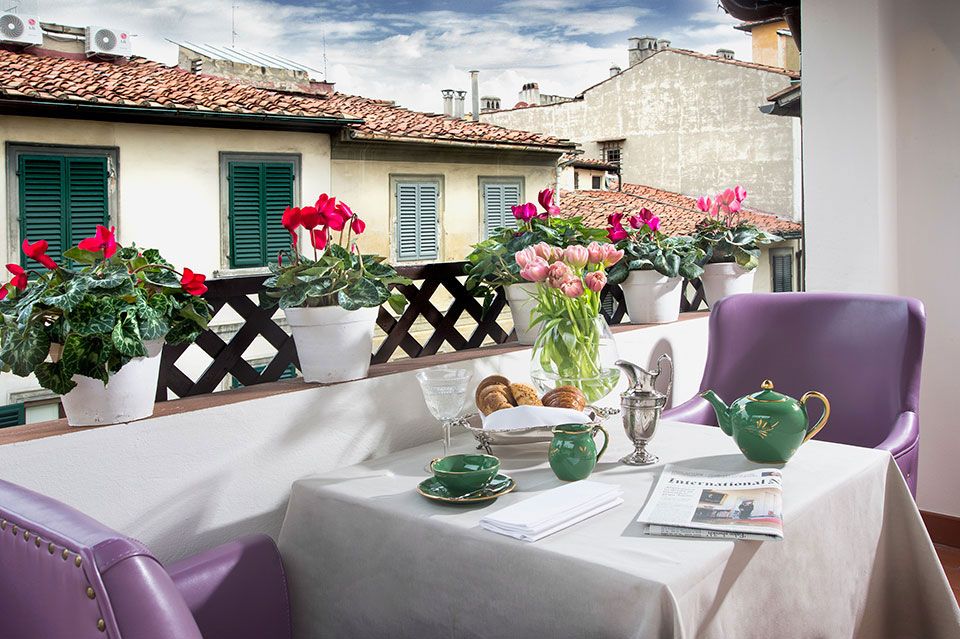 Photos Credit: Grand Amore Hotel & Spa
Blink, and it's easy to walk right past the Grand Amore Hotel & Spa, Florence's newest jewel of a property. There are no doormen, lines of luxury cars outside, or any of the other trappings of an upscale hotel. Instead, the slender entrance to Grand Amore is partially curtained, the hotel name engraved in small letters on the glass door. Even once inside, it's hard not to wonder if you're in the right place. The lobby doubles as a stylish café, but the concierge knows exactly who you are the minute you step in. And a glass of chilled Prosecco or cup of hot espresso is immediately proffered.
This 11-room hotel, which opened late last year, has a prime Florentine location, just a few minutes away from the Duomo. But as much as a draw as that it is, it's not what makes it a standout. What does is the fact that each guest is treated like a personal friend, which can only happen because of the intimate nature of the hotel. "We don't have a lot of rooms, so we like to know as much as we can about our guests," said Piergiorgio Cavallari, the Grand Amore's general manager; which is something of an understatement.
Before they arrive, guests are requested to fill in a form, outlining what they might enjoy as a pre-bedtime snack, which type of mattress they prefer (firm or soft) and if they'd rather foam or feather pillows. Then the Grand Amore's team of concierges, known as the "24/7 Crew," gets to work on personalizing the room as much as possible. One guest, who specified that her children enjoyed chess and classical music, found a Florentine glass chess set in the room, Chopin piped in through the sound system and a framed photograph of the family dog in the bathroom.
Another traveler, who professed an interest in all things Grace Kelly, inspired Cavallari and his team to create little black-and-white coasters of Kelly and other stars from a bygone era. Honeymooning couples may even find a gift-wrapped drawings of themselves. Each evening brings a surprise treat, spicy olives or chocolates, cognac or sparkling lemonade, courtesy of the hotel.
When we were shown to our room, I found a blank notebook on the bedside table, the cover a replicate of that of my first novel. There was a framed photograph of our terrier mix, Taffy, in the bathroom, a gift of Michaelangelo drawings for my husband, a chess set for my boys. When the concierges noticed my younger son folding random bits of paper into origami figures, they surprised him with a stack of colorful Japanese origami paper. After they saw how much my sons enjoyed the artisanal lemon soda they tasted on arrival, bottles of it waited for us in our room every evening.
The hotel's one-on-one concept also extends to the small spa on site, which is booked to accommodate only one guest at a time. Massages are open-ended. The masseuse works holistically to determine what the client needs so treatments can run as long as three hours, using a line of organic products called Biothai.
Cavallari said that the owners of the Grand Amore, are focusing on creating similarly-styled hotels in other metropolitan cities with the possibility of destinations in London and Paris. "It should feel like home," said Cavallari. "But with that sense of la dolce vita".
Upstairs, the suites have a modern luxurious design with plush burgundy, charcoal or salmon velvet headboards contrasting the hardwood floors. Pale lavender walls feature vintage black and white photography. The bathrooms are outfitted in white Italian marble and come with Acqua di Parma toiletries, in their distinctive canary yellow packaging. The top floor of the four-story property features two rooms, intended for a family or two couples, each with a king sized bed and united by a wraparound terrace. Only those staying there can access it.
The Grand Amore is also one of a small (but growing) clutch of international luxury hotels that are no longer charging for phone calls made from the room. The VOIP technology installed on the property allows guests to make all local and international calls free of charge. "In an era of Skype and FaceTime, it's a fair thing to offer," said Cavallari. Breakfast is also included, either in the cozy Cuoro Café Bistro downstairs, with its distinctive lilac-colored furniture, or delivered gratis to the room.
"Our whole motto here is we don't like to say 'No'," said Cavallari. "We want our guests to feel like they are in their own home." Anyone who has experienced this property knows that that is exactly what is felt.