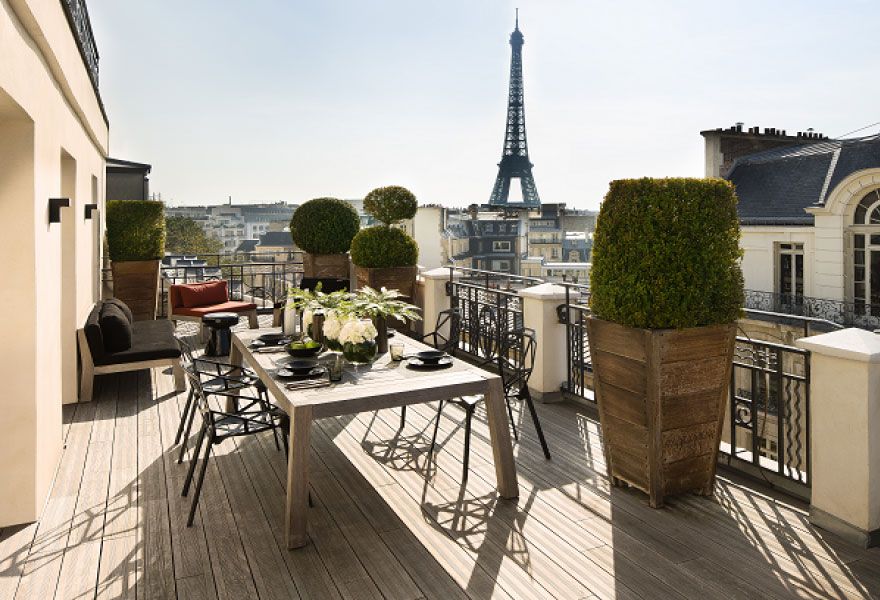 Photo Credit: Hotel Marignan Élysées Paris
Home to some of fashion's most over-the-top flagship boutiques, Paris' Champs-Élysées and Golden Triangle district is also one of the city's most-touristed neighborhoods. In this setting, two newly-renovated luxury hotels—one contemporary, one classic—are adding more prestige to the area and offering visitors a chance to experience the City of Lights without getting lost in the crowds.
Photo Credit: Hotel Marignan Élysées Paris
Hotel Marignan Élysées Paris
Like a hidden gem just waiting to be discovered, this discreet Hotel Marignan Élysées Paris is tucked away on the sleepy rue de Marignan, just steps from the main thoroughfare of the Champs-Élysées. The building dates back to the 19th century, when it was originally a private residence. After World War I, it became the embassy of Poland before being converted into the luxe Élysées Palace Hotel in 1925.
Its current owners purchased the property in 2004, and in 2010, it underwent a top-to-bottom refurbishment courtesy of owner Natalie Richard and Parisian interior designer extraordinaire, Pierre Yovanovitch. Its façade is now a monolith of muted black stone on the first two floors with a glass canopy over the entrance. The upper floors are a more classic white-stone, Art-Deco style in keeping with the hotel's distinguished past.
Photo Credit: Hotel Marignan Élysées Paris
The lobby has been pared down with a sleek but whimsical look that includes black-and-white, geometric-tiled floors, brightly-colored banquettes and chairs, and pieces of art from the Richard family collection. To one side, fronting the street, is the small bar where a lively crowd accumulates for after-work aperitifs accompanied by little nibbles. There are any number of curving white-leather benches and fanciful teddy-bear-like armchairs to choose from as you grab an art book from the shelf to flip through while you sip a Kir Royale cocktail.
The previous reception area is now the small dining room of Canopée restaurant, which feels like an Edwardian greenhouse thanks to a large skylight, a wall of plants, fanciful murals and grass-green carpeting and banquettes. Take the sweeping, original grand staircase with illumination-like hand-painted quotes and verses on the undersides of the steps as you spiral around the building's core to the rooms upstairs.
Photo Credit: Hotel Marignan Élysées Paris
There are just 45 rooms and five suites, each an intimate but chic pied-à-terre. Linens and soft furnishings are in a muted palette of taupe, cream and gray, with a splash of gold and blue here and there, while the occasional touch of wood paneling is fine-grained and blond-toned. A welcome relief from the bustle of the city outside. The hypo-allergenic linens, complimentary non-alcoholic minibar and free Wi-Fi are also appreciated.
The bathrooms, a notorious weak spot in many Parisian hotels, feels contemporary and clean thanks to black-stone countertops and sand-hued marble finishes, not to mention the Clarins products they are stocked with. In the duplex rooms, the bath suite is on the second floor while the bed and a little powder room occupy the ground floor, making for a little extra privacy for folks traveling together. For special occasions, be sure to book the Suite Terrace Eiffel on the hotel's seventh floor for picture-perfect views of Paris' famed tower from the expansive deck.
Photo Credit: Hotel Napoleon
Hotel Napoleon
Just a short walk away, but at the other end of the design spectrum, you will find the Hotel Napoleon, fittingly just a mere block from the massive Arc de Triomphe. Whereas the Marignan is all about contemporary cool, Hotel Napoleon's newly-refreshed look (it reopened earlier this year) is all about classic grandeur and elegance with touches that harken back to the days of the Little Emperor himself, including classic prints and lithographs of the monarch and his circle of contemporaries.
Photo Credit: Hotel Napoleon
Even the story of the hotel has a whiff of history and romance to it. The hotel was originally built in the 1920s and hosted luminaries including Orson Welles and Errol Flynn. At one point, a wealthy Russian industrialist bought it as a wedding present for his young Parisian bride. How could you not want to stay here after learning that story?
The lobby feels like a classic European luxury hotel with frock-coated doormen waiting to take your luggage and lead you to the oversize reception desk. Across the way is the wood-paneled Bivouac Café, a playful take on Napoleon's military exploits, where there is a bar and plenty of little private tables for entertaining guests and enjoying a meal of nouvelle French.
Photo Credit: Hotel Napoleon
Built around a central staircase, half the rooms along the hushed hallways here (the wallpaper resembles the siding of a campaign field tent, another nod to the eponymous Napoleon) face Avenue de Friedland and half face a quiet inner courtyard livened up by window boxes of flowers. Request a room on the top floor for jaw-dropping views of the Arc de Triomphe and even all the way to the Eiffel Tower in the distance.
Photo Credit: Hotel Napoleon
The 51 rooms and 51 suites are all about plush profusion with gold-and jewel-toned curtains and bed canopies, brass light fixtures, classic striped wallpaper, velvet and chenille divans and armchairs, and dark-wood beds and furnishings. Bathrooms are all in marble and wood, featuring separate showers and tubs, a rarity in Paris, as well as L'Occitaine products. For those who want a touch of the modern, though, there are also iPod docks and complimentary Wi-Fi to keep you connected and charged. Speaking of staying charged, there's also a small fitness center on the top floor in case all that walking and sightseeing isn't enough to work off the rich meals that any stay in Paris is sure to include.