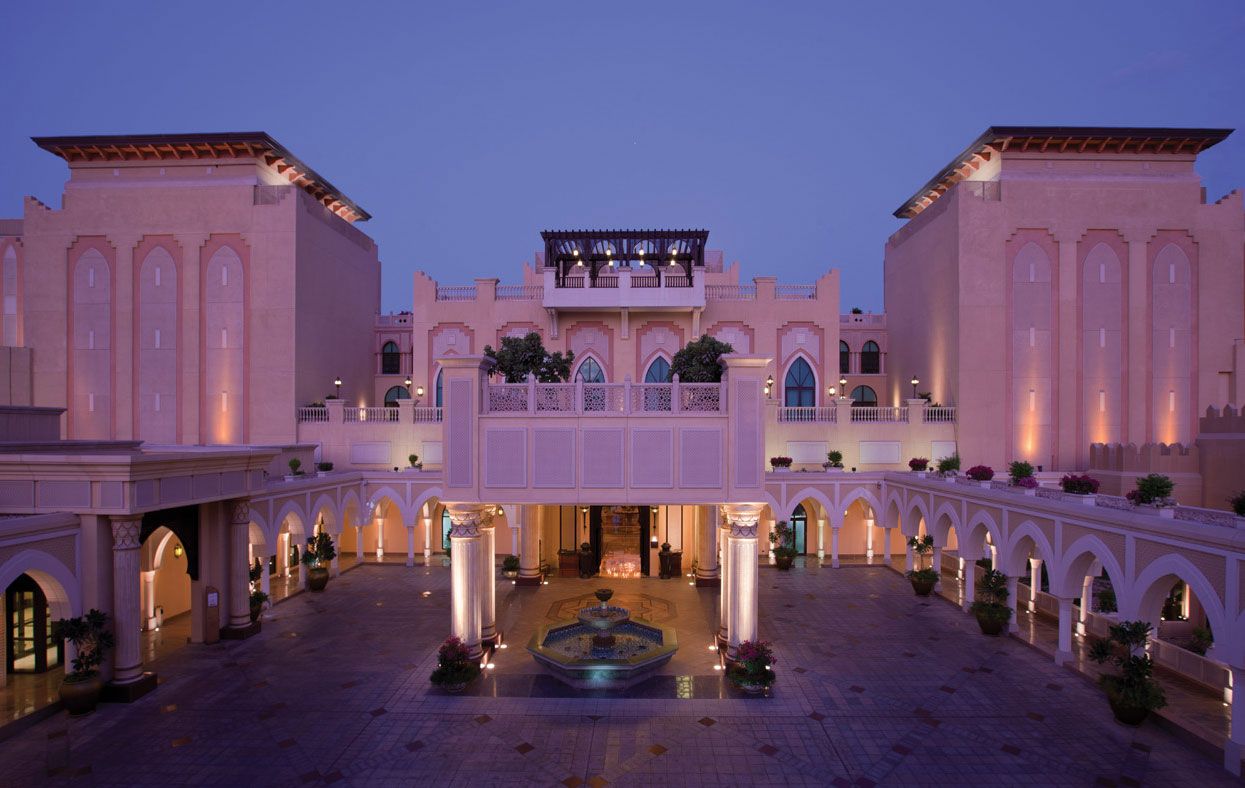 Photo Credit: Shangri-La Hotel Qaryat Al Beri, Abu Dhabi
Although often overshadowed by its flashier and cosmopolitan neighbor Dubai, Abu Dhabi is very much an appealing destination. The capital of the United Arab Emirates, it is a majestic, modern island situated in the Persian Gulf. Its gleaming white Sheikh Zayed Grand Mosque can accommodate 40,000 worshippers, and the Emirates Palace hosts dozens of operas and concerts within its 114 domes. I recently paid a visit to the Middle Eastern city to explore its rich region, as well as one of its most prestigious properties, the Shangri-La Hotel Qaryat Al Beri. 
The hotel could not have found a better address amid Abu Dhabi's expanding areas. The international airport, convention center, and a notable golf course are less than a 10-minute drive away. Top tourist attractions such as Ferrari World and Yas Waterworld are also nearby. Traditional Middle Eastern gondolas called Abras float passengers along an almost 2,300-foot waterway from the hotel to a traditional Arabic market, a souq, and many bustling restaurants.
What is most compelling, however, is Shangri-La's direct view of the Sheikh Zayed Grand Mosque from the shores of its white sand beaches or from the edge of its infinity pool. Inside the hotel, the visuals are just as pleasing. Every Shangri-La hotel I've visited has an unmatched and detailed approach to design. From the daily floral displays that perch like art works in vases to chandeliers that fall like water from the ceiling, the brand always showcases a commitment to aesthetics.
The property was designed by Wilson Associates, a global powerhouse of hospitality designers with dozens of praised hotels to the firm's name, such as Dubai's Atlantis and Armani hotels. Instead of its usual Asian design, this Shangri-La property is rich with Arab appeal, dripping in warm red, beige, and gold motifs, artwork, marble, and soaring archways. Had it not been evident that the property operated as a hotel, I could have easily surmised I was staying at a sheikh's palace.
Catering to tourists and locals of every type, the dining options are vast and enthralling. Sofra bld, the hotel's all-day dining restaurant, seemingly occupies the entire bottom level of the property and is an impressive buffet-style establishment. Arab, Chinese, Indian, Vietnamese, and international stations are manned by dozens of attentive staff. I was fortunate to try the Friday Brunch, well-regarded by locals, for it is a connoisseur's delight. It includes Moroccan tagine, sashimi, rotisserie and carvery, and three gushing chocolate fountains. Bord Eau, noted as the city's top French restaurant, is outstanding, as well as Michelin Star Chef Sergi Arola's p&c restaurant which features Catalonian tapas. Hoi An, the traditional Vietnamese restaurant, tempts guests daily with its sunset menu, and Shang Palace, the signature restaurant found at each Shangri-La property, consistently presents excellent Cantonese dishes.
Another hallmark of the brand are its CHI spas. While most have the sheen of opulence, CHI, The Spa at Shangri-La, is more sedated with a quiet attention to mindfulness. This is reflected in its dark, rich décor with slate flooring and cherry wood paneling. The spa is committed to the belief that "chi" must flow freely within the body. The Arabian Date Body Wrap, a scrumptious full-body enclosure of dates, coconut milk, almond and vanilla is a must-do. It is best followed by the Arabic Coffee Scrub, another full-body treatment both robust and invigorating.
Abu Dhabi is attracts a record-breaking number of visitors each year and is expected to do the same again for 2015. Fit for a sheikh and the well-heeled, the Shangri-La Hotel Qaryat Al Beri is a splendid sojourn in the modern capital.