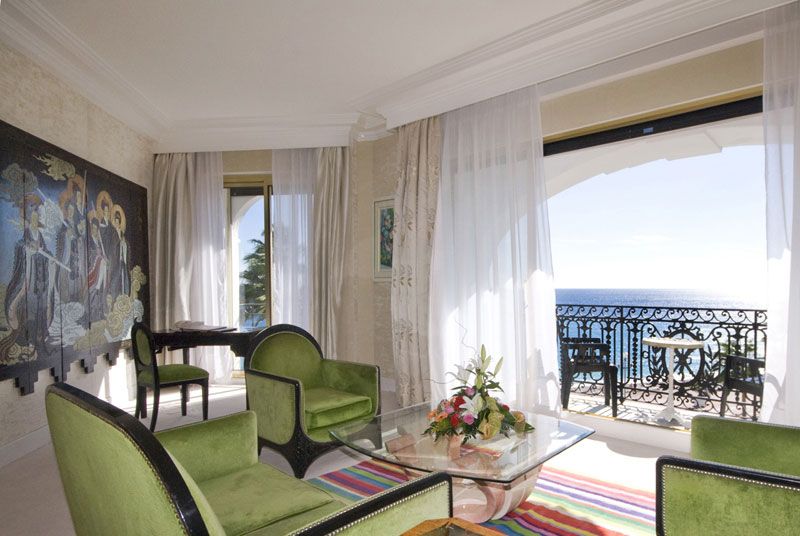 Photo Credit: Le Negresco
With its striking rose-colored cupola and dazzling white Belle Époque façade, Le Negresco stands out like a beacon on the wide, beachfront Promenade des Anglais of Nice. Tall and proud, clasped between the sweeping Baie des Anges (Bay of Angels) in front and Mont Boron behind, this classic, century-old property occupies one of the most scenic locations on the French Riviera. It is little wonder celebrities of all kinds from dancer Isadora Duncan to the Beatles once wandered its halls seeking entertainment, inspiration and relaxation. Even today, sipping on 1930s-style cocktails surrounded by sumptuous period furnishings, you sense the shadow of their presence.
Photo Credit: Le Negresco
Due to its age—the property was built in 1913 by Romanian emigrant Henri Negrescu, and the staff's quaint 18th century-style uniforms—we half-expected it to be decidedly staid. However, that was not the case. As you enter the spacious lobby, passing a speckled marble staircase on one side and a vintage elevator on the other, a large rotunda provides further evidence of the owner's eclectic tastes. Hanging from the high dome is a splendid chandelier composed of 16,800 separate pieces of Baccarat crystal initially commissioned by Czar Nicholas II. It remained undelivered, however, due to the October revolution, and its twin now sits in the Kremlin. Take time to admire the Art Nouveau cupola beneath which is a private art collection so diverse you almost feel like you're staying in a museum.
Photo Credit: Le Negresco
The property features large-size portraits of historical luminaries like Emperor Napoleon, Empress Eugenie and Louis XV as well as 17th century Italian baroque chairs and modern eclectic works. Paul Pacotto's rotating works, which create dazzling visual transformations through the interplay of light and shadow, are mesmerizing. Jeanne Augier, owner of Le Negrescu since 1957, lives on the 6th floor, and has meticulously supervised the over 6,000 piece-collection which spans five centuries.
Photo Credit: Columbia Hillen
Prints by Salvador Dalí line the walls which led to our guestroom as well as a photograph showing the famed artist in conversation with Augier herself. Our room, one of 117 in the hotel, featured art deco wardrobes, an intricate, marquetry-style wooden writing desk and vibrant, red Louis XV style chairs. Candy-striped wallpaper in the bathroom contrasts vividly with the overall neutral tones of the room, another mark of Augier's style, which seems to pay more attention to overall aesthetics than to stylistic period. A clawfoot tub, double sink and panoramic views over the bay complete the space.
Our stay at Le Negresco was capped by two particularly memorable experiences: a cozy evening of soothing piano music and cocktails at Le Relais Bar and a lunch at the bright and cheery La Rotonde restaurant.
Photo Credit: Le Negresco
With its high ceiling, walnut wood paneling and cozy armchairs, the atmosphere of Le Relais Bar is reminiscent of an English countryside manor or a private gentlemen's club in 19th century London. As the British community originally financed the city's early tourism development, the choice of ambiance seems most appropriate. A large tapestry dating from 1683 decorates the room while portraits in old gilded wooden frames line the walls. Boasting such quirky details as an upper wood balcony, a crystal whisky fountain and a bronze bust of Joan of Arc, it is not surprising that director Woody Allen chose Le Relais Bar for scenes in Magic in the Moonlight. The bar offers varied cocktails divided into themes such as One Cocktail One Époque or One Barman One Cocktail.
Photo Credit: Le Negresco
La Rotonde's kaleidoscope of color is in marked contrast to the more sedate Le Relais Bar. Here, the duck foie gras with a chutney of kiwi and mango is a pure classic French pleasure to enjoy. Follow this with a dish of young cockerel prepared by Chef Jean-Denis Rieubland, who also runs the hotel's Michelin-star Le Chantecler restaurant. Try a surreal-looking cube of chocolate, painted gold and filled with white chocolate mousse supported by two chocolate sable biscuits resembling the walls of delicate lace.
Photo Credit: Le Negresco
Boasting an enticing Belle Epoque style and diverse artwork spanning five centuries, Le Negresco provides a treasure chest of nostalgic creativity. With an eye on continued improvements—35 rooms have recently been renovated—it is an a even more alluring place to stay.