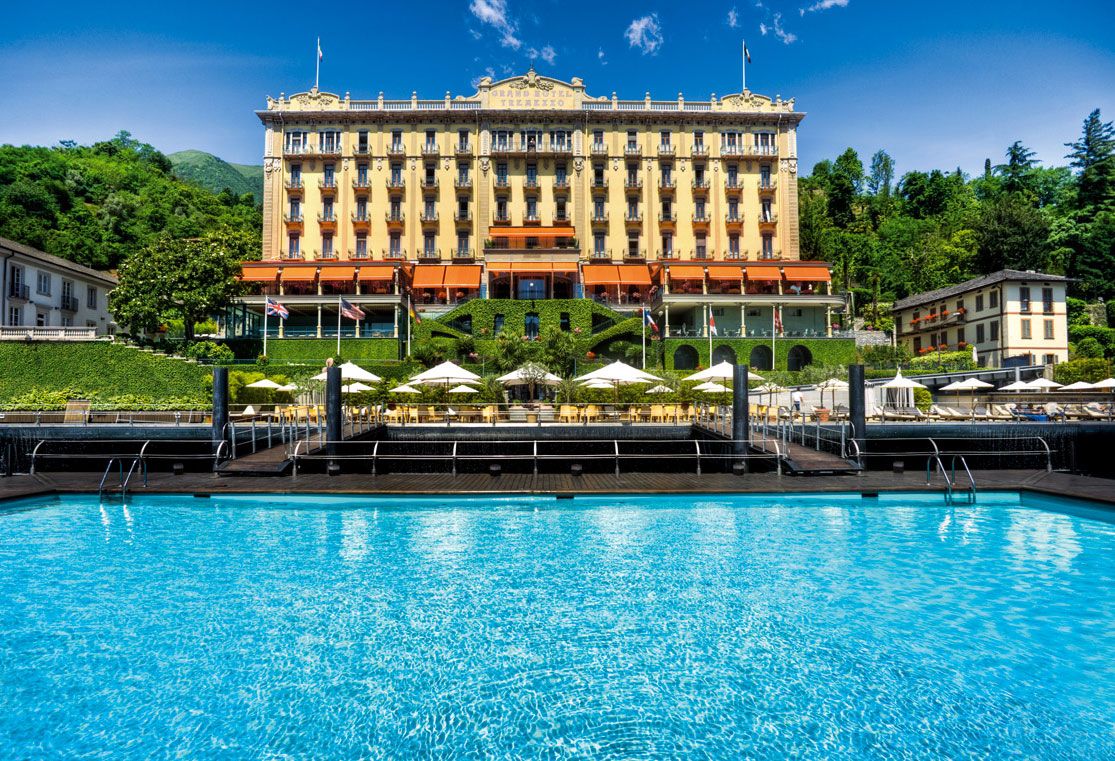 Photos Credit: Grand Hotel Tremezzo
Twin sweeping stone entrance stairways hug either side of at Grand Hotel Tremezzo, and a vintage walnut-paneled elevator offers panoramic views over Lake Como, making your arrival to the five-star property nothing less than enchanting. The immediate sense of romantic, old world charm is fully realized as the elevator doors slide open on to the second floor lobby.
The reception area is decorated with paintings, decorative ceilings, red velvet sofas, elegant curtains and glistening marble floor and pillars. This 76-room, 14-suite hotel is the grand dame of this rugged region of northern Italy, with an illustrious history dating back to 1910. Then, Europe's elites were in the habit of embarking on annual months-long European grand tours, and the hotel attracted wealthy guests from all over the world. During the First World War it was turned into a military hospital, before being purchased by the Sampietro family in the 1930s, who returned it to its celebrity-approved status. Among its guests was actress Greta Garbo who now has a suite named in her honor, Number 113.
Last year, owner and CEO Valentina De Santis supervised a multi-million euro renovation which included updates to the suites and the transformation of the 18th century Villa Emilia into the new 10,763-square-foot T Spa operated in partnership with ESPA-UK. The facility was designed by studio Venelli Kramer who were also responsible for the rooftop suites and the indoors infinity pool. The three-floor complex is comprised of five treatment rooms with warm wooden cladding, teak timber floors, handcrafted wood furnishings made by Italian artisan workshops, a Hamman and nail bar.
Our room featured soft cotton, silks and velvets in turquoise tones, framed oval-shaped sketches and an attractive rococo-style bed board that made you feel like you were stepping back in time. The open-air balcony, large enough for two chairs, looks out onto the Grigne Mountains and the town of Bellagio, known as the Pearl of Lake Como.
A buffet breakfast is served in the glass-fronted La Terrazza facing the lake, and comes with items such as six types of honey, local cheeses and meats and five types of teas, ranging from Lapsang Souchong to white. There is also a chef on-hand to prepare made-to-order eggs. Under the direction of Italian chef, Gualtiero Marchesi and Executive Chef, Osvaldo Presazzi, the dinner menu at La Terazza is wide-ranging with more than 30 choices available. The L'Escale Fondue and Wine Bar is a more informal option, and weather permitting, pizza is served in the garden while barbecues take place on the lakeshore beach. The T bar is a candle-lit lounge perfect for sunset-watching cocktails or seeing moonlight glistening on the water with a basil mojito.
In terms of activities, aside from its spa, gym and swimming pools, the hotel also organizes art classes, lake excursions on its restored 1961 Venetian Lancia motor boat and yoga sessions. Tennis lovers have access to the clay court just beyond the outdoor heated pool. The garden itself is worth noting, consisting of over 215,000 square feet of bosky pathways, topiary and crew-cut vines. Traipsing along its main pathway up a hillside you'll be rewarded with wonderful lake views and a meeting with Bobo the Bear, the hotel's mascot gazing serenely over his domain.
The Grand Hotel Tremezzo provides a central location for short trips around the lake with a rental car. We drove to the town of Donga, to visit a little war museum focusing on the intriguing capture of Italian Fascist leader Benito Mussolini at the end of the Second World War and crossed the lake to the quaint town of Bellagio for some shopping.
The service at Grand Hotel Tremezzo is efficient, warm and personable, and staff seemed to remember the names of all guests. In turn, handwritten cards were delivered with nightly turn-down service, a nod to the property's sense of hospitality. It's clear why the property is a favorite among locals and guests alike.