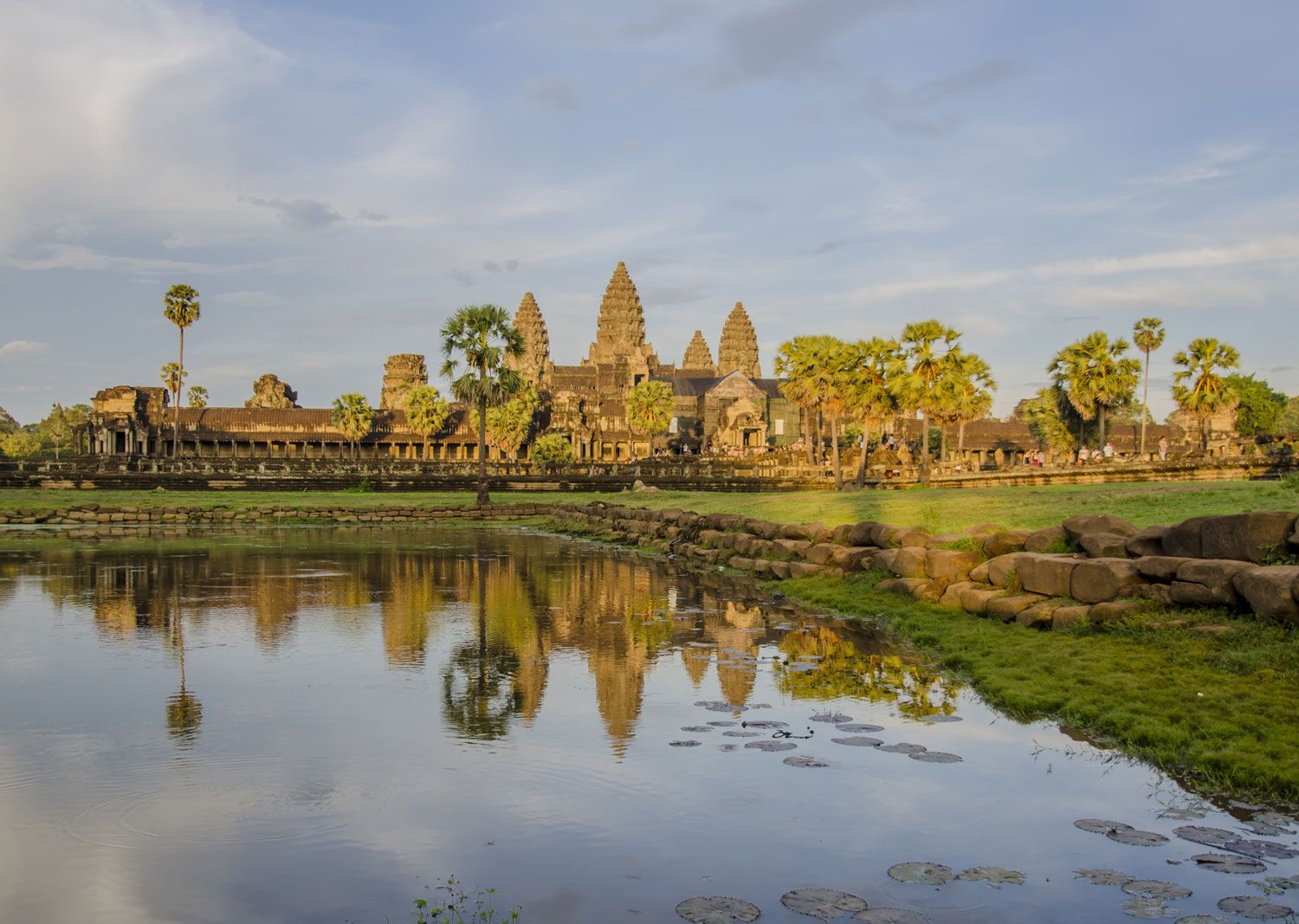 Photo Courtesy of Shutterstock.com
The Angkor Archaeological Park is a place that will take your breath away. The ancient site near the charming town of Siem Reap, Cambodia spans roughly 250 square miles. It is home to the picturesque remains of capitals and temples of the Khmer Empire, which ruled between the night and 15th centuries.
You don't have to be a history buff to fall in love with the UNESCO World Heritage-listed Angkor Archaeological Park, because the famed sites of Angkor Wat, Angkor Thom, the Bayon Temple, and countless other ruins will transport you back in time without much effort. It's a place to explore, discover, and admire some of Southeast Asia's most important years.
There's no doubt that every traveler should visit the Angkor Archaeological Park in their lifetime, but once you've put it on your bucket list, the question of where to stay remains. The nearby town of Siem Reap is home to a number of unique shops, award-winning dining options, and a selection of luxury hotels that will truly make you feel like you've traveled to another time and place. These five properties to stay near the Angkor complex will help create a Southeast Asian experience you'll never forget:
Photo Credit: Sofitel Angkor Phokeethra Golf and Spa
Sofitel Angkor Phokeethra Golf and Spa Resort
Experience the infectious charm of Cambodia just minutes from Angkor at the Sofitel Angkor Phokeethra Golf and Spa Resort. The luxury resort's well-manicured gardens, lavish swimming pool, and lagoon sit just below elegant guestrooms decorated with white linens, wooden floors, and local Cambodian silks. The resort's on-site spa and championship golf course are ideal places to unwind before or after exploring the area known as the largest religious monument in the world.
Photo Credit: Siddharta Boutique Hotel
Siddharta Boutique Hotel
Seeking a more modest Cambodian getaway that still offers high-end amenities? The Siddharta Boutique Hotel Siem Reap is a quaint yet accommodating option. This charming boutique hotel features a number of deluxe rooms with balconies overlooking the pool (or gardens) as well as a daily turndown service, free in-room wireless internet access, complimentary coffee and tea facilities, flatscreen LCD TVs, and contemporary Cambodian appointments that make you feel at home in this faraway place.
Photo Credit: Le Méridien Angkor
Le Méridien Angkor
Travelers who want to relax in the lap of luxury after exploring the ancient temples will find themselves never wanting to leave Le Méridien Angkor. This luxury resort combines subtle Cambodian styles with sophisticated European design to create an atmosphere that encourages you to unwind. An Asian-inspired swimming pool, World Travel Award-winning spa, state-of-the-art fitness center, and array of dining options such as poolside outlets and suit-and-tie venues set this resort above the rest.
Photo Credit: Angkor Village Resort
Angkor Village Resort
The Angkor Village Resort is your little piece of paradise near one of the world's top historic sites. Whether you're planning the ultimate honeymoon in Cambodia or are just looking for a place to leave your stresses behind, the Angkor Village Resort and its accommodating staff are prepared to fulfill your every need. Let yourself get lost in the resort's lush gardens, 820-foot, river-shaped pool, award-winning restaurants, spa, and air-conditioned Apsara theater. The Angkor Village Resort will give you an authentic Cambodian experience with a heaping dose of luxury.
Photo Credit: Park Hyatt Siem Reap
Park Hyatt Siem Reap
Traveling in a faraway place may make you seek something familiar. The Park Hyatt Siem Reap offers the same Park Hyatt hospitality you know and love with a distinctly Cambodian feel that lets you know you're traveling the world. The Park Hyatt Siem Reap is more than one of the top resorts near Angkor Wat, it has been ranked among the top 100 hotels in the world. Sophisticated Khmer-inspired rooms (some with private plunge pools), elegant gardens, a luxurious spa, and a long list of other high-end amenities guarantee that your Angkor Wat and Siem Reap experience is everything you imagined.