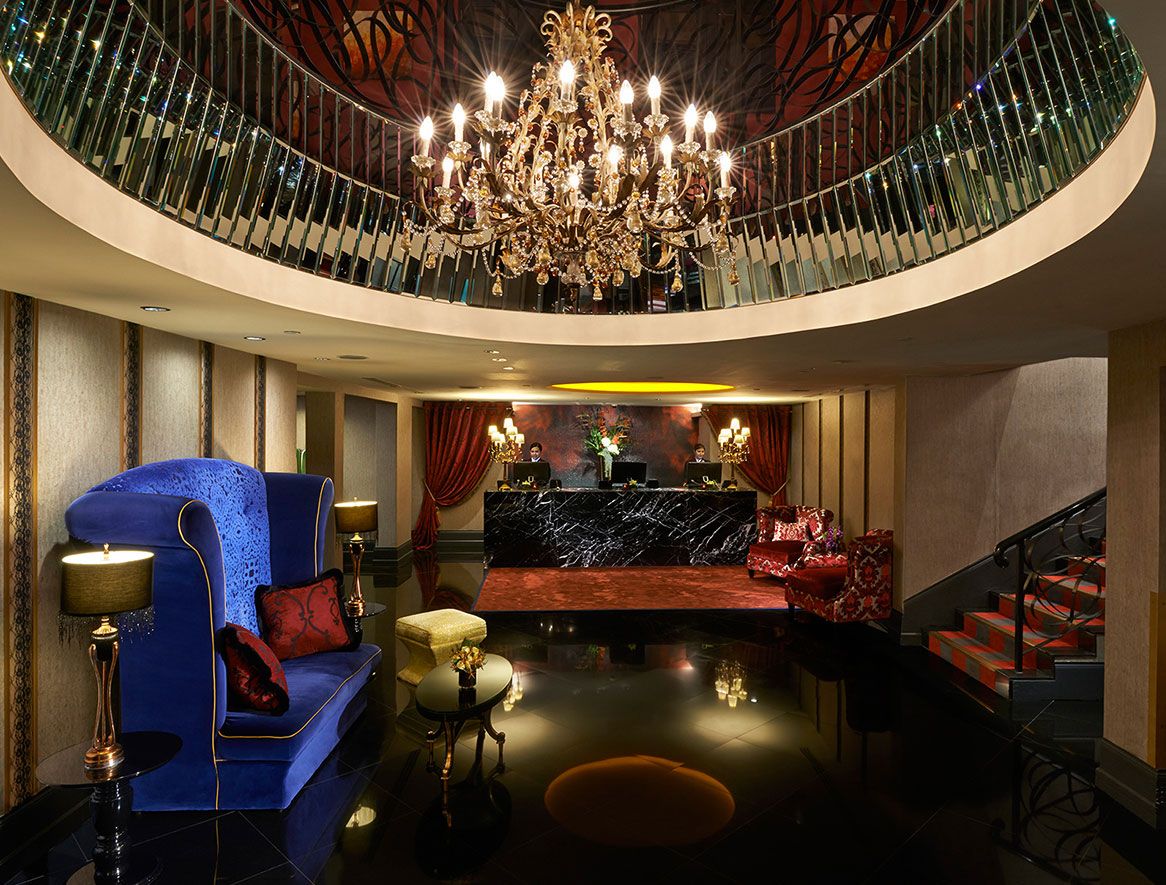 Photos Credit: The Scarlet Singapore
Singapore is a vibrant and exciting city that is both cosmopolitan and sophisticated as well as sexy and a little bit naughty. This dynamic personality can also be used to describe The Scarlet Singapore, an 80-room mischievous yet ultra-chic hotel in Lion City. Scarlet is the property's fictional persona and muse—think maid in stilettos, fish nets and a garter belt. She is the concept which drives the hotel's design, ethos and experience.
This is a property with attitude, but its bold colors, extravagant décor and audacious guise are not for everyone. Located in the trendy Ann Siang Hill neighborhood, it is one of the top destinations in Singapore for in-the-know expats who flock to the area during the week for a pleasant meal or on the weekends for some late night fun. It is surrounded by specialty shops, trendy restaurants and wine bars, and a block away you'll find Chinatown with its maze of hawker shops selling cheap and cheerful dishes. Nearby is the city's bustling financial district with business men and women hurrying from one meeting to the next.
The Scarlet's crimson red façade is in shocking contrast to the gray and white colors of its neighboring buildings. The lobby is furnished with velvet high back chairs and fabrics in cobalt, chartreuse mustard and garnet reds. An elaborate chandelier; deep red, bejeweled and upholstered wall at the reception area; and a drawing room with beautiful antiques, period pieces, artwork and books come together to form this sensual and visually-stimulating environment.
The hotel is masterfully hewn from what was once living quarters for women factory workers in the early 1900s. The persona of Scarlet is a vivacious host dripping with jewelry, undoubtedly gifts from her adoring gentlemen callers. This design concept is translated into a property overflowing with sparkling and extravagant layers of details.
The 75 rooms and five suites are spread over six floors of joined row houses. The corridors are long, sloping and narrow with leather saddle bags on each door for storing the day's newspaper or a note from the staff. The fun thing about boutique hotels that are reclaimed from the past is that no two rooms are alike. Each has a distinct personality and different configurations, some with wonderful verandas and walk-out terraces, other with views over the red rooftops of the surrounding buildings or of the downtown area. But what they all have in common is their provocative nature.
All rooms have fine décor with tasteful and whimsical artwork, king-size beds with dashing headboards, and high-end amenities. The furnishings are functional works of art with swirling design details and plush velvet fabrics. Named Swank, Opulent, Lavish, Splendour and Passion, the five suites offer contemporary sophistication with some boasting large balconies and separate sitting rooms.
The hotel has two noteworthy dining options with its first being Casa Tartufo: an intimate, family-run Italian restaurant specializing in truffle dishes. It is not an overly ambitious venue but rather an honest and authentic restaurant offering really great food. There is a chef's kitchen as well for cooking demonstrations or small soirées. The restaurant's chef and his wife also manage Aria upstairs, an al fresco space offering tapas-style Italian selections.
The Scarlet is an authentic boutique property drenched in history and heritage. It is lavish, with a strong design concept, and is perfect for those looking to escape the predictable cookie-cutter hotel experience. It's not for everyone, but that is exactly what makes it so intriguing.