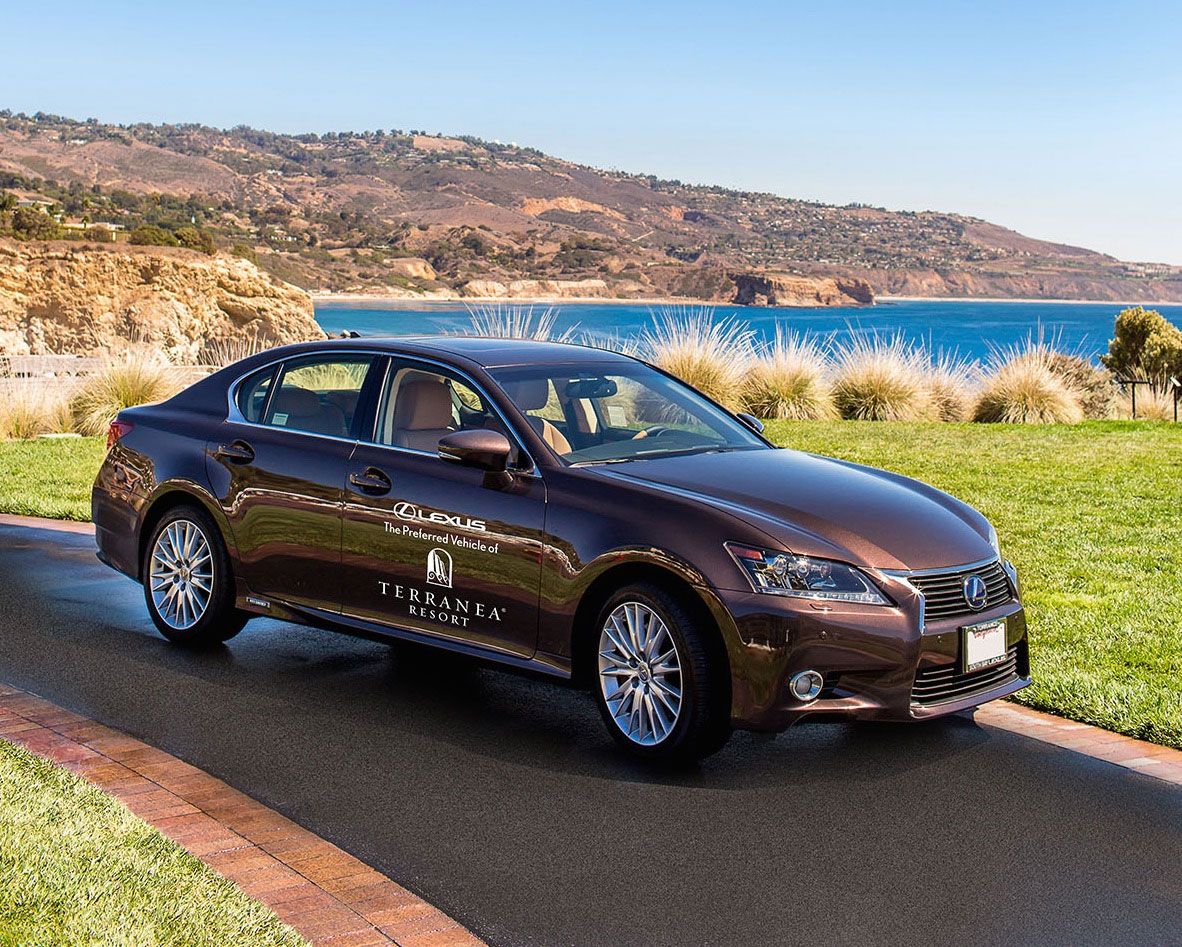 Photo Credit: Lexus
Turnkey service takes on new meaning at Terranea this year. The coastal resort in Rancho Palos Verdes is offering three curated excursion packages putting guests behind the wheel of a Lexus for GPS-led driving tours. Guests can choose a day of adventure, romance, or shopping along with a 2016 Lexus model to get them there. With the push of the ignition button, the pre-set GPS system guides the driver on their day tour, no maps required.
Now in its third year, the Drive Series program includes a themed road-trip itinerary with recommended sites and attractions along the way. Inside each car, snacks and refreshments are provided, and a welcome kit includes themed amenities and gifts to match each itinerary. Saint Laurent and Jimmy Choo were calling my name, so I opted to road test a Lexus RX 450 Hybrid SUV for the Retail Retreat to Orange County's South Coast Plaza. It would be my first visit to Southern California's premier designer shopping destination, so I reserved a half-day to explore the mall's 250 boutiques plus a decadent lunch at AnQi by House of An, a Pan-Pacific fusion restaurant.
Photo Credit: Terranea Resort
To get the shopping spree started, Terranea's guest relations manager greeted me at the lobby concierge desk and led me to the hotel's auto courtyard where my Lexus was waiting. Inside the SUV was a welcome bag with a South Coast Plaza guidebook and a $100 gift certificate. As a bonus, the resort includes a $50 retail credit at Terranea boutiques including the Spa shop, The Links golf shop, and Marea for chic resort wear and accessories.
After an hour's drive, I arrived at one of three valet entrances to South Coast Plaza, and headed to the Access VIP suite in the Saks Fifth Avenue wing. The custom-service hospitality lounge provides drop-off package check and snack pick-me-ups, and acts as ground central for personal shopper guides and stylist consultations. Local fashionista Debra Keillor assessed my personal tastes, recommended the season's hot Hampton's look for "fitted and flared sleeve treatments" then led me straight to her favorite boutiques, such as Lanvin. She sourced runway looks that are deliverable overnight from Paris. South Coast Plaza's top designer retailers rival New York, Beverly Hills, Bal Harbor and Houston for coveted limited-edition pieces, such as Fendi's fun furs including the just-in multi-color mink belted coat with intricate pattern inlay ($37,000), one of only three pieces worldwide.
Photo Credit: South Coast Plaza
Everyone from Armani to Zara is represented at the Plaza, with the best of the best clustered in the Jewel Court flanked by Nordstrom, Macy's and Saks. New shops include Celine, Cos, Sam Edelman, Montcler, Kate Spade, and the red-carpeted Dolce & Gabbana, which currently is spotlighting the bright Summer 2016 collection of red poppies, green banana leaves, and Carretto Siciliano prints, plus three pairs of embellished jeans from a limited edition of 30 ($3,000). I fell in love with Tod's driving shoes but couldn't settle on a color, but opted for Victorinox's new Alliance watch with mother-of-pearl inlay, a summer-weight bomber jacket from Zara, and a Lunar Rock Offset backpack from Herschel's Little America line. We capped things off with a two-tone Herschel sun hat, just the ticket for the next day's poolside agenda at the Terranea spa.
Rates for Terranea Drive Series with a stay in the property's two Shearwater Suites start at $2,445 per night, but complimentary vehicles aren't only for suite guests. Terranea is one of 14 hotels equipped with new Lexus sedans, SUVs, hybrids and convertibles that are available for all guests to test-drive. And if you arrive in your own Lexus, you'll receive special benefits from $100 resort credits to day passes for The Spa.