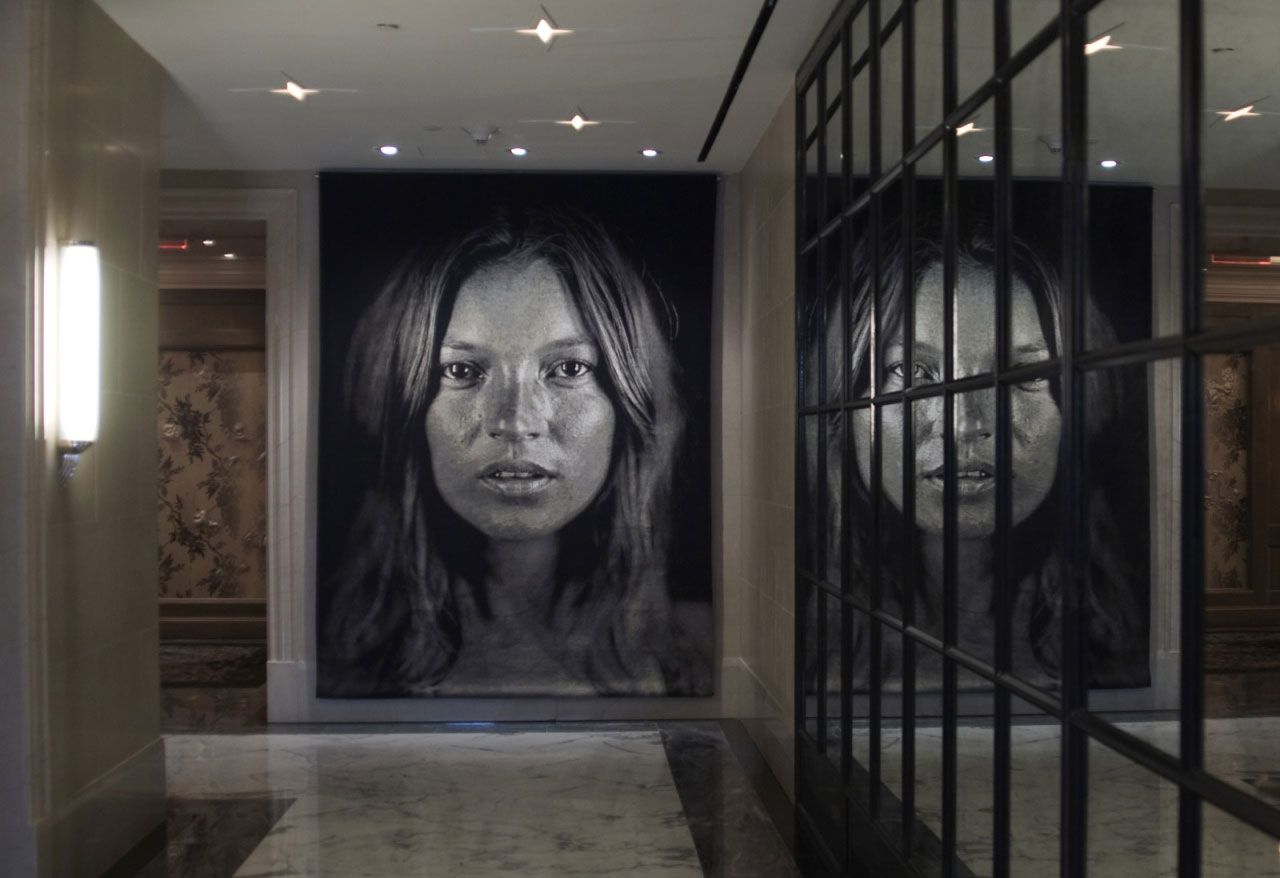 Photo Credit: The Surrey
Around the world, luxury hotels have become more than just a place to lay your head at night. With unique amenities such as complimentary Porches, in-room shopping sprees with a local designer, and custom tequila bottles left as a welcome amenity for guests in Mexico, properties are setting themselves apart through more than just their guestrooms. Another way they are doing so is by showcasing world-class artwork throughout the hotel. If you're an art aficionado, check out these six hotels whose collections are just about as envy-inducing as any museum's.
Photo Credit: The James Chicago
The James Chicago — Chicago
The James Chicago features various art as part of their dedicated art program, the Art at The James. The collection features a mix of local, national and international artists as well as prominent and up-and-coming ones. The art is intended to enhance guests and locals' visual and cultural journey inspired by the city where the hotel resides. Debuting this June, The James Chicago and Johalla Projects commissioned local artist Alexander Valentine to create the newest addition to the program, a public art installation for the hotel's façade. Entitled Pace & Space, it features two original artworks displayed in oversized exterior frames, with the collage works comprised of vibrantly colored patterns, reflective of the incoming warm season. Those patterns weave and intertwine with geometric shapes, conveying upward movement. Inspired by interactive forms of media, Valentine distorts visual cues from recognizable contemporary imagery like advertising and alerts for mobile devices.
Photo Credit: The Surrey
The Surrey — New York
The Surrey's Art Expert in Residence, ArtMuse founder Natasha Schlesinger, curates an amazing art collection for the hotel, and is also in charge of seasonal exhibitions. The property features cutting-edge pieces including Chuck Close, Jimmie Martin and Jenny Holzer. In addition, the hotel is displaying an exclusive art installation curated by Natasha from until August 31. ArtSpeak will focus on how contemporary artists comment on culture, society and draw personal reflection through the use of language and symbols.
Photo Credit: Eden Rock
Eden Rock — St. Barths
Located on the beautiful island of St. Barths, Eden Rock incorporates art and culture into the hotel in order to provide guests and visitors with much more than just an island vacation. The property has an art gallery space where various exhibitions are featured during different months. Currently on display until July 15, Berlin photo artist Kiki Kausch is featuring many of the pieces from her photoshoot with legendary owner David Matthews, which capture St. Barths' beach lifestyle with a vintage feel. Additionally, Eden Rock also has an Artist in Residence who offers art lessons for guests.
Photo Credit: Brown's Hotel London
Brown's Hotel, a Rocco Forte Hotel — London
The historic Brown's Hotel is home to popular restaurant Hix Mayfair, which features contemporary art by notable artists such as Tracey Emin's famous neon art. The property also hosts their renowned annual London Art Weekend, with this year's event taking place from July 1-3. For 150 years Mayfair's galleries and auction houses have welcomed the world's greatest art collectors, and this affair is the ultimate celebration of this London heartland. Guests can experience the unrivaled quality and diversity of this key art market destination as over 50 galleries and auction houses open their doors to the public for this exciting event. With talks, walks and over 50 exhibitions to see, Brown's London Art Weekend offers a unique opportunity for art lovers to explore the capital's greatest private galleries.
Photo Credit: The Bellagio
The Bellagio — Las Vegas
The infamous Las Vegas hotel is home to Bellagio Gallery of Fine Art, a premier exhibition space that presents intimate works by some of the world's most-compelling artists. Organized in partnership with museums and foundations from around the world, past exhibitions have included Picasso: Creatures and Creativity, Fabergé Revealed, Painting Women: Works from the Museum of Fine Arts, Boston, Warhol Out West, and Classic Contemporary: Lichtenstein, Warhol and Friends. On loan from the Museum of Fine Arts in Boston, Yousuf Karsh: Icons of the Twentieth Century is currently on display until September 18, and provides an intimate view into the faces of leading figures in the arts, politics and the Golden Age of Hollywood.
Photo Credit: Arte Luise Kunsthotel
Arte Luise Kunsthotel — Berlin
Located in the City Center, guests walking into a room at this intimate, boutique hotel find themselves within a work of art. Each of Arte Luise Kunsthotel's 50 rooms is unique and has been decorated by a different, renowned artist. Andy Warhol-inspired artist Heiner Meyer created a room with a Marilyn Monroe theme, while artist Volker Marz chose to design a room inspired by American realist painter Edward Hopper. Additionally, the lobby features an amazing sculpture by Dutch artist Hans van Meeuwen as well as an art gallery that can be used for events.