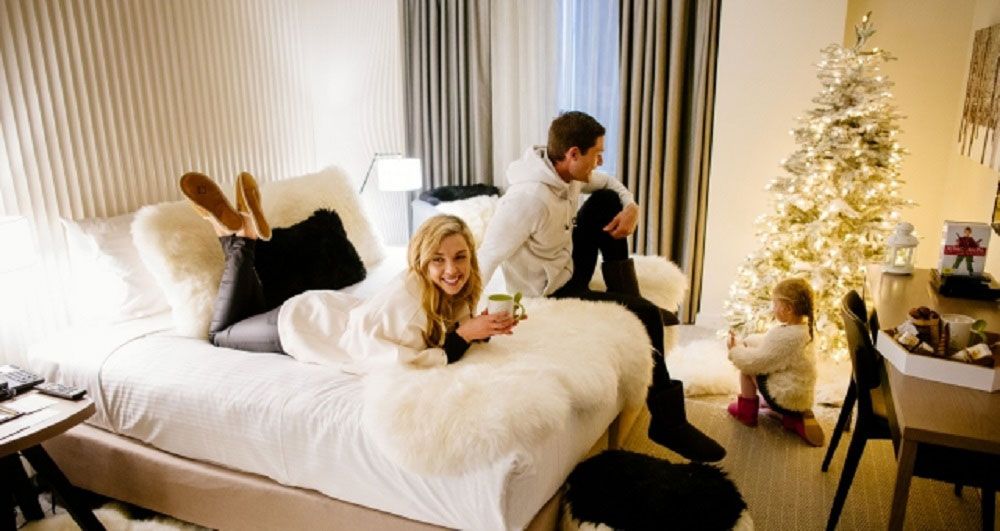 Photos Credit: Hilton Hotels & Resorts
It's beginning to look a lot like Christmas in Melbourne, Australia. It's not such a wacky concept; after all, Oz is currently in the throes of its coldest season. But Ugg Australia and Hilton decided to go full Santa by turning two hotel rooms into winter wonderlands. From July 1 through August 31 Hilton Melbourne South Wharf and DoubleTree Hilton Melbourne Flinders Street will deck their halls and a pair of Nordic-themed rooms with faux snow, twinkling lights, fleece pillows, and cozy fur rugs. The cuddly rooms showcase new items from the Ugg Australia sheepskin collection, and a special winter room service menu features slow cooked meats, spiced pastries and mulled wine. It's a perfect excuse to stay in bed.
"Everyone who travels to Melbourne in winter knows it can be quite chilly, so we're thrilled to be able to provide a unique and restful escape when the temperature drops," said Clinton Farley, GM, DoubleTree by Hilton Melbourne Flinders Street.
Partnering with sheepskin manufacturer, Ugg Australia, the collaboration also celebrates the Melbourne apparel business' 35th anniversary. "Our team has carefully styled both rooms with products that combine pure Australian raw materials with Australian culture," said Luda Fishman, Co-founder and Owner of Ugg Australia.
It's a first for both Ugg and Hilton. "We see the collaboration as an exciting chance to work with one of Australia's most loved small businesses," said Craig Bonnor, GM, Hilton Melbourne South Wharf. Let's just hope Ugg's fleecy suede booties replace the rooms' standard slippers, and that management doesn't mind a sharp uptick in stolen souvenirs.