Photo Credit: Fairmont The Palm/Video: Richard Crawford
Located on the Palm Jumeirah, a collection of islands constructed in the shape of a palm tree and set in the Arabian Gulf adjacent to the city center, is the Fairmont The Palm Dubai hotel. Within the five-star property, you'll find numerous additional amenities including a gym, the Willow Stream spa (which recently won a regional spa and wellness award) and several restaurants and lounges. Both the Flow Kitchen, which boasts a large buffet offering food from around the world and the seafood-focused Sea Grill at 25 Degrees take full advantage of the hotel's location, serving up views of the beautiful beach and the skyline of Dubai visible across the marina. The rooms are large and feature a sleek but warm design with large balconies to enjoy the spectacular views.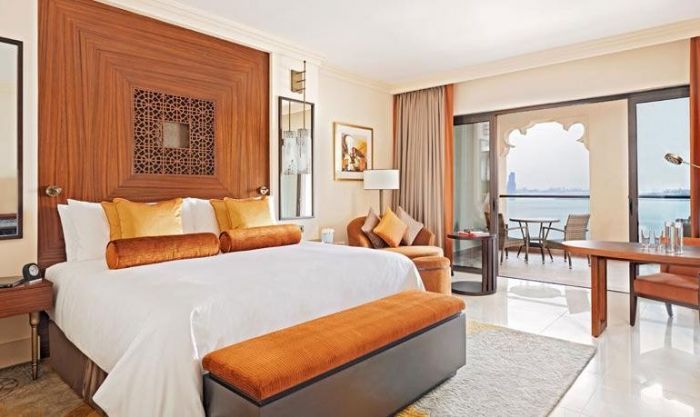 Photo Credit: Fairmont The Palm
The Fairmont's large, private beach provides guests not only with ample space to lounge on the sand underneath plentiful umbrellas and canopies but also with opportunities to enjoy an adventure out on the water. Kayaks, catamarans and paddle boards are all available. Guests can also arrange a speedboat ride for a little high-speed fun out on the water among the many yachts that visit the nearby marina. Adjacent to the beach, the property boasts a large pool complex with three large pools, each catering to a specific group such as families, children or adults only. Many lush palm trees provide shade at the edge and within the pool area itself as well as surrounding the large hotel building itself. Rooms begin at $272 a night.