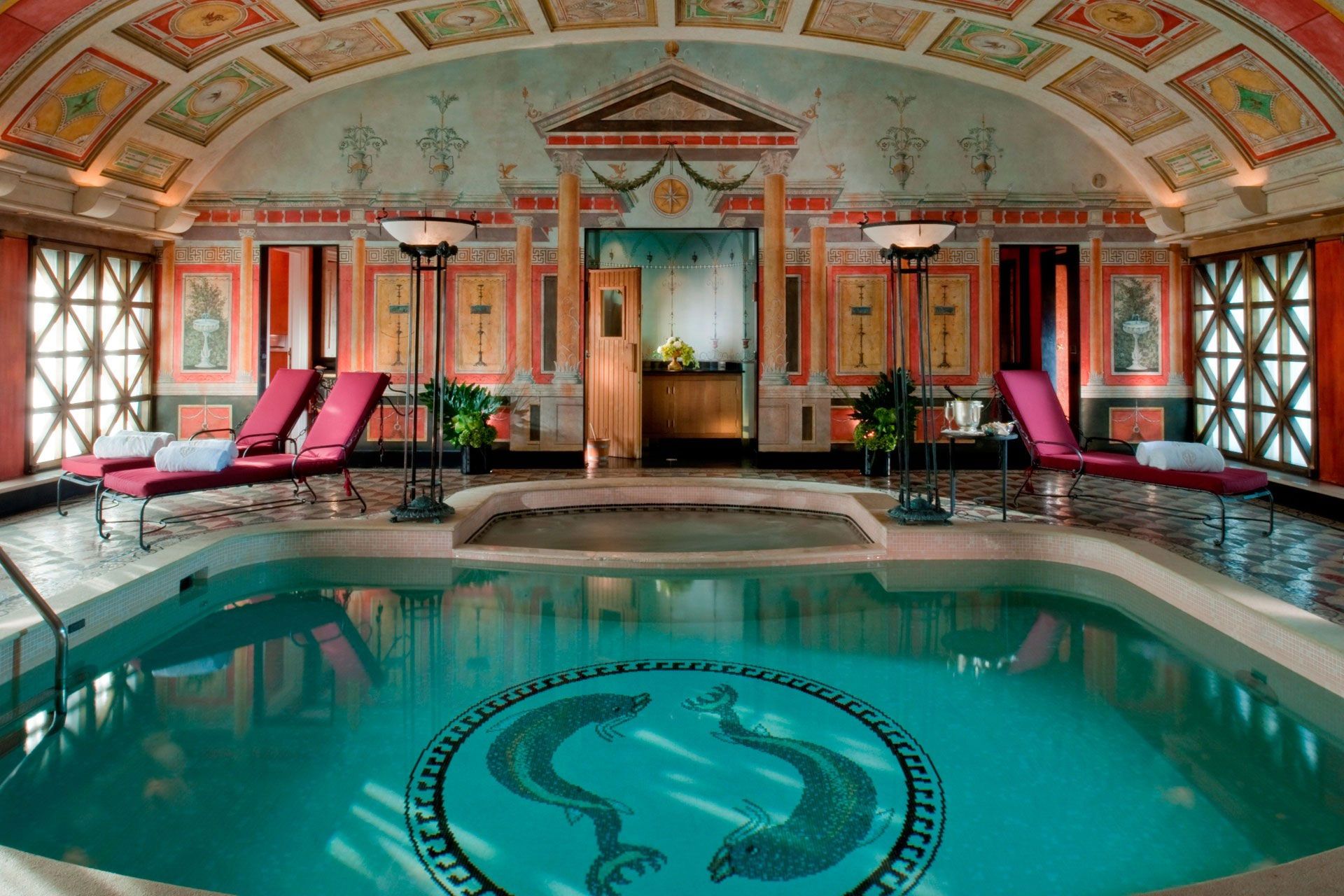 Photo Credit: Hotel Principe Di Savoia
In honor of President's Day, we couldn't resist taking a look at some of the worlds most extravagant presidential suites. From Paris to Tokyo, Mumbai and everything in between, here are seven extravagant retreats worthy of being named after the Commander-in-Chief.
Photo Credit: The St. Regis Mumbai
The St. Regis Mumbai — Mumbai
Situated on the 28th floor of The St. Regis Mumbai, the 3,121-square-foot Presidential Suite offers stunning views of the city with wall-to-wall windows. The suite features elegant and sophisticated designs and décor with its living room boasting handcrafted rugs, plush velvet and leather furnishings and tactile wall accents. The formal dining room can host up to 10 guests around a black, glass-top table and guests can choose from a variety of wines located in their private wine cellar.
Photo Credit: Mandarin Oriental Pudong
Mandarin Oriental Pudong — Shanghai
The presidential suite's bathroom at the Mandarin Oriental is 538 square feet in size, which means it could house a studio apartment within its walls. The beautiful, all-marble space offers a Jacuzzi bathtub that overlooks the city and is stocked with amenities by Ormonde Jayne, silk kimonos and terry bathrobes by Frette. The rest of the suite, covering the majority of the 25th floor, features two bedrooms, a wine cellar, meeting room, dining room, kitchen, two rooftop gardens and outdoor loungers. Butler service, club lounge access and a complimentary 45-minute sunset cruise round out its perks.
Photo Credit: Hotel Principe Di Savoia
Hotel Principe Di Savoia — Milan
Hotel Principe di Savoia's Presidential Suite is not only the property's best accommodation but also one of the most extravagant in the city. Accessed by a private elevator, the 5,400-square-foot estate boasts three bedrooms, three bathrooms, antique furniture, Venetian XIX century mirrors, French crystal furnishings, a fireplace, mini bar with butler option and its own Pompeii-style spa. The spa includes a Turkish bath, Jacuzzi, swimming pool and sauna. Guests are also treated to complimentary canapes, Wi-Fi, fresh flowers and a fruit bowl/platter during their stay.
Photo Credit: The Raj Palace
The Raj Palace — Jaipur
Called the Maharajah's Pavilion, the presidential suite at The Raj Palace is a four-bedroom, 16,000-square-foot palatial retreat. Taking up four floors, the first level includes a private lobby, secretarial area and lounge with bar. The second floor houses a double-height reception room, gold leafed painted walls gold and silver furniture, museum displaying the Old Throne and Bolsters of The Thakur Sahib (the Maharajah) and a private passage connecting the different pavilions (levels). Other amenities include a private theater, library, kitchen staff, swimming pool, Jacuzzi, rooftop terrace and its own spa.
Photo Credit: Belmond Grand Hotel Europe
Belmond Grand Hotel Europe — St. Petersburg
The Belmond Grand Hotel Europe's presidential suite is one of St. Petersburg's most lavish accommodations. Along with two spacious bedrooms, it includes a fitness center, music room with grand piano, dining room, study, marble bath, sauna and lounge bar. One of its coolest features is its library which has a bookcase that opens up into a secret bedroom. The guest bedroom can also be used as a lock-out room for accompanying staff or security. For meals, guests are treated to catered lunches and dinners in the suite daily.
Photo Credit: Four Seasons Hotel George V Paris
Four Seasons Hotel George V — Paris
Although the Four Seasons Hotel George V's presidential suite isn't their highest category, it's still super lavish and elegant. The property also has three different ones to choose from, each offering 2,153 square feet of space. With their own unique features, the rooms range in size from one to two bedrooms and come with marble bathrooms, a guest powder room, spacious living and dining rooms, fabric-covered walls, crystal chandeliers and fresh flowers. Depending on what amenities you prefer, you can opt for the suite with an office space, fitness room or an extra-large living room. All rooms offer views onto Avenue George V or the Marble Courtyard.
Photo Credit: Hotel Cala di Volpe
Hotel Cala di Volpe — Porto Cervo
Porto Cervo in Italy is known for being a playground for affluent jetsetters, and in the heart of the city is the Hotel Cala di Volpe. In fitting with the laid-back-glamour of the city, its 4,844-square-foot presidential/penthouse suite is less gold and opulence and more classic Italian-chic and romantic. The three-bedroom estate includes beamed ceilings, terracotta-tiled floors, a solarium, private swimming pool, outdoor gym and a large terrace which overlooks Costa Smeralda. The Mediterranean-style suite is perfect for those who prefer understated luxury.