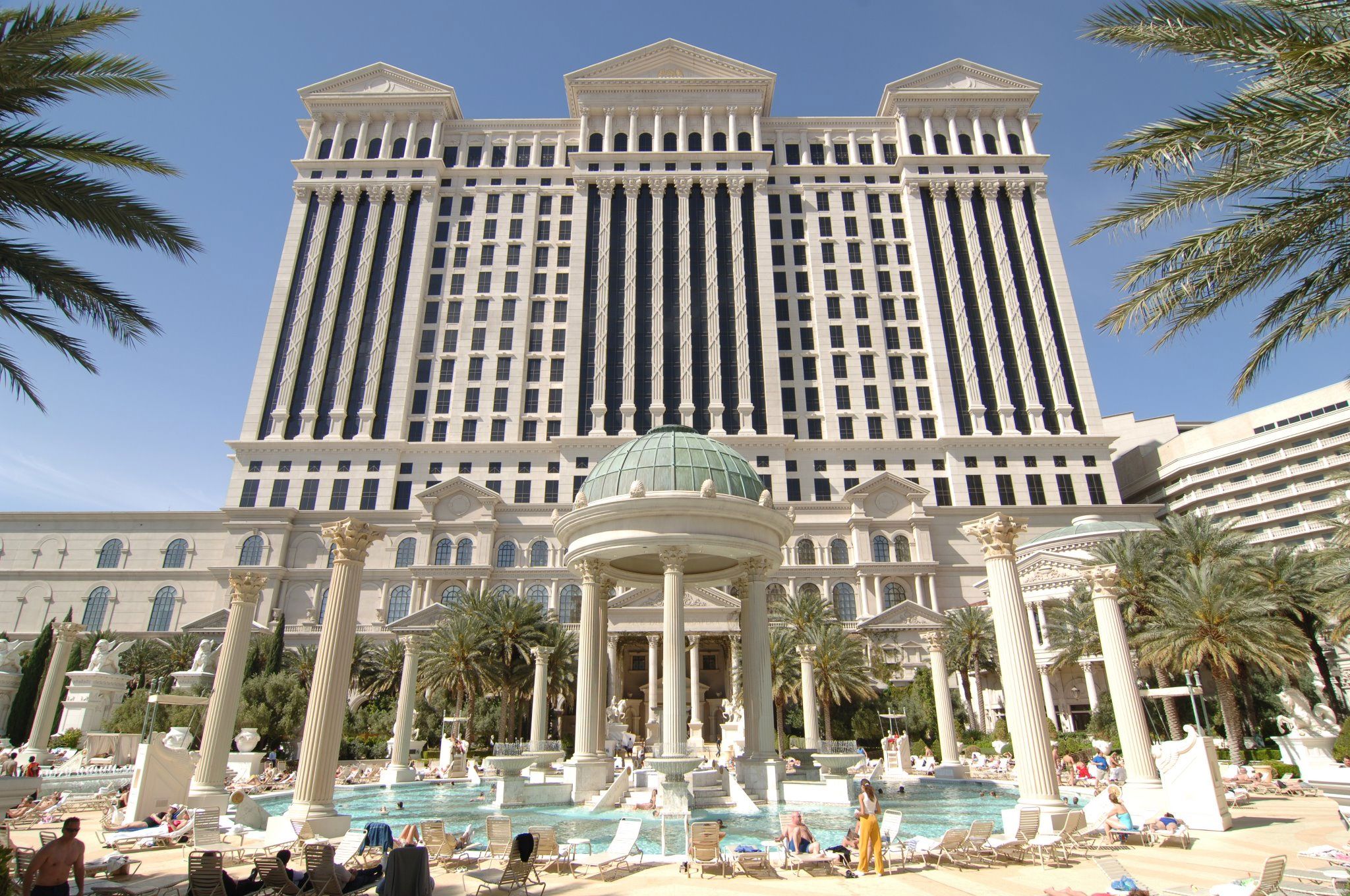 Photo Credit: Caesars Palace
Caesars Palace is one of the most recognizable names on the Las Vegas Strip, not only because of its longtime residence in Sin City, but also due to its slew of regular celebrity clientele; its 75,000-square-foot, multilevel behemoth of a nightclub; and what feels like miles upon miles of luxury shops and fine dining options. And even if you've never stayed in the five-star hotel, you'd have to be living under a rock to not read its name in headlines each year.
With nearly 4,000 rooms and over 600 suites and villas, the hotel has hosted everyone from Barack Obama to J. Lo and Taylor Swift. This month, the iconic property celebrated its 50th year in Vegas and the glitterati came out in droves to participate in the 48-hour festivities. A-listers such as Justin Timberlake, Calvin Harris and Gordon Ramsay along with entertainers Tony Bennett, Donny and Marie Osmond, and Wayne Newton were among the attendees. The event boasted a 10-minute fireworks show, a celebratory Champagne toast with birthday cake-cutting ceremony and a gala dinner.
If you weren't lucky enough to score an invite to the party, don't worry, there are still plenty of ways to join in the celebrations by experiencing the classic property. Here are five ways to have the best trip ever on your next visit and why we think Caesar Palace is the Grand Dame of Vegas :
Photo Credit: Nicolle Monico
Seriously Sweet Suites
If you're going to do Sin City right, your only option is a suite, especially if it's the Julius Royal Duplex. The two-story accommodation is located in the center of the property, making it easier to get to and from the casino floor. Decorated with a warm neutral palette, pops of golden yellow and a modern design, the lower level features an eight-person dining table, kitchen, a spacious living room and seating area, and one bedroom. Upstairs sits the bar area next to the billiard table, and guests can view onto the floor below from its terrace. Of course, should you really wish to do it up, consider the Marc Antony Villa. The three-bedroom estate features an indoor fountain, 800-square-foot patio, spa and dry bar, marble baths, grand piano, a fireplace and million-dollar furnishings. The duplex starts at $1,200 a night while the villa begins at $18,000 a night. Both come with airport limo service.
Photo Credit: Caesars Palace
Bucket-List Dining
Any foodie knows that Las Vegas is rich with top-notch eateries and celebrity-chef-owned restaurants. And if you're staying at Caesars, eating well means never having to leave the resort. Celebrity chefs Nobu Matsuhisa, Bobby Flay, Brian Malarkey, Guy Savoy and Gordon Ramsay all have venues within the property. Among its selections is also the famed Mr. Chow, which boasts locations in Miami, New York, London and Beverly Hills. The latter is most known for being an A-list hangout where paparazzi regularly await the next famous face to enter its doors. The Las Vegas location is no different, with guests such as J. Lo, Britney Spears and Leonardo DiCaprio having enjoyed a meal in its private dining rooms. Featuring an all-white room drenched in blue lighting, the space feels chic and sexy. Order the hand-pulled Mr. Chow noodles and the Beijing duck for an extra special treat. Top it all off with a selection from the Champagne trolley which roams the restaurant offering guests the chance to sip on some of the finest (and most expensive) bubbly in the world.
Speaking of Champs, the Krug Chef's table is a one-of-a-kind experience at Restaurant Guy Savoy. Set inside a private room with floor-to-ceiling windows, six guests can enjoy a tasting menu (up to 13 courses) based on the ingredients of the day. Michelin-starred Chef Guy Savoy's selections will be paired with Krug's prestige cuveé Champagnes.
Photo Credit: Caesars Palace
Award-Winning Spa Sessions
When you're not out partying, plan for an afternoon at Qua Baths & Spa, the hotel's award-winning facility. The 50,000-square-foot spa includes an Arctic Ice room, Laconium Room and Crystal Body Art Room. It's also the only spa to feature Nobu-brand treatments. One of their newest therapies is the Cleopatra Golden Goddess Facial that debuted during the 50th Anniversary celebrations. It was so popular they added it to their regular offerings. The 80-minute facial utilizes collagen and starts with a cleansing and exfoliating session before 24-karat golden masks are placed on your face, lips, eyes and neckline. Gold acts as an anti-inflammatory and is said to increase skin circulation, soothe tired eyes and prevents the breakdown of collagen. As you lie in relaxation, your aesthetician massages your hands and arms. Your feet are then treated to warm paraffin wraps for hydration. When you leave your skin will be smoother and will have a faint glow to it (trust us, it's visibly radiant). We've also been told if you do it enough, your skin will even out and any sun discoloration will disappear. The Cleopatra Golden Goddess 80-minute facial is $365 on weekdays and $375 on weekends.
Photo Credit: Caesars Palace
Designer-Label Shopping
Caesars is a haven for fashionistas. The Forum Shops include around 160 specialty and designer stores such as Gucci, Versace, Giorgio Armani, Louis Vuitton and Valentino all in one place. But the shops aren't just fun to visit, the complex as whole is a stunning piece of architecture and design. Along with a 50,000-gallon aquarium, the forum features the Fall of Atlantis animatronic show, a large display of fire, water and nine-foot-tall talking statues. Since the shops are also within the hotel, you don't even have to battle the Vegas sun to pick up a pair of heels for your night out. If you'd rather not mess with the crowds, a variety of stores feature a personal shopper service. Services vary from a single staff member trained as a personal shopper to private sessions available for VIP clientele.
Photo Credit: Caesars Palace
Calvin Harris' Playground
Opened in 2015, Omnia is one of Vegas' hottest clubs and home to resident DJ Calvin Harris. Not only is it lauded as one of the best, it has the chops to prove it. The three-level venue covers 75,000 square feet of space plus has an outdoor terrace. Its ceiling is also one gigantic chandelier that is made from eight oval rings that goes up and down during the night. The 22,000-pound structure moves at four feet per second. (You'll also see a similar moving chandelier at Mr. Chow's since the same designer worked on the restaurant.) During the night, aerial performers float through the air, moving in sync with the chandelier. The club is designed with six points in the ceiling for aerial acts, so expect Cirque du Soleil-like performances as you watch your favorite DJ. Speaking of DJs, our personal favorite way to watch all the action is in their booth. Three expansive booths sit behind the headlining act, and everyone from friends of the performer to Hakkasan's owners can be seen mingling over vodka cocktails. It's the best seat in the house, not only because of its view onto the dance floor but the security is also amped up so you won't have to worry about unwanted wanderers crashing your booth.