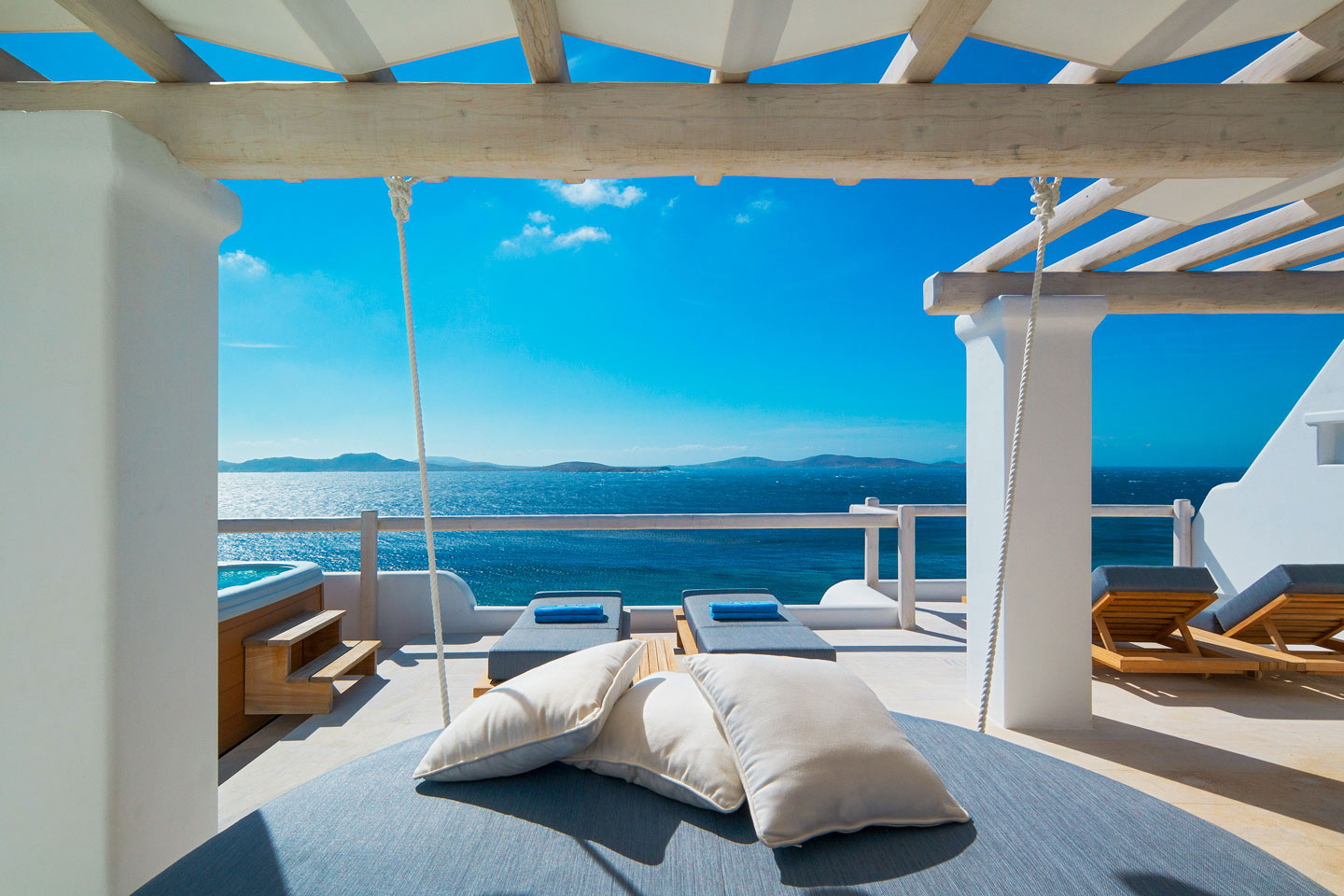 Photo Credit: Mykonos Grand Hotel
The natural beauty of the quaint island of Mykonos, spanning just 33 miles long, is known for having gorgeous sun-filled days, cool nights, a lively nightlife and enticing Mediterranean cuisine along the perfect sapphire-colored waters. When it comes to accommodations, the Mykonos Grand Hotel is a secret gem on the island and a stunning tiered property located on a cliffside.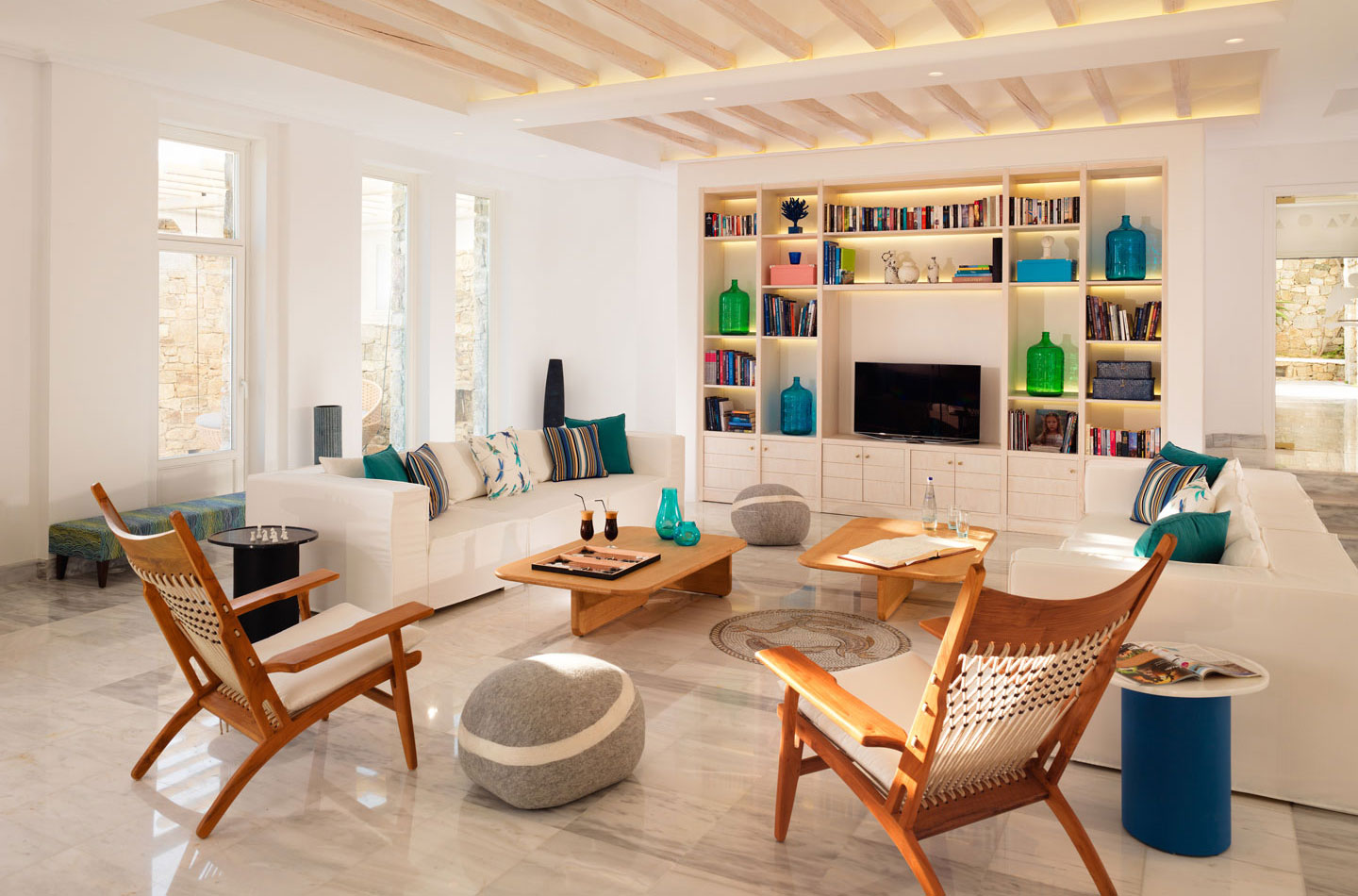 Photo Credit: Mykonos Grand Hotel
The five-star resort offers exquisite views, world-class service, two restaurants and a massive, postcard-worthy pool and private beach. Scattered over three-tiered levels, the hotel is home to 96 guestrooms and suites with simplistic décor and blue and white color schemes. All rooms come with balconies with sea, garden or pool views and are suites decked out with private swimming pools, telescopes and soaking tubs.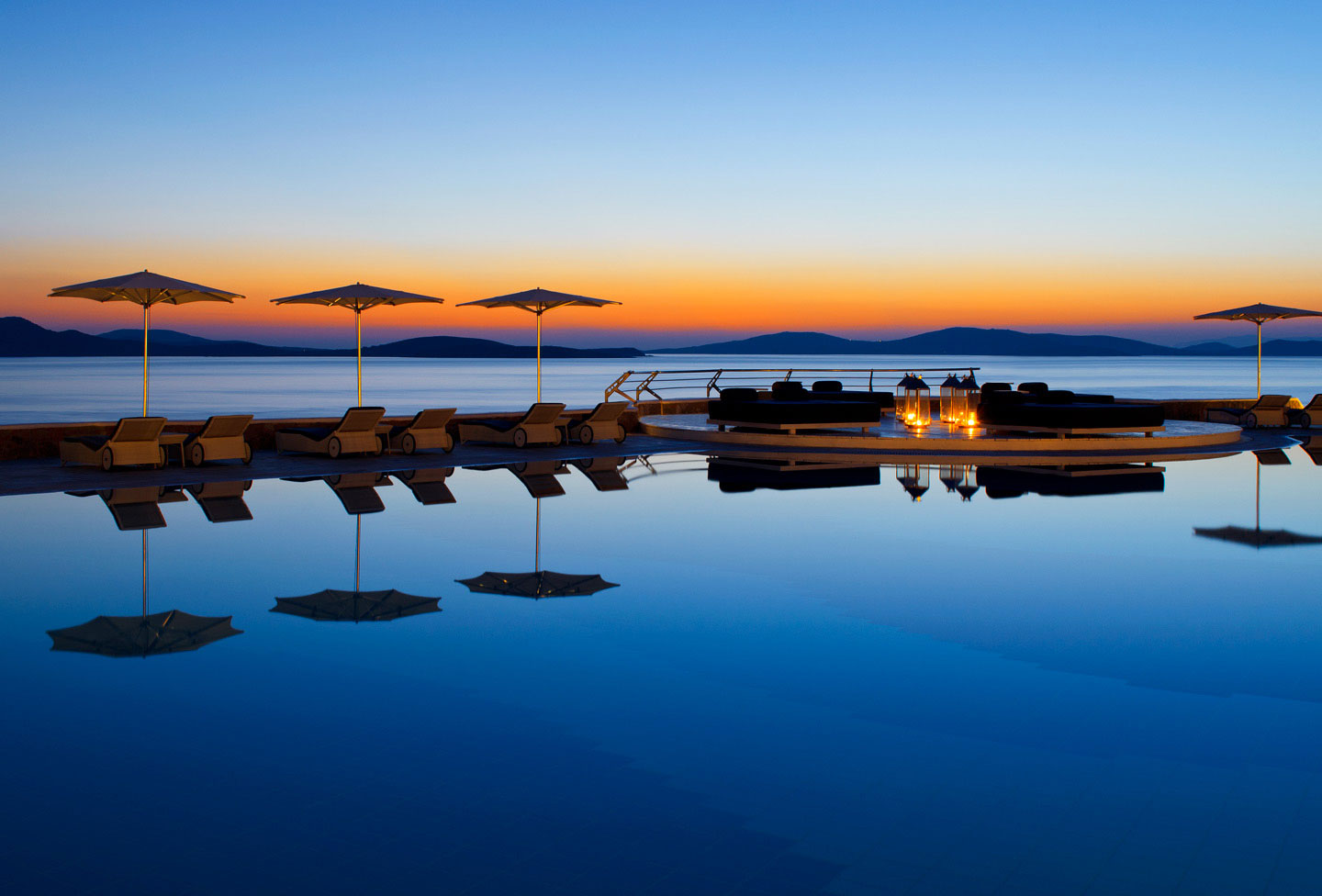 Photo Credit: Mykonos Grand Hotel
For sun seekers, the pool is one of the highlights of the property with a bevy of posh day beds and lounge chairs, as well as a restaurant and bar. The lounge attendants pass cold towels and even offer to clean your sunglasses as you relax. If you'd rather be away from the crowds, find one of the hidden lounge chairs in alcoves around the pool and Jacuzzi. On the beach, sun beds and loungers are complimentary for guests and come with an attendant. Because no water sports are allowed, the beach is the perfect place to get a little R&R in. For the little ones, a kiddie pool has been designated especially for them.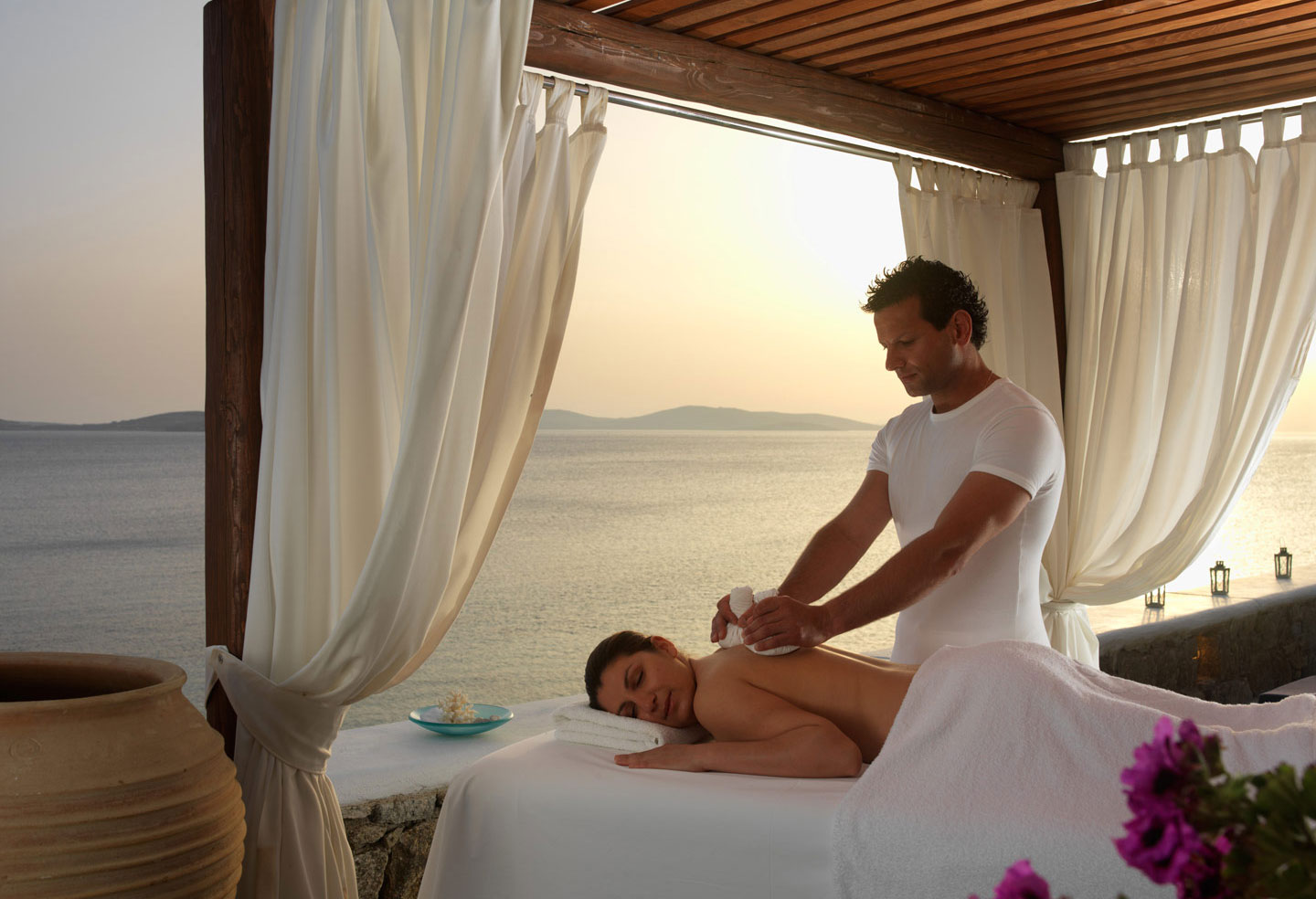 Photo Credit: Mykonos Grand Hotel
The resort's two restaurants include Dolphins of Delos which offers complimentary breakfast and dinner, and Aqua e Sole for a casual poolside lunch. As with most places on the island, the menu concentrates on fresh seafood, but makes sure guests of all ages have something to enjoy. At the Althea Luxury Spa (named after the Greek Goddess of healing), travelers can choose from standard spa options such as facials, massages and scrubs, to Greek specialties such as the Traditional Relief Olive Massage.
Photo Credit: Nammos Restaurant by the Sea
Outside of the resort, head to Nammos for either a chic lunch or lively dinner. The restaurant has been a staple for the travelers and scene seekers since it's opening in 2003 and is now known as one of the most famous beach eateries in Europe. Part beach club, part chic restaurant, its mellow afternoons are filled with sun worshipers lounging under teal and cream striped umbrellas. In the evenings, the venue turns into a rowdy party with guests dancing on tables and imbibing on tasty cocktails.
Another dynamic hotspot on the island is Scorpios Mykonos. Located cliffside on the beach, the rustic tones of the natural wood accents, cabanas and creative cocktails have hipsters venturing to Sunset Beach in droves. Their most popular nights by far are "Sneaky Sundays," which start at 5 p.m. and go until dawn featuring the best underground DJ's from around the world.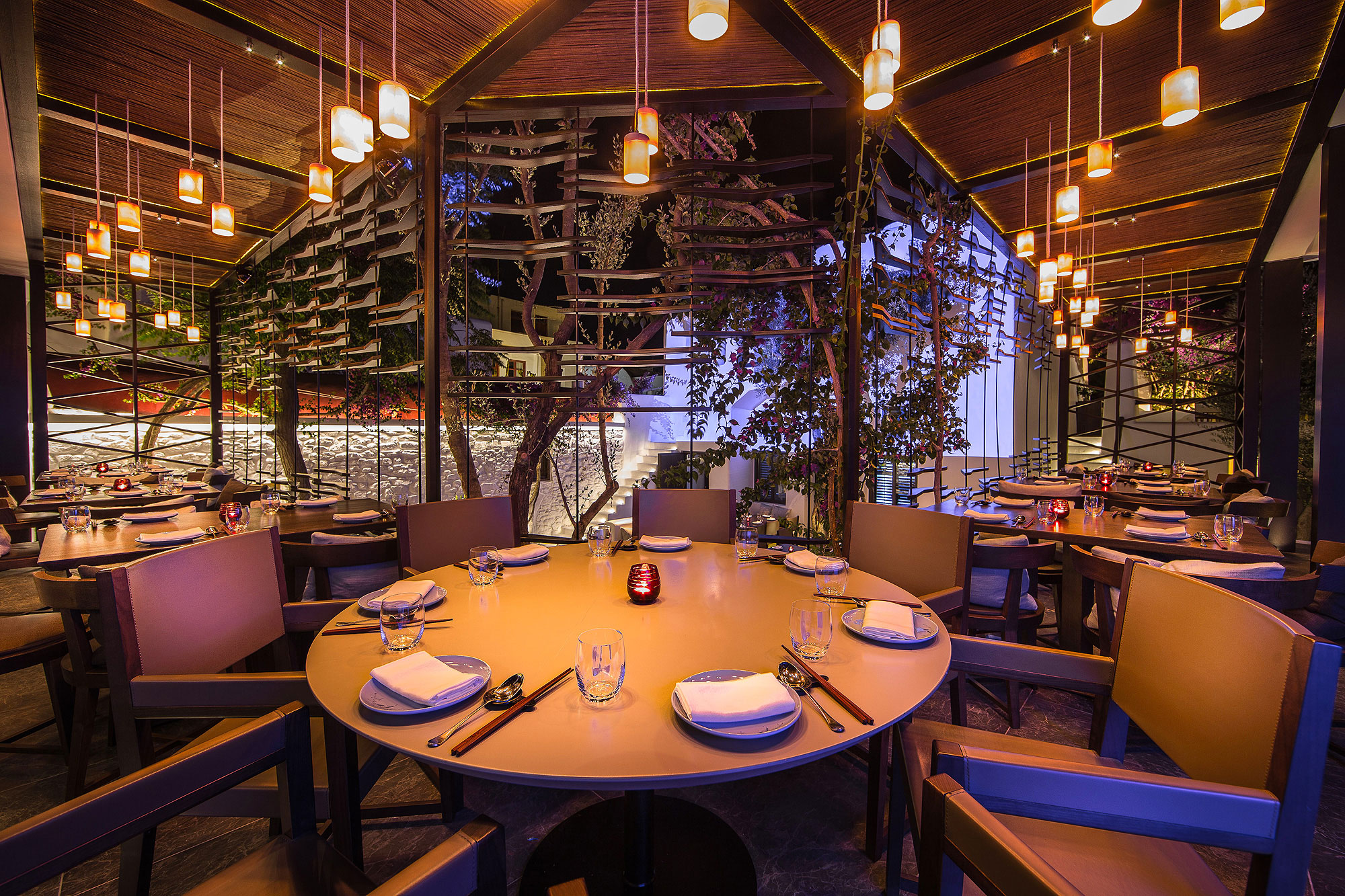 Photo Credit: Ling Ling
For cocktails and nightlife, Bonbonniere located at the Blanc Hotel and Avra across the street, are great options for those seeking a high-end ambiance, while Ling Ling is an energetic supper club from the Hakkasan group. To avoid touristy areas, head to Kiki's, which has made a name for itself by serving grilled island creations sans electricity. Only open from 12:30 p.m. to 6 p.m., the restaurant doesn't take reservations, and with only 11 tables, the wait is typically 90 minutes. Guests from all over the world gather and chat in the courtyard as they gladly wait for the chance to dine at the infamous hideaway.
Photo Credit: Zitumassin/WikiMedia Commons
At least one evening, be sure to catch a sunset with cocktails in hand at one of the most romantic spots on the island: Little Venice. The 18th-century former fishing houses line up like soldiers along the coast and make for a romantic backdrop to your dusk stroll. It's a great way to end your Mykonos vacation and will definitely leave a lasting memory.