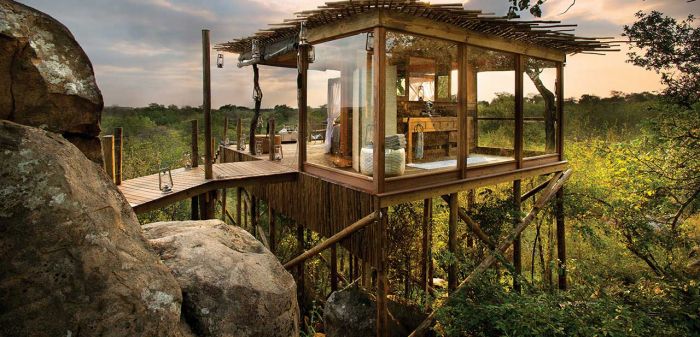 Photo Credit: Lion Sands Game Reserve
The world is filled with some pretty unique hotels, many of which feature incredible suites boasting everything from large pools to private passageways and over-the-top décor. But sometimes, the best designed guestrooms are the ones that let their locations be the focal points. We found eight of the best glass-enclosed suites scattered across the globe for nature lovers to really immerse themselves into their surroundings.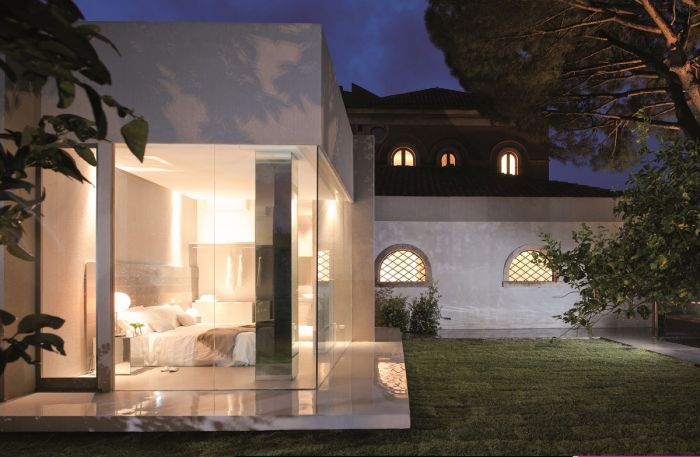 Photo Credit: Zash Country Boutique Hotel
Zash Country Boutique Hotel
Zash Country Boutique Hotel has been a part of the Mediterranean countryside for over 80 years. Purchased by the Maugeri family in the 1930s, the Sicilian residence was mainly used as a summer home until its abandoned grapevines were cultivated and turned into a working vineyard. Now the hotel and winery is home to 10 rooms, three of which sit tucked between citrus trees and offer floor-to-ceiling glass walls and doors in the bedrooms. The spaces are contemporary and utilize volcanic stone throughout the suite as well as grey color schemes.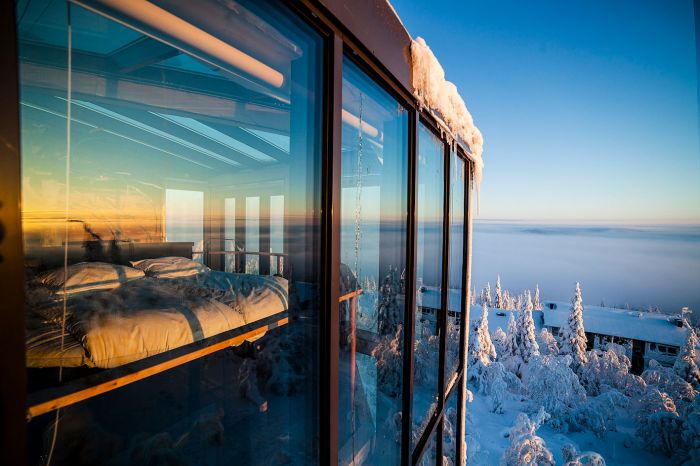 Photo Credit: Iso Syöte Hotel & Safaris
Iso Syöte Hotel & Safaris
TIso Syöte Hotel & Safaris is located in Syöte National Park, a region in the Northern Ostrobothnia and Lapland areas of Finland. So if you're staying here, it's probably because you're a nature enthusiast and will be spending your time on hikes and enjoying outdoor activities. Called the Eagle View Suite, property's treetop accommodation features a glass roof and walls to give guests a deeper connection with their surrounding natural habitats. In the center of space is a tree which holds a "nest" (your bed) and boasts 360-degree views of the countryside. In the winter, guests can sometimes view the Northern Lights from their bed! The suite comes with a living room, fireplace, sauna and a Jacuzzi.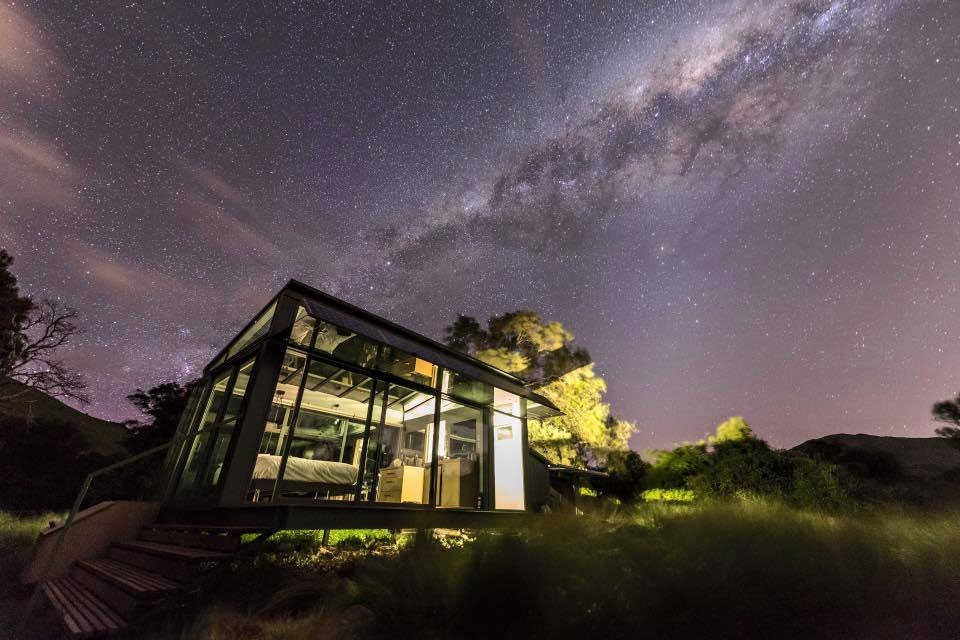 Photo Credit: PurePods
PurePods
PurePods are pretty unique. The private villas are found in three parts of New Zealand and are completely surrounded by glass, even their floors. What's also great is that the residences are isolated from other properties and human life. To get to each pod, guests must park in a designated area and walk to the villas using instructions provided by the company (there are no signs). Once there, it's just you and nature, plus minimal phone signal. The pods come with LED lighting, bio-fuel to power the heater and water, kitchen with gas appliances, binoculars and books to pass the time. Food can also be delivered to the house if you make arrangements prior to your trip. There are no TVs, DVD players, Wi-Fi, air-conditioning or hair dryers, so be ready to completely disconnect.
Photo Credit: Lion Sands Game Reserve
Lion Sands Game Reserve
Constructed of glass and wood, Lion Sands Game Reserve's Kingston Treehouse suite not only has glass walls, but its bedroom is completely open to the elements. Perched above the trees, guests can enjoy 360-degree views from every angle. Should you wish to close off the bedroom, shades can be pulled down for a little more privacy. The suite comes with a full bathroom and shower facilities, outdoor lounge area and food is delivered right to your deck. What it doesn't include is Wi-Fi or electricity, so in the evenings everything is lit with lanterns.
Photo Credit: Trump Waikiki
Trump Waikiki
Among Trump Waikiki's accommodations are the penthouse suites, one of which features floor-to-ceiling windows that offer prime views of the island. Even the bed is enclosed inside a glass-walled feature! The 2,200-square-foot, two-bedroom suite comes with modern furnishings, Hawaiian design elements and an in-suite washer and dryer. There's also a private Jacuzzi hot tub on the rooftop lanai.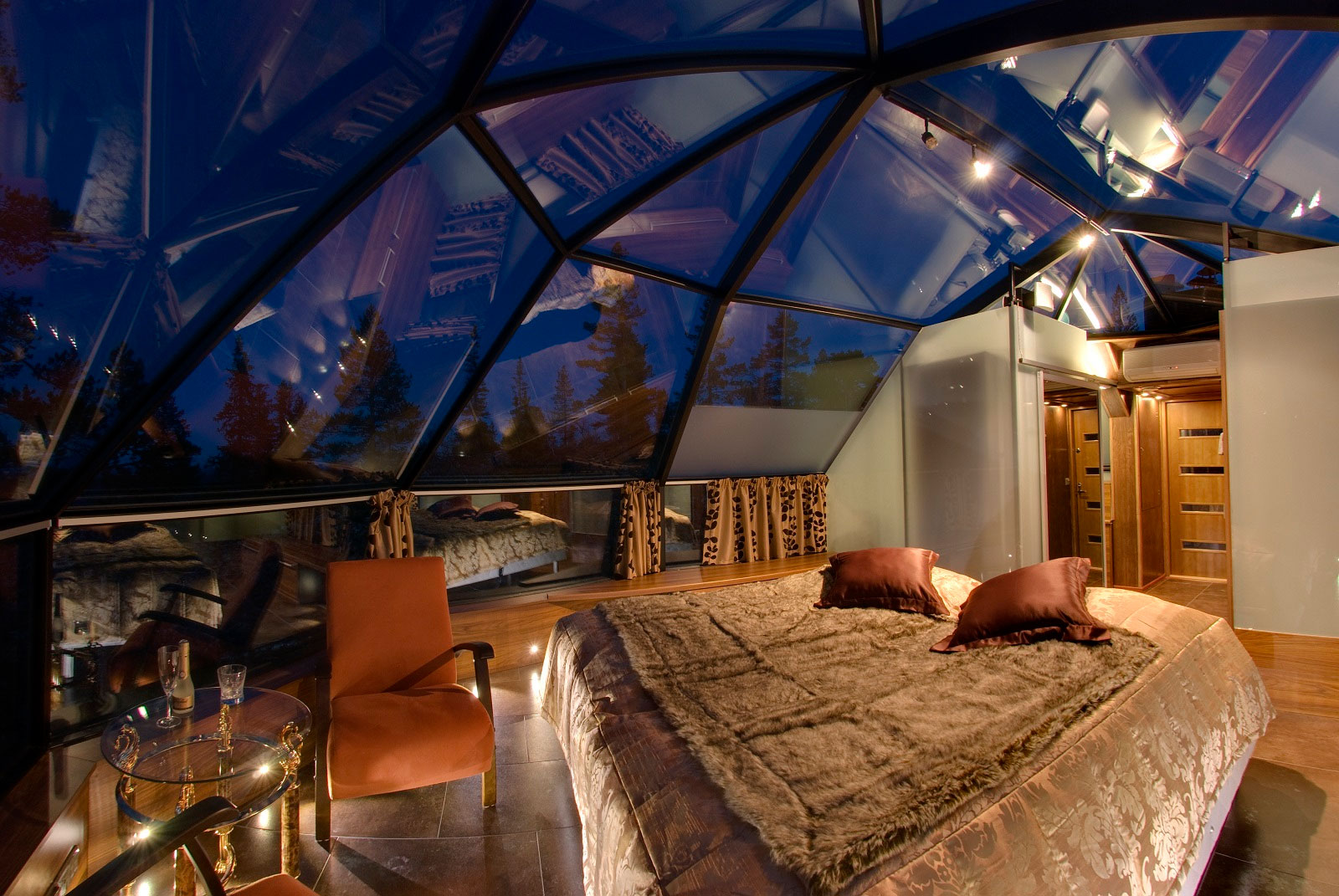 Photo Credit: Hotel Kakslauttanen
Hotel Kakslauttanen
Hotel Kakslauttanen in Lapland boasts glass igloos available for stays from August 20 until the end of April, the Northern Lights season. The Arctic property has two- or four-person igloos that give you an upclose-and-personal view of the colorful lights each night. But don't expect much from your suite, two-person igloos have a toilet with saunas and showers in a separate building. The four-person abodes have en-suite bathrooms, but that's pretty much it. However, there are plenty of activities available to keep you busy throughout the day such as husky, reindeer, snowmobile and snow tank safaris; horseback riding; ice fishing and skiing or snowboarding.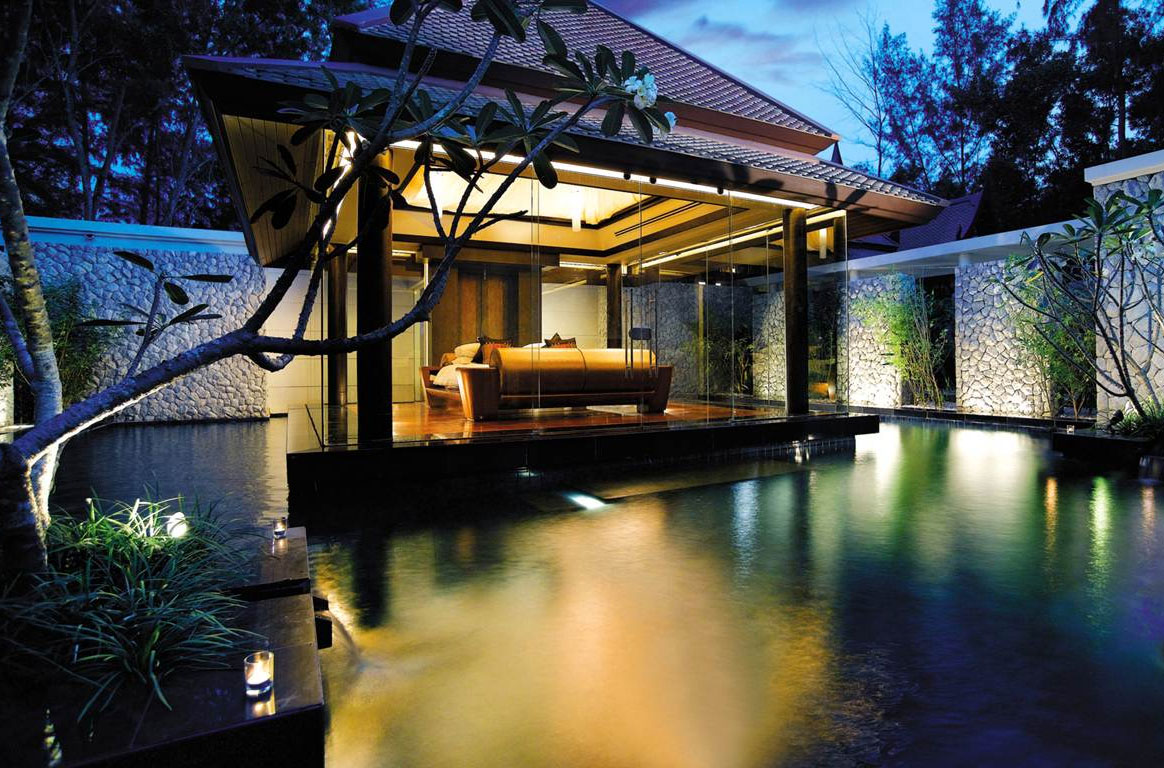 Photo Credit: Banyan Tree Phuket
Banyan Tree Phuket
"A fairytale glass bedroom pavilion floating on the water," is how the Banyan Tree Phuket describes their two-bedroom double pool villas. The suite stretches across 16,145 square feet of space and the master bedroom is surrounded by a wading pool to give the impression of drifting along on the water. Tucked away inside private gardens, the retreat also features daily in-villa breakfast, a fully-equipped kitchen, mini-bar and wine bar.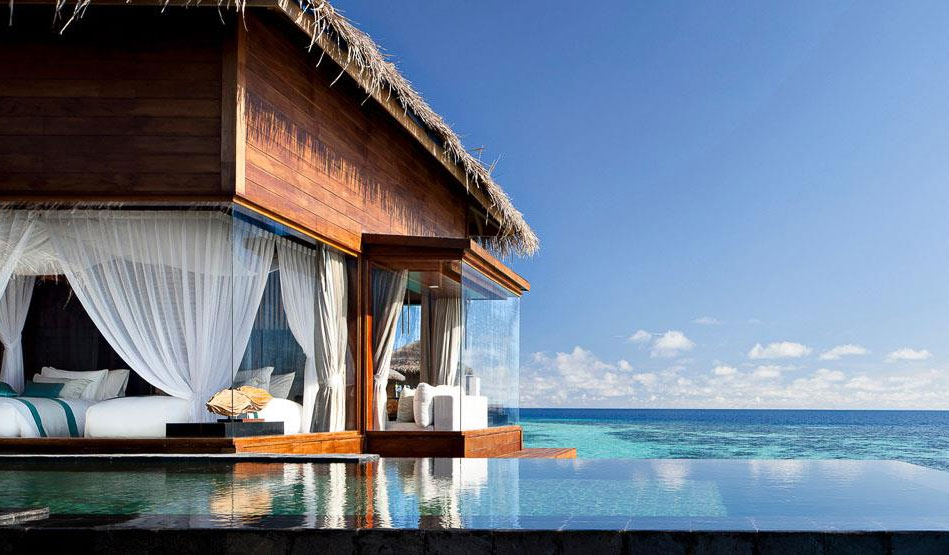 Photo Credit: Jumeirah Dhevanafushi
Jumeirah Dhevanafushi
If you designed my perfect seaside retreat, it might look like Jumeirah Dhevanafushi's Two-Bedroom Sanctuary Sunset suite. Located in the Maldives, the suite's bedrooms both sit inside glass-enclosed spaces, offering prime views of the Indian Ocean and sunsets. Plus, it has its own 226-square-foot plunge pool, private deck, marble bathroom (with more floor-to-ceiling windows), an outdoor rain shower and 24-hour butler service.