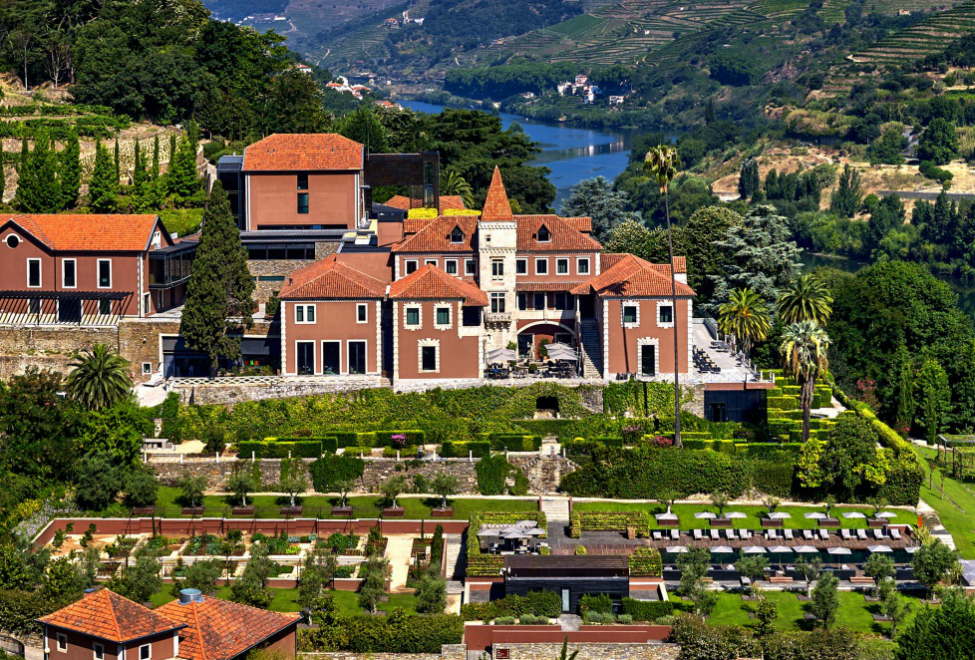 Photo Credit: Six Senses Douro Valley
Arrival at Six Senses Hotel and Spa, nestled amid the pretty foliage and vineyards of Portugal's Douro valley is both a Zen-like and refreshing experience. Zen-like due to the tranquil, relaxed atmosphere and use of natural materials everywhere and refreshing, thanks to an usual layout; reception is located on the eighth floor, while rooms are located on floors below, facing outward towards the sprawling valley.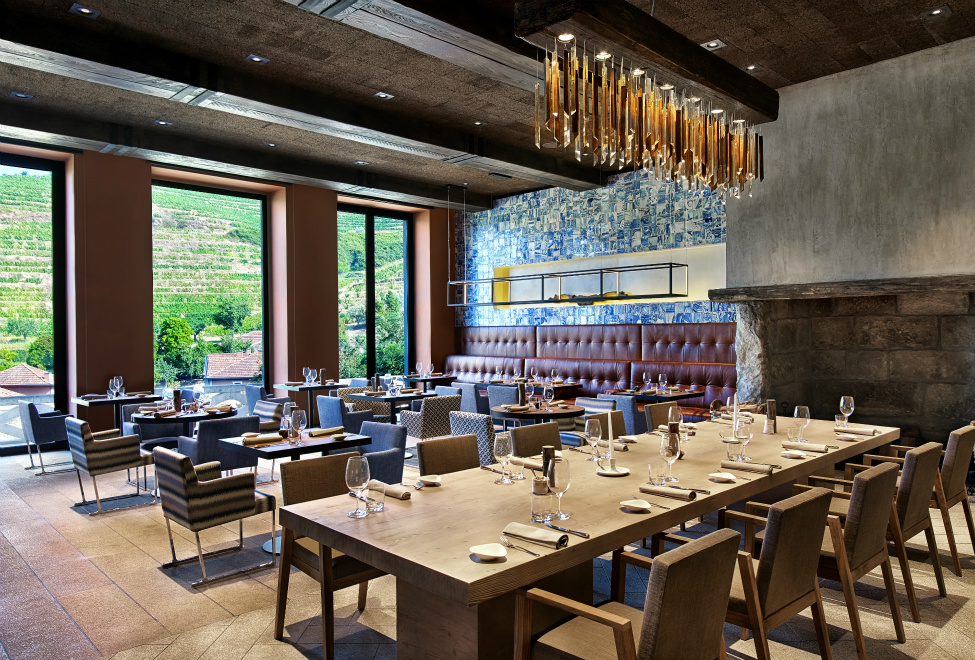 Photo Credit: Six Senses Douro Valley
Access to the 57-room hotel is down a narrow cobblestone lane lined with vineyards, Cyprus trees and lavender and rosemary bushes. The renovated 19th-century manor house consists of a series of interconnecting corridors providing access to the restaurant, the breakfast room, the bar and the wine library. The latter is a delightful place to sit and relax featuring floor-to-ceiling shelves of books, a funky ceiling chandelier-like lighting structure made from bottles, and glass-fronted shelves lined with wines. Wine and port tastings are held here on several long central tables. Joao Ferreira, the in-house sommelier is an excellent guide to Duoro wines, his talk accompanied by local cheeses and cold cuts. Guests also have the opportunity to be a winemaker for the day and, in-season, to participate in the age-old tradition of stomping the grapes to commence the vintage. Visits to wineries such as Quinta de Napoles and Quinta de Bonfim (there are over 350 in the Duoro Valley) can be organized by hotel.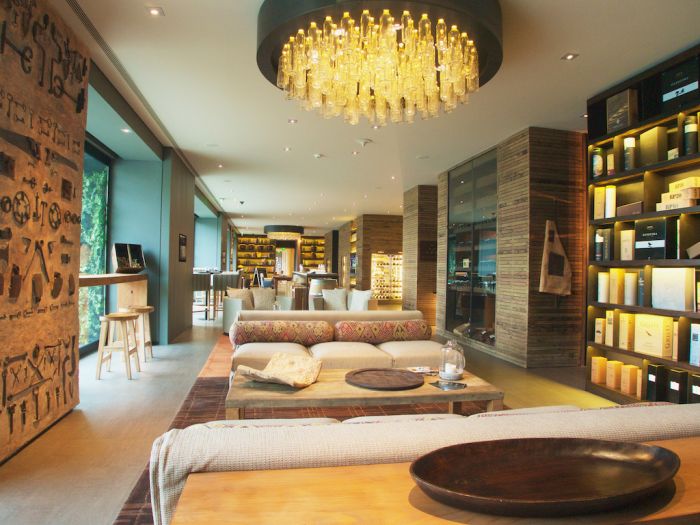 Photo Credit: Columbia Hillen
A second relaxation room adjoins the wine library with soft sofas and armchairs, a collection of urns on glass shelves, brass plates on the wall and an open fire. The bar is airy, with an assortment of seating configurations. Varnished tables are shaped from various recycled woods and framed classic 19th-century prints adorning the walls are creatively 'touched up' with modern abstract dabs and brushes of color. An Old World traveling trunk containing a range of board games and a billiard table at the end of the room provide entertainment options.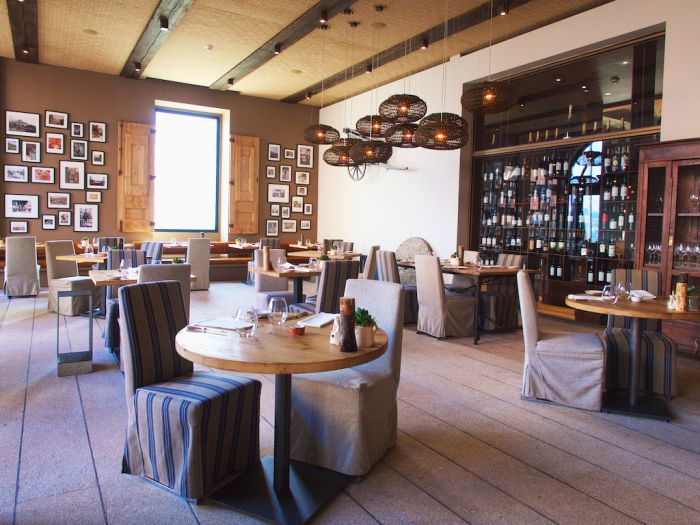 Photo Credit: Columbia Hillen
There are lots of opportunities to enjoy fine weather with several terraces bordering the property and an outside heated swimming pool delightfully located below a hillside of terraced vines. For added ambience, wood-fires are often lit on the terraces in large metal cauldrons with picnic tables and deckchairs nearby. The flickering flames of candles add a hint of romance at night in the public areas.
From its beginnings in 1995, Six Senses has been committed to sustainability and a responsibility to the environment, embracing both leisure and a respect for nature. Its stated vision is, 'To help people reconnect with themselves, others and the world around them.' Pegasus, an international investment fund, has taken over from Shivdasani and continues the original aims of the group. It is now in the midst of impressive expansion of both hotels and independent spas worldwide.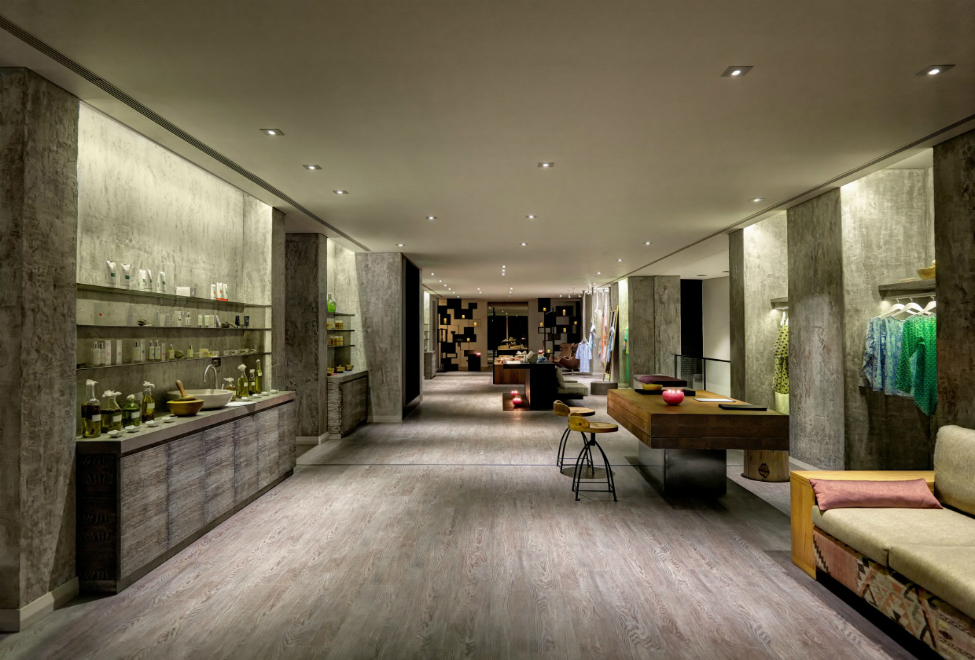 Photo Credit: Six Senses Douro Valley
Spa facilities at the Six Senses Hotel are exceptional. A large heated indoor swimming pool with water jets is the central feature around which are sauna, steam room and a special herb sauna with fresh lavender, lemon grass and chamomile. Holistic face and body treatments take place in 10 separate rooms, either single or multi-day therapies. Make sure to try one of the Six Senses signature massages—deep tissue, detox, energizer or holistic—as therapists that treated us, Sofia and Nanci, were skillful and attentive to our needs, making our experiences most memorable.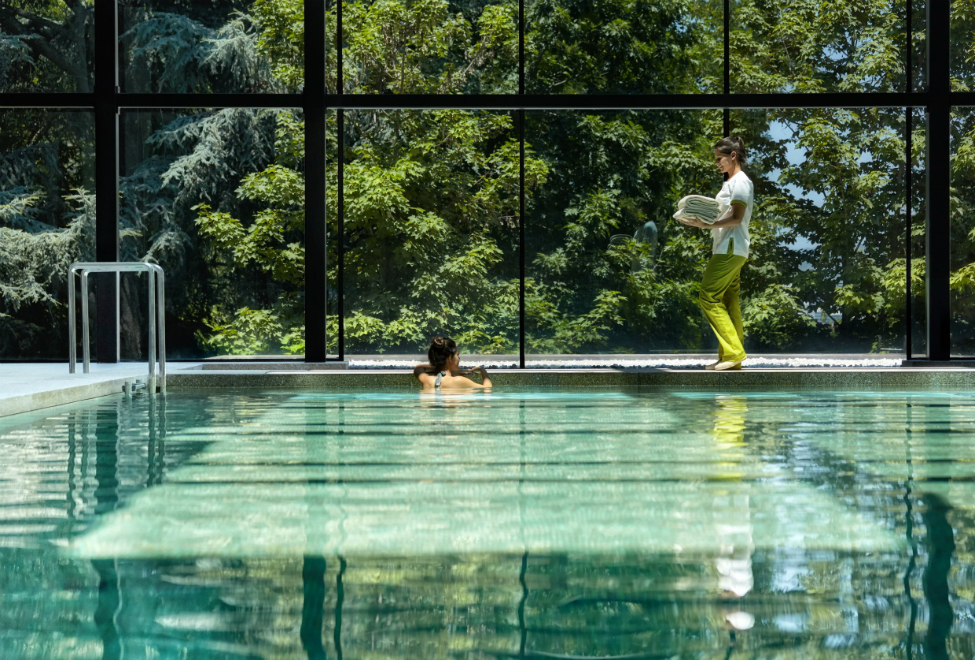 Photo Credit: Six Senses Douro Valley
There is even a small adjacent room where guests can learn how to make an assortment of organic products featuring fruits, spices and herbs. Those interested can try their hand at creating everything from scrubs, laundry products and kitchen pharmacy potions to face and hair masks, lip balms and home fragrances. The hotel also hosts diverse activities including yoga and meditation with a 'singing' Tibetan bowl.
If you prefer something a little more energetic, you can descend the nearby River Cabrum Falls, a wild and unspoiled environment with rappelling and zip-line techniques used to complete the exhilarating challenge. Mountain-biking along trails in the valley, guided tree-climbing in the woodlands, canoeing, water-skiing or boat-trips are other individual or group options.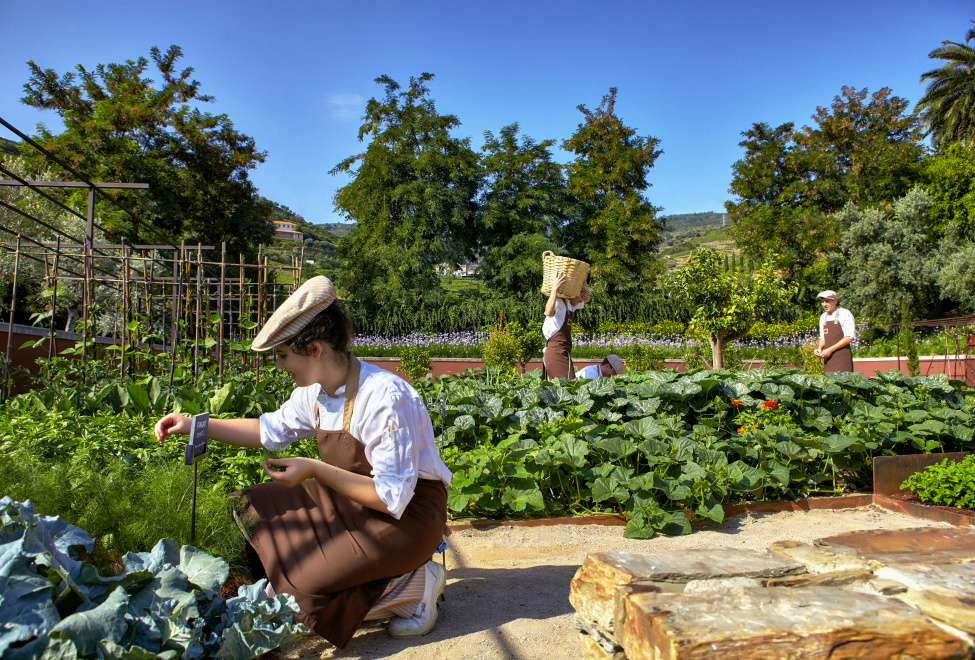 Photo Credit: Six Senses Douro Valley
Six Senses is extremely environmentally-friendly. Mineralized water, for example, is produced on-site to reduce the carbon footprint associated with packaging and transporting quality water and is served in the restaurant with natural flavors, such as cinnamon and apple. It is also establishing an organic vegetable garden, composting and a curing center for meat and fish and is self-sufficient in terms of firewood, obtaining it by pruning and cleaning trees on its four-hectare woodland.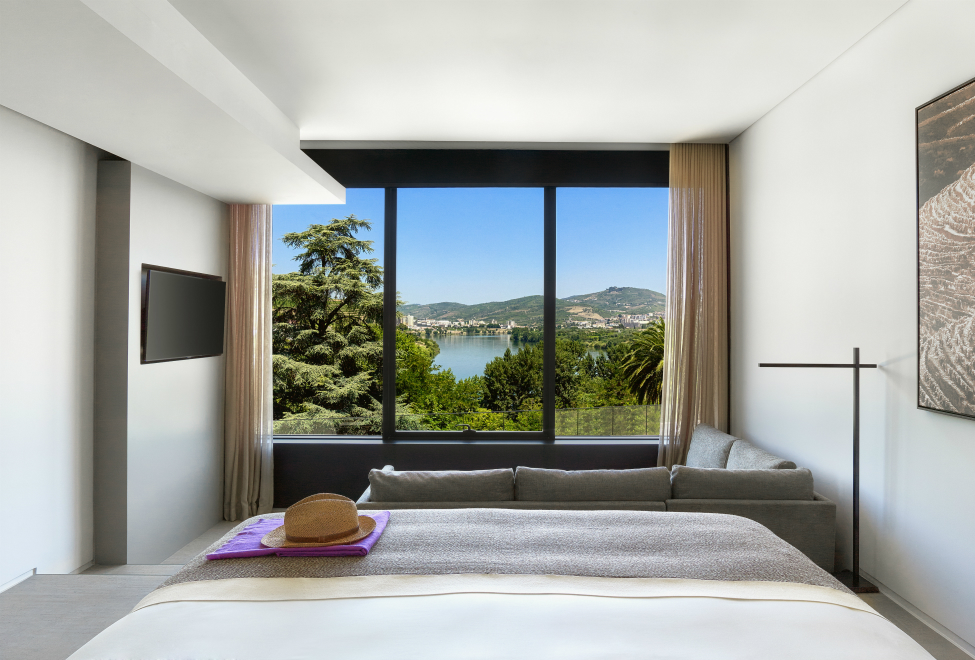 Photo Credit: Six Senses Douro Valley
Our room, similar to the one above, granted generous views through floor-to-ceiling windows over the placid, winding Quinta River and the shelf-like vineyards rising to tree-draped hilltops above. The room itself was spacious with separate bathroom and shower areas between which was an open-style double-sink with full-wall mirror.
Along our wall, facing the bed, was a cozy nook above which was a giant television screen with wardrobe and mini-fridge and espresso-making facilities either side. A large sofa and walnut coffee table made up the rest of the furnishings with one large photographic print of a vineyard being the only artwork. A smartphone allows guests access to all operations, including light and temperature adjustments and phone connections both inside and outside the hotel.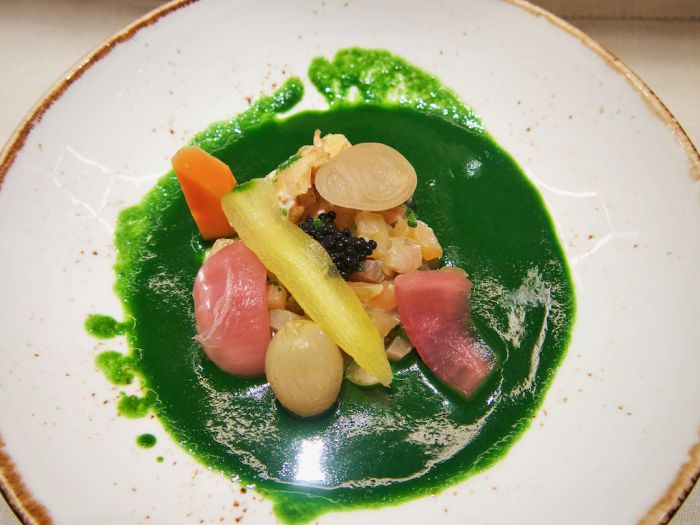 Photo Credit: Columbia Hillen