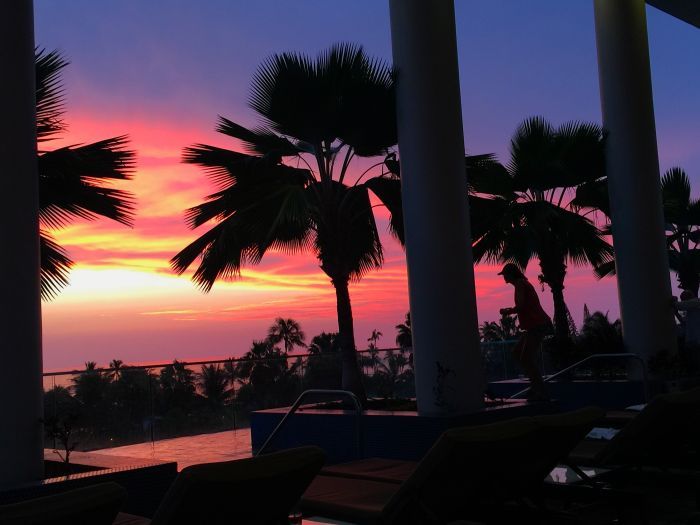 Photo Credit: Janice Nieder
If you're out to escape the cold winter doldrums for some much needed sun, Honolulu averages 271 sunny days a year. And if you're looking to do it in style, the Trump International Hotel Waikiki offers a foolproof, stress-free, luxury vacation spot. The gracious tone is set at check-in, where you are cordially greeted with melon-infused water, a chilled towel, and asked what morning paper you want delivered. Standout amenities include a box of Honolulu Cookie Company cookies in your room, an unbelievable well-stocked kitchen (you could cook a ten course meal) and the array of generously-sized Trump toiletries. Before heading to your beach cabana located at a private area reserved for Trump guests, stop at the concierge desk to pick up a complimentary beach bag, thoughtfully filled with towels, water, sunscreen, and fresh fruit.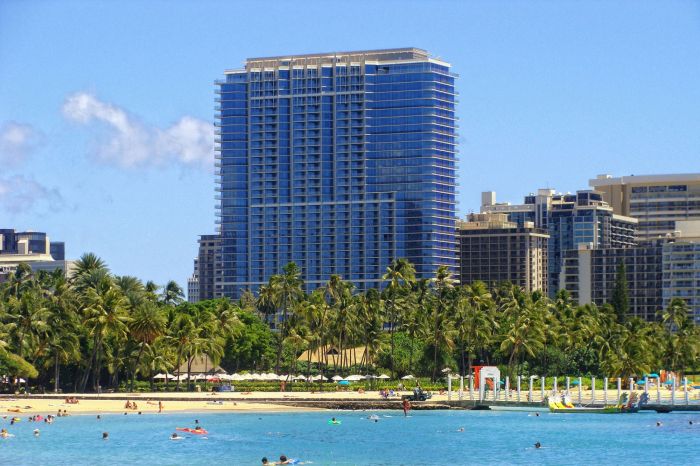 Photo Credit: Trump International Waikiki
Should you forget anything, a Trump attaché is available to grant special requests such as water bowls for Fido, stocking your fridge with gluten-free alternatives, an in-room personal chef or they'll even sprinkle rose petals on the bed to set the stage for a little romance.
The 38-story Trump Hotel has 462 stylish residential-like units, most with private balconies, where you'll wake up surrounded by sunlit views of Diamond Head, the Pacific Ocean, or the Waikiki skyline as you nestle deeper into the comfy beds (if you want the full, 360-degree perspective book one of the lavish penthouse suites). But perhaps the best part is the head-to-toe Italian marble bathrooms complete with deep soaking tubs and a totally styled-out (heated, massage, mini-water falls) TOTO toilet.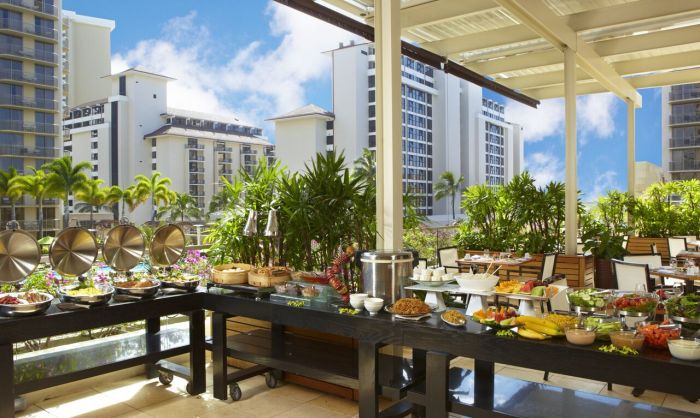 Photo Credit: Trump International Waikiki
Start the day off right with a workout at the health club, featuring Technogym machines, free weights, and cardio equipment. If you're there on a Saturday or Monday morning, book a yoga class which is held on the beautiful Ivanka Terrace. Then head down to the In-Yō Café for the Trump Breakfast Buffet, served al fresco. Put in your order at the customized omelet station while you peruse tables laden with fresh fruit, cereals, breakfast meats, baked goods, including a kaleidoscope of homemade bagels and cream cheese spreads, and Asian specialties such as congee, rice noodles and miso soup.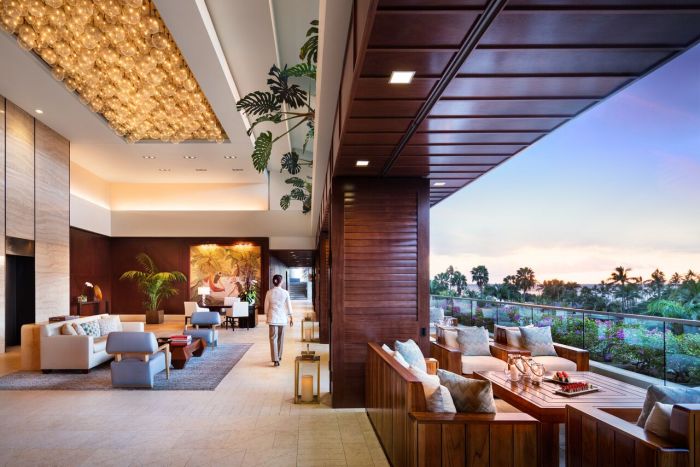 Photo Credit: Trump International Waikiki
There are three in-house gourmet restaurants for you to choose from, but if you're too busy working on your tan at the infinity pool, they're happy to serve you poolside. Choose from a variety of pupus, healthy salads, sandwiches, or bento boxes (the miso-marinated butterfish box is fabulous). If you're really hungry, you can't go wrong with the "The Trump" Grilled New York Steak with Red Wine Demi-Glace.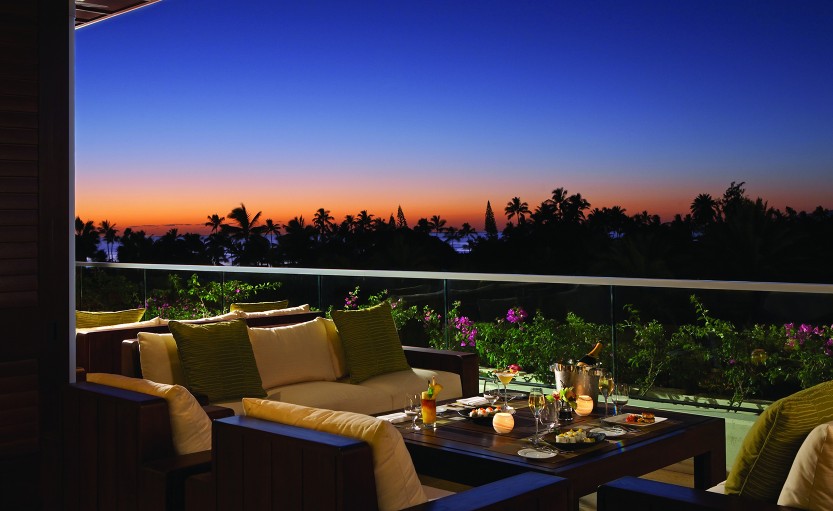 Photo Credit: Trump International Waikiki
The Wai'olu Ocean View Lounge, open for lunch and dinner, offers a romantic, starlit setting and creative cultural cuisine. This is the place to be for the spectacular, rainbow-hued, sunset view or the Friday night fireworks display, best appreciated while sipping Ilikea's Mai Tai, (awarded the World's Best Mai Tai) made from Bacardi 8, Amaretto, Canton ginger liqueur, kaffir lime sour and caramelized pineapple, topped with pineapple-Bacardi sorbet.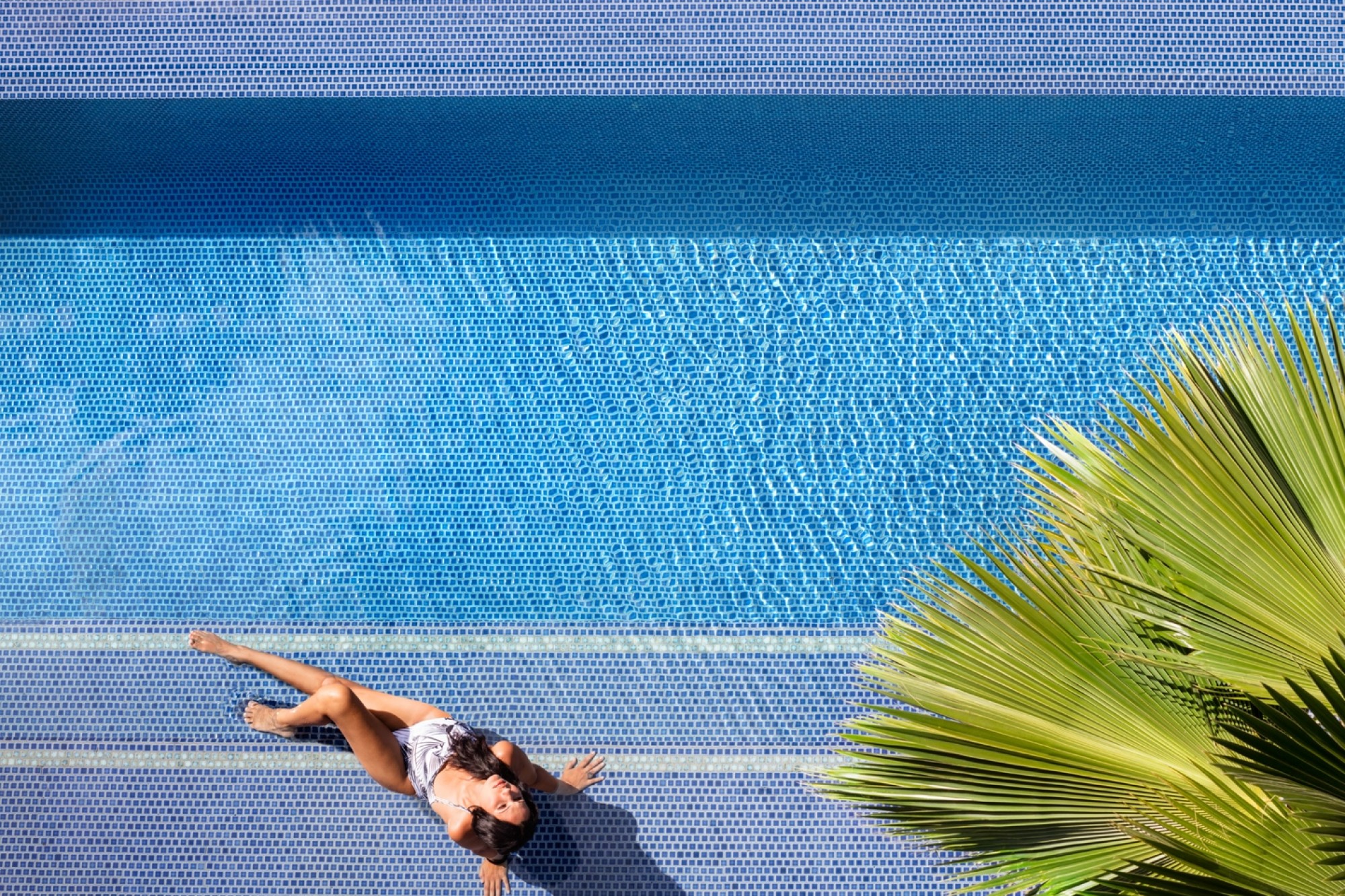 Photo Credit: Trump International Waikiki
For the ultimate in relaxation The Spa at Trump offers a variety of specialized facials and body treatments like the Diamond Rose Exfoliation, Healing Hawaiian Ocean Ritual, or an exclusive Trump Experience Package, customized to fit your needs.
The hotel is perfectly positioned a block from the white sandy beach and walking distance to a plethora of designer stores, restaurants and bars, so no need to rent a car.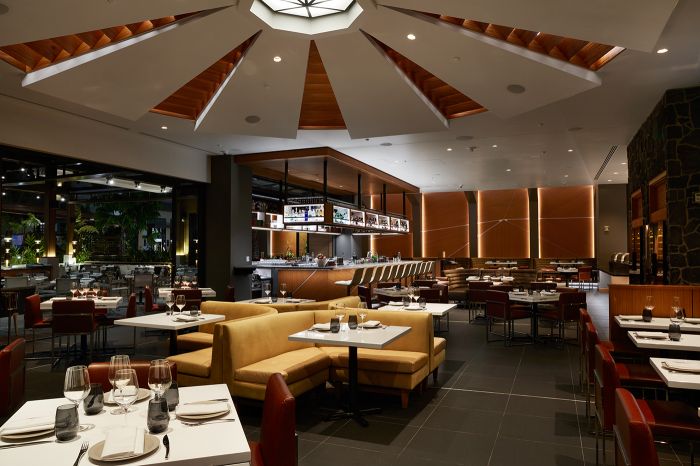 Photo Credit: Mariko Reed
If you can be tempted to go off-property for some eats, two hot new restaurants you won't want to miss are: Stripsteak, James Beard award-winning Chef Michael Mina's first Hawaiian restaurant, and Mud Hen Water, the latest from acclaimed Honolulu-born chef and restaurateur, Ed Kenny.
StripSteak, an airy 8,600-square-foot restaurant located in the International Market Place, offers a welcome, non-stuffy alternative (although the service is still top-notch) to the classic steakhouse, with many lighter dishes available such as sushi, sashimi, and creative, farm-fresh salads.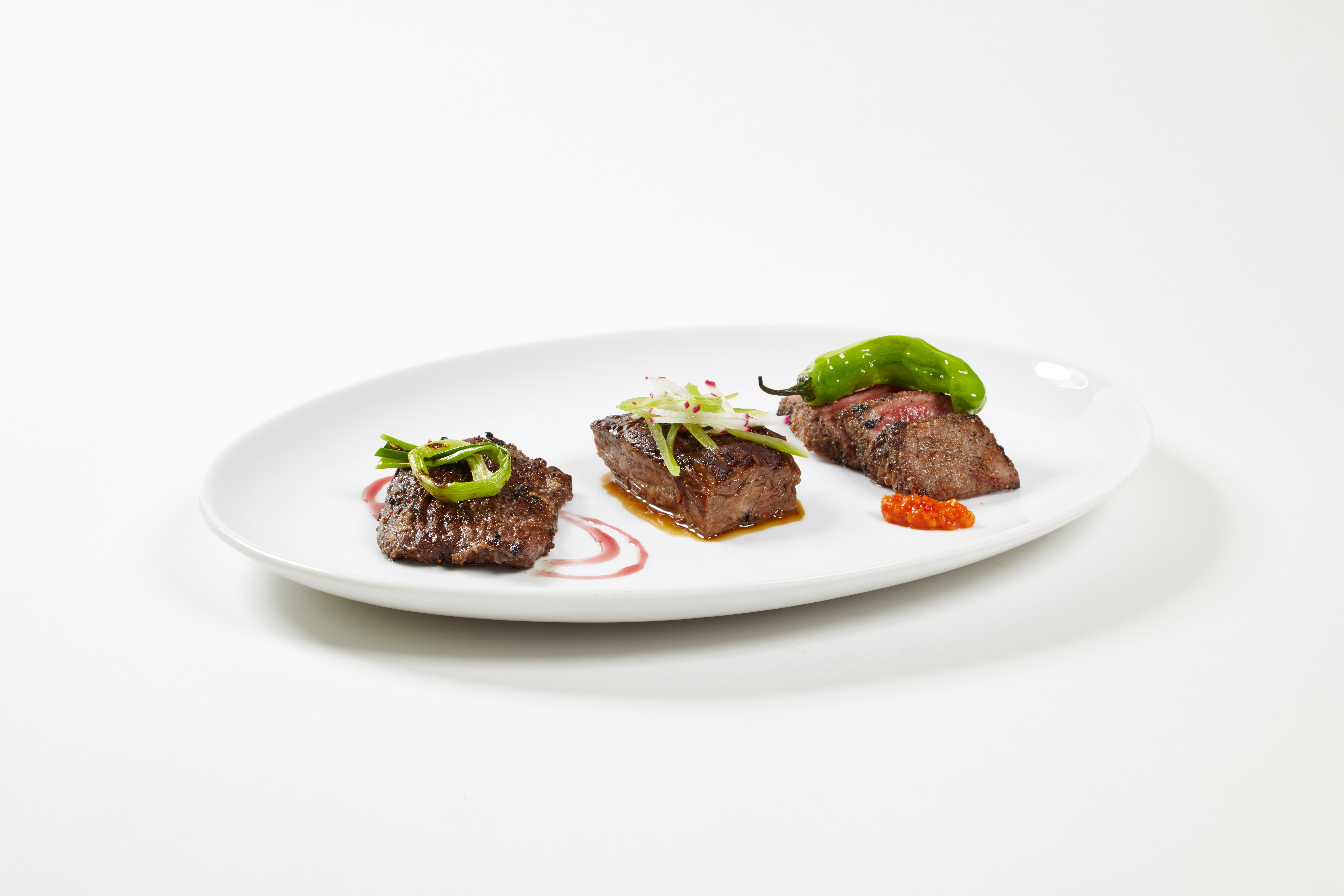 Photo Credit: David Murphey
I knew we were in for a fun dinner when they brought us a trio of complimentary duck fat fries enhanced by three dipping sauces instead of a tired bread basket. Carnivores will be in meat-heaven with an order of World Wide Wagyu, which includes a Japanese A5 strip loin, an American skirt steak and Australian short rib. Seafood lovers can feast on a still-art tower laden with crab, lobster, shrimp and more. I was torn until my superb waiter suggested the King Kamehameha eight-course prix-fixe dinner, which opened with Michael's Ahi Tuna Poke, accented with a touch of crunchy Asian pear, pine nuts and habenero-sesame oil, and included both a flavorful rib-eye and silken miso black cod, with Devil's Food Cake with tropical fruit for dessert. Put yourself in the capable hands of the somm to guide you through the extensive boutique wine list.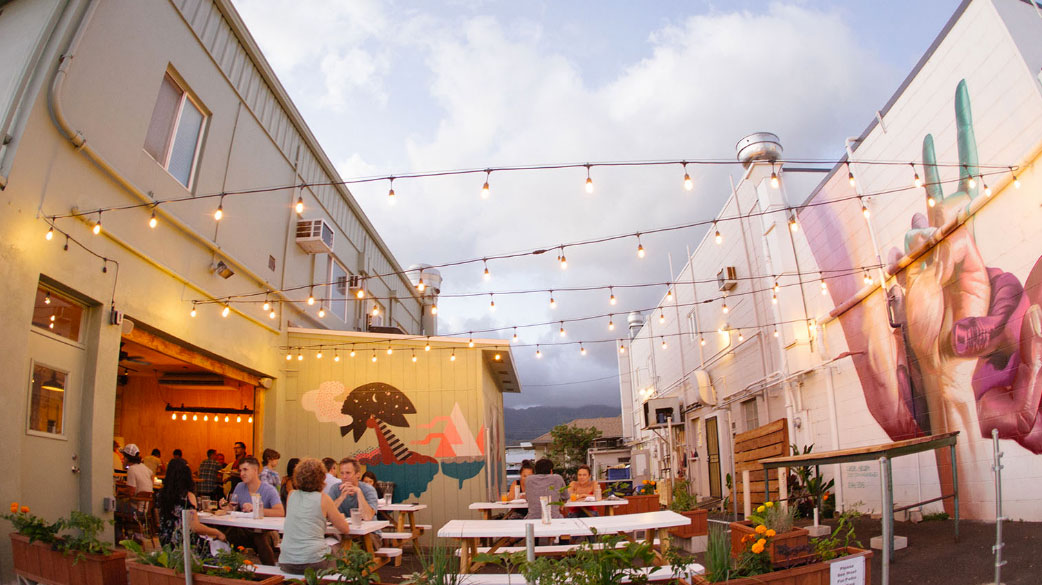 Photo Credit: Mud Hen Water
For imaginative Hawaiian food, cooked with great care and a lot of heart, Kenny's unselfconsciously hip, Mud Hen Water can't be beat. Flip-Flop casual (half the dining room is located in open garage with picnic tables and wild murals) this place buzzes with energy. This is Kenny's fourth restaurant on the island with an innovative menu of what might best be described as Hawaiian comfort food mash-up. You'll definitely want to go the share-plate route to try as many tastes as possible. Standouts include Akule with Limu Butter and pickled vegetables, 12-Grain Pork Congee, any of the straight-from-the-farm salads, and the Grilled Whole Opakapaka (similar to red snapper) with patis vinaigrette. The crumbly Pineapple-Polenta Upside Down Cake was my fave dessert of the week.