Photos Credited to: Four Seasons
Four Seasons Resort Dubai at Jumeirah Beach Keeps its Tastefully Elegant Vibe
Dubai is an international cosmopolitan center known for its brand of Middle Eastern extravagance and opulence. Most hotels compete in this space by having the biggest this or the tallest that in the city. In the midst of this ocean of excess, the recently opened The Four Seasons Resort Dubai at Jumeirah Beach opted to go in another direction. To the delight of its guests and industry critics, this tastefully elegant low rise beach front resort bucked the trend of hospitality excess and remained true to the Four Season's brand of understated luxury, thanks to interior design firm BAMO.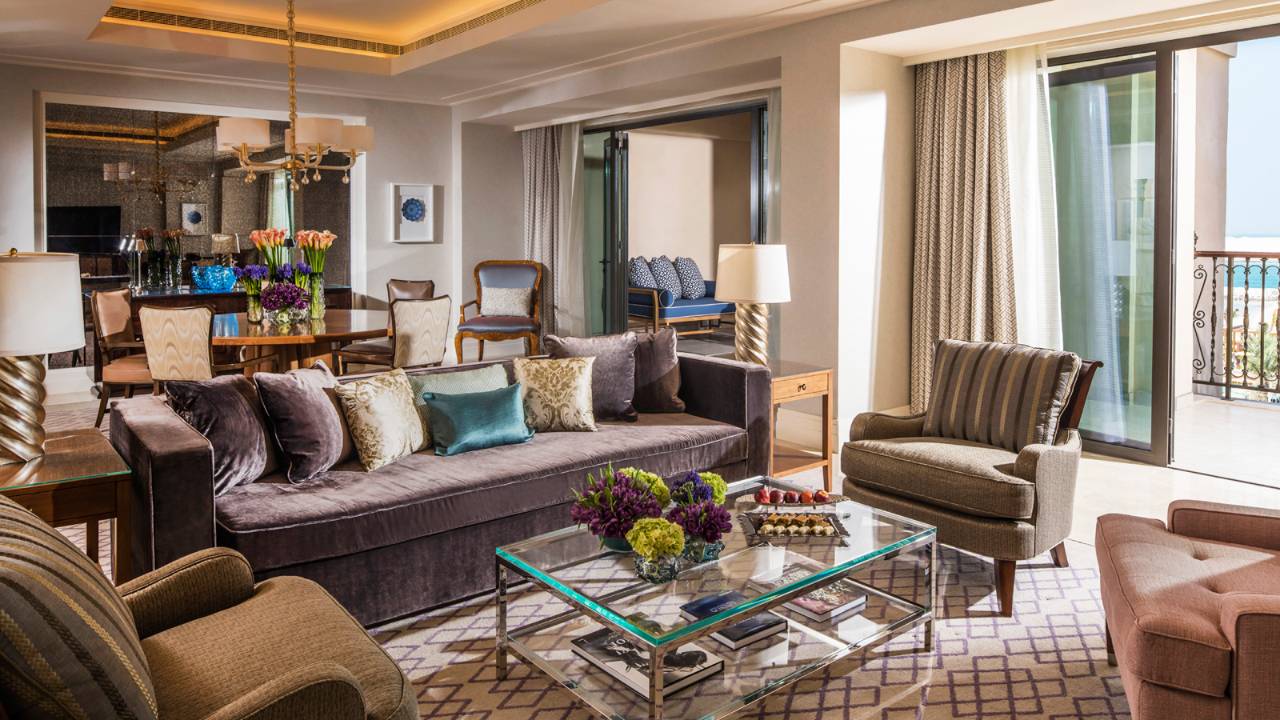 There are 237 rooms including 49 suites with a décor fusing Arabic design elements and modern style with fine art and curios. The rooms are spacious with high ceilings and a minimum of 750 square feet, making them among the largest of Dubai's hotels. Guests enjoy the uber comfortable beds with leather headboards and other fine details. The bathrooms are anything but understated with mosaic-tile walls, free standing bath, silver ceilings and Murano glass features and mirror, and an inlaid television. Other amenities include iPad room control and entertainment system, 55-inch television, walk-in closets, and gourmet sweets and cakes each day. Most rooms have wide open terraces for an outdoor living space with day bed and dining tables perfect for taking in the views of the Arabian Sea or the Dubai skyline and Burj Khalifah.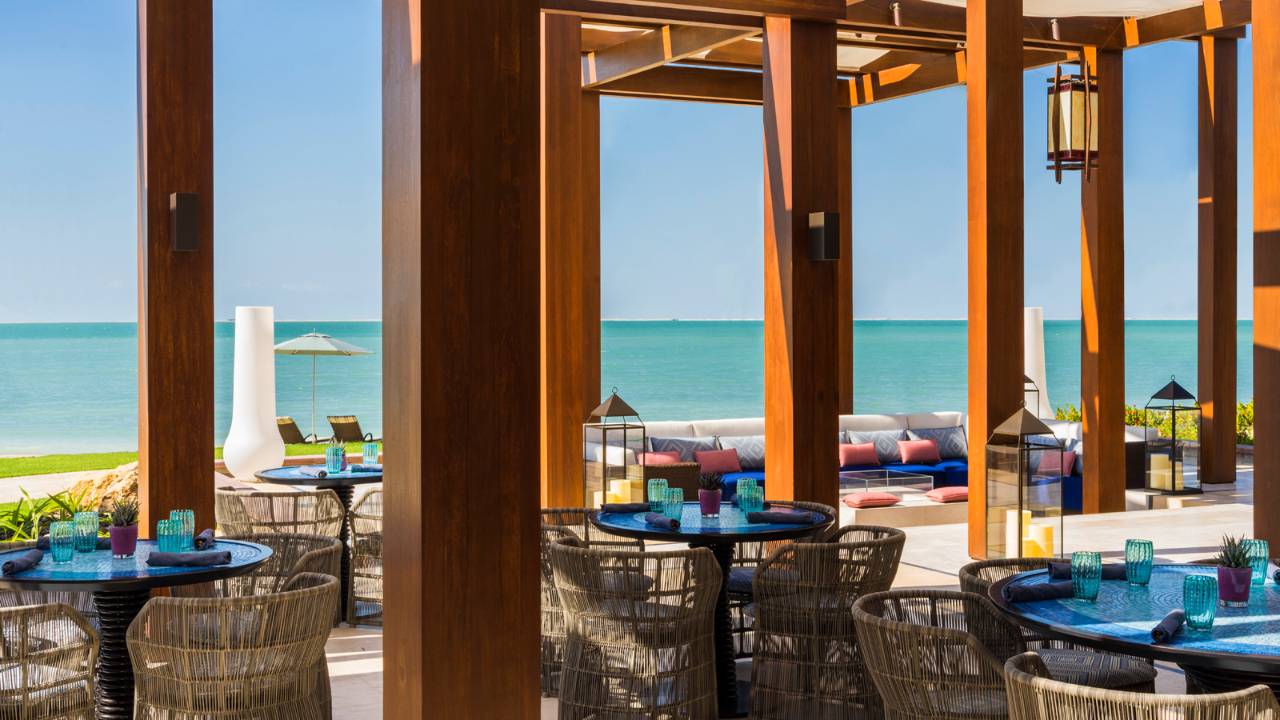 The dining experience is impressive at the Four Seasons Dubai at Jumeirah Beach. There are 10 restaurants and lounges offering a wide range of experiences in from casual to fine dining and entertainment.
Sea Fu is their signature contemporary Mediterranean and Asian seafood restaurant. The setting is sexy with couples dining al fresco by candle lit tables on the terrace. Others meet up at the drastically lit bar or at the sunken lounge as down tempo house music spun by a DJ to sets the tone for a fun and memorable evening. Inside, the chefs busy about in the open kitchen creating wonderful dishes of Asian dishes of mainly seafood. The French Vietnamese chef Pierre Barusta is a stand out among the region's chefs and brings his Asian and European techniques and interpretations of fine dining to your plate. Each dish is creative and unusual with many surprises from one course to the next.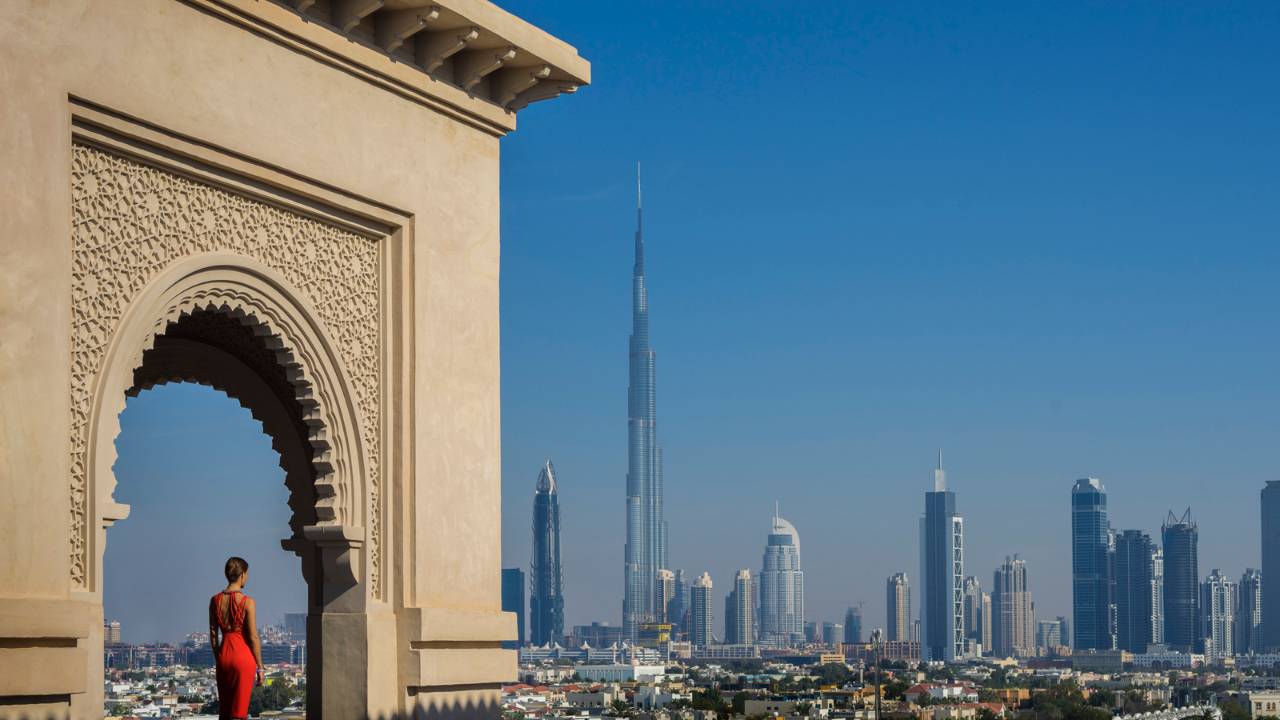 Unlike the skyscrapers that Dubai is known for, the Four Seasons Resort Dubai at Jumeirah Beach is only five stories tall. The resort is a showcase of contemporary Arabian and Mediterranean décor with the main lobby filled with fresh cut flower arrangements in Murano crystal; cathedral-like ceilings covered in gold leaf and large glass surfaces let in natural light. Local aristocrats and jet-setting hotel guests sip coffee or take high tea in the lobby area as others walk through the promenade past rows of designer boutiques offering chic resort fashion or expensive timepieces and bejeweled baubles.
The location could not be more perfect to experience Dubai, the resort sits close famous sights and world-class shopping at the Dubai Mall is 10 minutes away.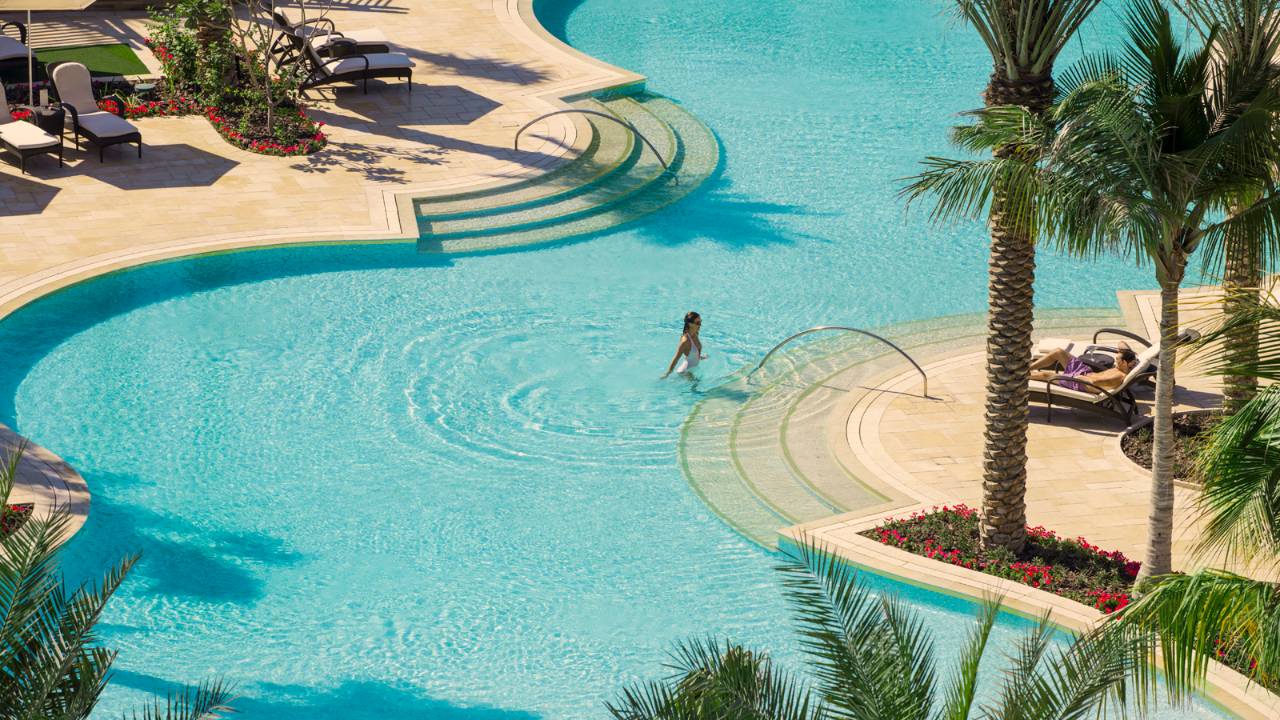 The outdoors is an oasis filled with palm-lined manicured lawns and endless rows of beach chairs along the 885 feet stretch of beach. There are two pools with one for families and other for the toned and tanned Generation X couples and friends seeking time in the sun, or chilling in the white netted cabanas. Nattily-attired attendants pass by each hour with refreshments, cool towels, suntan lotion, and refreshments are a call away with their interactive poolside remote, which also acts as a 'do not disturb' for those looking to snooze in the sun. For another level of outdoor opulence, the resort offers their poolside day villas which are perfect for spending the day with changing rooms, indoor and outdoor spaces with television, mini bar, full bath, and a personal butler.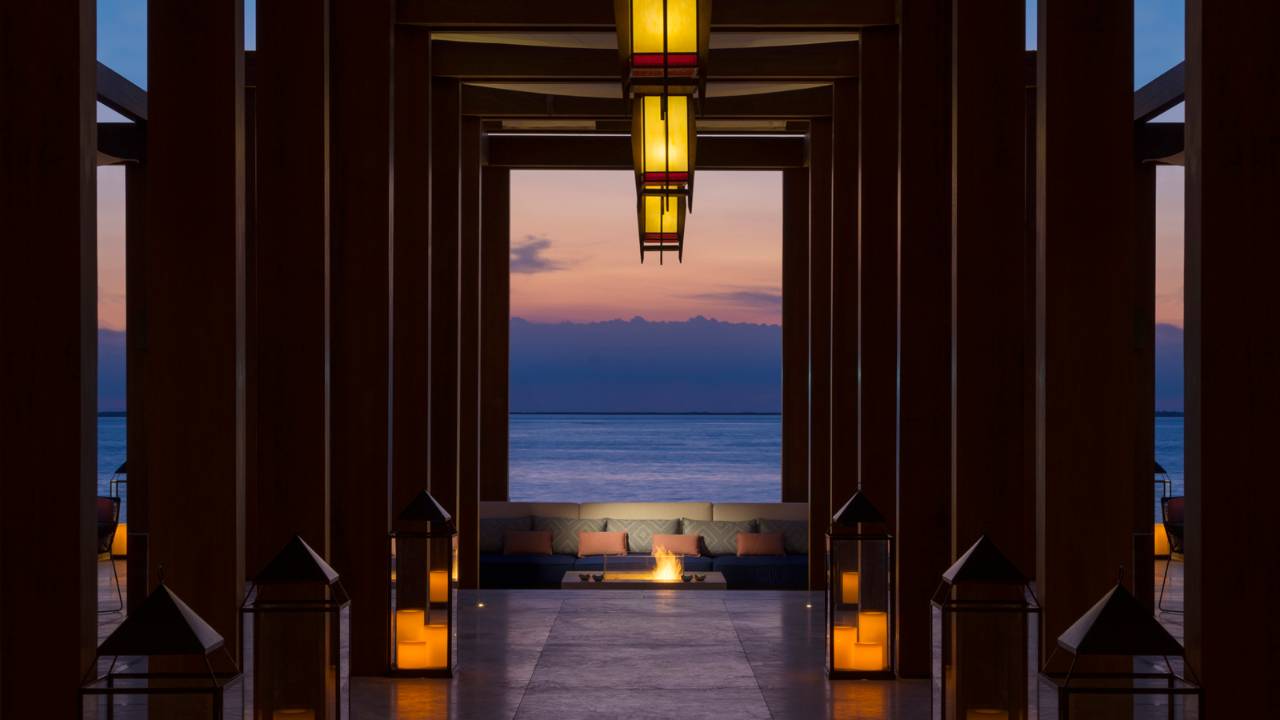 As the sun goes down, the entertainment outlets begin to fill with the resort's guests and locals. For those looking to experience Dubai's cocktail culture, Hendricks is a sophisticated and masculine bar specializing in gin cocktails and cigars. It is what you would expect in a British gentleman's club with high back leather chairs, dark décor, and a gin trolley offering some amazing signature drinks.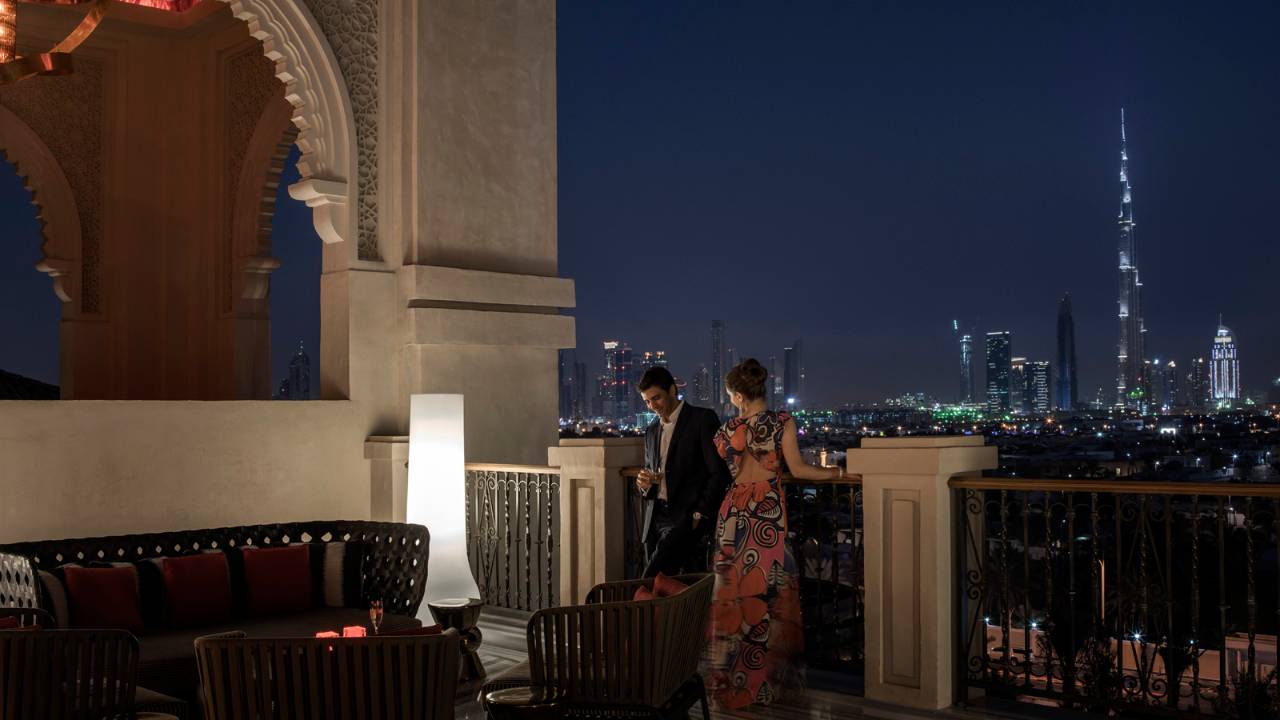 After dusk, the place to be is Mercury, one of the best rooftop bars in Dubai. The sunset and night views are phenomenal, with one side facing the Burj Khalifah and the Dubai Skyline and the other facing the Arabian Sea. A sexy crowd sits on comfy sofas, clinking glasses or smoking shisha while vibing to Euro dance tunes.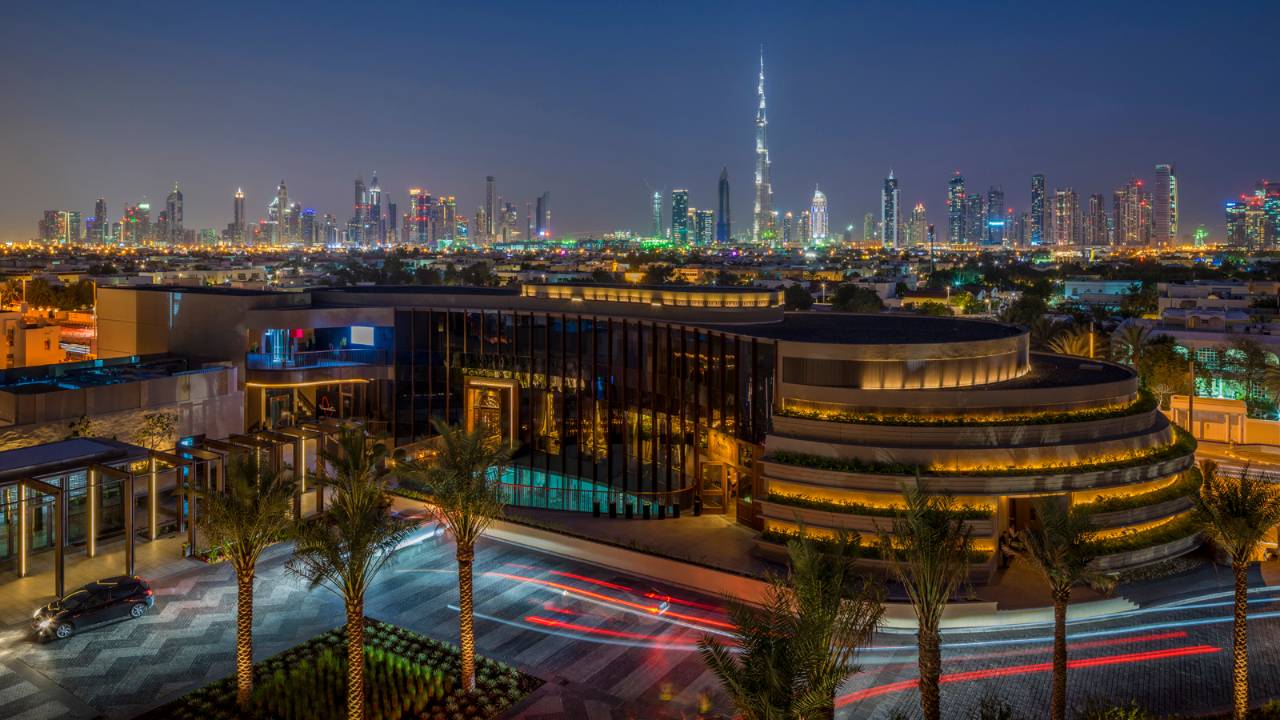 Adjacent to the property, there five additional establishments which are some of the top in Dubai for expats and locals such as the London based Peruvian restaurant Coya or the American nightlife outpost. Provocateur.
The Four Seasons Resort Dubai at Jumeirah Beach is a much needed example of tasteful luxury in Dubai. The resort has quickly become a top destination in the Middle East for the refined traveler who appreciates a relaxed luxury vacation.