Photos Credit: Baglioni Hotels
Exclusive Luxury Under the Radar At the Baglioni Hotel Luna Venice
Venice has no shortage of landmark hotels with prestigious names like the Gritti Palace, the Hotel Danieli and the Belmond Hotel Cipriani. However, those travelers with an eye for a Venetian experience that is at once more understated and authentic but with just as grand a pedigree should take note of another prominent palazzo right in the heart of the city: The Baglioni Hotel Luna.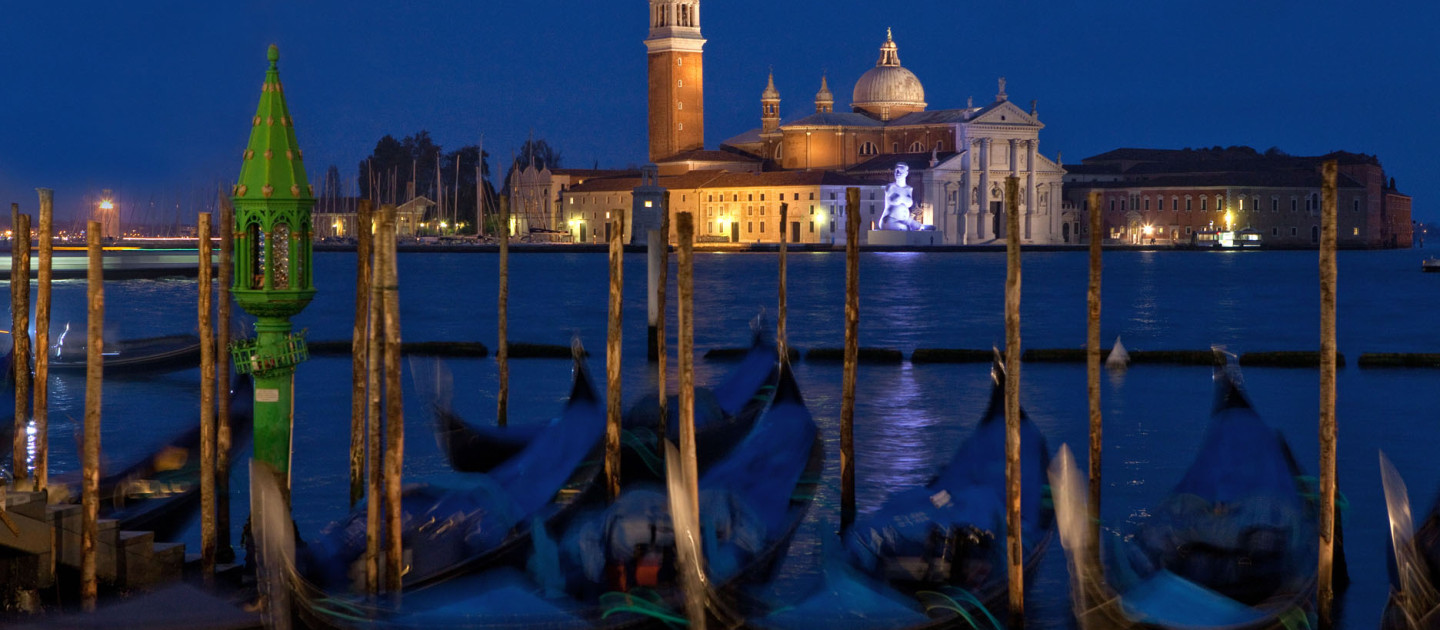 Lagoon Location
In Venice, some people orient themselves, and everything in the city, based on proximity to landmarks like the Piazza San Marco or the Rialto Bridge. Others – and these are the ones it's good to know – base their bearings off a landmark of another sort: Harry's Bar. First opened by Giuseppe Cipriani in 1931, the bar became famous as the birthplace of the Bellini, and as the watering hole of choice for luminaries like Hemingway.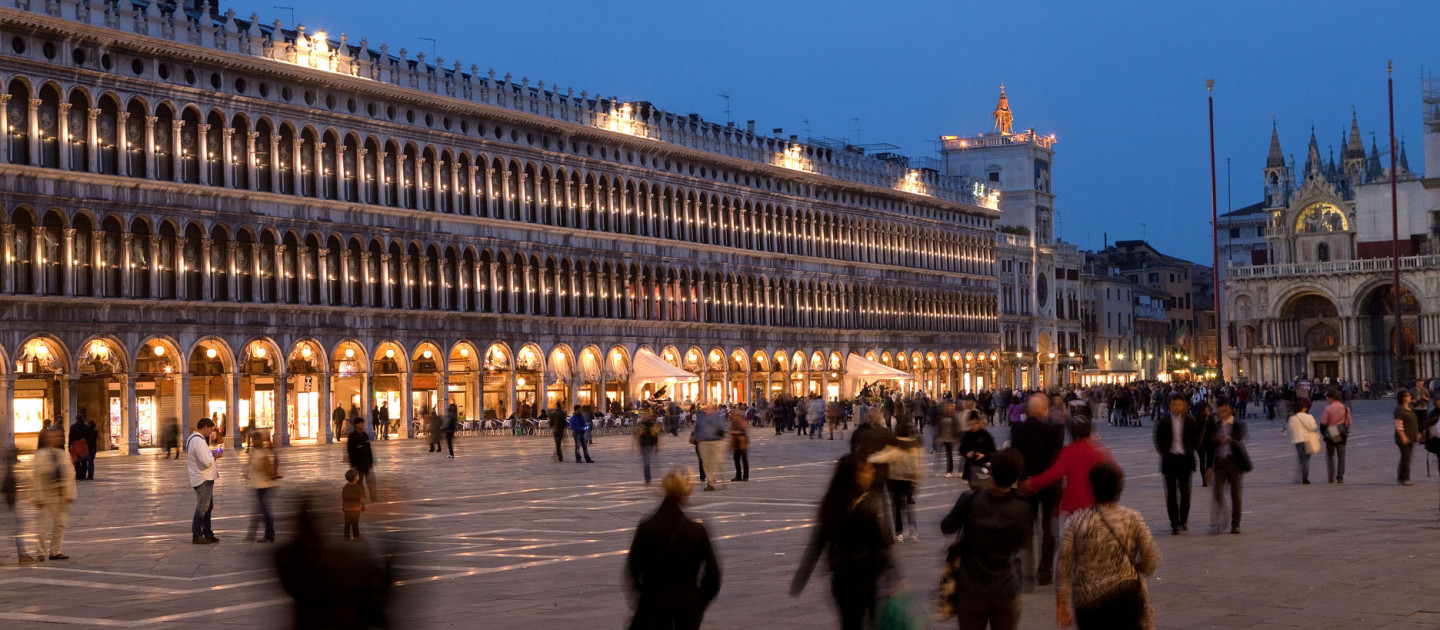 Just off the San Marco Vallaresso vaporetto dock, the bar is mere steps from the water, just around the corner from the bucolic Royal Gardens. As is the Baglioni Hotel Luna, which is just a few doors down along one of the city's narrow lanes whose shop fronts are now occupied by coveted brands like Missoni, Tiffany and Luis Vuitton. It's also just a short stroll from San Marco for the traditionalists out there.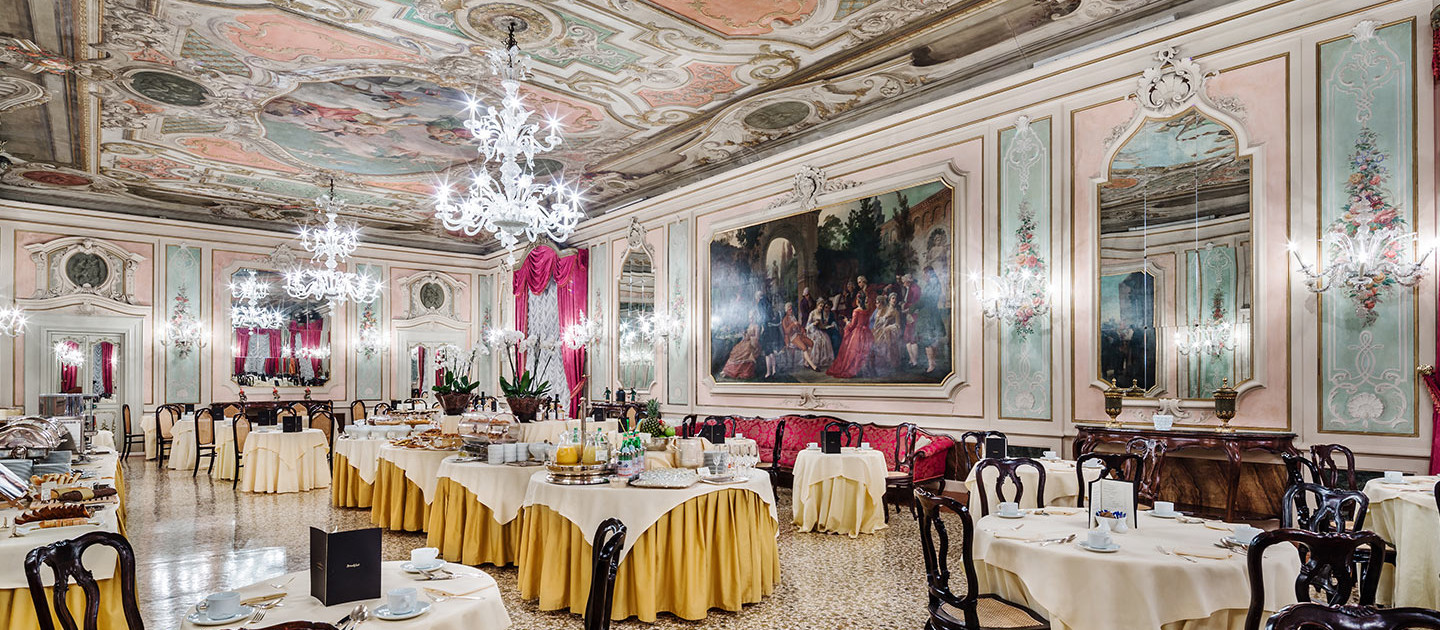 Palazzo Prestige
In a city full of decadent palazzi, the Baglioni Hotel Luna still manages to stand out thanks to its 900-year history and its prominence as one of the city's oldest hotels.
The site originally dates to the 12th century and once belonged to a band of Knights Templar. The edifice and interior these days are more redolent of 18thand 19th-century aristocratic building sprees following the city's conquest by Napoleon.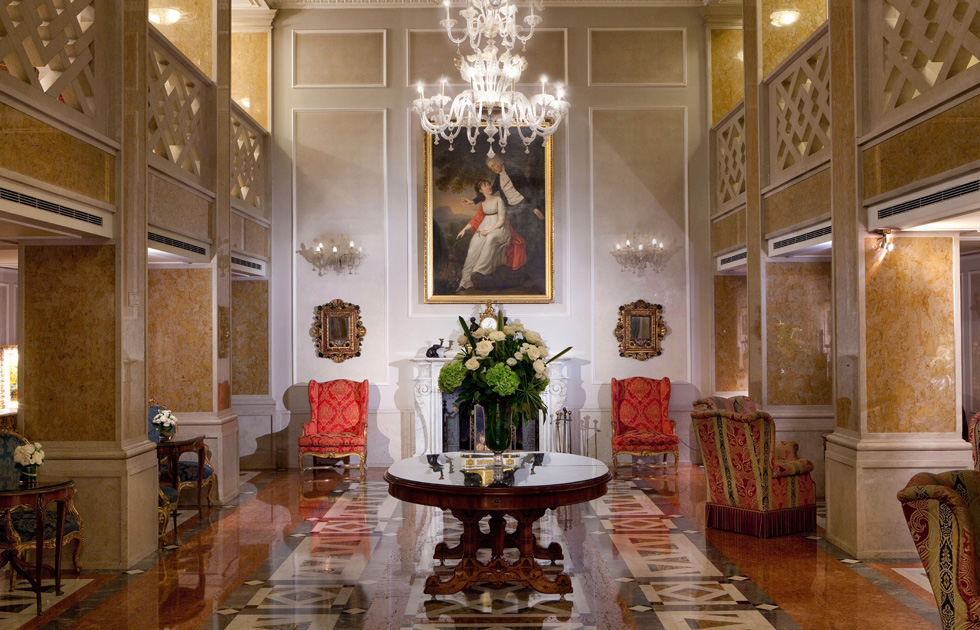 All that's to say, everywhere you look are museum-worth works of art including massive Murano-glass chandeliers, centuries-old antique furnishings and accent pieces and bright frescoes including many by native son Tiepolo and his students (be sure to glance at the ones in the opulent Marco Polo Ballroom).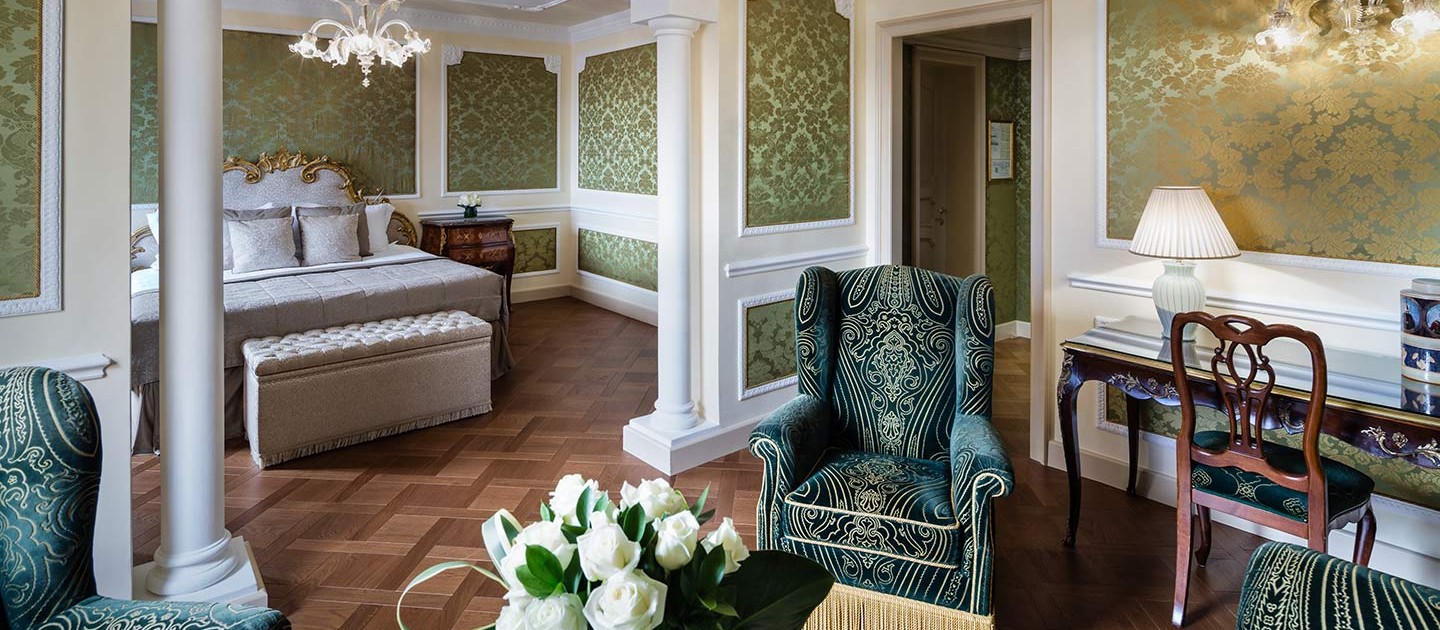 Restored Rooms
The hotel underwent recent renovations both to update room features as well as to highlight views over Venice's famous lagoon from newly expanded suites. There are just 91 accommodations total now.
In contrast to current decorative trends, the overarching aesthetic here is one of unabashed opulence. Meters of thick, jewel-toned upholstery and fabrics with gold brocade adorn the windows and classic half-canopied beds. The floors are geometrically perfect wooden parquet patterns accented with intricate Persian carpets. Whimsical chandeliers made from the city's famous hand-blown glass hang overhead. This definitely would have been Marie Antoinette's preferred address in Venice.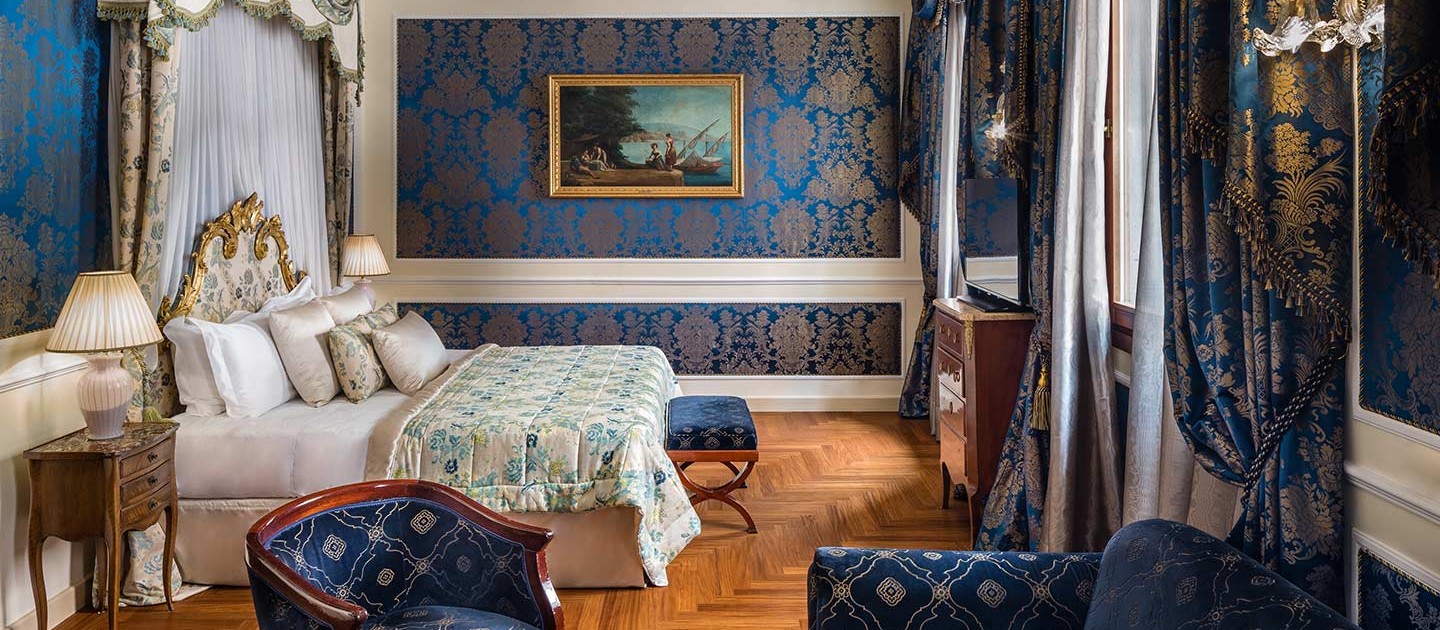 The positively palatial bathrooms are clad in white and black Italian marble with his-and-hers vanities, deep soaking tubs, separate showers and exotic Ortigia orange-blossom bath amenities from Sicily.
For a truly singular, spectacular experience, book one of the specialty suites including the San Giorgio, Giorgione or Sansovino Grand Lagoon suites, each of which boasts its own expansive private terrace overlooking St. Mark's basin and the island of San Giorgio with its famous 16th-century Benedictine church designed by Andrea Palladio.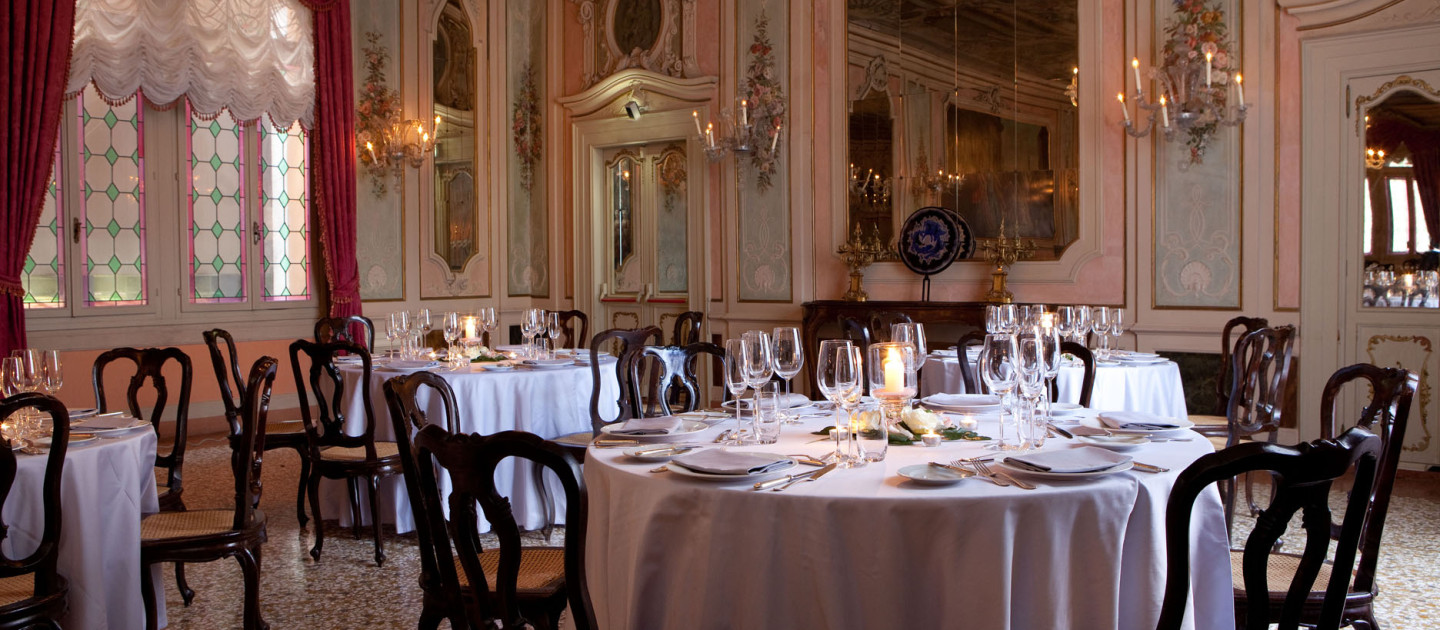 Mangia Magnifica
Guests can enjoy a casual coffee overlooking the Royal Gardens in the ground-floor Caffe Baglioni. However, they are treated to lavish breakfast buffets daily in the hotel's extravagant Marco Polo Ballroom under those Tiepolo-school frescoes of gardens of earthly delights. There are hot and cold selections including charcuterie and traditional almond cake as well as made-to-order eggs and other pastries plus a selection of fresh fruit of the day (and yes, chilled bottles of Prosecco just waiting to be popped).
The hotel's award-winning signature restaurant, Canova, serves up a myriad of modern Venetian dishes such as egg-yolk taglioni with Tuscan kale and Mazara shrimp, or Adriatic turbot with black sesame and spinach sautéed in olive oil, and offers one of the city's best wine lists.
Fin
The Baglioni Hotel Luna is a sumptuous historical hideaway that manages to fly under the radar despite its near-perfect central location in the tourist-heavy heart of Venice. Thanks to an illustrious past and aristocratic embellishments, the hotel is a destination in and of itself in the city. However, thanks to its situation just adjacent to major sights including San Marco and the Doge's Palace, and within easy walking distance of museums like the Accademia Gallery and the Peggy Guggenheim, the hotel is the perfect staging base for visitors looking to get out and explore this singular city.