Photos Credit: ROOF on theWit
Decisions, decisions. Spend the summer experiencing the best of Chicago, or exploring the cities that dot the Mediterranean coastline? This summer you may not have to compromise. Set 27 stories above the bustling urban streets is one of the Windy City's hottest rooftop bars, ROOF on theWit. The bar and restaurant kicks off its much-anticipated JetSet Series during Memorial Day weekend, with two more excursions in July and September to follow. Each event in the series intends to give guests a full sensory travel experience through curated cuisine, beverages, ambiance and entertainment.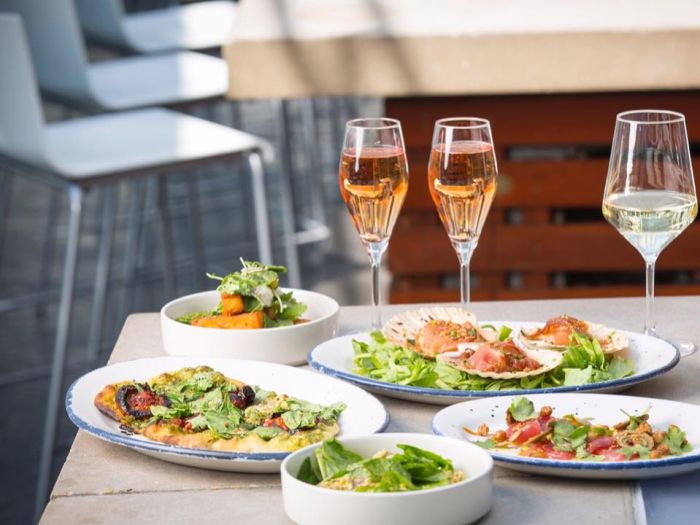 The first event kicks off with an exciting trip through Barcelona, complete with a Moorish-inspired menu created by Chef Nathan Sears. Savor Spanish-influenced cuisine such as chicken and chorizo paella or grilled beef kebabs with pomegranate marinade. Pair your meal with a handcrafted libation like the oh-so-sultry Spanish Mistress, made with Bacardi, Calabrian pepper, passion fruit and lime. As the summer heats up, good times and good vibes continue on. On July 7th, the second JetSet voyage takes a trip south with an event themed around Costa del Sol, Spain, near Malaga. Labor Day weekend (September 1-2) is the last destination on the menu, with the setting based in Portugal's coastal capitol, Lisbon.
Lauded by Travel + Leisure as one of the "Top 3 Rooftop Bars in the World," a party in the 7,000 square-foot indoor/outdoor venue is sure to be a good time. In addition to the jovial atmosphere at the JetSet events, guests can enjoy panoramic views of the Chicago River, Millennium Park and the city skyline in between sipping cocktails and dancing the night away.