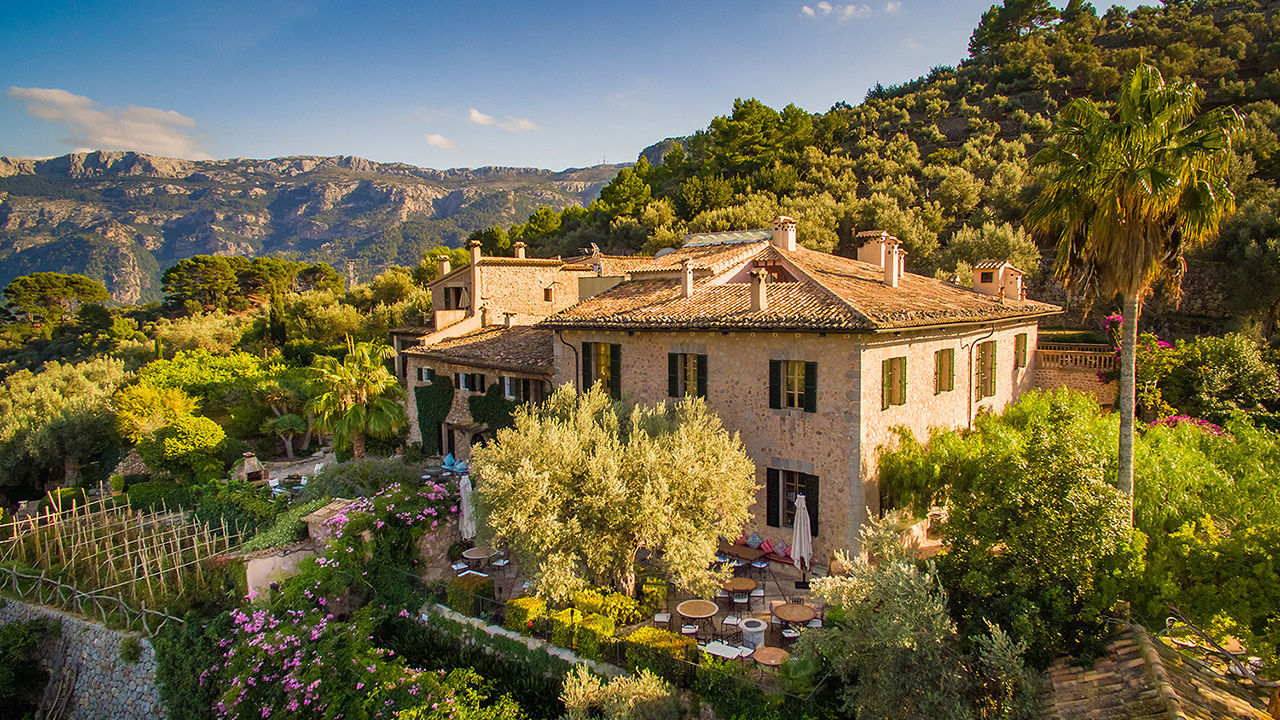 Photo Credit: Ca's Xorc
Perched high in the Sierra de Tramuntana amid lush lemon groves and gnarled olive trees, Ca's Xorc (meaning 'dry') is a charming Mallorcan getaway. Less than an hour from Palma and 20 minutes from the port of Soller, this 5-star boutique hotel is reached along a steep and narrow winding road that leads upwards through stony foothills.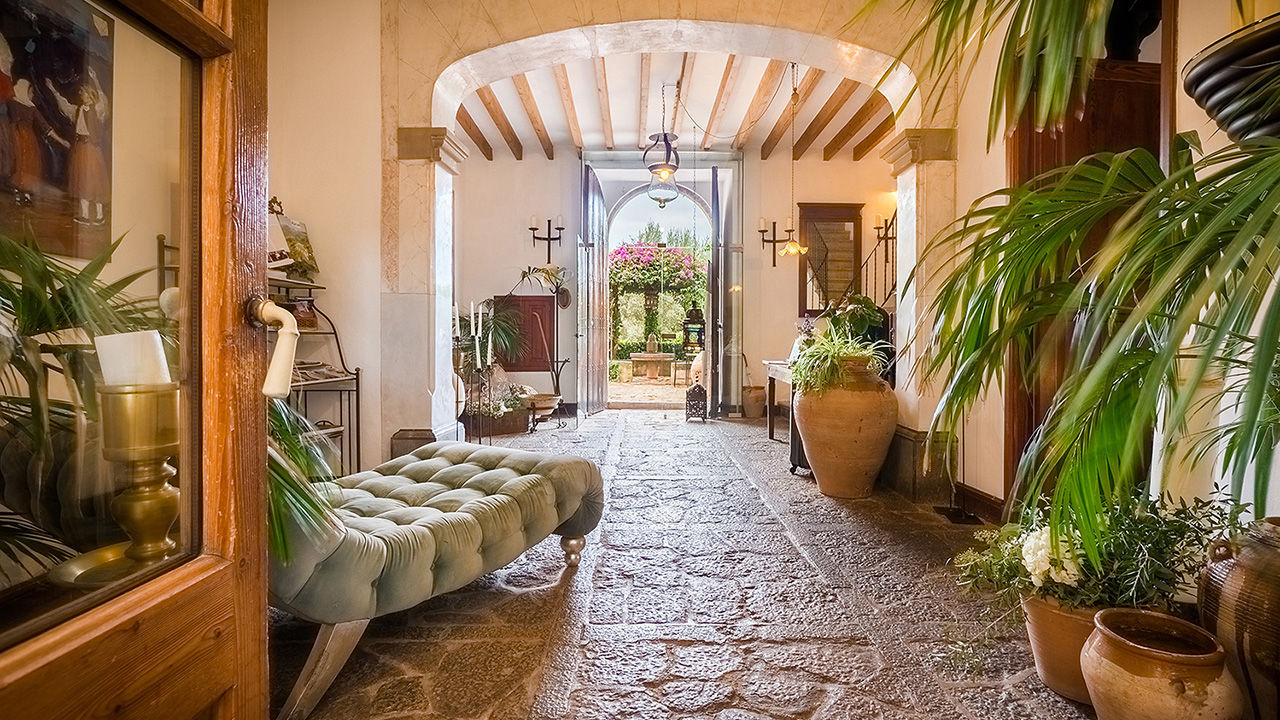 Photo Credit: Ca's Xorc
Here, an authentic island finca (Spanish country estate) awaits guests, with terracotta-tiled floors, pine-wood furniture and a mix of stone and wood walls. Outside is a spacious verandah overlooking tree-lined mountain slopes and sharp ravines sliced into their limestone sides. Beyond lies sweeping views of the Mediterranean.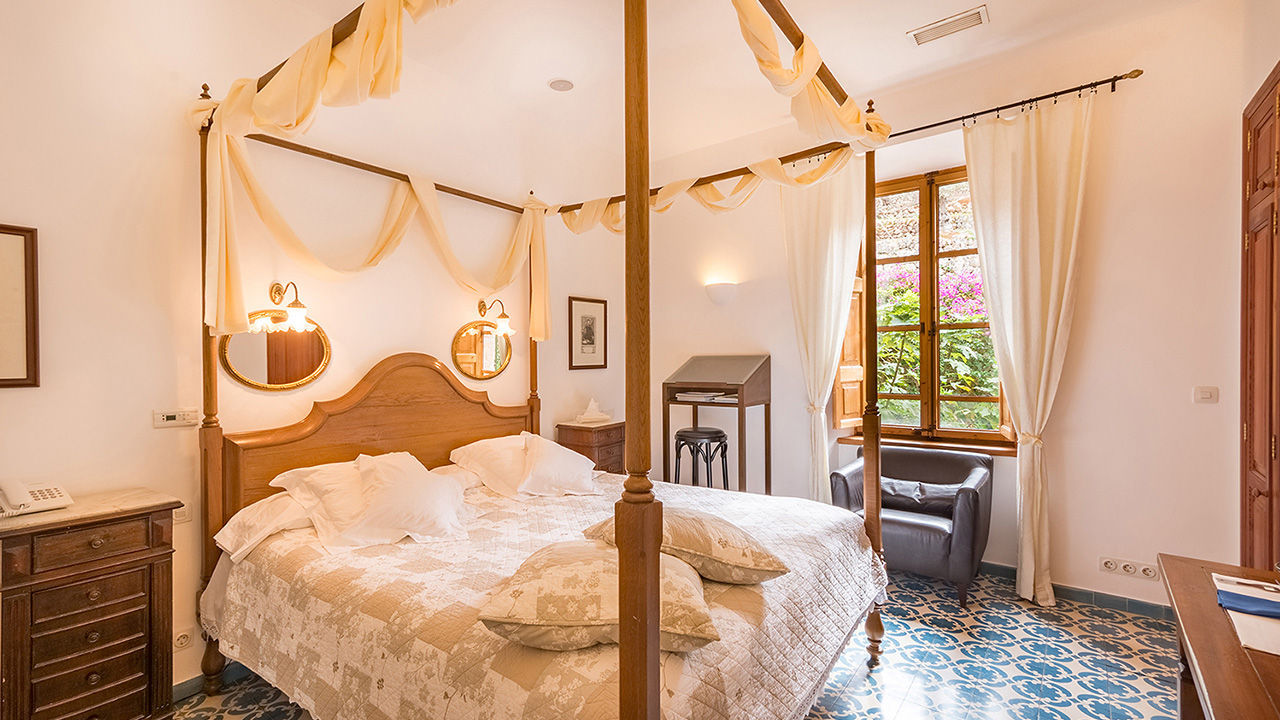 Photo Credit: Ca's Xorc
Each of the 15 rooms, created out of three linked houses, are distinctly different in shape, size and décor. Our room oozed cozy tradition, especially in its decorative furnishings, including a four-poster bed and an old-style, wood-framed window with brass clasps that opened inwards to reveal an inspiring backdrop of towering peaks in the distance.
While impressively traditional, all mod-cons are provided. Wi-Fi is automatic, a television offers many channels and a mini-bar is well-stocked with beer, soft drinks, liquors, and even Champagne. Sometimes in remote rural locations, water pressure is a problem but here the shower was both strong and invigorating.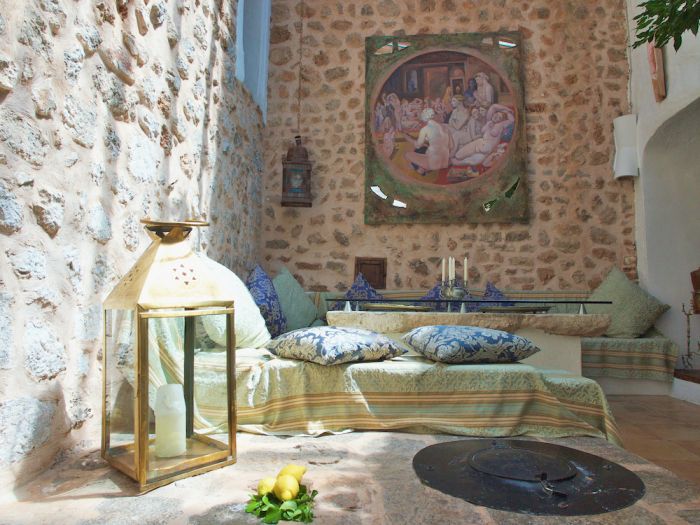 Photo Credit: Columbia Hillen
In many ways, Ca's Xorc's decor is reflective of Mallorca's long and intriguing history, a strategic Mediterranean island once fought over by Christians and Muslims, and the empires of Spain and England. Illustrating this colorful background, adorning our bedroom wall were two portraits of conquistadors, military leaders who explored and colonized much of the world for Spain in the 16th, 17th and 18th centuries.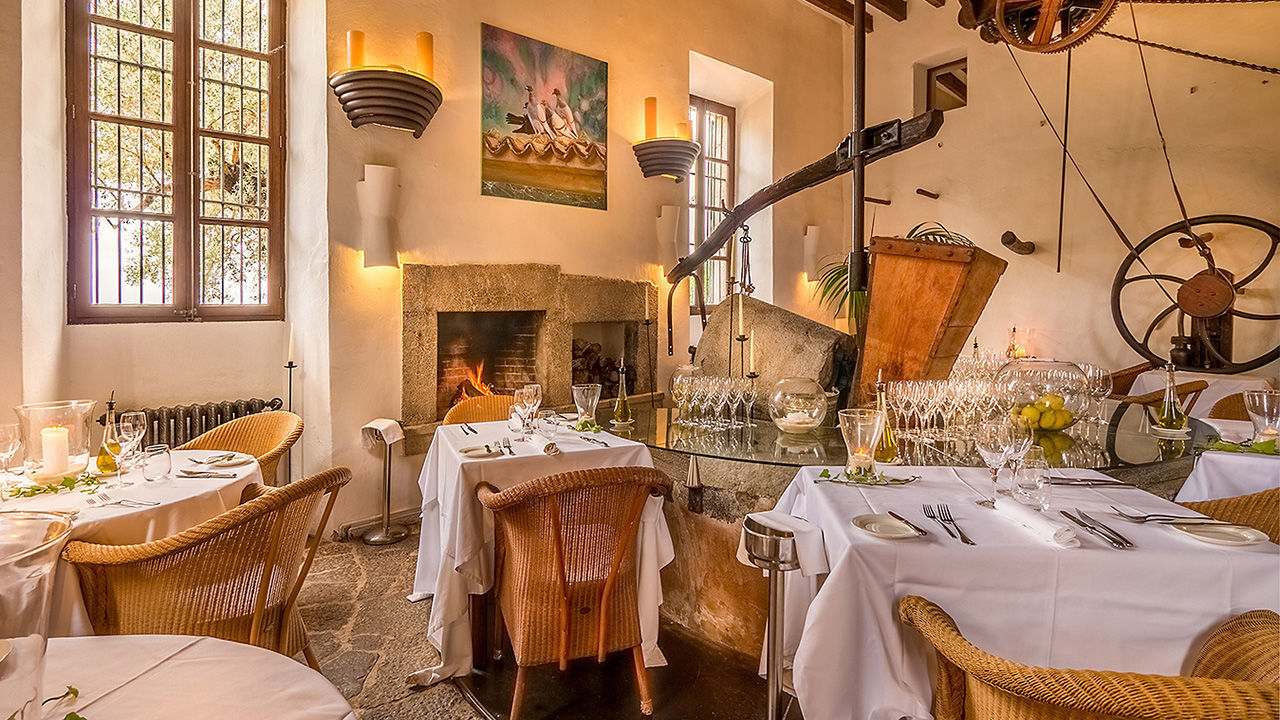 Photo Credit: Ca's Xorc
Breakfast further emphasizes this carefully-nourished sense of tradition, with fresh locally-baked breads, a buffet of assorted artisan cheeses, goat, sheep and cow, and delicious cold-cuts such as sobrassada, cured sausage similar to Spanish chorizo . Highlight for me was a tasty, moist omelet of artichoke and melted cheese.
Under the guidance of head chef Guillermo Moya Igarza dinner is served in Sa Tafona, in what was once an olive mill. The old wooden press, which donkeys once turned to squeeze the fruit, remains, as do latches that give access to the storage area below. Tribute is paid to the hardworking donkey in two large wall portraits of them. A high, bare-beamed ceiling and stone floor add to the rustic ambience.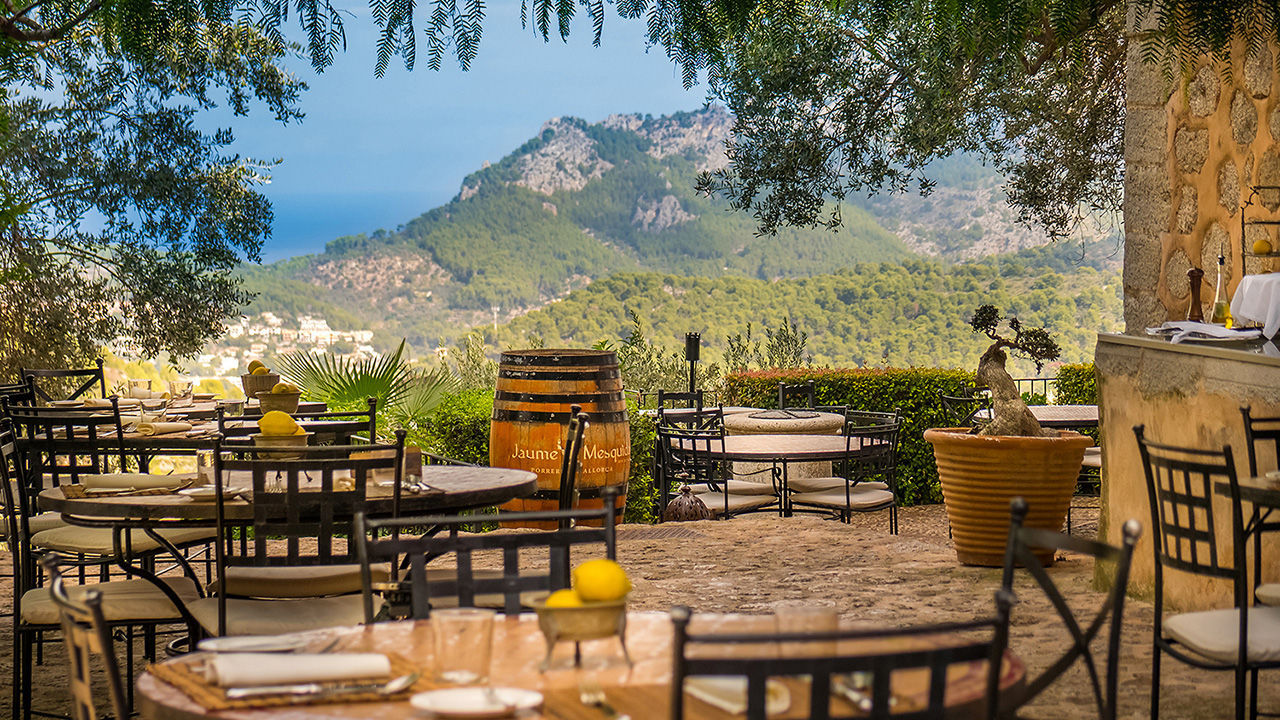 Photo Credit: Ca's Xorc
Other dining venues include the outdoor terrace, which seats up to 100 people; the more intimate Salon Madera, featuring a large fireplace and huge solid wood table that can seat up to 38 people; and a white Moroccan-style tent for weddings and other celebratory events.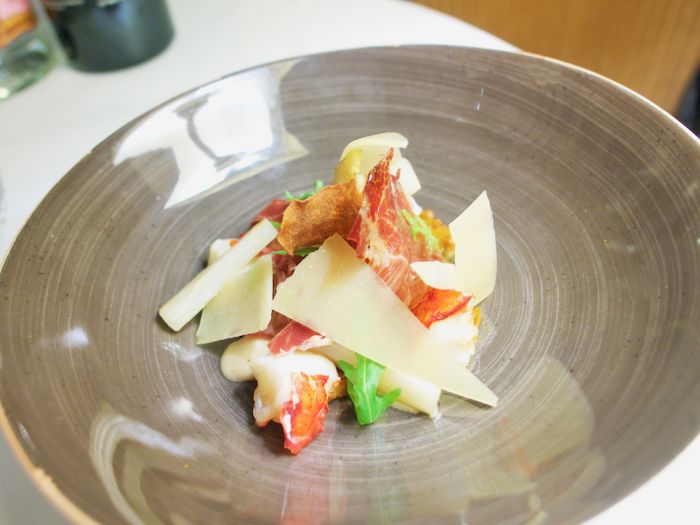 Photo Credit: Columbia Hillen
Food is traditional Mallorquin cuisine comprised of both fish and meat dishes such as lobster, asparagus and Jabugo ham with pine nut emulsion—a delicate construction of poached asparagus, ribbons of ham and morsels of lobster tail, with shavings of Parmesan cheese, all resting on a puree of fennel, dried tomatoes and pine nuts—and Majorcan suckling pig confit with potatoes, its own jus and vegetables. Pictured here is Iberico pork with octopus and eggplant, featuring a toasted brioche, sprinkled with slices of roasted aubergine, cream and lemon, cuts of grilled ham, coins of octopus, pine nuts and grapes.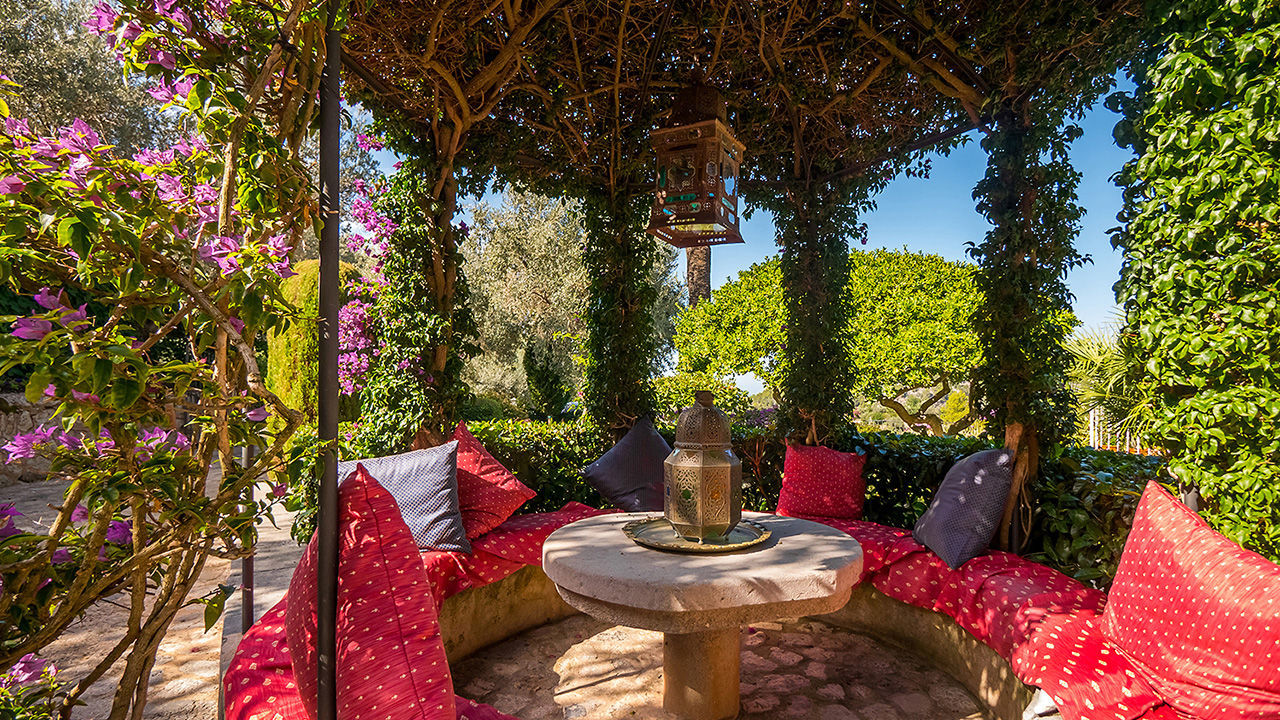 Photo Credit: Ca's Xorc
Comfortably ensconced in such a countryside haven as Ca's Xorc, one is not inclined to do too much except escape the stress of daily life by sitting back and absorbing the tranquil atmosphere of warm, passing breezes, humming bees and chirruping birds, not to mention the soft faraway sounds of cowbells.
Such is the reputation of Ca's Xorc, many celebrities have stayed here including the Irish singing family, The Corrs. Drummer, Caroline, married here and among here guests were Bono, lead singer of U2. Model Claudia Schiffer also chose this property for her marriage setting and Mick Jagger of Rolling Stones fame was a guest of honor.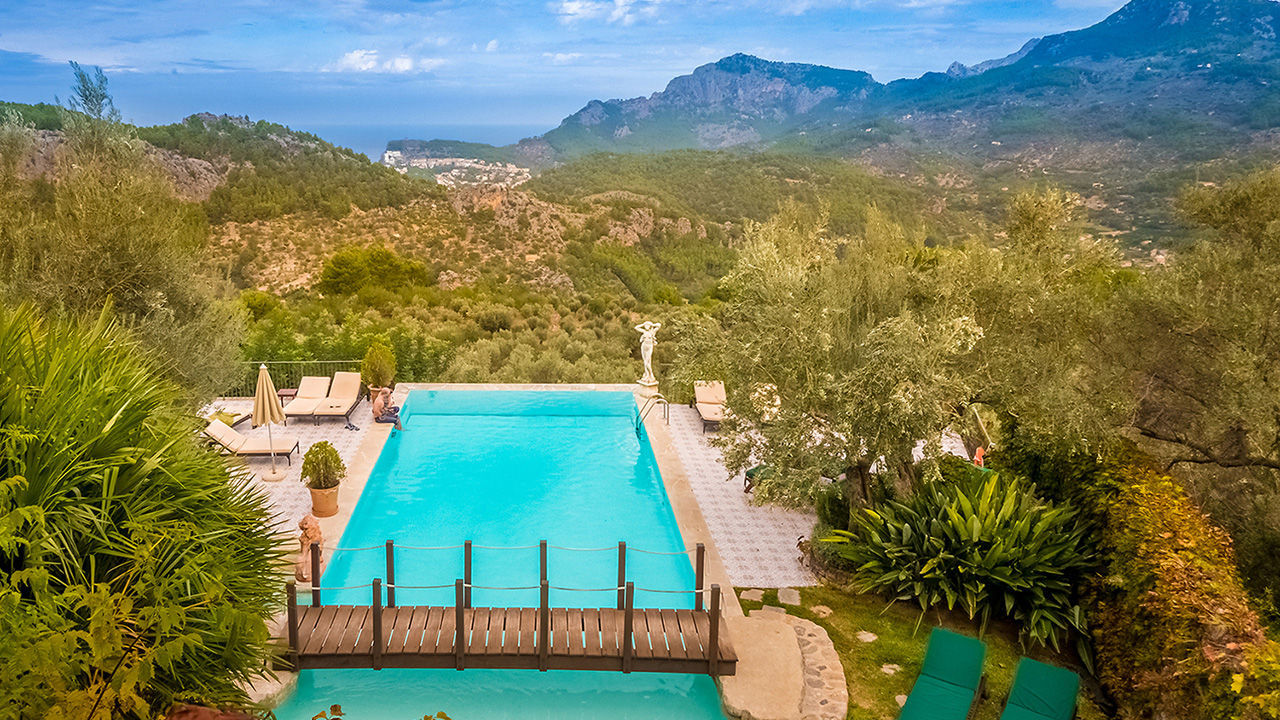 Photo Credit: Ca's Xorc
In terms of design, Ca's Xorc occupies a set of buildings more that 250 years old. The largest is a network of rooms located amid a labyrinth of stone staircases, including two garden cottages. It features an open-air infinity pool on one grassy terrace and a Jacuzzi on another above it, both providing panoramic vistas down into the valley.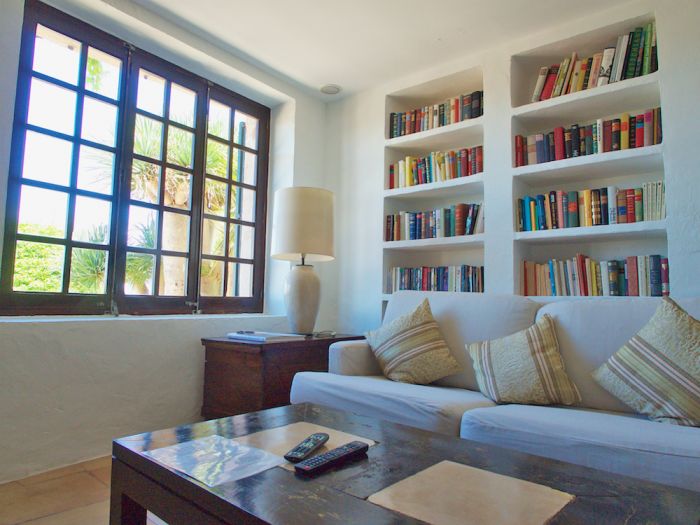 Photo Credit: Columbia Hillen
As for nearby activities, a 40-minute scenic walk down a pebbled pathway through crags, goat tracks and olive and orange groves brings you to Soller, a sleepy but pretty little town with cafes, bars and restaurants. A drive in another direction brings you to a network of charming villages, including Deià and the former home, named Canallún (Catalan for faraway home), of English anti-war poet and author Robert Graves. Complete with original furnishings and artifacts, the house and grounds are open to the public with a short video illustrating his life.
A traditional Mediterranean island retreat, Ca's Xorc offers a little bit of everything classically Mallorcan: quaint but enchanting accommodations, views over both mountain and sea, and proximity to winding countryside roads leading to charming coastal villages; a rustic yet luxurious locale, worth going out of your way to visit.