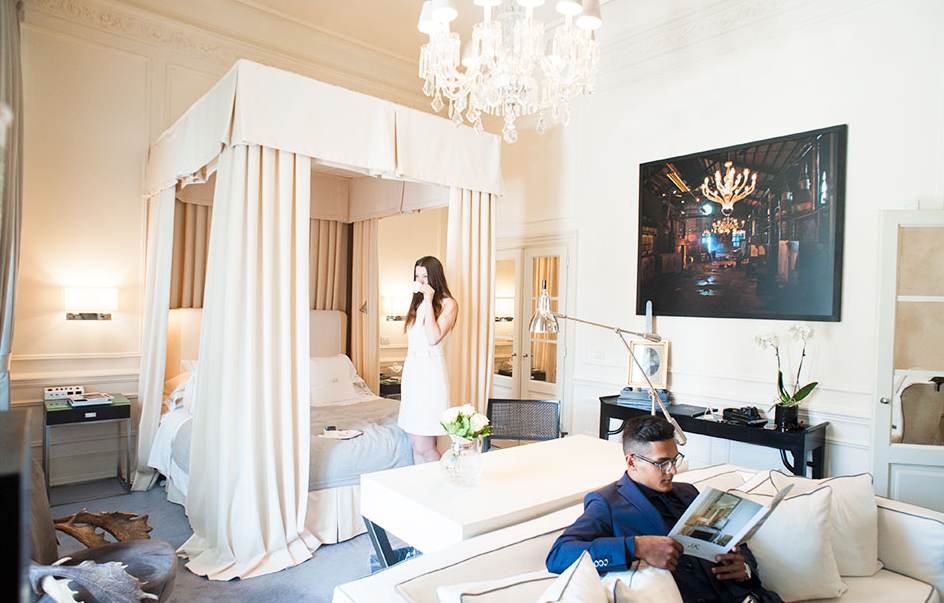 Photo Credit: Nicholas Kontis
Everyone has a favorite city. For most worldly explorers, Florence is near the top of many must-see lists. The time-skipping beauty of the cradle of the Renaissance comes complete with a romantic and enchanting spell that continues to leave one craving more.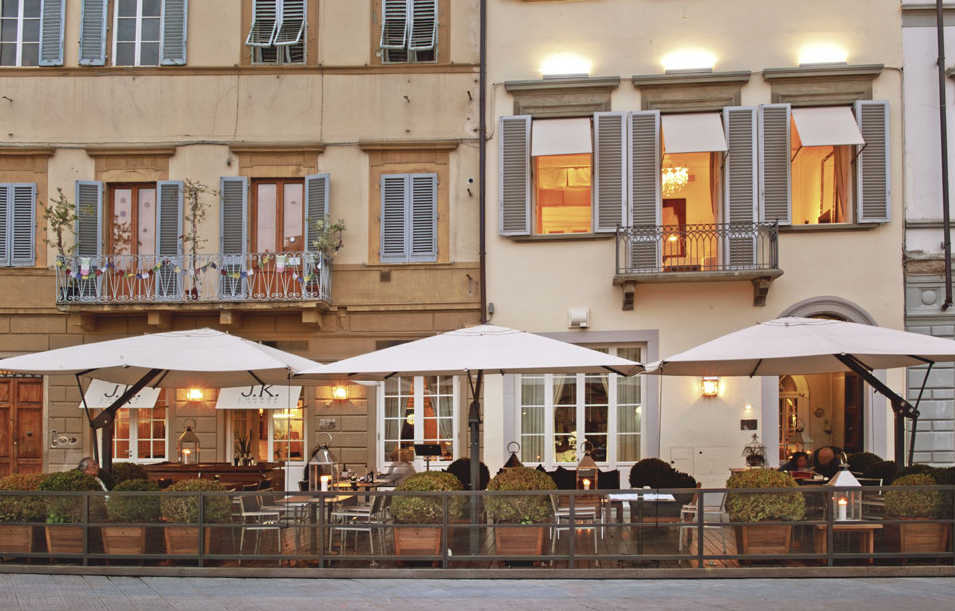 Photo Credit: J.K. Place Florence
The 20-room J.K. Place does the same all on its own. In fact, it's rather difficult to define, and feels unlike any ordinary hotel. It would be at home both in New York's Soho or in the English countryside. It's very Italian, uber-cool, and yet casual and contemporary all rolled into one.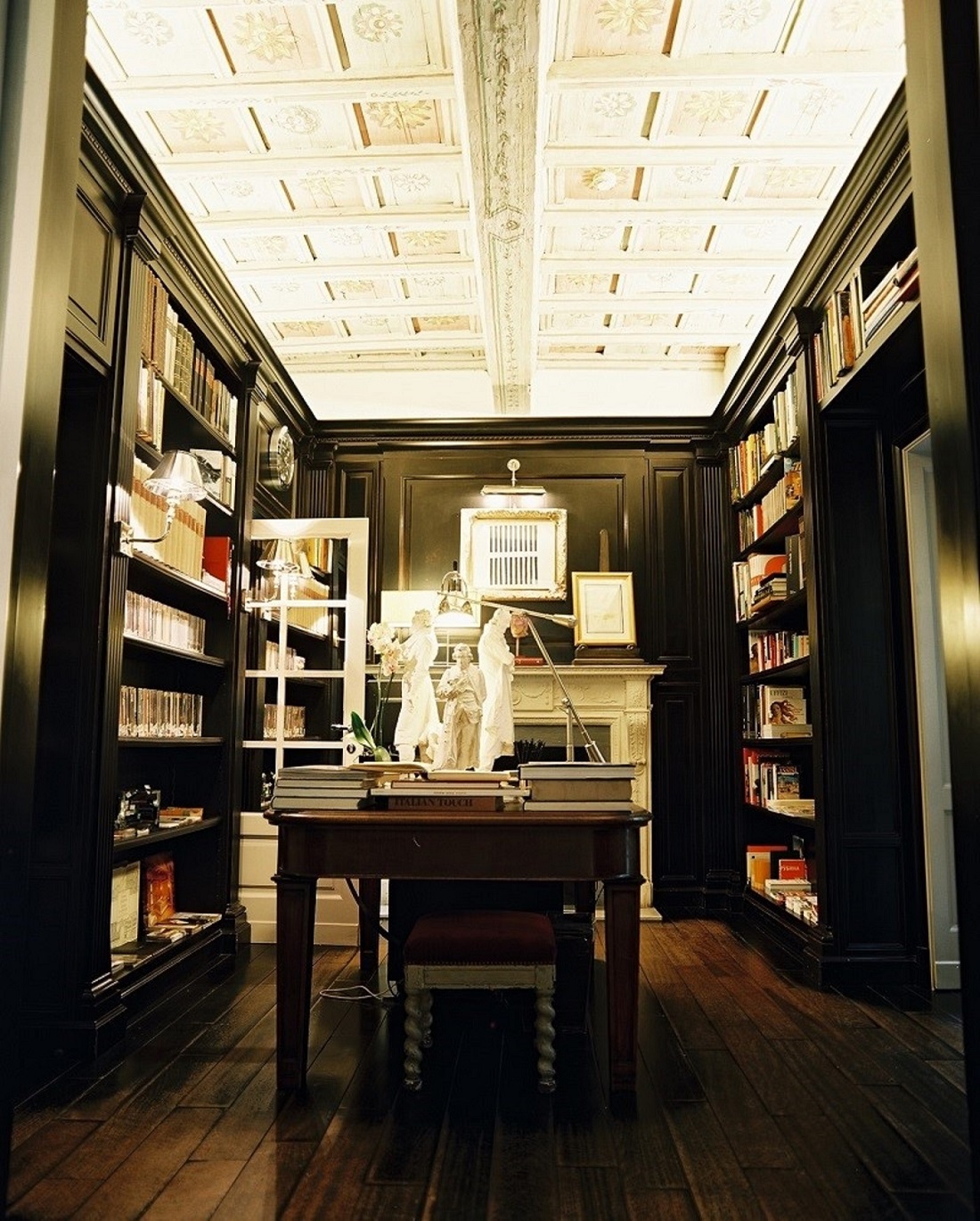 Photo Credit: Nicholas Kontis
An exquisitely intimate property, the location is on the forefront of Piazza Santa Maria Novella, making it a popular spot. In fact, you might need a lucky charm to find an available room. Fodor's Travel named the boutique as one of just 13 hotels in the world to be awarded in a category called 'Home Suite Home' —places that provide guests with the feeling that they are staying in their own home. And that home-like vibe is apparent right away, when you ring a bell outside a stately black lacquer door, that is far more reminiscent of a London private home in Mayfair than an Italian square.
Photo Credit: Nicholas Kontis
The genius behind the design of the Florentine masterpiece is Michele Bonan, the architect who oversaw the hotel restoration. It took three years to complete the renovation into what J.K. Place is today, starting from a condominium in disrepair. There is no conventional check-in area. Instead, guests will find a desk in a room furnished to mimic a small library, seemingly melting into the rest of the grand level. You sit in the "living room" complete with a burning fire; sipping a spritz or cappuccino; while reading the evening paper. You might even decide to come down from your upstairs room in your robe and slippers. After all, this is your home. Just like with your family back home, guests sit together for breakfast at a large oval table chatting about the day's activities. The commonplace realities of the outside world seem so far away.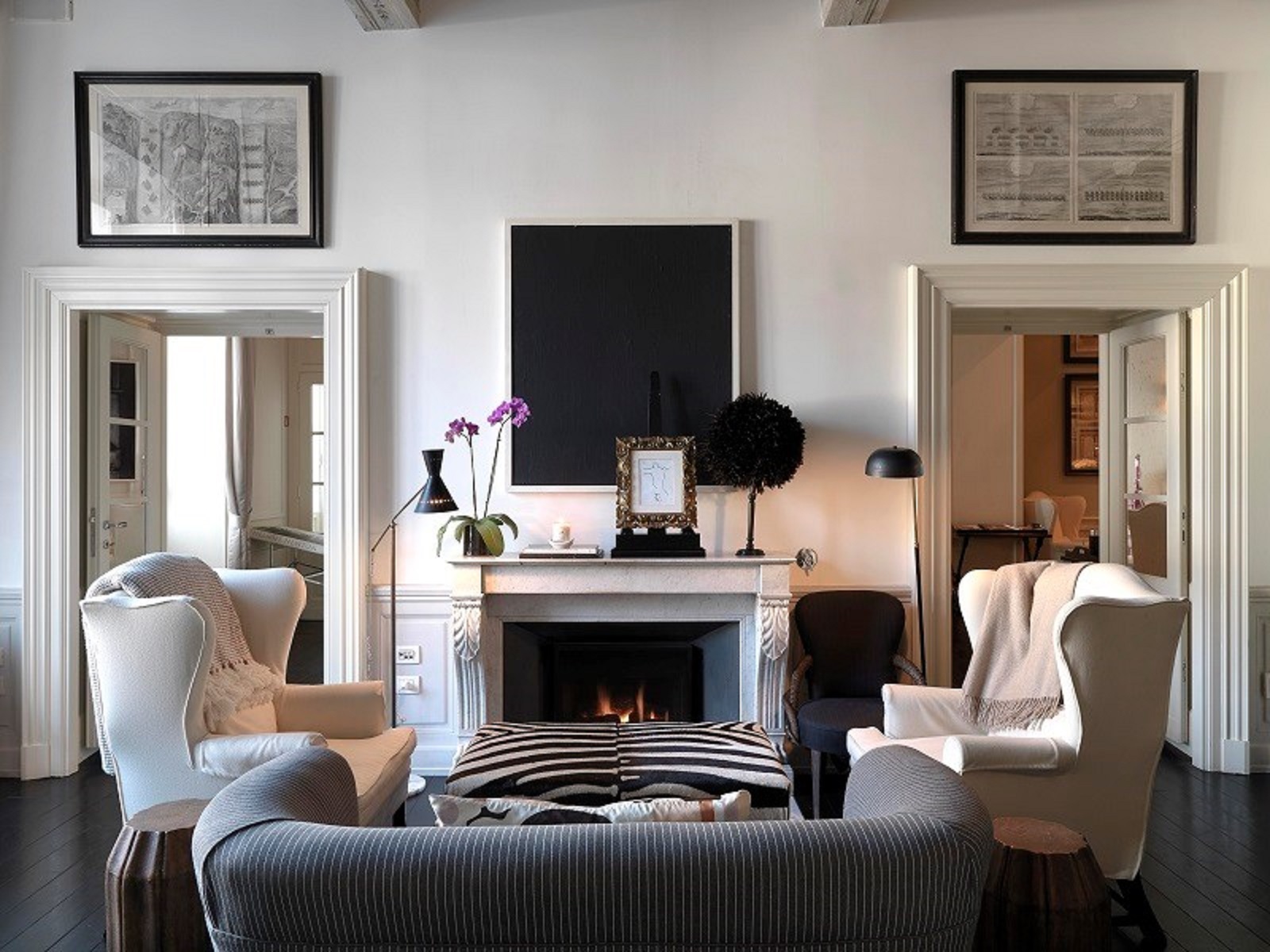 Photo Credit: Nicholas Kontis
Behind any five-star boutique hotel, there has to be a leader of passion and conviction leading the way. At J.K. Place, General Manger, Claudio Meli, is a true inspiration. Coming from a hotel and tourism background in Tuscany, at age 23 he started 'Bravo Concierge.' Meli is also the author of J.K. Essential Guide To Florence, in which you will find all that he loves about the destination.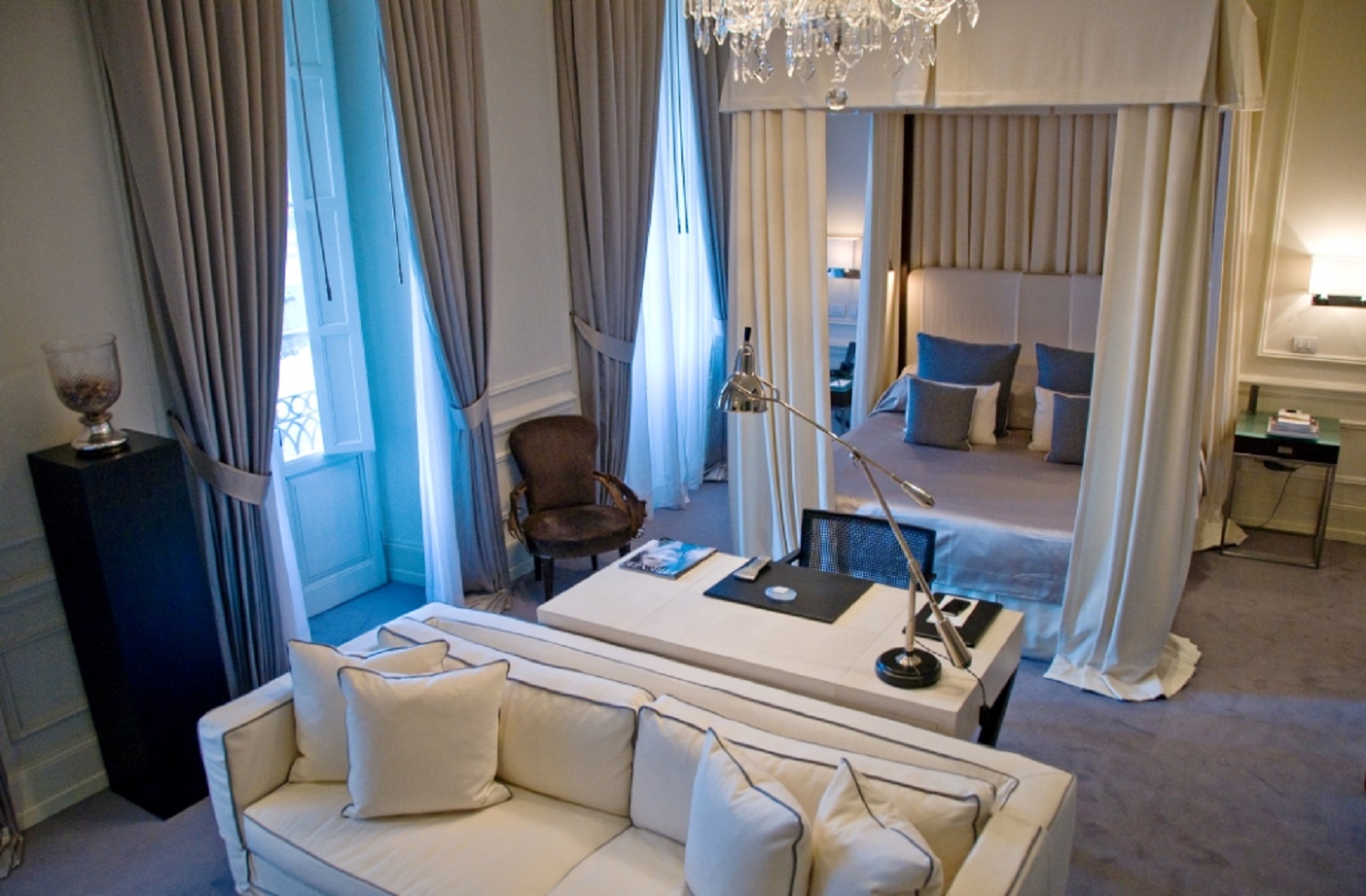 Photo Credit: J.K. Place Florence
"At J.K. Place we do not want to be considered as a hotel; you ring a bell to get inside... it's like visiting friends in Florence," Meli tells us. "We have a lot of repeat guests, and a small number of rooms, so we do not really have a low season." Meli is a true Renaissance man, hailing from Oltrano, or as he quips, "The real Florence." Meli continues, "Public spaces are what make the J.K. Place special. The roof top with the Duomo in the background is like a postcard."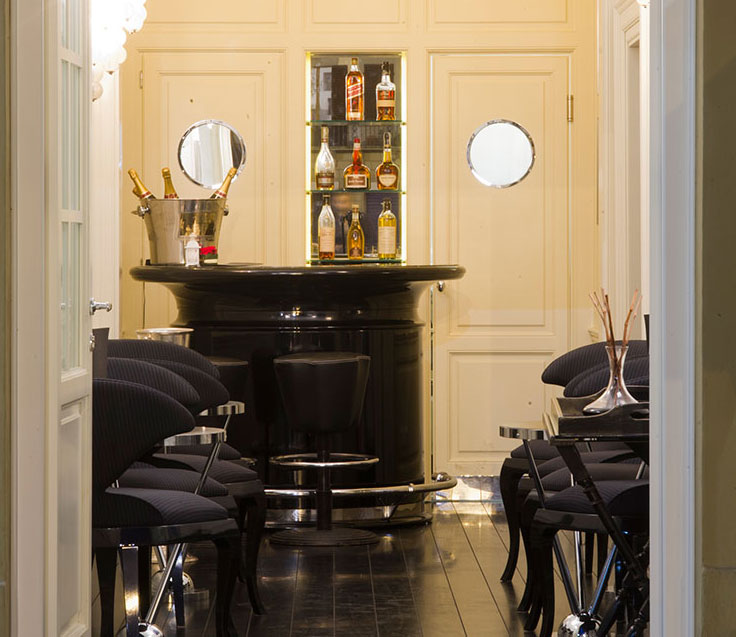 Photo Credit: J.K. Place Florence
How did the concept and marriage of J.K. Place come to fruition? The charismatic Meli tells the story, "As the concierge of the Helvetia & Bristol Hotel, in 2002, I met Ori Kafri, son of Jonathan Kafri, and we connected. We talked about the concept...the feeling of a hotel made to be a home… I feel that I am quite unusual as a General Manager, I know of no other GM coming from a concierge position [...] If you are in a lobby of a 5-star hotel how can you tell who is the GM of the hotel? He is the guy who goes straight to his office to crunch numbers…We are unique and fortunate to be a small boutique of only 20 rooms, as I can say hello to every guest… Every detail is important. Even the chef cooks like my mama cooks. After all, this is a home."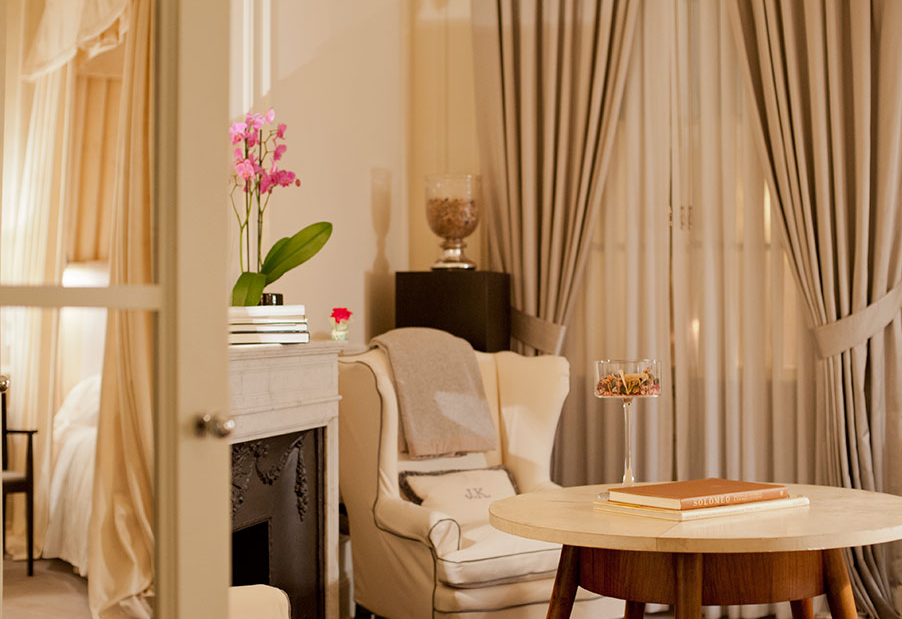 Photo Credit: J.K. Place Florence
The JK Place is all about different styles, shapes, and symmetry all blending harmoniously. Details are stunning: black wooden floors in the corridor, a neoclassical bookcase, animal skin armchairs, 1950s lamps, a pale-colored, wood-paneled ceiling— a reverie of a typical British countryside home inspired decorations in a modern Florentine design. joined J.K. Place after its first year of opening in 2003. Front Office Manager & Head Concierge, Angela Berti, explains, "We cannot say that we are a modern hotel; the J.K. is a mixture of styles; soft different styles in an understated elegance. We have 20 rooms in 8 different categories because every room is different."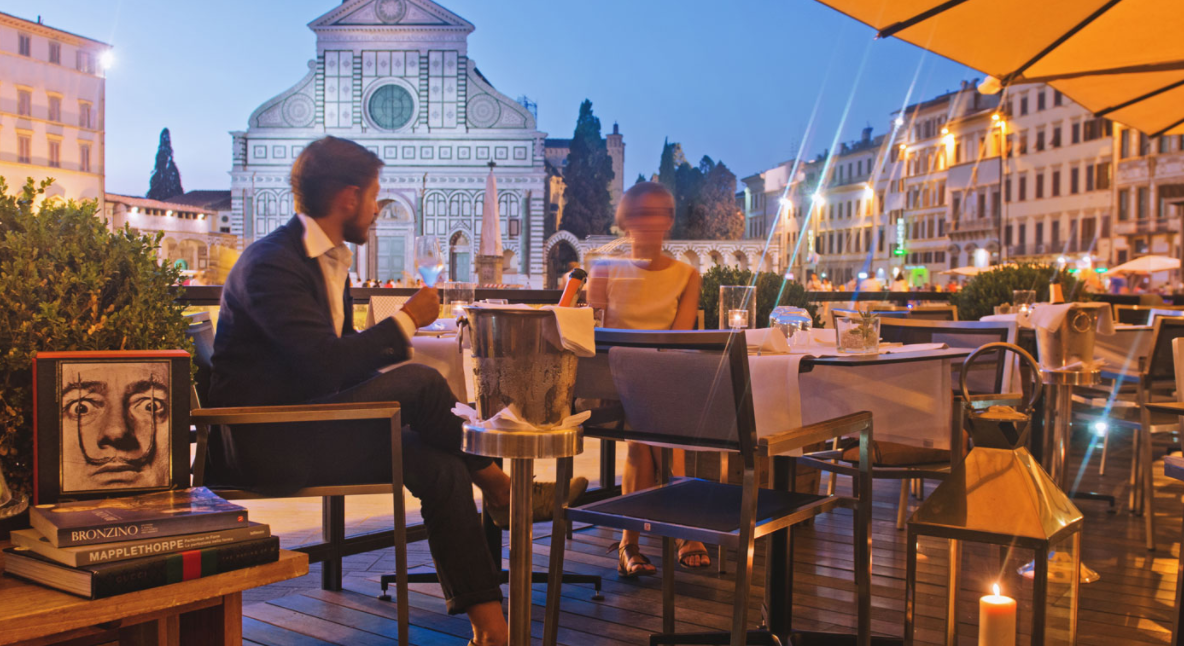 Photo Credit: J.K. Place Florence
She goes on to tell us, "Do you know what J.K. stands for? J.K. stands for Jonathan Kafri, our owner, who moved his life from Tel Aviv to Florence. His dream was to have a small hotel where people feel like they are in their own home, in a central location, right in the heart of the main sightseeing area." We would say he succeeded.