Photo Credit: Shutterstock.com
6 Yountville Hotels to Call Home During Your Next Retreat to Napa Valley
While noshing your way through some of the finest Michelin-starred restaurants in California, you will also want to stay at one of the six luxury hotels in Yountville. From there, you can also explore the tiny two-block town, drink local wines at the tasting rooms, enjoy the eclectic street art and admire Thomas Keller's outdoor garden. Here are the six properties that will enhance your Napa Valley experience: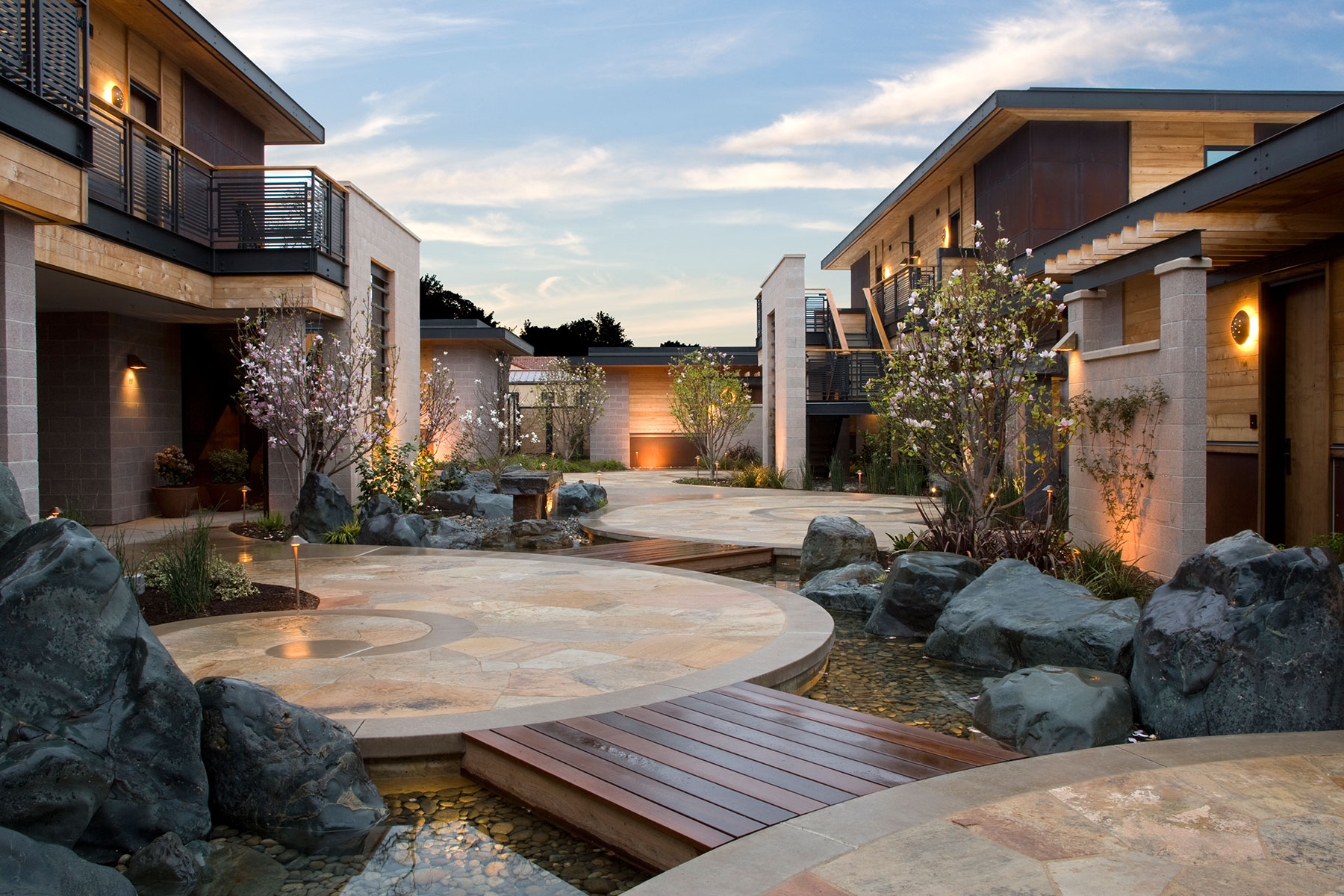 Photo Credit: Bardessono
Bardessono is a contemporary and newer property just off the main street. This LEED Platinum boutique hotel offers 62 rooms and suites. It's dog friendly, so don't be surprised to see a few when you check in hanging around the patio bar. After a satisfying lunch at nearby Thomas Keller's Michelin-starred Bouchon, you may want to come back to the hotel and walk up the stairs to the elevated pool to find a lounge chair and nap in the sun. Julia Roberts stayed here to unwind after filming Eat. Pray. Love. The onsite Lucy's Restaurant and Bar is popular throughout the day.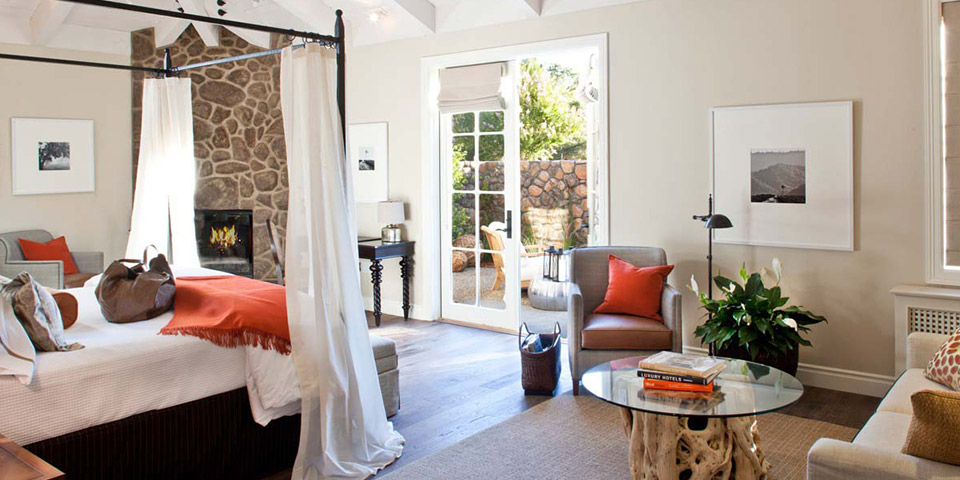 Photo Credit: Hotel Yountville
Hotel Yountville is an upscale 80 property with an onsite Hopper Creek Kitchen. Enjoy a swim in the pool before dinner. The custom designed rooms offer comfortable "Dream Beds" with European linens. It's a romantic spot with fireplaces, private gardens, and vaulted ceilings in the rooms. They also offer treatments at Spa AcQua. Another dining option is étoile, the restaurant at Domaine Chandon. The menu is elegant with fresh, seasonally-changing dishes, drawing on the restaurant's extensive gardens, located throughout the property's 300-acre estate.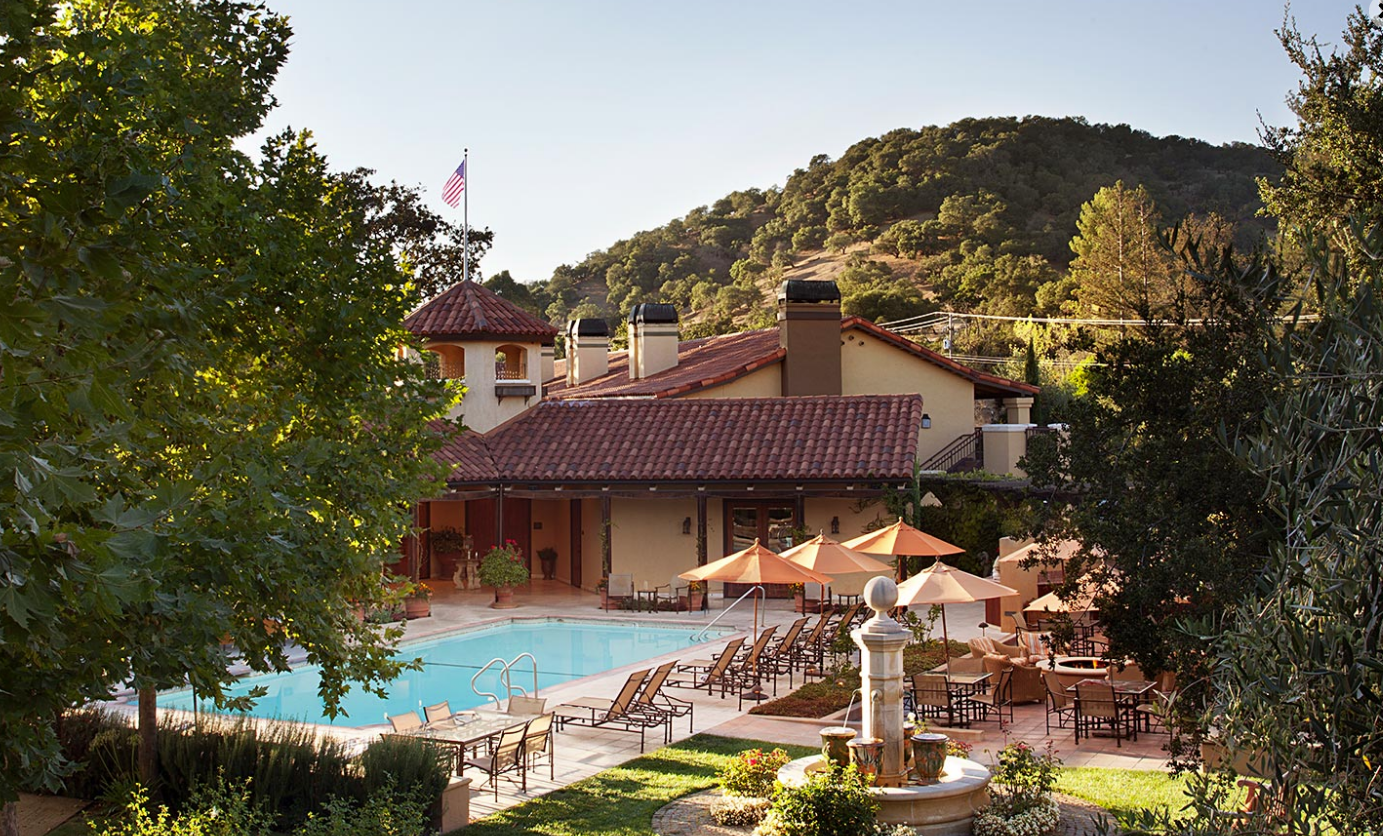 Photo Credit: Napa Valley Lodge
Napa Valley Lodge is the most family friendly-property in the area. This upgraded, Tuscany-style hotel with 55 rooms has private verandahs and fireplaces with many overlooking rows of grape vines. Located at the end of Yountville, it's near a park with a playground for little ones to enjoy. There is a heated swimming pool, bocce ball court and outdoor fire pit for S'mores in the evening. Since this property doesn't have an onsite restaurant, venture across the street to Hillstone Restaurant Group's new R+D Kitchen. Here you will find an outdoor patio with adirondack chairs surrounding fire pits, where you can relax for the evening.
Photo Credit: North Block Lodge
North Block Lodge is a wonderful 20-room boutique hotel with fireplaces and front patios looking out to an open courtyard. Executive chef Richard Reddington's restaurant Redd Wood is located in the front of the property. After a swim in the pool, take a seat near the open kitchen or on the patio for wood-burning pizzas, salads and pastas. Reddington also has a more upscale California wine country Redd Restaurant two blocks down.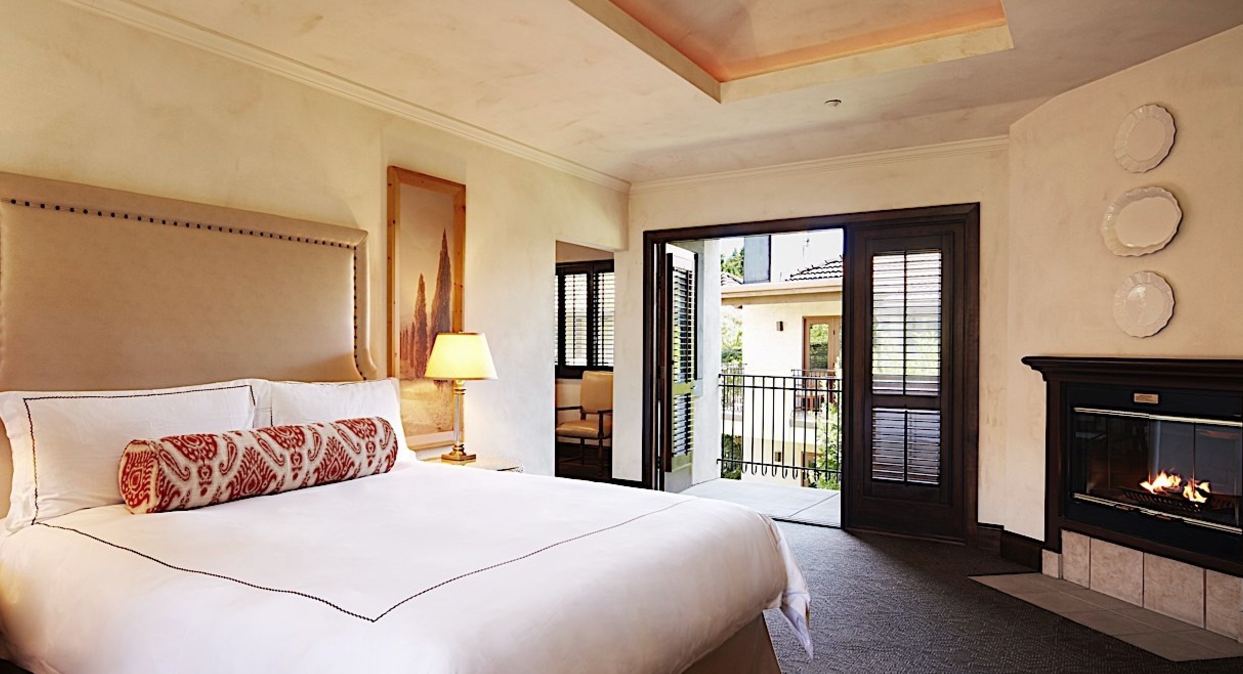 Photo Credit: Villagio Inn and Spa
Villagio Inn and Spa was recently purchased and will be under renovation soon. Each of the 112 guest rooms have a 42-inch flat screen television, fireplace, large bathtub, patio or balcony. They serve a lavish complimentary breakfast buffet with champagne and fresh juice to make mimosas. After a day of wine tasting, come back to the heated pool and hot whirlpool near the Tuscany style fountains. They have covered day beds to rest, read a book or take a nap. This property has no onsite restaurant, so be sure to make reservations at the nearby Redd, Bistro Jeanty or Michael Chiarello's Bottega. This property offers a 13,000-square-foot spa with 16 treatment rooms and private spa suites.
Photo Credit: Vintage Inn
Vintage Inn is owned by the same company that recently purchased The Villagio Inn and Spa. This French country villa-style rooms offers a lavish breakfast in the morning, yet has no onsite restaurant for lunch or dinner. Be sure to make a dining reservation at Bouchon or The French Laundry, since they are located across the street. There is no spa at this property, however The Spa Villagio is half a block away.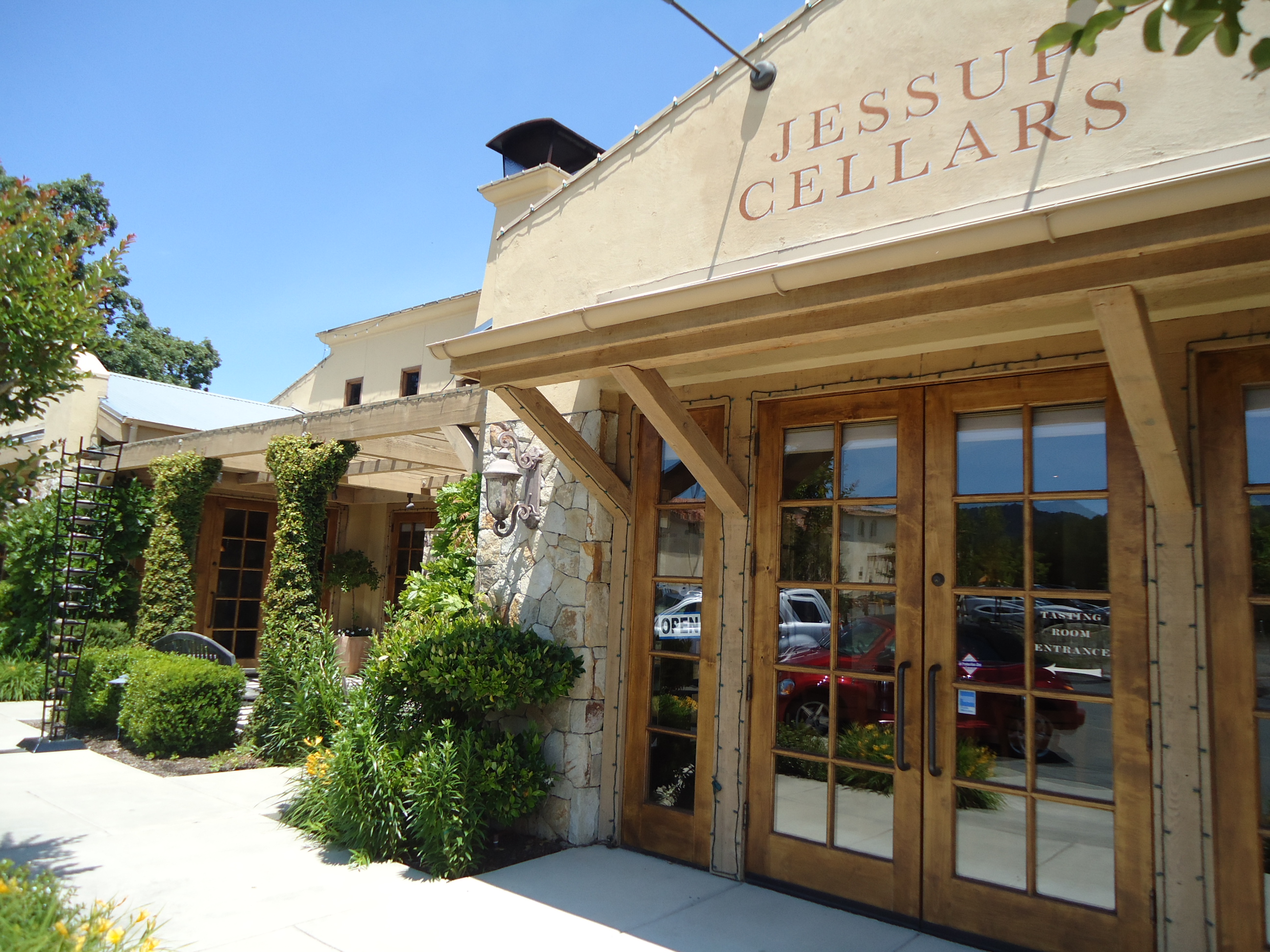 Photo Credit: Jessup Cellars
One stop you will want to make while visiting is Jessup Cellars, a great wine tasting venue located in the middle of town. Guests can sip wine at the wine bar while exploring the spacious art gallery. The owners of Jessup Cellars are three families in the healthcare profession and they give back to the community by hosting special events that include Dress to the Vines weekends and Art House Sessions.
And last, but certainly not least, before leaving be sure to check out Thomas Keller's garden. A few years back, Keller purchased three acres of land across the street from The French Laundry to grow a Chef's garden. His French intensive garden grows exotic Tuscan broccoli, beets, Red Russian garlic, cabbage, English Peas, Sacramento Delta asparagus, Red Ace beets, golden beets and Chorga beets, Flashy Trout Black lettuce, leeks, Tokyo turnips and a variety of lettuce during the winter months. All are organic, pesticide free and featured in dishes served at Keller's French Laundry, Bouchon and Ad Hoc restaurants. The onsite white Hoop House is where all the seeds grow into seedlings. They grow over 50 varieties of tomatoes and nearby is a chicken coop to collect eggs to be used in Keller's restaurants. Since there is no fence around the garden, locals and visitors respectfully walk around to admire this little pocket of beauty that enhances the small town of Yountville in Napa Valley.