Photos Credit: Shinta Mani
Sleek Style In Siem Reap: Inside The Shinta Mani Angkor
The Shinta Mani Angkor is a small and sophisticated 39-room boutique hotel in Siem Reap, Cambodia. Thanks to its proximity to Angkor Wat, Siem Reap is Cambodia's number one tourist destination, and the Shinta Mani Angkor is the ideal base for the discerning, style-seeking traveler. Here you can spend the day trekking around Angkor's spectacular temples before retreating to your spacious, shady suite, or kicking back on one of the cool swing-seats.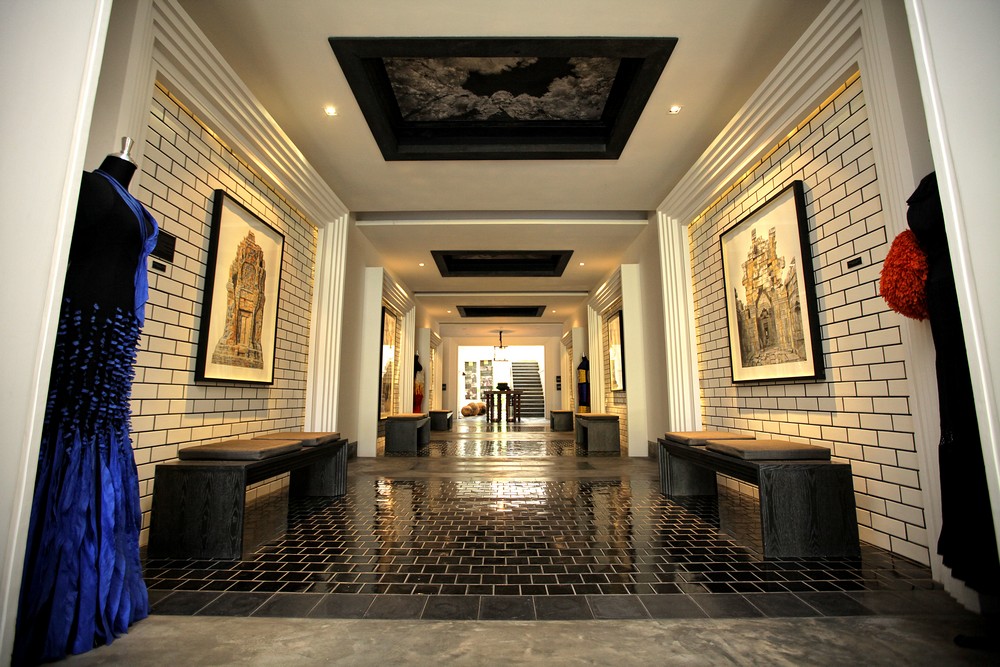 STYLE & AMBIANCE
Designed by world-renowned hotel architect and designer Bill Bensley, style is at the forefront of Shinta Mani Angkor. The building oozes peaceful serenity, helped in part by soft lighting, fragrant scents, and a subtle black and white color palette with pops of vibrant orange.
Walking down the polished hallways, with their rectangular columns, recessed doorways and contemporary Cambodian art and sculptures, feels like a holistic experience—the hotel could almost add it onto the spa therapy list.
Thanks to its position and the abundance of trees and foliage, the hotel as a whole is very shady—something that might not be welcome in other destinations, but under Siem Reap's unforgiving sun, is a very welcome factor.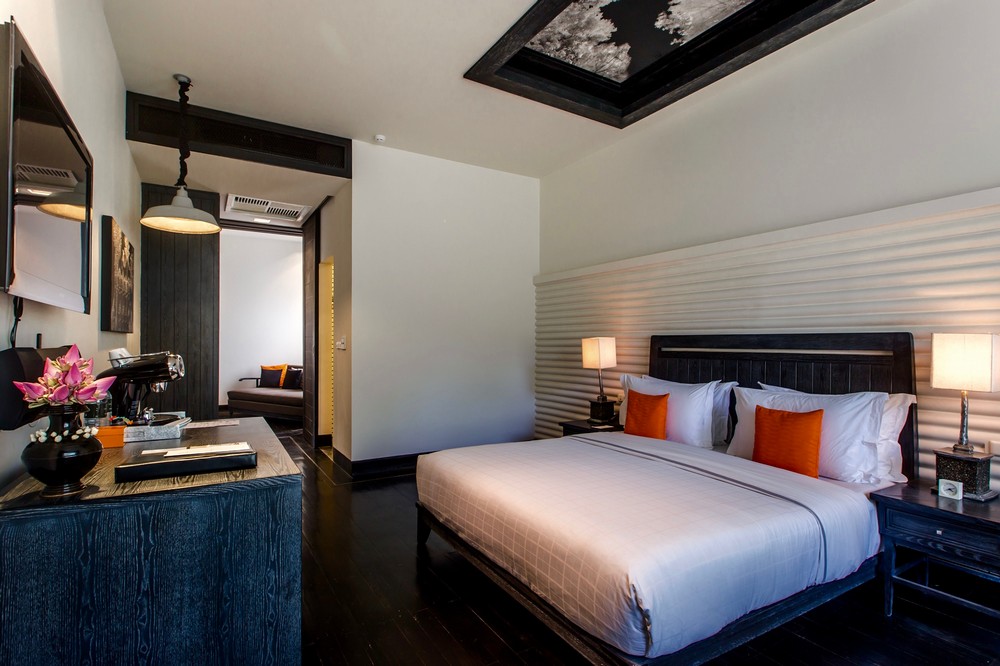 ROOMS
The bedrooms at Shinta Mani Angkor are neat, but light, airy and incredibly stylish. Like the rest of the hotel, monochrome is the order of the day and the beautiful Khmer art and photography adds an ornate touch. The huge photographs of the Angkor ruins are particularly mesmerizing, and the one on the ceiling above the bed means it's the last thing you'll see at night. The bathrooms are sleek, spotless and bright, with a powerful rain shower to wash off that thick temple dust.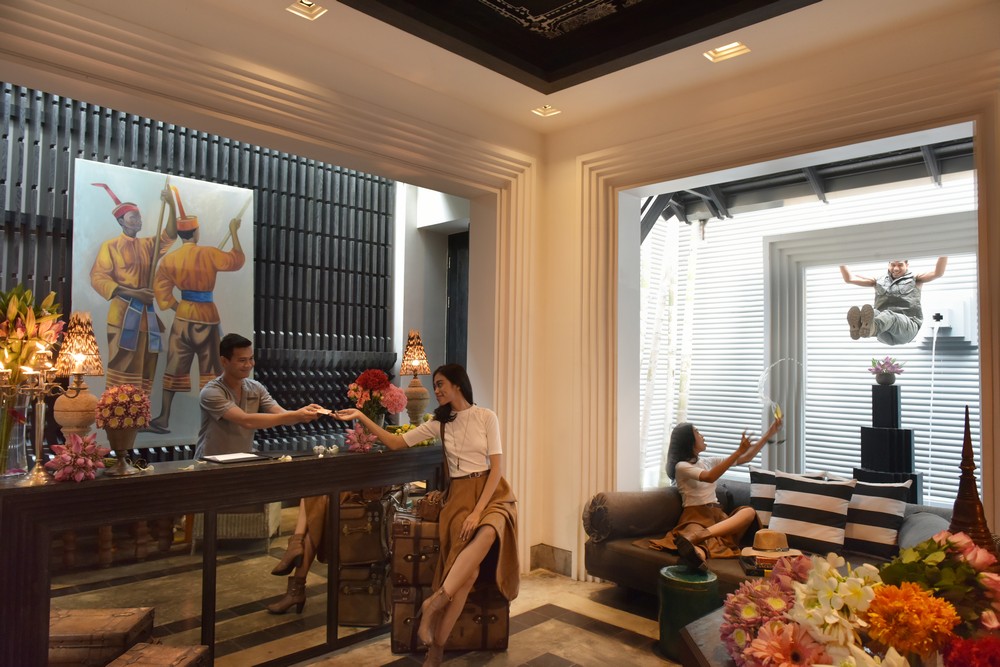 SERVICE & FACILITIES
The staff are warm, open and generous—not a surprise for a hotel that's guided by a philosophy of "Open Doors, Open Hearts." The Shinta Mani Foundation is a not-for-profit organization which has trained many underprivileged Cambodians in hospitality for free; some of the students work at Shinta Mani Angkor today.
The hotel has received international recognition for its efforts, and has expanded its programs to provide healthcare, personal family aid and support to small business start-ups. This culture of kindness permeates through the hotel and the bright, smiling staff are a good reflection of this.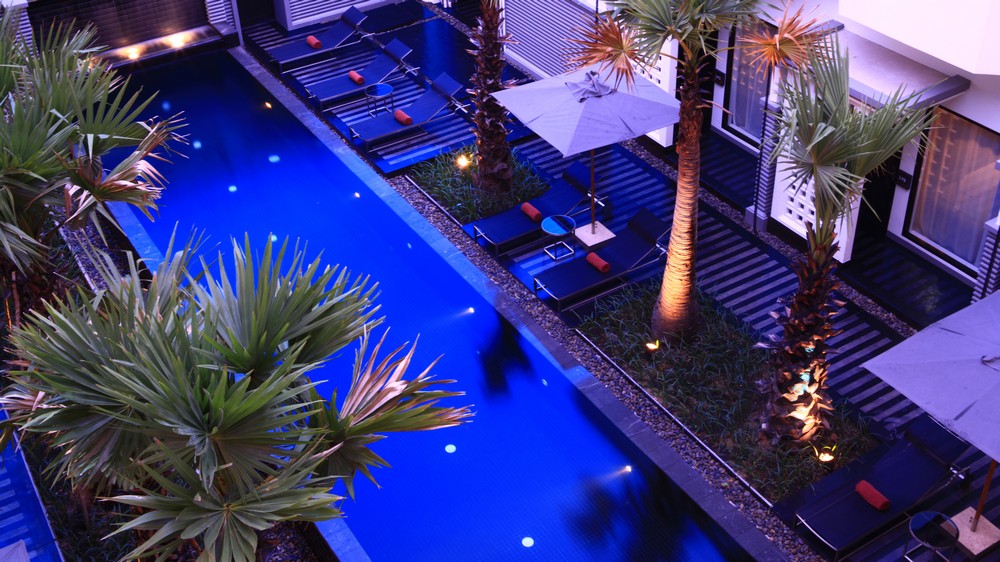 The serene courtyard is home to the smart, black-tiled pool, which is complemented by a peaceful waterfall feature, and bordered by palm trees and sun loungers. The spa is excellent, with four rooms offering guests an indulgent range of massages, body wraps, body scrubs, hand and foot care, and therapeutic facials.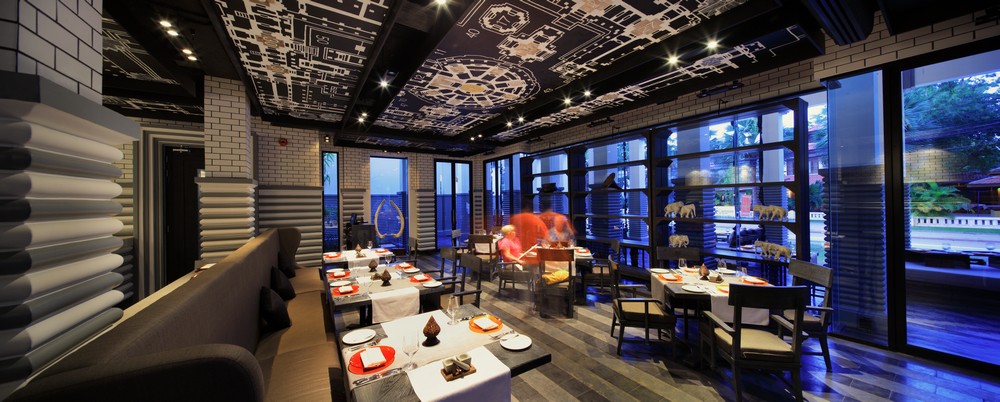 FOOD & DRINK
The hotel restaurant is Kroya (meaning "food") and serves up an excellent selection of gourmet Khmer cuisine. The elegant dining area has blueprints of the temples on the ceiling, and chic, lined floors—quintessential Bill Bensley—but if you're not worried about the air conditioner you can sit outside on the cushioned swing seats in the pretty, plant-dotted terrace.
The menu features modern twists on Cambodian classic: fish amok curry with rice; roast chicken stuffed with Siem Reap sausage, lotus seed, vermicelli and sautéed bok-choy; prawns with crispy frangipani flowers; followed up by light, aromatic desserts like ginger and lemongrass pannacotta. Breakfast is served at Kroya too—a decadent buffet affair with a large selection of international and Asian options, and a great range of fresh, healthy juices.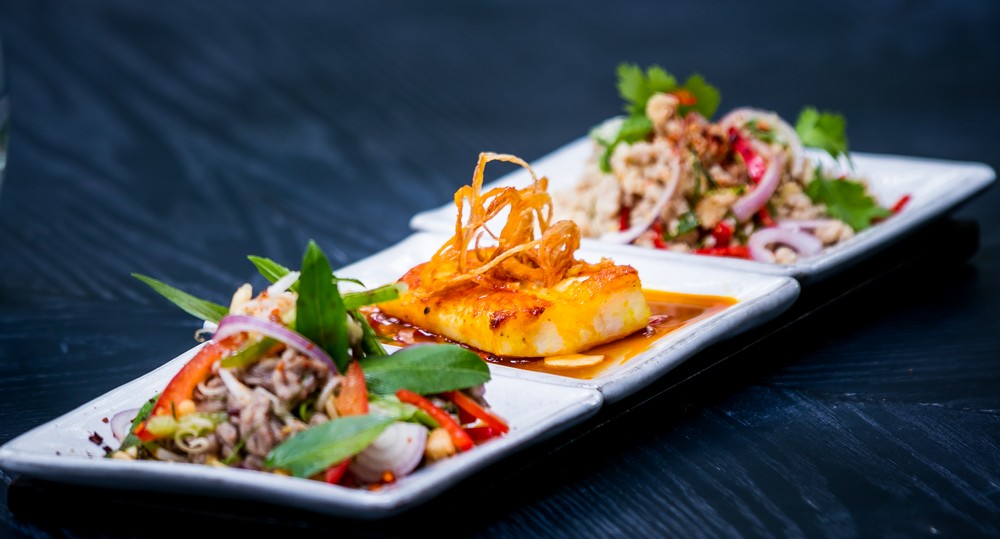 For a pre- or post-dinner drinks, head upstairs to Bensley's Bar. Just as stylish as you'd expect from its eponymous designer, you can relax on one of the seats that appear to be floating, suspended over the Kroya terrace below. The cocktails are delicious (if in doubt, go for the signature Open Heart) and you can nibble on a tasty selection of tapas plates, too.
There's an off-site restaurant too. The Steakhouse is located on Siem Reap's famous Pub Street and offers an extensive menu: choose from seafood pasta, fried mozzarella and salsa, pan-fried raisin bread stuffed with gorgonzola, and, of course, a wide range of beef cuts. What The Steakhouse lacks in Khmer tradition it makes up in elegant ambiance and faultless service.
The Pool Bar is also decent, where you can choose from range of lighter meals, burgers, sandwiches and salads in a shady seating area, or just enjoy your meal from your sun lounger.