Photo Credit: The Merrion
A Taste of Irish Luxury: Inside The Merrion Hotel, Dublin
If you're looking for unadulterated Irish luxury, there's only one choice. Located in the heart of Dublin's center, The Merrion Hotel is the city's most stylish five-star offering, and Merrion Square, the National Gallery and Museum, and the Grafton Street shopping district are all within a stone's throw. Housed in four restored Georgian townhouses, this 142-bedroom hotel is the perfect union of historic pomp and contemporary comfort.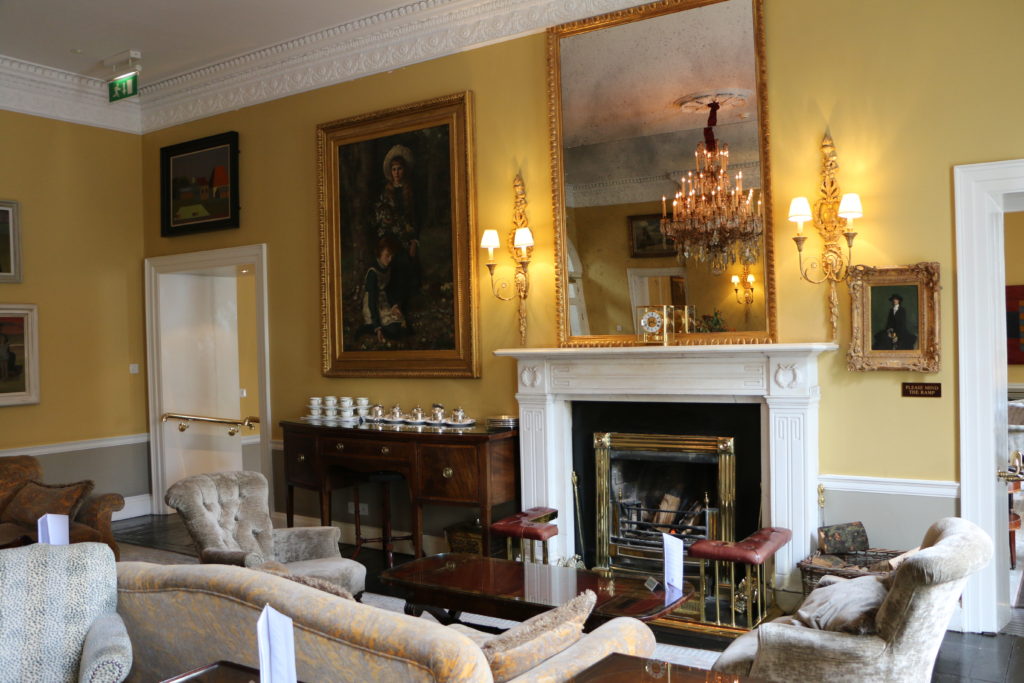 Photo Credit: Selene Nelson
Rooms & Facilities
The spacious, light-filled, period rooms are magnificent; wandering through the drawing rooms is like stepping back two hundred years. The bedrooms and suites are all large, light and traditionally tasteful, with the decor echoing the building's history and modern comfort like flat-screen TVs balancing things out. The gleaming marble bathrooms are spotless, and come with complimentary Asprey toiletries.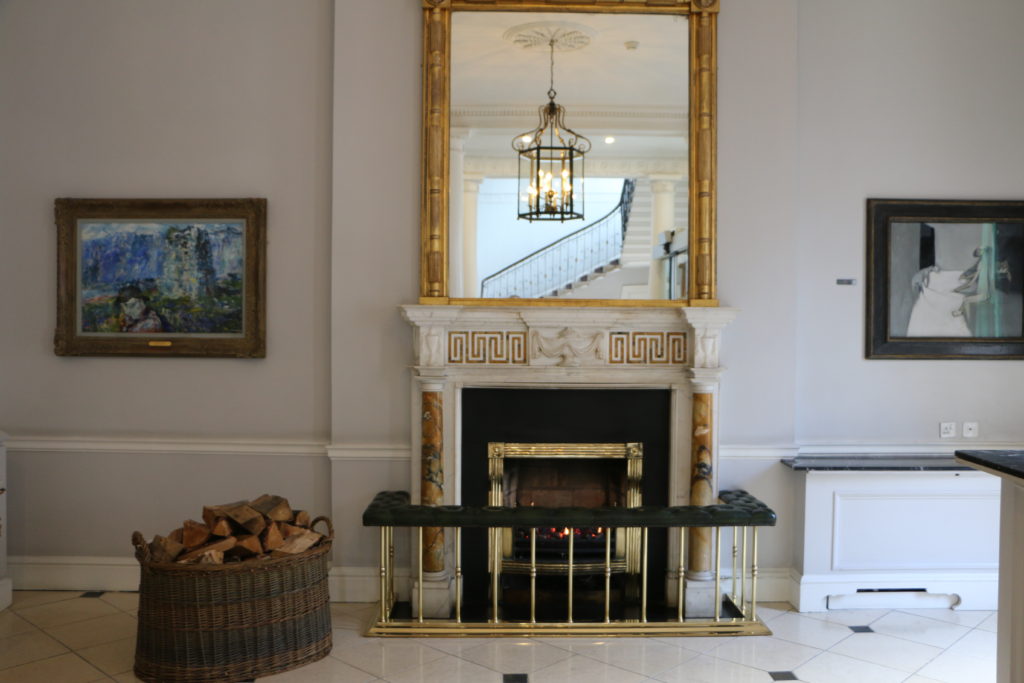 Photo Credit: Selene Nelson
Art lovers will be in their element here: hung upon the walls of the ground floor is Ireland's largest private art collection, and you can even take an audio tour covering the history and background of all the paintings. The half-acre garden is pretty and neat—think fountains, statues and landscaped greenery—and the 59-foot swimming pool is another chic affair: bordered by columns and reflecting the bright blue mosaic flooring, the style is refined and classical. If you're not relaxed enough after your swim, you can always head into the Tethra Spa to enjoy a range of treatments.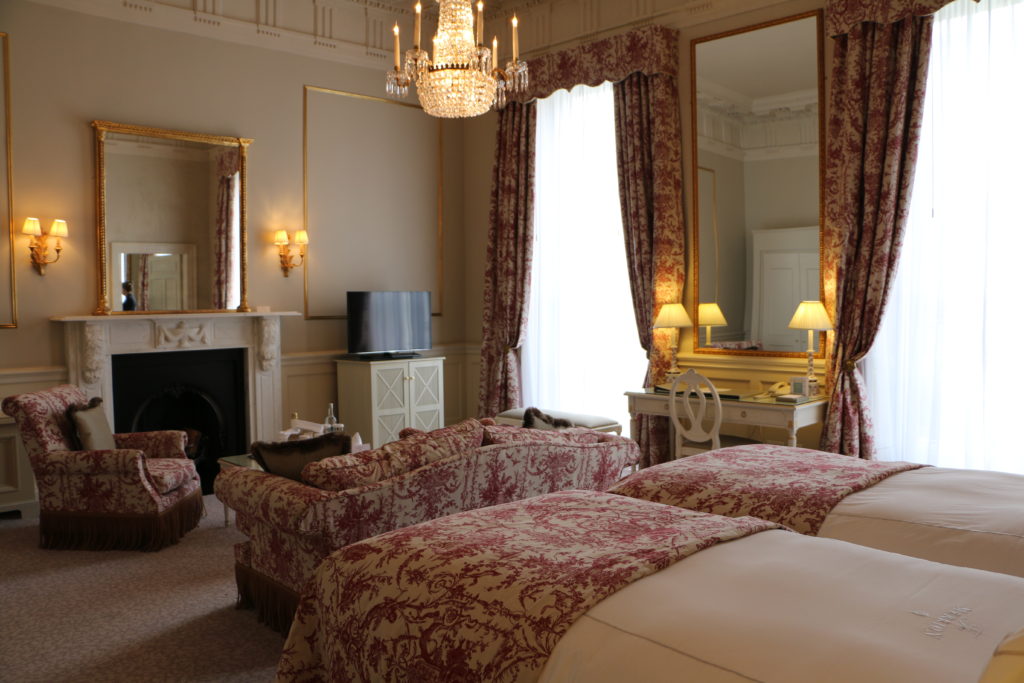 Photo Credit: Selene Nelson
Dining
As Ireland's only two-star Michelin restaurant, dining at Restaurant Patrick Guilbaud is a must-visit for anyone who considers themselves a foodie. Despite its established reputation, Restaurant Patrick Guilbaud is refreshingly unpretentious, and lots of round tables result in a laid-back, conversation-friendly ambiance. This bright, fashionable restaurant serves classic cuisine in innovative new ways, and everything is made on the premises using seasonal Irish produce.
The wine list is impressively extensive—it's more like a wine bible—and the restaurant wine cellar contains over 25,000 bottles from around the world. The warm, friendly staff are very knowledgable and more than happy to help you pair your meal with a complementing wine.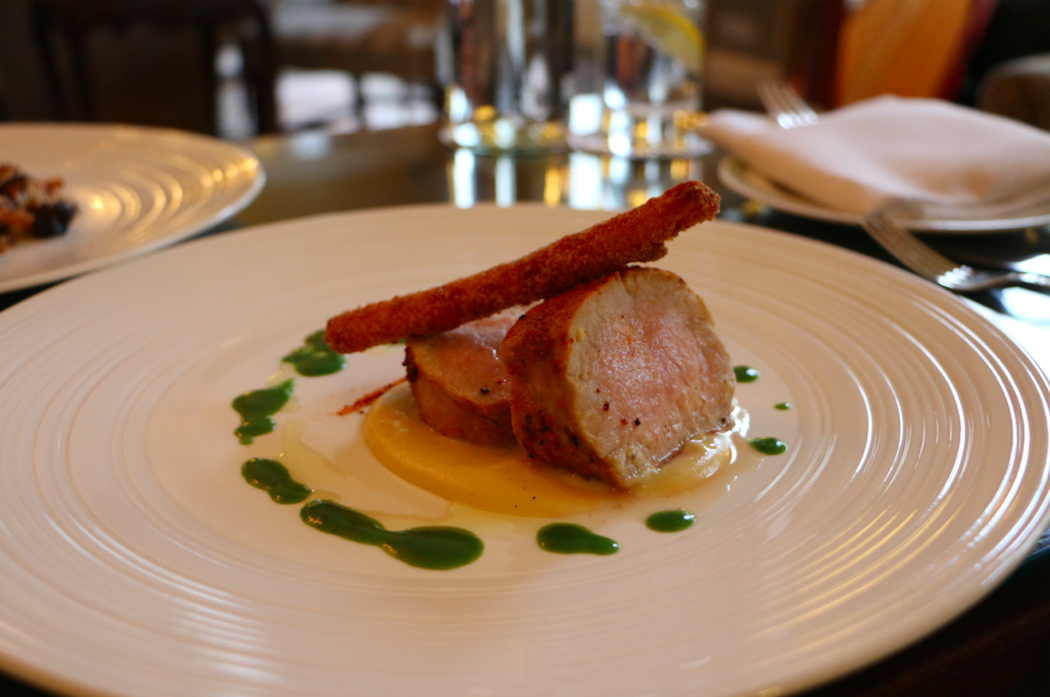 Photo Credit: Selene Nelson
However, Restaurant Patrick Guilbaud is by no means The Merrion's only outstanding food option. The newly opened restaurant, The Garden Room, looks set to become another stellar addition to the Irish fine dining scene, and Chef Ed Cooney has put together a mouthwatering menu packed with seasonal, fresh produce.
Signature dishes include grilled black sole with creamed garlic baby spinach and lemon beurre noisette; fillet of wild halibut with Dublin Bay prawns, tomato consomme, broad beans, barley and kale; and Irish chicken breast with French onion soup and a gruyère pate croûte. Vegetarians won't go hungry, either: meat-free dishes include smoked cauliflower and truffle with Glenilen creme fraiche, and delicious fresh salads with avocado, duck egg, baby spinach, aduki beans, spring onion, red chilli and wild rocket.
Try to leave room for one of Head Pastry Chef Paul Kelly's beautiful desserts!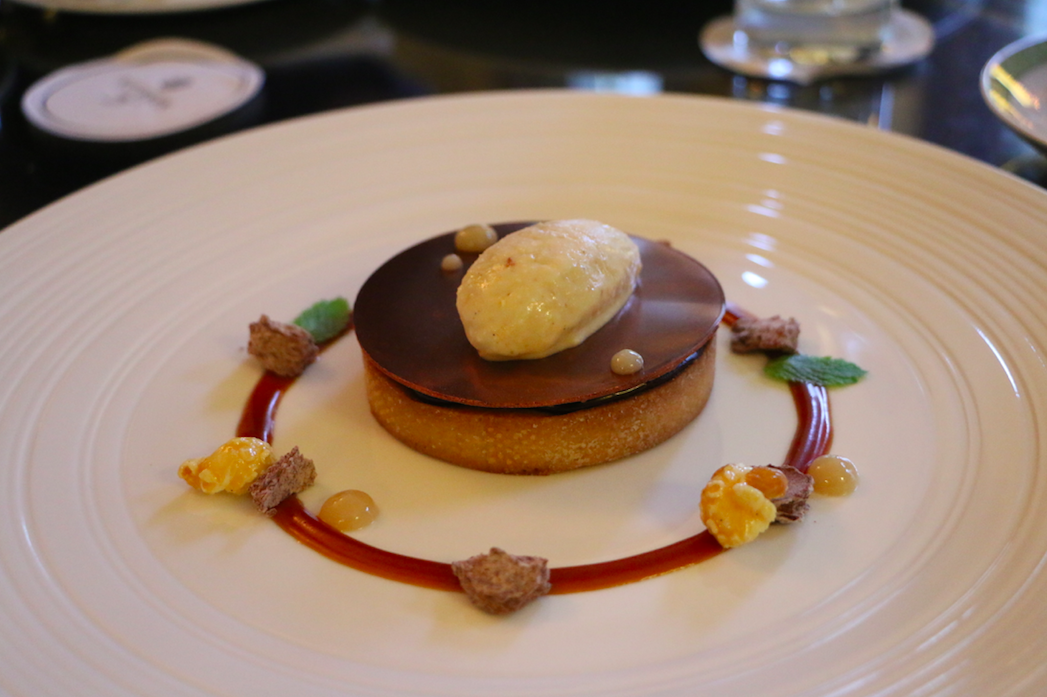 Photo Credit: Selene Nelson
Drink
For an intimate and glamorous aperitif (or nightcap), head to the hotel's secluded No. 23 cocktail bar. The bar is comprised of a series of luxurious lounges and opulent armchairs perched in front of crackling fires: if it sounds old-school, it is—but in a good way, and the charming staff keep the ambiance light and fun.
Settle into a chair and sip on a flute of top-quality Champagne (the bar serves Krug by the glass), or wine from L'Abeille de Fieuzal, one of Bordeaux's best vineyards. If you're peckish, there's a delicious selection of canapés, and whiskey connoisseurs will enjoy the whiskey tasting selection. Make sure to try one of the signature cocktails, too—there's over 30, all of which come with their own history and backstory.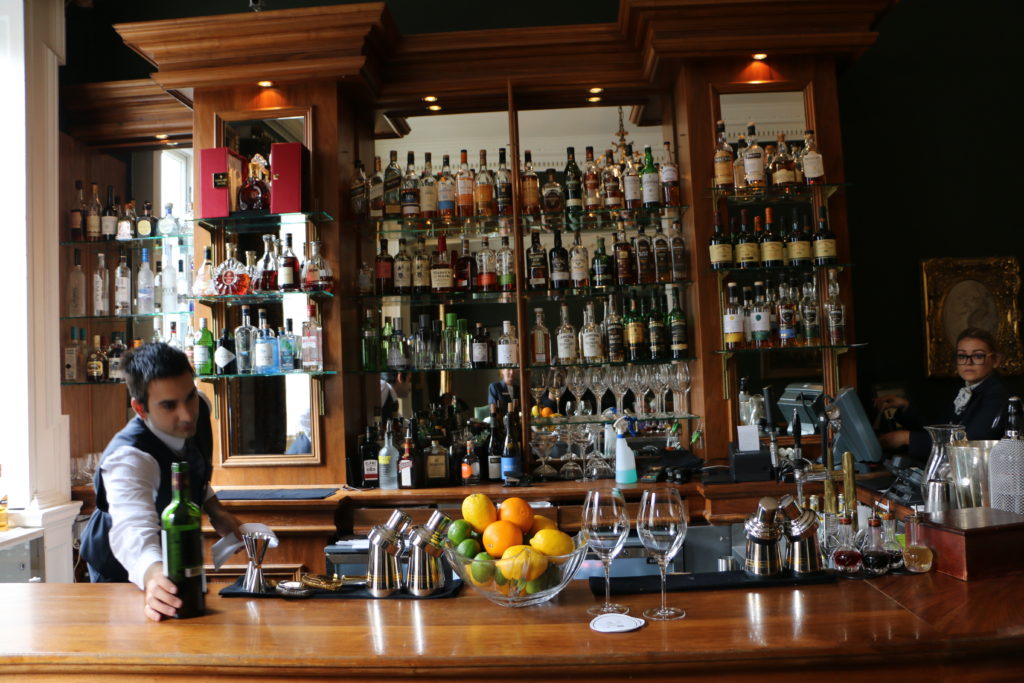 Photo Credit: Selene Nelson
Alternatively, you can get a taste of history by heading down into the Cellar Bar, which is housed in the hotel's original 18th-century Georgian wine vaults. Bare brick walls, vaulted ceilings and an oak-lined ambiance create a cosy atmosphere, and a warm welcome awaits as soon as you enter. A popular bar with locals, the Cellar Bar also has an all-day gastro-pub menu, so it's a great spot for a bite to eat as well as pint.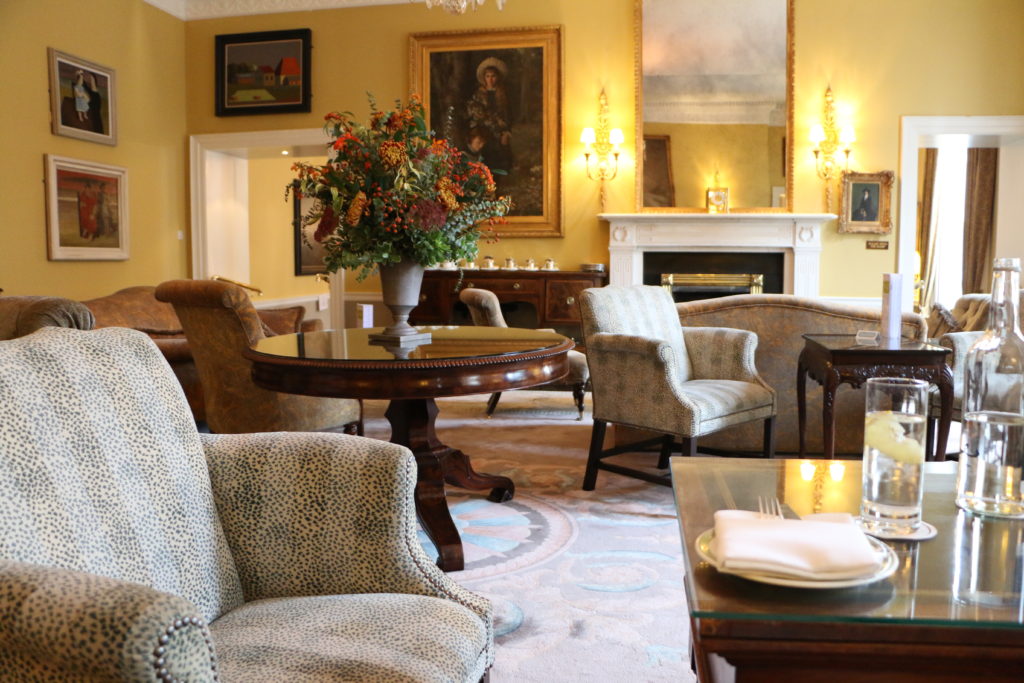 Photo Credit: Selene Nelson