Photo Credit: Congress Hall
All the way south at the tip of New Jersey off the Garden State Parkway's exit 0 where the Delaware River meets the Atlantic Ocean, America's first seaside resort recently celebrated its bi-centennial anniversary. Cape May, an architectural gem of a walkable town, is steeped in Victoriana including an historic district encompassing nearly 600 buildings listed on the National Register of Historic Places, including the venerable hotel Congress Hall.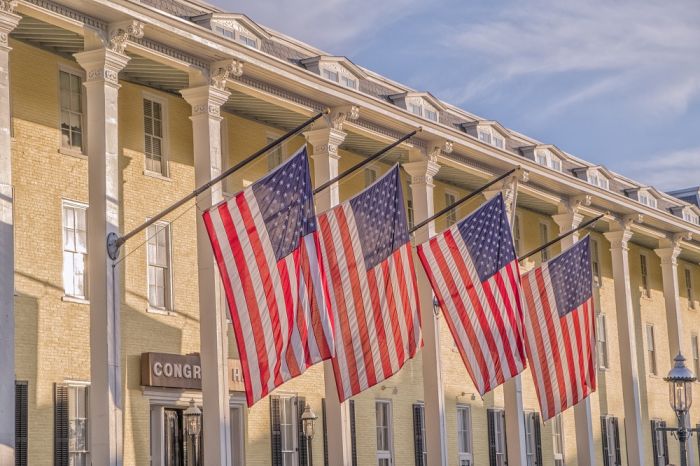 Photo Credit: Congress Hall
Upon checking in, it's tempting to think that Congress Hall has been a lovingly preserved permanent fixture from the day it opened in the summer of 1816. But like many historic properties, this one has a long complicated story with many twists and turns throughout its life accompanied by multiple rebirths reflecting Cape May's own trajectory through time.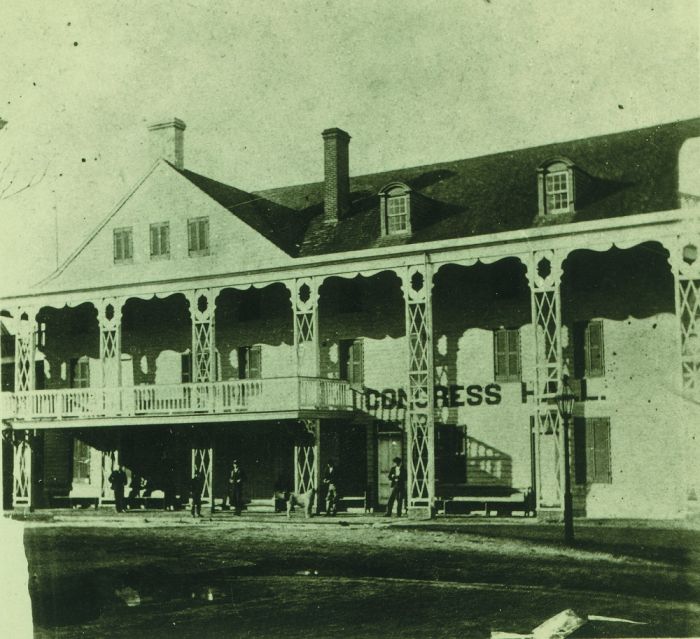 Photo Credit: Congress Hall
Congress Hall began first as a simple boarding house for summer vacationers with owner Thomas H. Hughes dubbing it The Big House. Skeptical locals nicknamed it Tommy's Folly convinced the property was far too large to ever be successful. It had a single downstairs dining room serving all guests who stayed on the two upper floors in simple rooms partitioned with bare walls and communal bathrooms. Despite these rugged conditions, markedly different guest expectations at the time filled rooms to capacity for many years.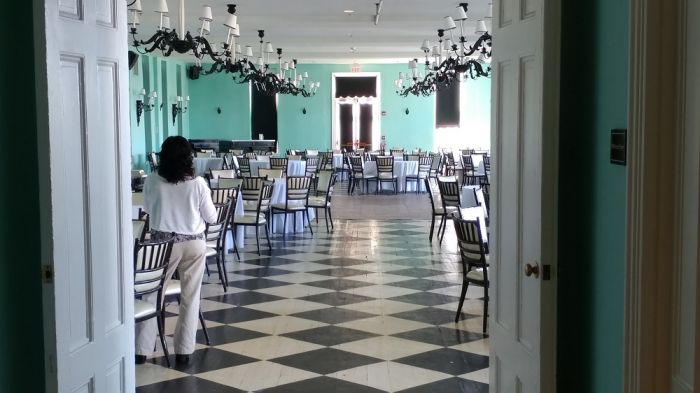 Photo Credit: Congress Hall
By the middle of the 19th Century, Cape May became a booming Northeastern coastal summer escape rivaling other favorites like Saratoga and Newport, but a catastrophic fire in 1878 destroyed 38 acres of the town's oceanfront including Congress Hall. Rebuilt in brick within a year, it soon enjoyed high-profile popularity as a summer retreat for Presidents Ulysses S. Grant, Franklin Pierce and James Buchanan. President Benjamin Harrison made Congress Hall his summer White House, conducting business here while the actual White House was being outfitted with electricity.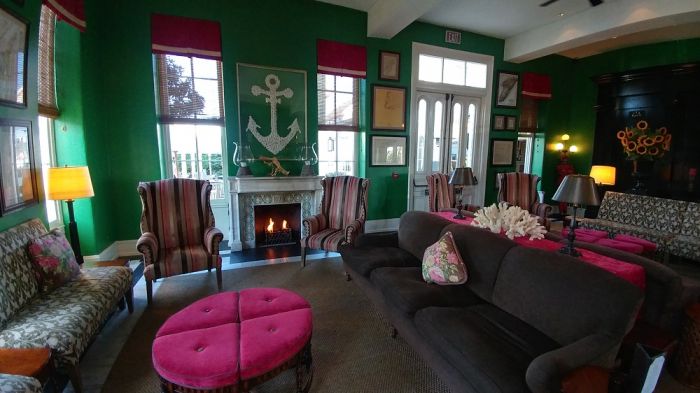 Photo Credit: Steve Mirsky
Extensive renovations in the early 1920s reduced the room count from 350 to 107 incorporating private bathrooms into each guest room. Following another stretch of success, Congress Hall shut down during the Depression not to reopen until after World War II. There was also a long stretch from 1968 through 1995 when Congress Hall operated as part of the Cape May Bible Conference. Although not exactly a mainstream usage, it preserved the property from the wrecking ball during a time when many Cape May landmarks were demolished in favor of modern-styled motels.
Photo Credit: Congress Hall
Current owner Curtis Bashaw purchased Congress Hall in 1995 with the goal of fully restoring the four-story, Federal-style hotel to its 1920's glory, only this time completely enhanced with resort-grade amenities. It took years to line up financing and municipal approvals before finally embarking on their major overhaul, completed in 2001.Totaling $22 million, restoration included replacing the roof's more than 18,000 slate shingles, installing 11 miles of new plumbing and 47 miles of wiring, reconstructing their 55 signature yellow exterior columns, and cleaning and reusing 158,000 original bricks.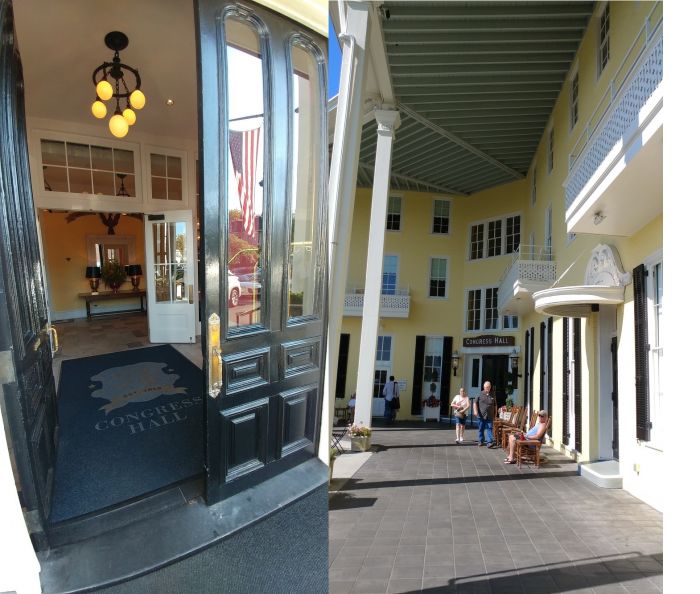 Photo Credit: Steve Mirsky
Congress Hall now includes two on site restaurants, several gift shops and boutiques, two swimming pools and a spa. Entering through the original 12-foot-tall ornate wooden doors facing Congress Place, you step onto the marbled-floor foyer where ocean breezes, palms and wicker furniture captures the ambiance of a vintage seaside retreat. Heading out the back entrance to the sweeping veranda outfitted with a bar and lined with wooden rocking chairs provides the perfect vantage point overlooking the lawn, pool area and ocean in the distance.

Photo Credit: Congress Hall
Understated luxury defines the overall vibe here, making you equally comfortable walking around in sandy feet and a wet bathing suit as in an evening gown and high heels. Wide corridors feature curved plaster walls, wooden floors with carpeted runners, and milk glass globe lighting casting soft shadows after sunset. Seating in the lived-in, lounge-like common areas outside the entrances to Blue Pig Tavern and The Brown Room, as well as stairway landings, are punctuated with windows overlooking the Atlantic.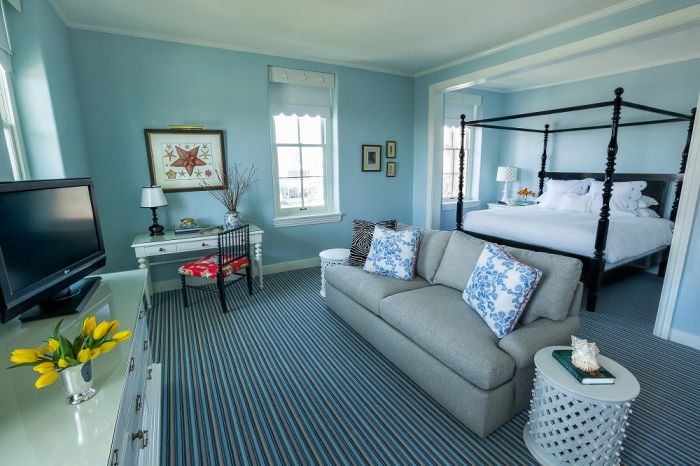 Photo Credit: Congress Hall
Guest rooms outfitted with lacquered, four-poster beds, carpeting modeled after patterns in traditional rag rugs, and subway-tiled bathrooms maximize natural light while windows freely open to the ocean air completing the carefree beach-house ambiance.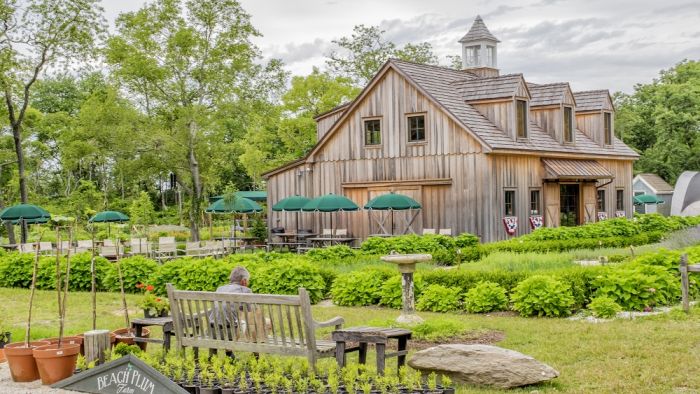 Photo Credit: Cape Resorts
This being The Garden State and the fact that Congress Hall originally had its own on-site gardens, Curtis Bashaw knew he had to reclaim this aspect of the property's roots as well. Their very own 62-acre Beach Plum Farm along with satellite growers throughout South Jersey supply all Congress Hall-affiliated restaurants with more than 100 varieties of seasonal fruits, vegetables and herbs along with free-range eggs, poultry and pork from their sustainably-raised heirloom Berkshire hogs.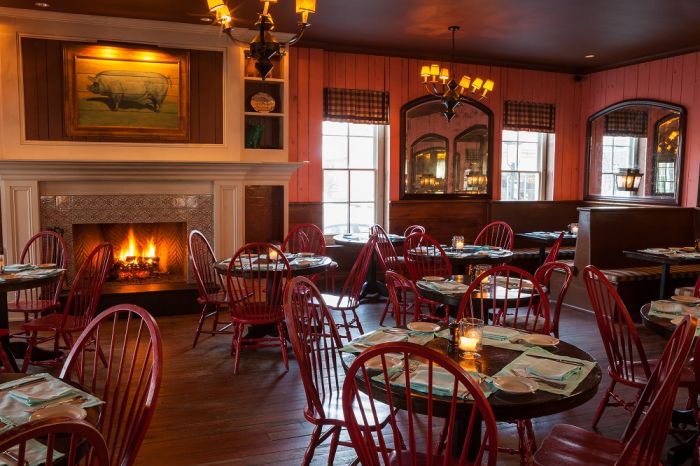 Photo Credit: Congress Hall
Get started with dining on-site at their signature Blue Pig Tavern tucked in the corner of the hotel fronting Congress Place and Perry Streets. The restaurant's name is derived from a gambling parlor once situated in a two-story cottage at the corner of Congress Hall's lawn. During renovations, the dining room walls were stripped of plaster exposing antique painted paneling that featured the blue pig now on display.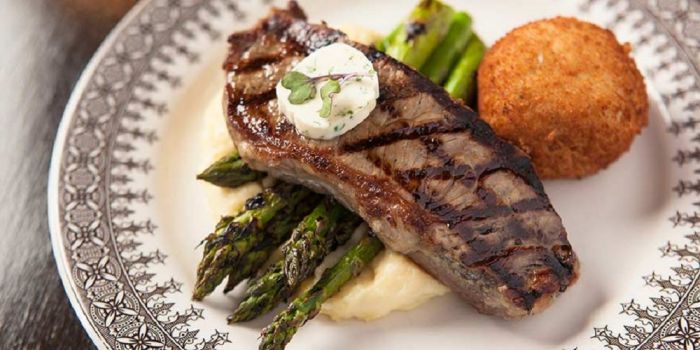 Photo Credit: Congress Hall
Classic American comfort dishes like Beer Battered Haddock Sandwiches and Grilled Scottish Salmonare are served on their hidden patio during warmer months, while chillier weather makes tables near the dining room fireplace the most coveted reservation. For a round of local brews along with late night bites and live entertainment, head down to the Boiler Room where its original namesake is still on display and crisp crust pizzas are a must try.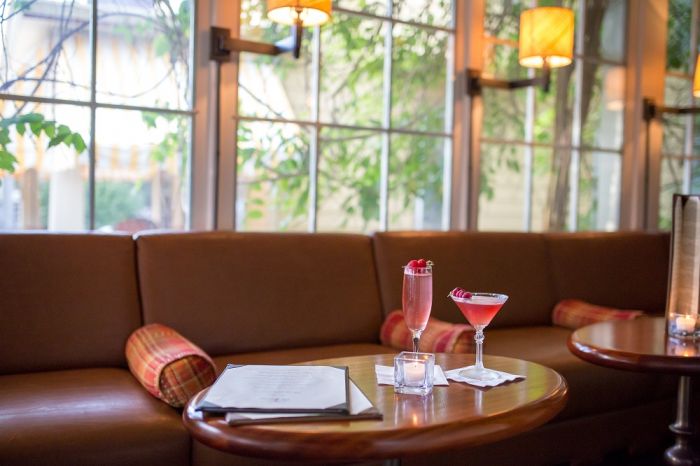 Photo Credit: Jessica Orlowicz
You'll soon realize that Congress Hall owns and operates a handful of iconic off-site dining venues all within blocks from the hotel. As a guest, you have the convenient benefit of billing the tab to your room from all of them. The Ebbitt Room, winner of Open Table's 2017 Diners' Choice Award and Wine Spectator's 2017 Award of Excellence is located at the Virginia Hotel, a classic inn one block away on Jackson St. complete with a wide veranda out front, and elegant bar and lounge inside featuring artisanal cocktails and live piano music on weekends.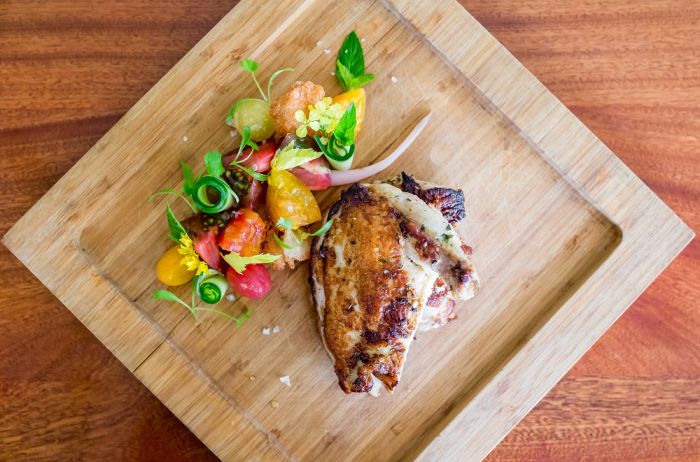 Photo Credit: Jessica Orlowicz
The kitchen cranks out dishes strongly rooted in same-day caught seafood in house favorites like Maine Lobster Caesar salad, and Steak and Cake, a petite filet Mignon paired with a Jonah crab cake, duchess potato and carrots drizzled in a pink peppercorn sauce.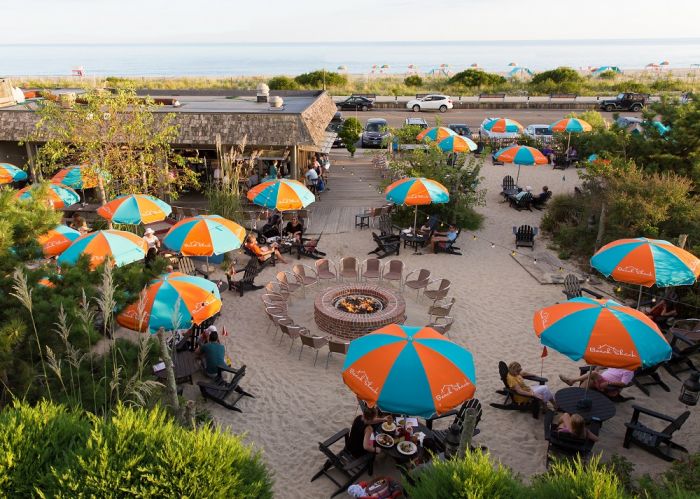 Photo Credit: Jessica Orlowicz
For a decidedly more barefoot experience, head over to the The Rusty Nail, an iconic surfer bar and restaurant that's been a go-to hang out since the 1970s. Outdoor seating consists of Adirondack chairs in the sand encircling tables at waist level and a fire pit at the center of it all that's ablaze when the sun goes down. Leashed dogs are welcome and the outdoor bar with more seating is only steps away. Items off the kids' menu like classic burger and fries are served on a souvenir Beach Shack Frisbee, while decidedly more adult, Zagat-rated beach blanket comfort food like Stuffed Portobello Salad and Strawberry Hot Wings can be packed to go.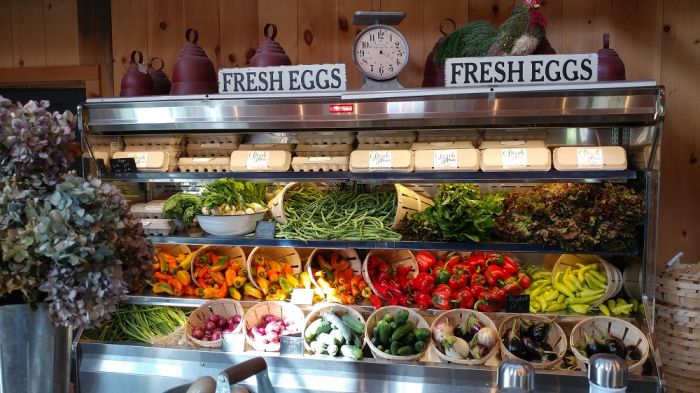 Photo Credit: Steve Mirsky
Perfect for breakfast and lunch, don't forget Beach Plum Farm itself where you can order freshly-prepared sandwiches and salads using their on-site produce or create your own picnic basket from their market offerings. If you have children in tow, feeding the chickens and ducks while strolling the grounds is something they'll be begging you to do again.