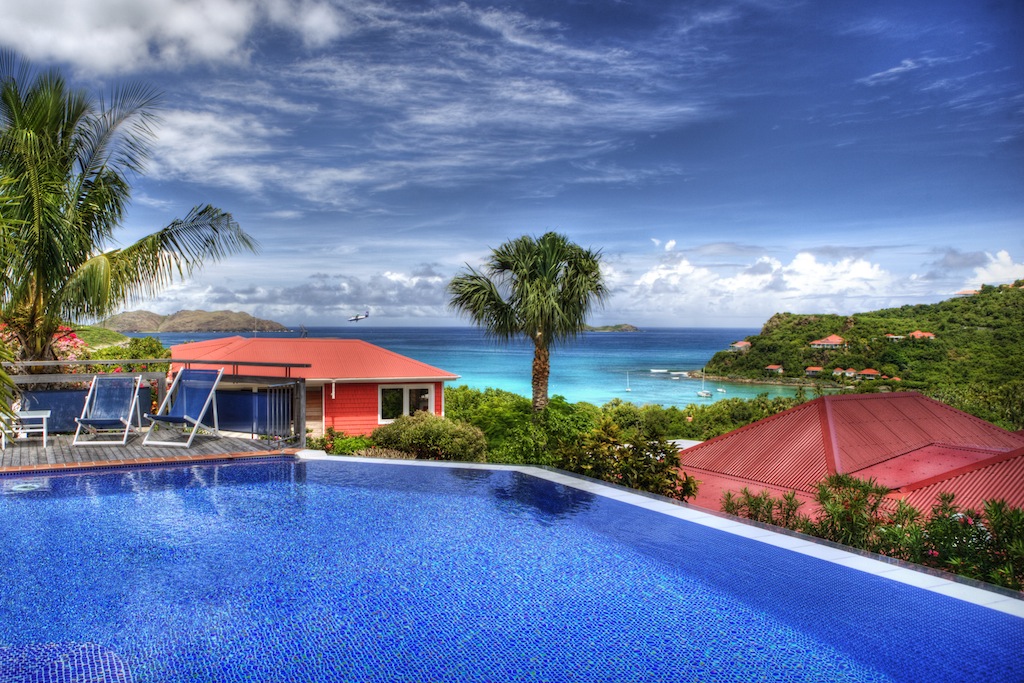 Explore The Magic of St Jean With Le Village St Barth Hotel
Nestled on a hillside just above picturesque St Jean Bay (known as La Baie de St Jean to locals), Le Village St-Barth Hotel is perfectly situated just a five minute walk from the popular St Jean Beach where famed Nikki Beach St Barth is located, minutes from St Barts Airport and a ten minute drive from Gustavia. Recently renamed Le Village St-Barth, the name perfectly suits the property as it is centrally located near the chic boutiques, restaurants and bars of charming St Jean on the Caribbean island of St Barthélemy. The attraction of St Jean is that one needn't go too far to explore the delightful offerings of the tiny island so a car is not necessary as the airport is a stone's throw away and the Port of Gustavia is a ten-minute taxi ride. Fortunately, Le Village can arrange for a shuttle to pick you up at the start of your St Barts adventure.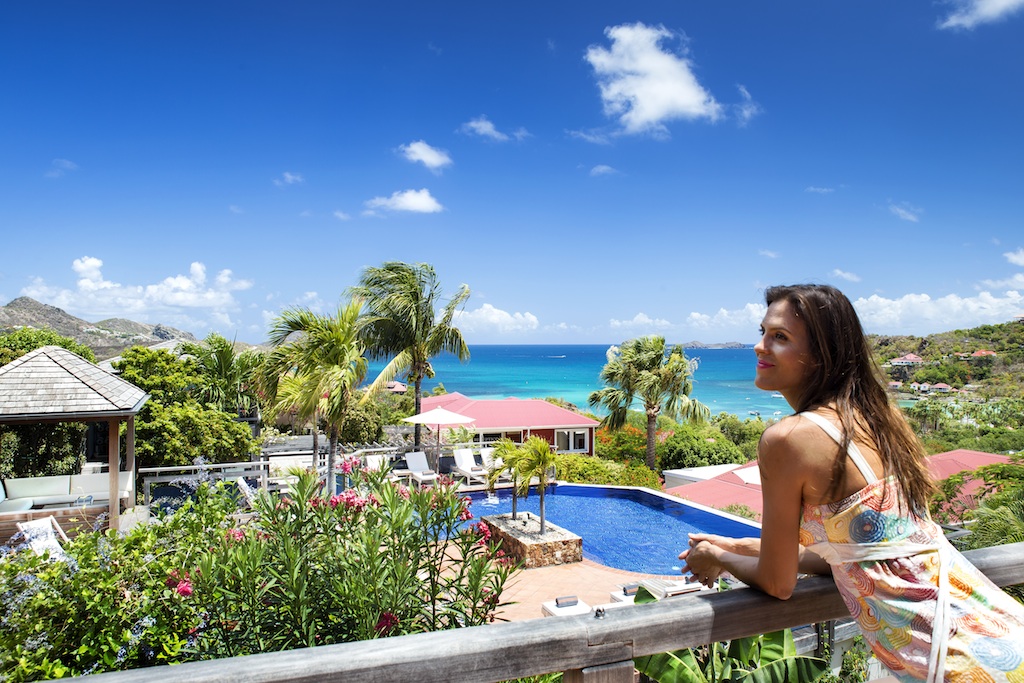 Le Village
Formerly known as the Village St. Jean Hotel, Le Village has been welcoming return guests such as the legendary Greta Garbo and the Vanderbilts since 1969. Hotelier Andre Charneau conceived, designed and built the hotel in a chic Caribbean style that his family maintains to this day with recent upgrades and renovations to the property. It is this attention to detail coupled with the warm and inviting spirit of the Charneau family that has kept hundreds of guests and their families returning to Le Village year after year for more than three decades. It also doesn't hurt that Le Village is the only four-star property in St Barts and thus it offers prices to match for the value conscious traveler.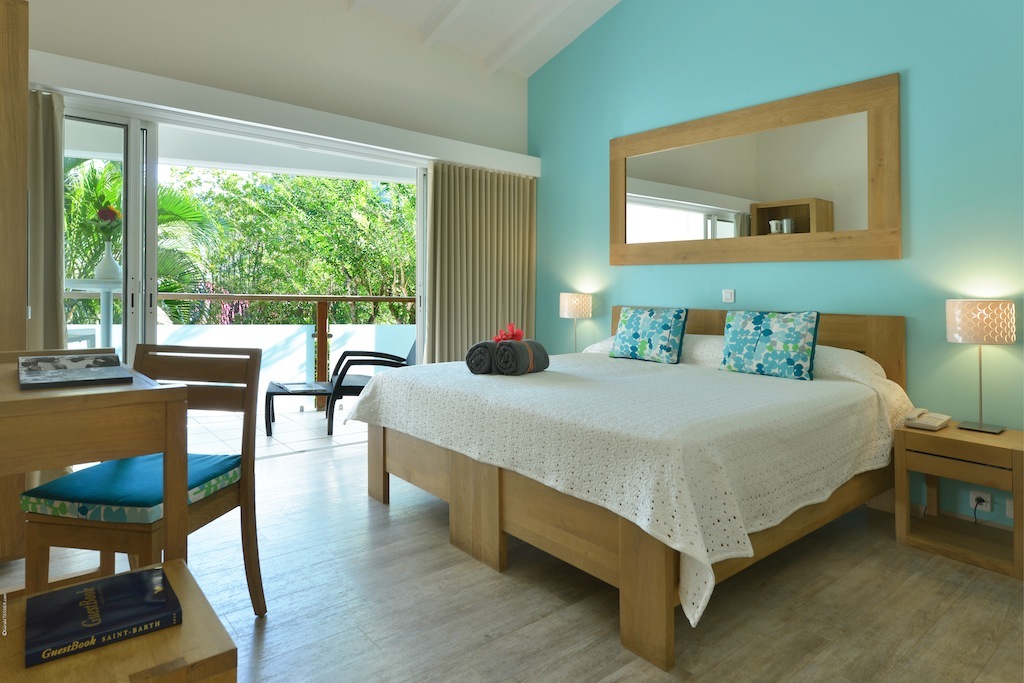 Standard Hotel Room
With ten categories of rooms, Le Village has 25 rooms, suites, cottages and villas that accommodate every budget. Almost all of the rooms offer sweeping views of the lagoon like bay or the Petite Baie de St Jean. For travelers who want to sample the flavor of St Barts without the huge price tag, the Standard Hotel Room is perfectly priced from 180 euros and includes a sunny balcony, small refrigerator and mini Nespresso machine for those hard to get out of bed mornings. Though Le Village's elevated, hillside position guarantees that cool trade winds will be plentiful, all rooms and suites are air-conditioned and offer complimentary wifi. The Standard Hotel Rooms are bathed in playful, pastel colors that are teamed with stylish oak wood furnishings and feature bathrooms that have been craftily designed to allow for more space with large showers and Italian tiles.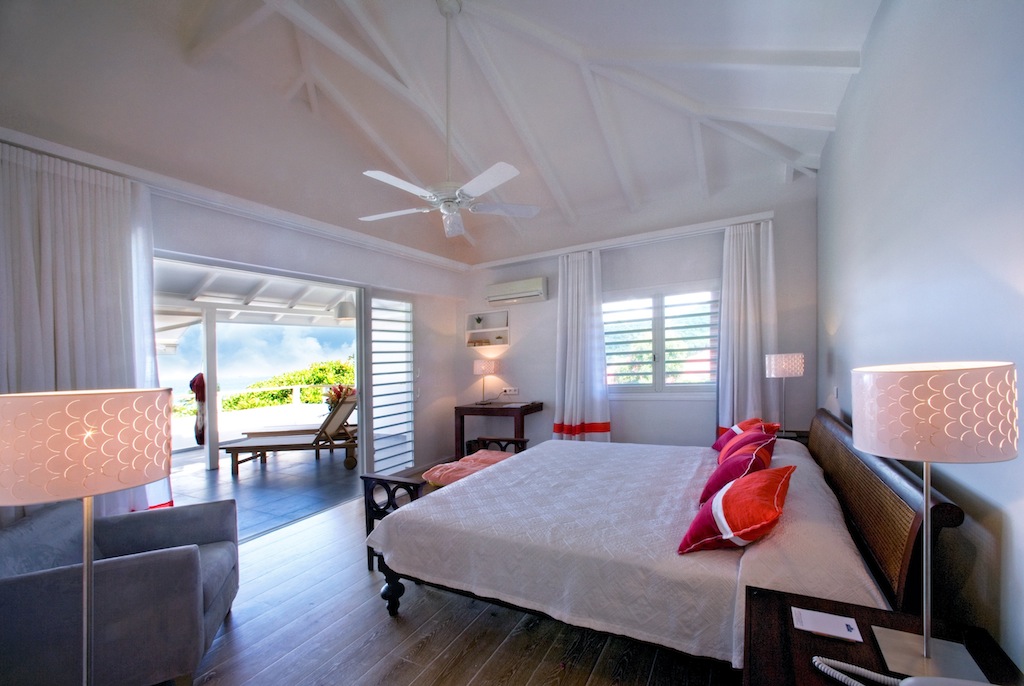 Superior Cottage
Le Village's one and two-story cottages fall under several classes and are designed for carefree indoor/outdoor living and offer solitude and privacy amidst ten acres of lush, terraced gardens filled with local Courbaril and Gaic trees, fragrant Frangipani and Jasmine. The cottages range from a Standard Garden or Terrace Cottage, a Traditional Garden or Terrace Cottage and a Superior Cottage. The new Superior Cottages were renovated and redecorated in the past two years, giving them a fresh, contemporary look. The wrap-around terrace includes a private sun deck with a stunning view overlooking St Jean Bay. The Superior Cottages have a large bedroom with a king size bed and a panoramic window looking out onto the dining terrace, which is equipped with a full kitchen. The bathroom has a natural grey stone floor which is a soothing contrast to the oasis of green inside and outside of the cottage. The Italian-style rain shower has a window which allows you to take full advantage of the view of the bay. The colors used throughout the room mirror the natural environment – the blue hue of the sea and the lush vegetation. Some of the Superior Cottages are designed as Superior Suites with an additional living room including a single bed for children or an additional adult. A sliding door separates the two rooms for added privacy.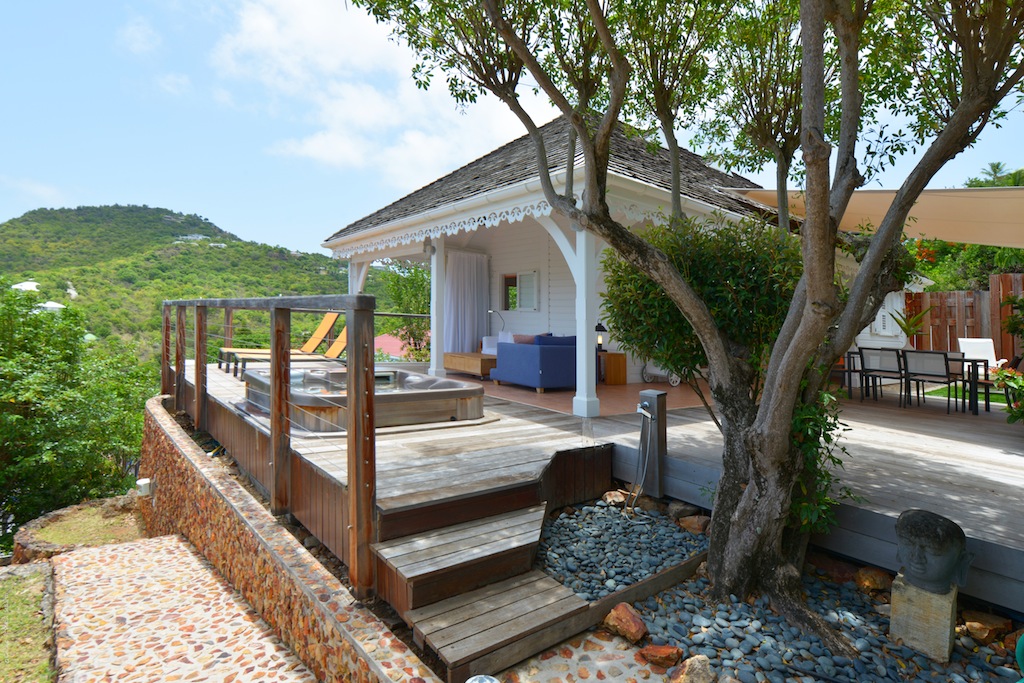 Tradition La Case
For those with a larger budget who crave a bit more privacy, La Case is a petite, self-contained cottage in the traditional St Barth style with a cedar-shingled roof and gingerbread trim. Complete with a picket fence, garden and patio Jacuzzi, Le Case is a steal at 420 euros a night. This chic Caribbean cottage is located on the high side of Le Village, in a very private setting with spectacular views that overlook the Bay of St Jean and the hotel's infinity pool. A large wooden deck around the terrace features a heated Jacuzzi while a large kitchen opens onto the outdoor living room that is decorated with brightly colored accents.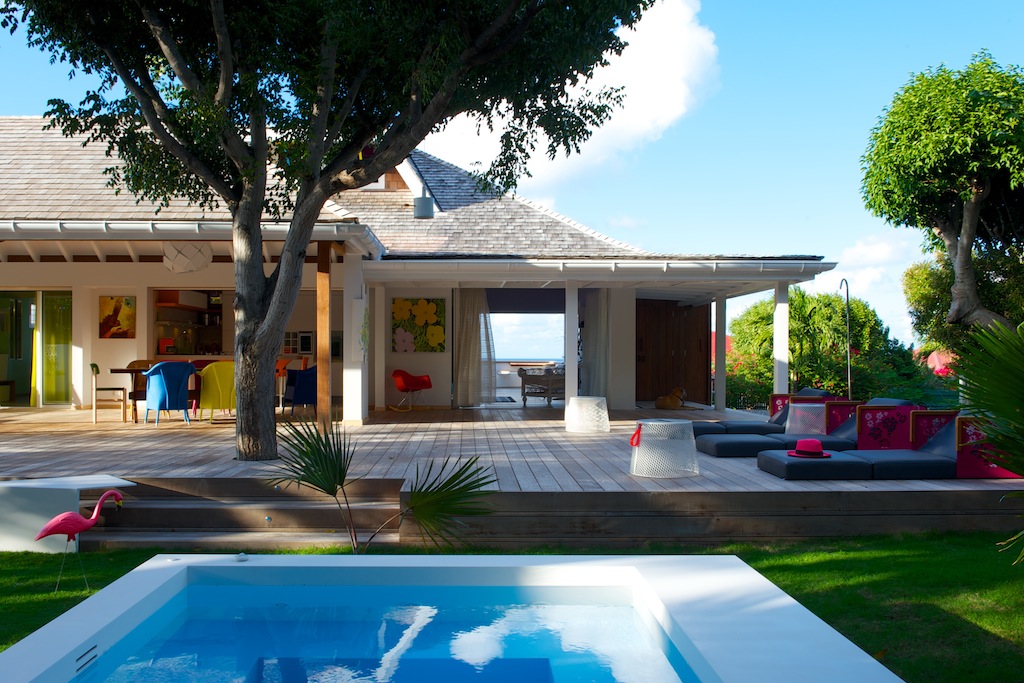 Villa Catherine
Villa Iguana and Villa Catherine are amazing, self-contained, two-bedroom luxury villas that are moderately priced compared to the villas on the island and they both offer the added advantage of hotel services. Villa Catherine is a great choice for the art lover as it contains so many original artworks it's almost an art gallery. Many of the paintings and sculptures are by former artists-in-residence at the villa (like France's acclaimed designer/aristocrat, Jean-Charles de Castelbajac). In keeping up with the artsy decor, the furnishings are avant-garde like the brand-new sofa and loungers by Italy's visionary Paolo Lenti. The indoor/outdoor kitchen opens directly onto a landscaped garden with plunge pool, pergolas, photovoltaic lighting and a meditation platform in a 100-year-old locust tree. Two bedrooms, three bathrooms and two separate terraces make Villa Catherine ideal for a small family (including a nanny). Unlike many villas on the island, both Villa Iguana and Villa Catherine can also be rented at a one-bedroom-only rate – from around 3,900 Euros a week for two in summer.
Villa Iguana has two air-conditioned master bedrooms separated by an open living room with a white-raftered ceiling and gourmet kitchen with stainless steel appliances and a central prepping/dining console. Both bedrooms open directly via louvered doors to a covered terrace and open deck that features a full-length lap pool, sun-loungers, armchairs and hammocks, all with breathtaking views over the bay and offshore islands. Villa Iguana lies at the end of a private lane with reserved parking and offers exceptional privacy for two couples or a family of four (small children will not be accepted in this villa).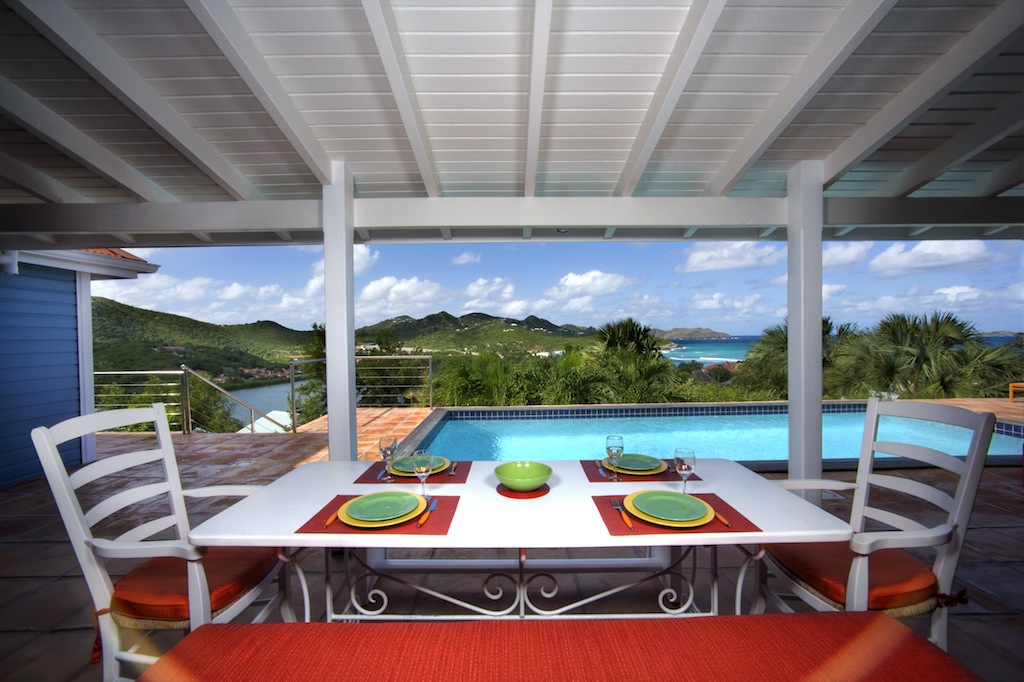 Villa Iguana
Currently, Le Village is offering unique Summer Specials that are running from May 1 to October 28 that offer exceptional value. Guests who stay 8 days or more are offered a 10 percent discount in addition to a complimentary car rental while guests booking for 4 days also receive a car rental at no additional cost. Stay 7 days and pay for only 5 days with your choice of cottage and free breakfast or opt to stay 3 days and pay for only 2 with free breakfast, a complimentary car rental and one hour massage for two with the Mini Break offer. With exceeding value during the summer months, now is the perfect time to book your reservation for your unforgettable St Barts vacation.