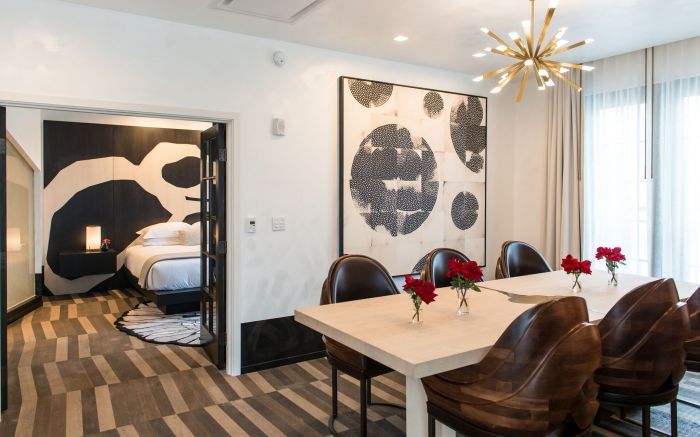 Image courtesy of La Peer Hotel
If you check into the new Kimpton La Peer Hotel and think to yourself, "wow, I could see myself living here…" then the hotel is doing exactly what it was designed to do. Since opening earlier this year, the 105-room West Hollywood hotel has encouraged its guests to feel right at home— that is of course if your idea of home is an elegant Art Deco-inspired space filled with the works of leading designers and site-specific artworks by some of Los Angeles' most innovative and influential artists.
Image courtesy of La Peer Hotel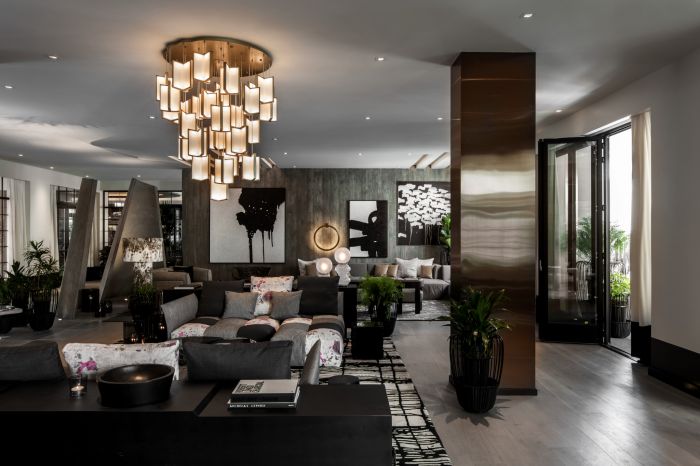 Image courtesy of La Peer Hotel
Located on a narrow tree-lined street nestled between Santa Monica Boulevard and Melrose Avenue, the La Peer is one of the only hotels within West Hollywood's vibrant design district—home to such design world luminaries as Walker Zanger, Commune, and Kelly Wearstler. 'We want to become an anchor of the Design District" says general manager Nick Rimedio, "where visitors and residents alike experience the sense of an oasis, a haven that feels like home.' The work of LA-based interior designer Gulla Jónsdóttir, La Peer's interiors pays homage to the hotel's design district environs and the eclectic architectural styles of some of LA's most historic buildings—many of which are sprinkled throughout the surrounding residential neighborhood. 'It draws on some wonderful veins of architecture that were present in California in the 1920s and 1930s,' says the building's architect, Elizabeth Moule, of Pasadena-based Moule & Polyzoides. 'There are a lot of beautiful courtyards and middle-density buildings in Hollywood. It's a long tradition we wanted to continue.'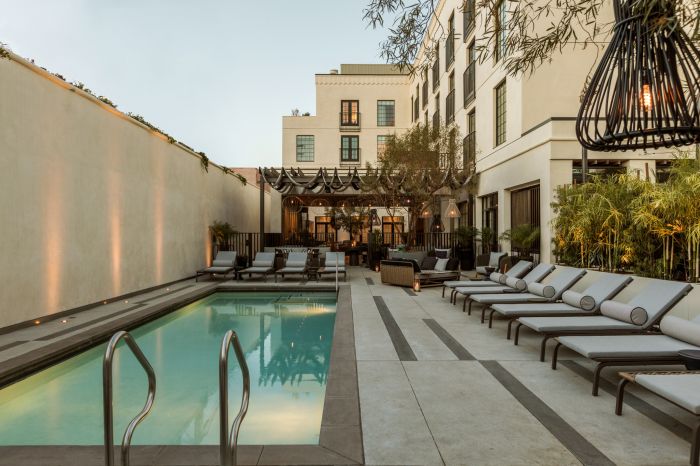 Image courtesy of La Peer Hotel
The stylish hotel, which opened earlier this year is one of the newest additions to Kimpton Hotel Group's international roster of luxury properties. In a city not exactly known for being pedestrian friendly, the La Peer is ideally located at the center of one of the LA's most walkable and picturesque neighborhoods. Restaurants, bars, world-class shopping, and numerous cultural attractions are within steps of the property making getting around a breeze for guests opting to forego renting a car while in town. That being said, if you decided to never leave the hotel nobody would fault you. 'We wanted it to be a very concentrated and immersive experience. We wanted people to know when they wake up in the morning that they are in L.A.' says Jónsdóttir when describing the La Peer. The hotel achieves this by evoking a quintessentially Californian unbuttoned glamour, a modern take on old Hollywood style.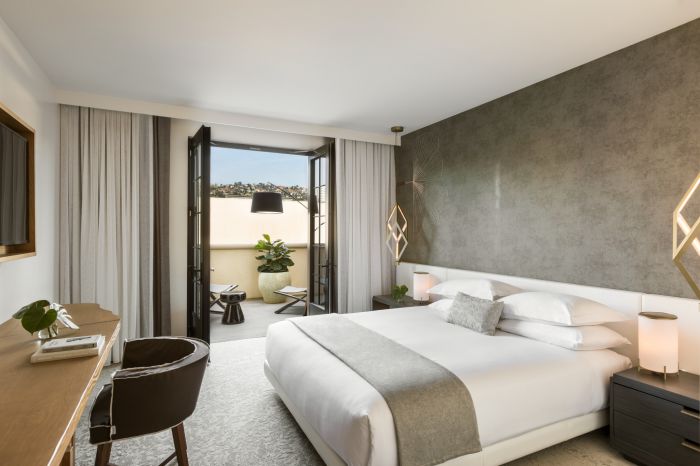 Image courtesy of La Peer Hotel
The design palette of the La Peer is a mix of earth tones, natural materials, and organic shapes—think stone surfaces and leather bricks—interspersed with metallic bronze columns, molten mirror tables and jewel-toned pops of color throughout the airy and sun-drenched spaces. Custom-made furniture and fixtures, large-scale Richard Serra-esque sculptures and contemporary art installations—including an elevator design by Kahori Maki and a courtyard installation by graffiti artist Retna and artist Guerin Swing—breathe life into the hotel's design ethos, giving the La Peer an unmistakable air of California cool and a unique sense of place. The attention to design detail extends into the La Peer's rooms and suites. White oak herringbone wood floors, free-standing tubs, vignette living room spaces, high ceilings and quirky touches—like metallic gold Jeff Koons balloon rabbits on the bedside tables—are found in every room and suite. Guests staying in the penthouse suite are treated to a wall-to-wall patio and Gulla Jónsdóttir's own furniture collection Heimaland, which can also be seen and purchased at the designer's storefront gallery located on the ground floor of the hotel.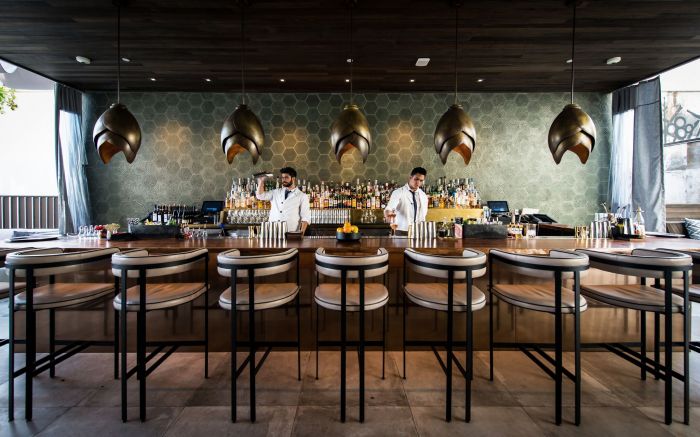 Image courtesy of La Peer Hotel
In keeping with LA's embrace of the outdoors as living space, one of the La Peer's signature features is its spacious lobby bar which sits just beyond expansive walls of glass that open from the lobby to a pool area. The inviting outdoor bar and lounge areas sit on a canopied patio shaded by swaths of contrasting hued fabric and T&J Vestor Bubble Gold pendant lights. Flanked on one side by the hotel pool and the soon-to-be-iconic collaborative graffiti mural between Guerin Swing and Retna on the other. The courtyard lobby bar is truly one of a kind and the perfect place to wile away an afternoon. It's easy breezy atmosphere and central location within the design district have made the La Peer bar the coolest go-to watering hole for many of the neighborhoods design professionals and resident neighbors in need of a mid-day glass of wine or a signature cocktail like the Amaro Abano, expertly crafted by one of La Peer's resident mixologists, Spencer Young who skillfully uses the bar's extensive menu of spirits to create unique and memorable libations for patrons looking to try something special.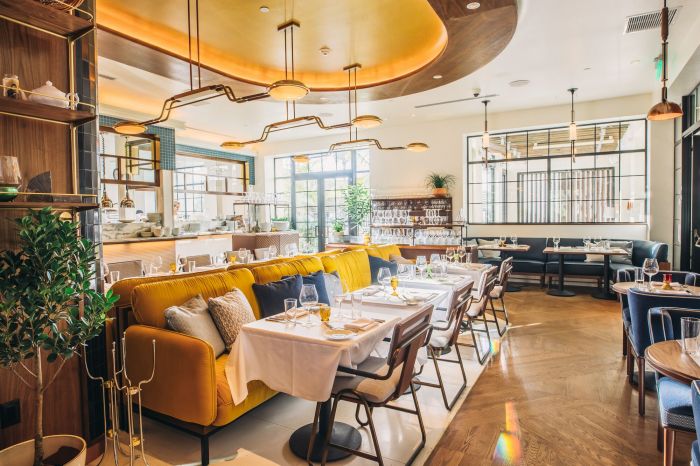 Image courtesy of La Peer Hotel
Should cocktail hour extend into dinner time, the La Peer's stand-alone restaurant Viale dei Romani just so happens to be West Hollywood's newest foodie hotspot. The restaurant by famed chef Casey Lane features a coastal Italian menu that deftly incorporates a range of Mediterranean influences from North Africa alongside more familiar flavors and ingredients from France and Spain. In addition to lunchtime staples such as innovative pasta, pizzas and farm-to-table salads, Viale dei Romani truly shines with special dishes such as white truffle tagliatelle, wood roasted chicken with clementine tagine, and a melt-in-your-mouth 3 lemon branzino with fennel and Marcona almonds. There is also a full bar inside of the restaurant and menu service for La Peer's courtyard bar area. Not to be outdone by the hotel itself, the elegant interiors of Viale dei Romani—designed by Parts and Labor Design—evoke the feeling of a contemporary European café, with midnight blue and butterscotch yellow velvet banquettes, brass fittings, Carrara marble surfaces, and dark hardwood accents. All of these design elements come together to create a vibrant dining space that is aesthetically elevated, yet cozy enough to stand-in as a relaxed neighborhood bistro.
From its jaw-dropping design to its perfect paint-the-town location, right down to every carefully considered detail in between, the La Peer is a destination hotel that checks all the boxes and should be the first choice for every traveling aesthete. 'I wanted the hotel to feel like a home in the Hollywood Hills,' says Jónsdóttir. La Peer Hotel, consider your mission accomplished.
Kimpton La Peer Hotel
627 N. La Peer Drive, West Hollywood, CA
www.lapeerhotel.com