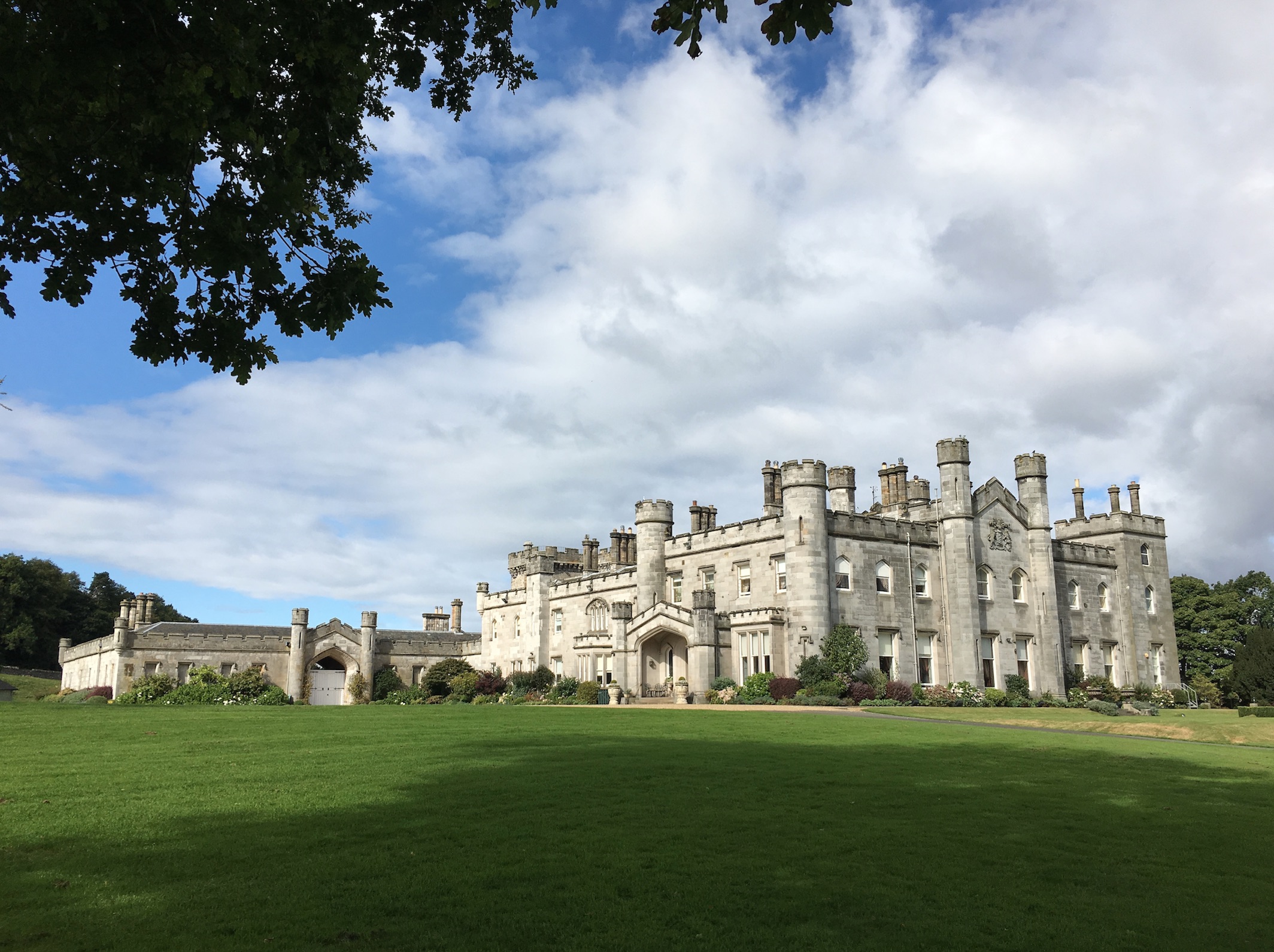 Photo Credit: Brandon Driver
Being a Kingsman goes far beyond the throes of extravagant espionage and witty banter: one learns to play just as hard as they work. As displayed in the film, Kingsman: The Golden Circle, these top-notch relaxation experiences range from expensive whisky to the fanciest of resorts. Thanks to Visit Britain, we have experienced and documented precisely what a Kingsman might do if he were to have a week off from saving the world.
Staying at Dundas Castle in Edinburgh, Scotland, is an experience fitting of one of the top 5 Star Exclusive Use venues in Britain. This ancient building features 17 luxurious rooms and 400 lush acres full of cattle, wildlife, forests and running water. Dundas Castle is not connected with third-party reservations hospitalities, and must therefore be reserved privately and only as a group for the entire castle and grounds. Clay pigeon shooting and falconry were my personal two favorite of the numerous activities on site; exhilaration and nature in harmony, as it should be.
Expect to be welcomed by bagpipes upon arrival, and virtually anywhere you formally visit within the castle, especially dinner. Before dinner, traditional Scottish dancing is performed to make way for a feast to remember. A Scottish Burns supper, named after Robert Burns' poem Address to a Haggis in 1787, is traditionally haggis with "neeps and tatties" (turnips and potatoes) and a dram (glass of Scotch whisky) for the main course. The poem is presented with vigor in Gaelic after another ritualistic entrance of bagpipes in traditional Scottish garb.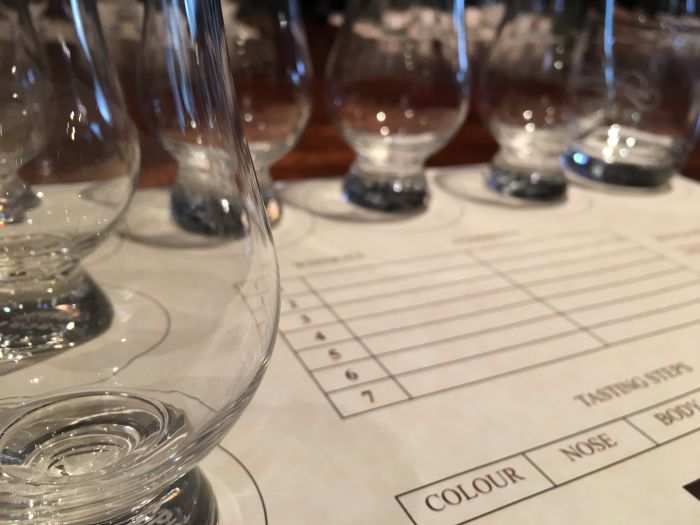 Photo Credit: Brandon Driver
The Balmoral Hotel's whisky bar in Edinburgh, Scotland is home of the world's largest collection of over 500 single malt Scottish whiskies. The collection is overseen by three Whisky Ambassadors, highly trained and at the ready to assist in selecting a dram whilst wearing contemporary highland garb by Kinloch Anderson. Expect to find a Kingsman or two looking to expand his or her knowledge of quality whiskies at this location.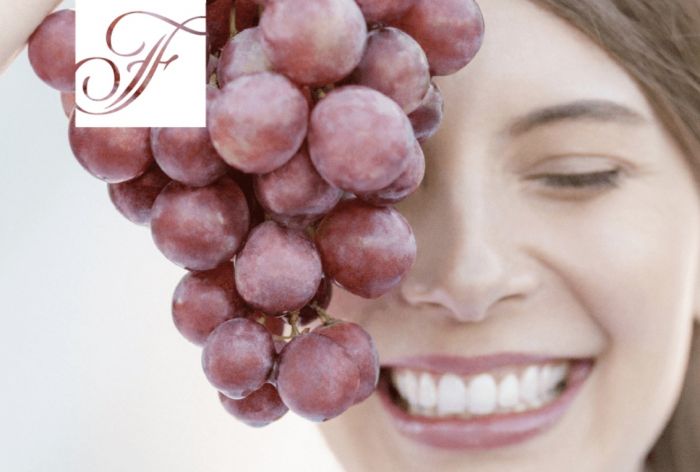 Photo Credit: St Andrews Spa and Hotel - Fairmont
Fairmont St. Andrews Hotel is a hidden gem in the vast, open countryside of Scotland. Here you'll find a location nestled into a historic landscape that constructively and contrastingly boasts of fine dining, an excellent Spa, and an incredible relaxation spot. The Celtic-inspired luxury spa incorporates the themes of Scottish countryside and the ocean to create the right environment for massages, facial and relaxation therapies, or even a visit to the nail salon.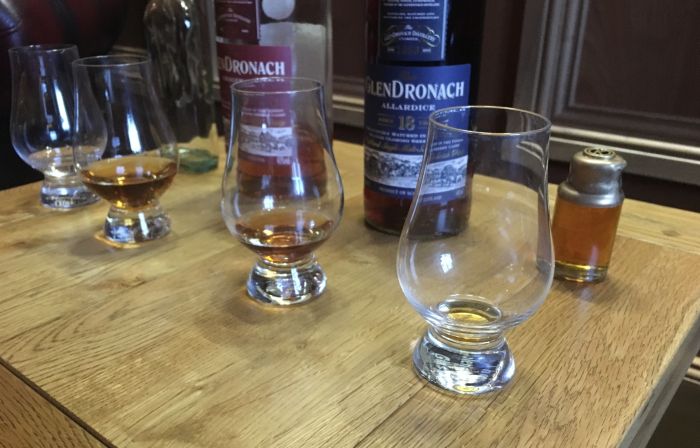 Photo Credit: Brandon Driver
The most likely place to find a Kingsman on his day off is at the GlenDronach Distillery where the rare Kingsman Whisky was born. Matthew Vaughn, director of the Kingsman films, favorited GlenDronach as his single malt whisky of choice, and worked to inspire The GlenDronach Kingsman Edition 1991 Vintage. This marks a relation to the birth year of Kingsman agent Gary "Eggsy" Unwin, and represents just as much class and status. The Kingsman whisky is designed from only the finest sherry wood casks, raising its value significantly. There are currently only 250 vials of Kingsman Edition whisky (shown in the above photo on the far right) in the UK, and each costs about $730.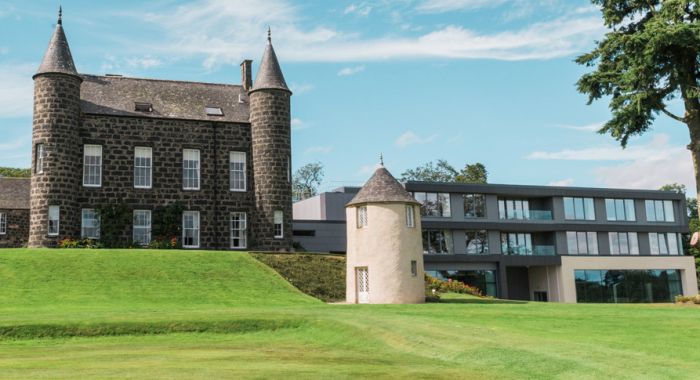 Photo Credit: Meldrum House
Meldrum House in Aberdeen, Scotland, is a relaxing and luxurious repose in the unique style of castle life and woodsman warmth. Here you can get top-quality instruction at the resort's golfing academy from Neil Marr, one of the top 25 coaches in the UK according to Golf Monthly magazine. Their technology will record all the details of your swing, ball travel speed, distance, and give you the best in terms of how to improve your game.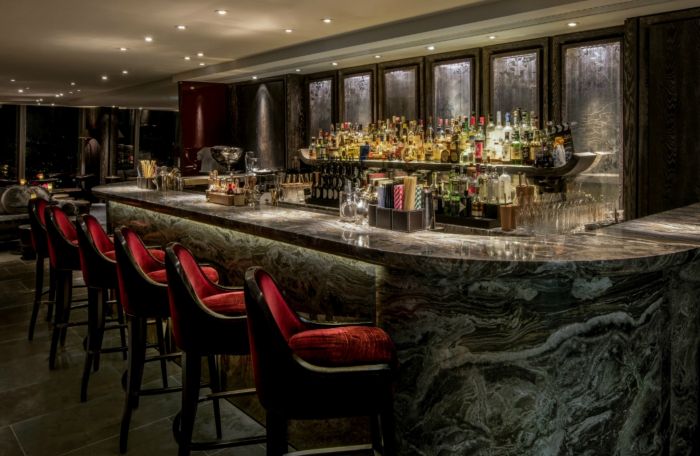 Photo Credit: GONG
The Shangri-La Hotel at The Shard in downtown London, England, proudly represents lavishness befitting a Kingsman. The highest quality of amenities The GONG bar on the 52nd floor is the highest hotel bar in western Europe, and holds a unique theme, with the menu being constructed around inspirations from famous movie directors.
The above endeavors should leave you well-rested and ready to return to the thrill of secret agenting, as it sure left us. Don't forget that you're doing it for the good of saving the world.