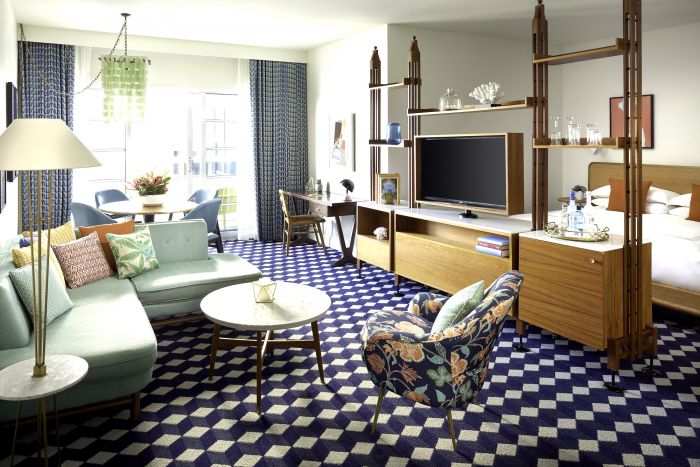 The Confidante
We love the stylish, iconic Art Deco hotels of South Beach. Yet it's sometimes refreshing to take a break from that monotony of design without leaving the beautiful people behind. The Mid-Beach section of Collins Ave., roughly defined as the area north of 23rd Street and south of 63rd Street, is increasingly the place to seek such diversion. And there's no better destination than The Confidante Miami Beach, on Collins between 40th and 41st. It's now a key component of The Unbound Collection by Hyatt, a portfolio of new and existing upscale and luxury properties, ranging from boutique hotels to full resorts, and running the gamut from "historic urban gems to contemporary trend-setters."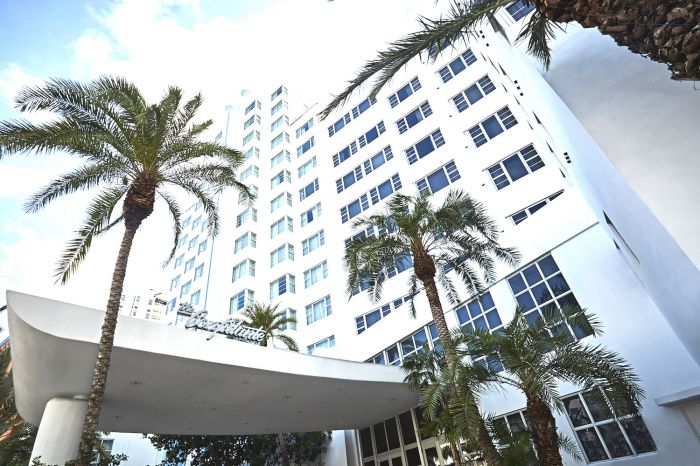 The Confidante
While the exterior of the building itself, which dates to 1940, adheres to the Art Deco tradition, the interior is a Mid-Century Modern marvel, and The Confidante blends the design movement's '50s and '60s aesthetic with chic beach house vibes, Miami's retro-glam roots and contemporary luxury. Their mission is to be "playful, nostalgic and unpretentious," while holding to the high hospitality standards the area is known for. Which is a bit more difficult than it might sound, yet admirably accomplished by the Confidante's staff and design team. The name of the hotel itself is a clue to this unique property's approach – both a best friend and trusted insider – and staying there is akin to visiting a close, and very stylish friend's beach house.
Hyatt acquired the property in 2016 when it was known as the Thompson Miami Beach. In keeping with the Unbound Collection's ethos, the Confidante has the perfect mix of "a fascinating past, an exclusive location, famous architecture and design, [and] an award-winning dining experience." The property has 354 guestrooms including 14 suites, all with an inspired 1950s-inspired aesthetic courtesy of uber-talented London-based interior designer Martin Brudnizki, who also worked on Soho Beach House Miami in addition to many other properties of note. The suites are true works of art and some of the chicest and comfortable accommodations in Miami Beach.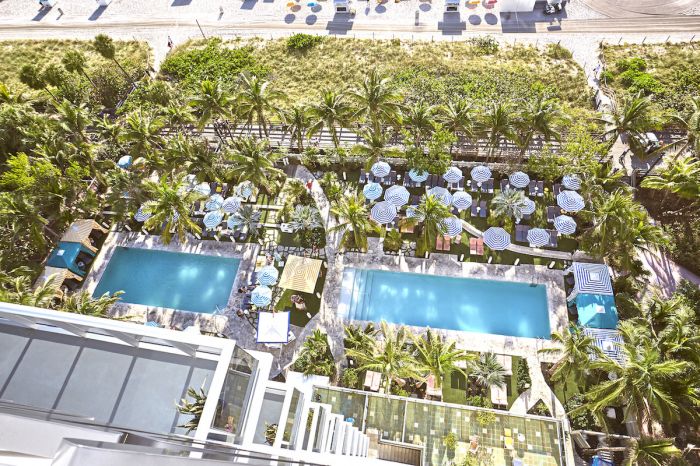 The Confidante
The "bright colors, and whimsical accents" promised by the hotel's brochure are just the beginning. The Mid-Century furniture is cool without feeling forced, and Brudnizki's rich, layered look bespeaks leisure and elegance. Retro wooden shelving units in the larger rooms give flat screen TVs an honorable setting and also extend to house inviting minibars. The baths feature rain showers and a soothing atmosphere in general, while balconies offer A-list beach views. All of it is set off by the hotels' lush tropical gardens, designed by Miami's landscape architect Raymond Jungles, famed for his "cultivated wild" look.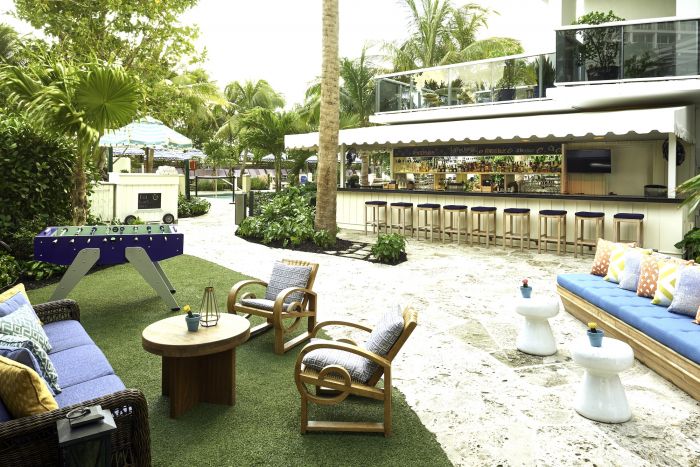 The Confidante
The Confidante's restaurants and bars are a compelling reason to remain on the property, and indeed attract visitors from neighboring resorts and the city itself. The fun, Southern-inspired farm to table Bird & Bone starts off Mid-Century in its corner of the lobby and then becomes a full-fledged garden party on the terrace. Renowned South Florida chef Richard Hales will have you believing you're in a rustic farmhouse either way. Fresh bread from Miami's Zak the Baker is served alongside standouts like a Bird Waldorf salad with Pulled Chicken, Frisee, Spinach, Nuts, Apple, Cheddar, Benton's Ham, and Champagne Vinaigrette; Chef Hales' Hot Chicken with Florida Honey, House Mustard and Cucumber Pickle; 24-oz. Braised Beef Rib with Panther Coffee Rub, Sea Island Heirloom Grits, Onion Chow Chow, and Smoked Pomegranate Molasses; and Whole Roasted Spiny Florida Lobster with Spicy Tequila Butter, Southern Mac & Cheese, and Cornbread Stuffing.
Start off with some small batch bourbon or spiked iced tea and lemonade, though it isn't necessary to put you at your easel; the service here and throughout the hotel is some of the friendliest and most competent you'll find in Miami. In the garden area leading to the swimming pools is a more casual venue called the Backyard, which offers tuna poke bowls, Key West shrimp tacos, and gourmet chicken wings, all of it also available by the pools or on the hotel's section of the famous beach just beyond the back gate. Drinks wise you can cool off with the Globetrotter, featuring watermelon juice, ginger, and basil; or a rum-laden The Confidante Thai Coconut, best enjoyed in a poolside cabana or by the fire pit at night.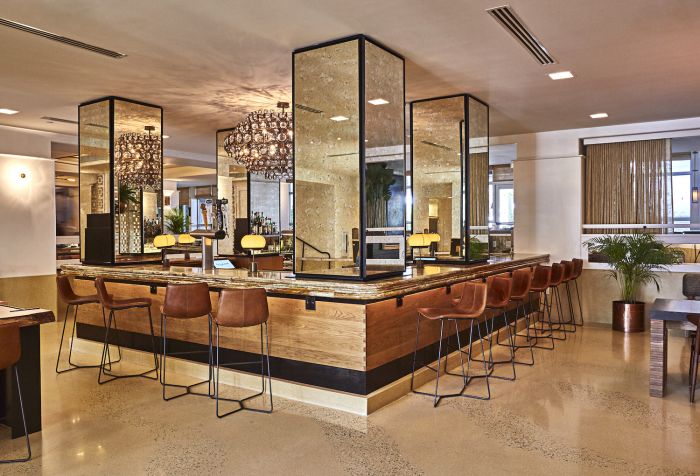 The Confidante
One of the outdoor heated pools is reserved for adults only, and every Saturday The Confidante invites hotel guests and Miami locals to their weekly Backyard Saturdays pool party, with live music and DJs. There's also a rooftop spa which combines classic services such as hot stone massages and deep tissue therapy with new-age offerings including "crystal massage journeys" aimed at treating the mind, body, and spirit. There are also air-conditioned spa cabanas and a fitness terrace overlooking the beach with the Confidante's brightly striped chairs holding court.
The Confidante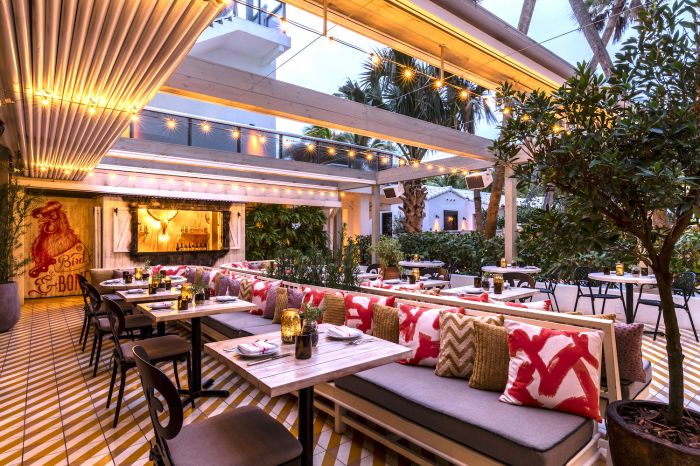 The Confidante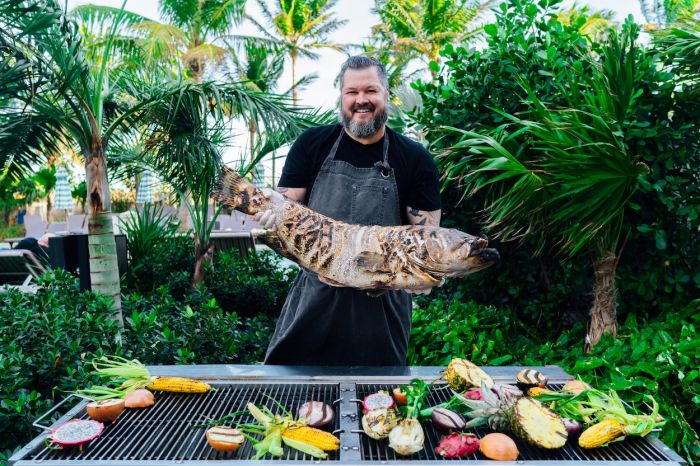 The Confidante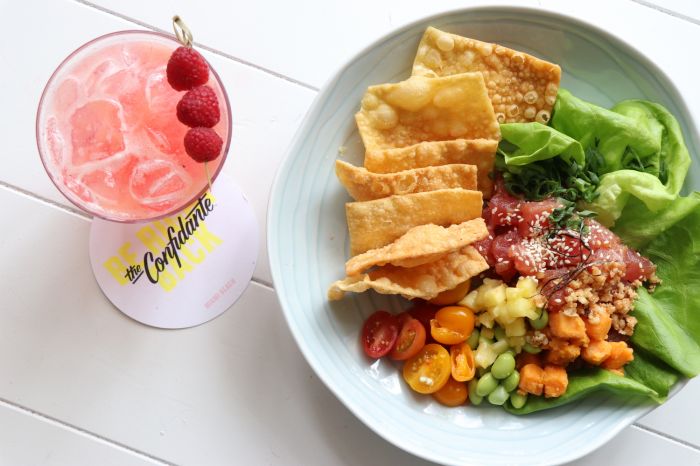 The Confidante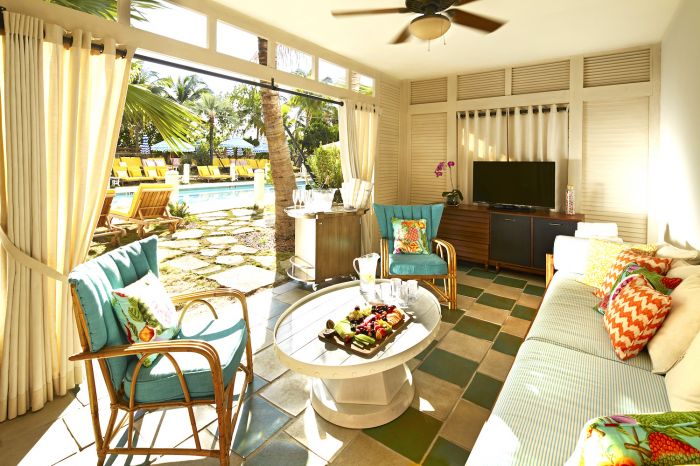 The Confidante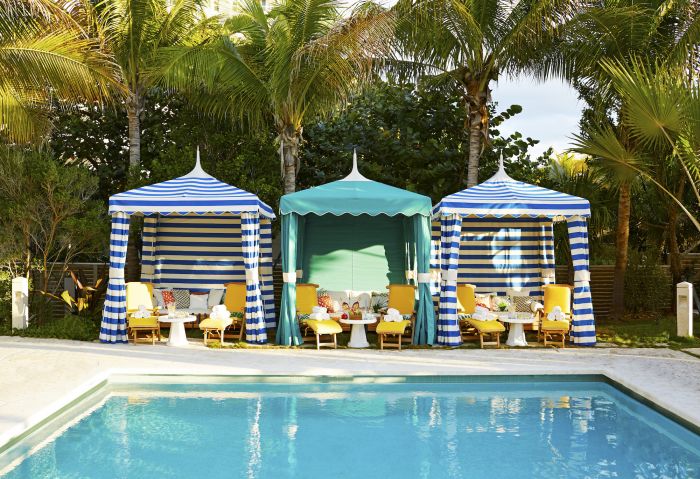 The Confidante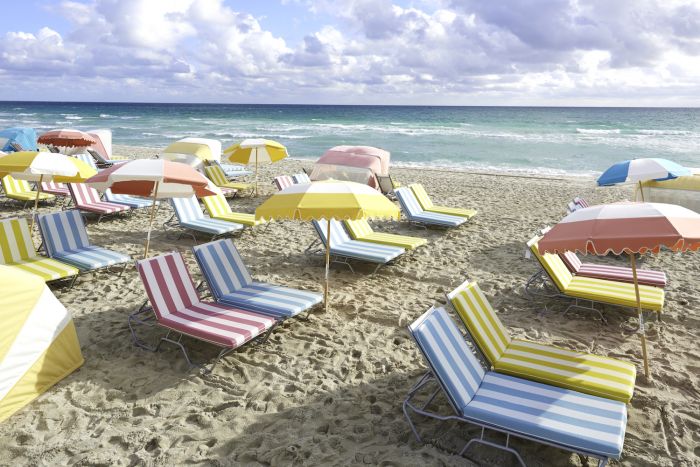 The Confidante