Photos Courtesy of Paul Shio
How to Survive a Night at the Ice Hotel
I have had some pretty unforgettable experiences while staying in some of the world's most gorgeous hotels, but having to attend a mandatory training session before tucking in for the night was completely new to me. But that is exactly what you have to do when you book a room at Hôtel de Glace.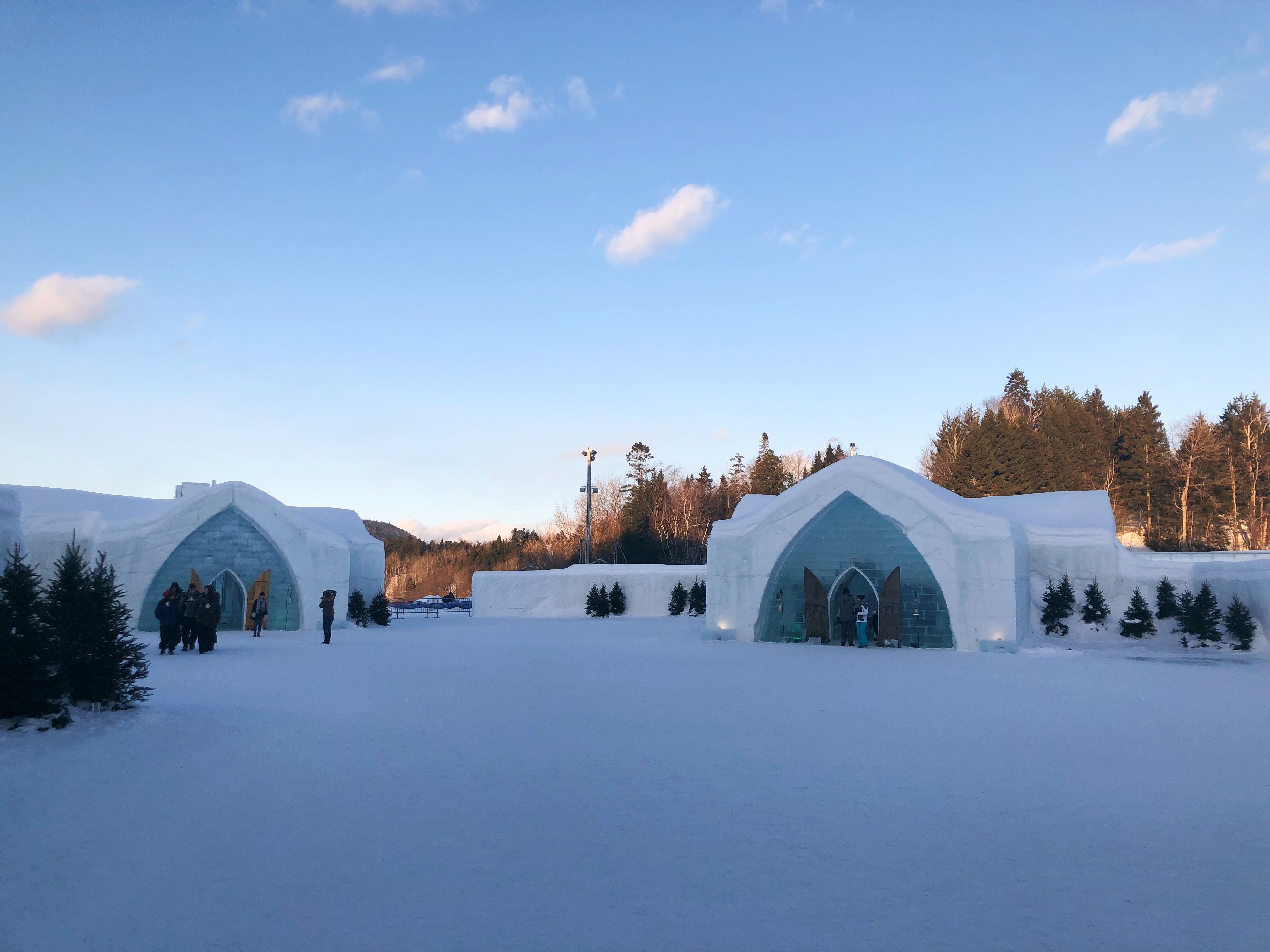 Only 20 minutes from Québec City, Hôtel de Glace is exactly what its French name implies: it is a hotel made entirely of ice. The only one of its kind in North America, the hotel has a three-month life span each winter and boasts a new theme each year – this year focuses on gardens of various kinds. On average, the hotel is built using approximately 500 tons of ice and 30,000 tons of snow. Metal frames are used as extra support while building the structures and once the snow and ice fully sets over the course of a few days, the metal frames are removed. The entire process takes nearly two months.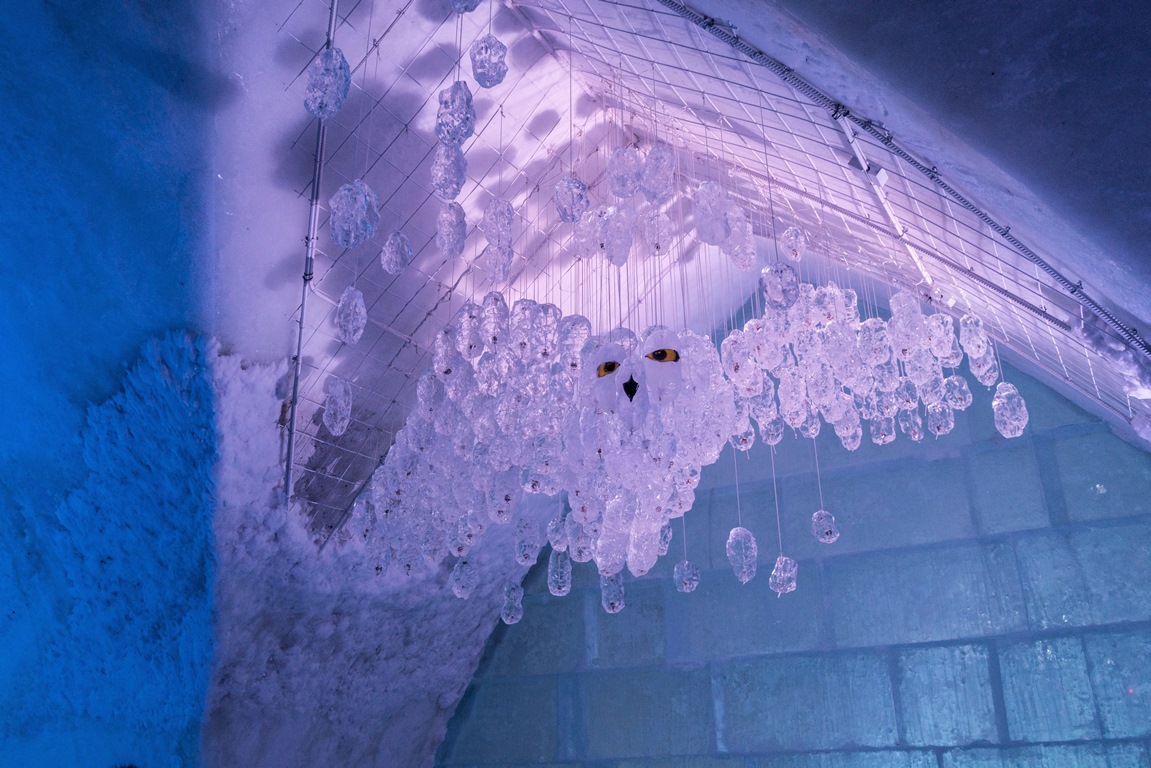 Hôtel de Glace features 42 rooms, 16 of which are stunning ice-sculpted suites that are designed and executed by individual artists (one suite even has a private hot tub and sauna in its "back yard"). The entire hotel is pretty spectacular and unbelievable. Before you even see the themed suites you are greeted by stunning ice sculptures and installations, like the massive owl comprised of countless hanging icicles in the Grand Hall. Of course, if you don't make it to the hotel this year, everything might look completely different next year.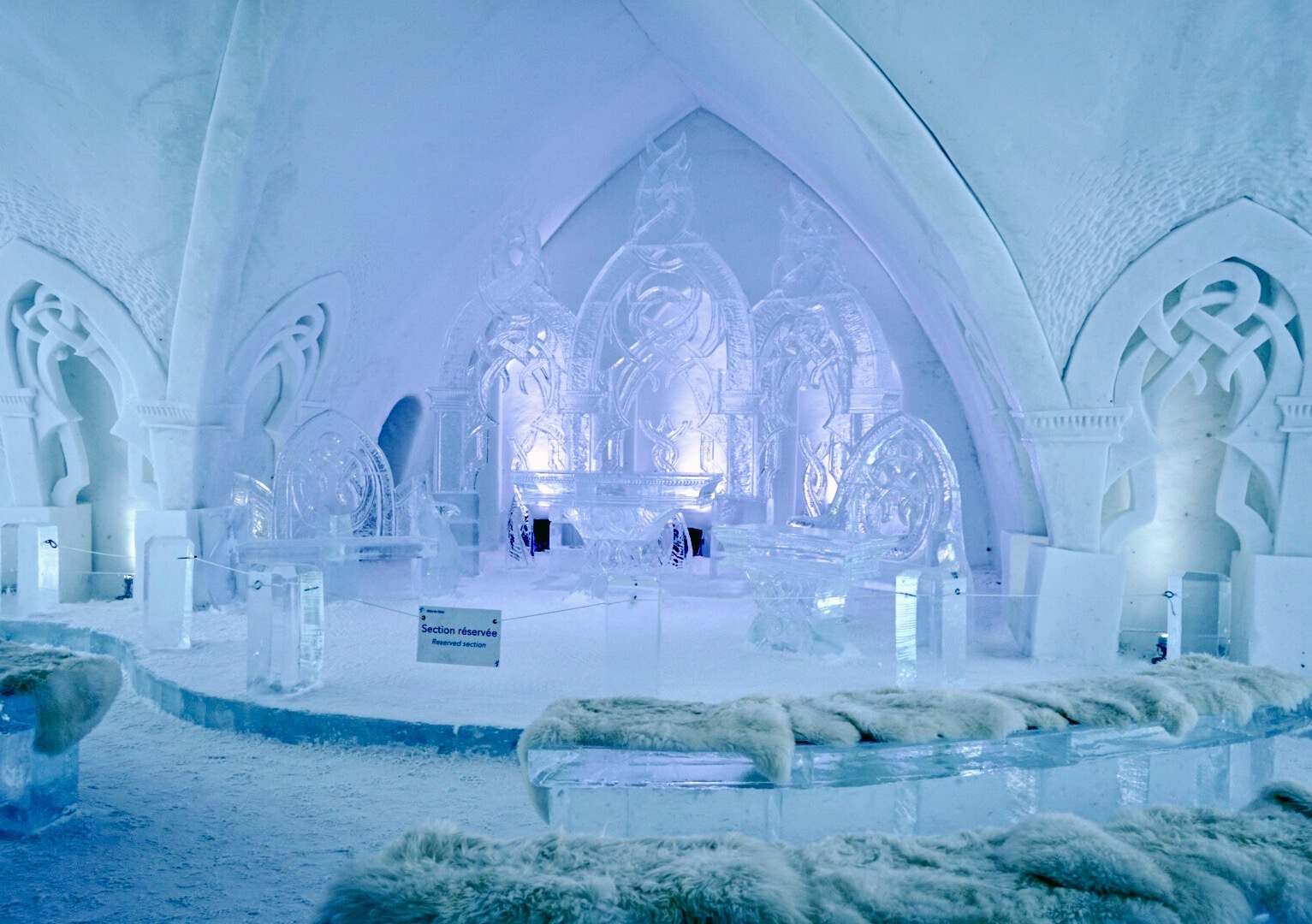 The hotel also includes the Bar de Glace where you can get special cocktails poured into ice glasses made on site, a Grande Glissade room that holds a massive slide made of ice, and the absolutely gorgeous Chapelle where more than 200 couples have gotten married. In the past, HBO even held a Game of Thrones cast party in the chapel to celebrate the oncoming of winter for season seven.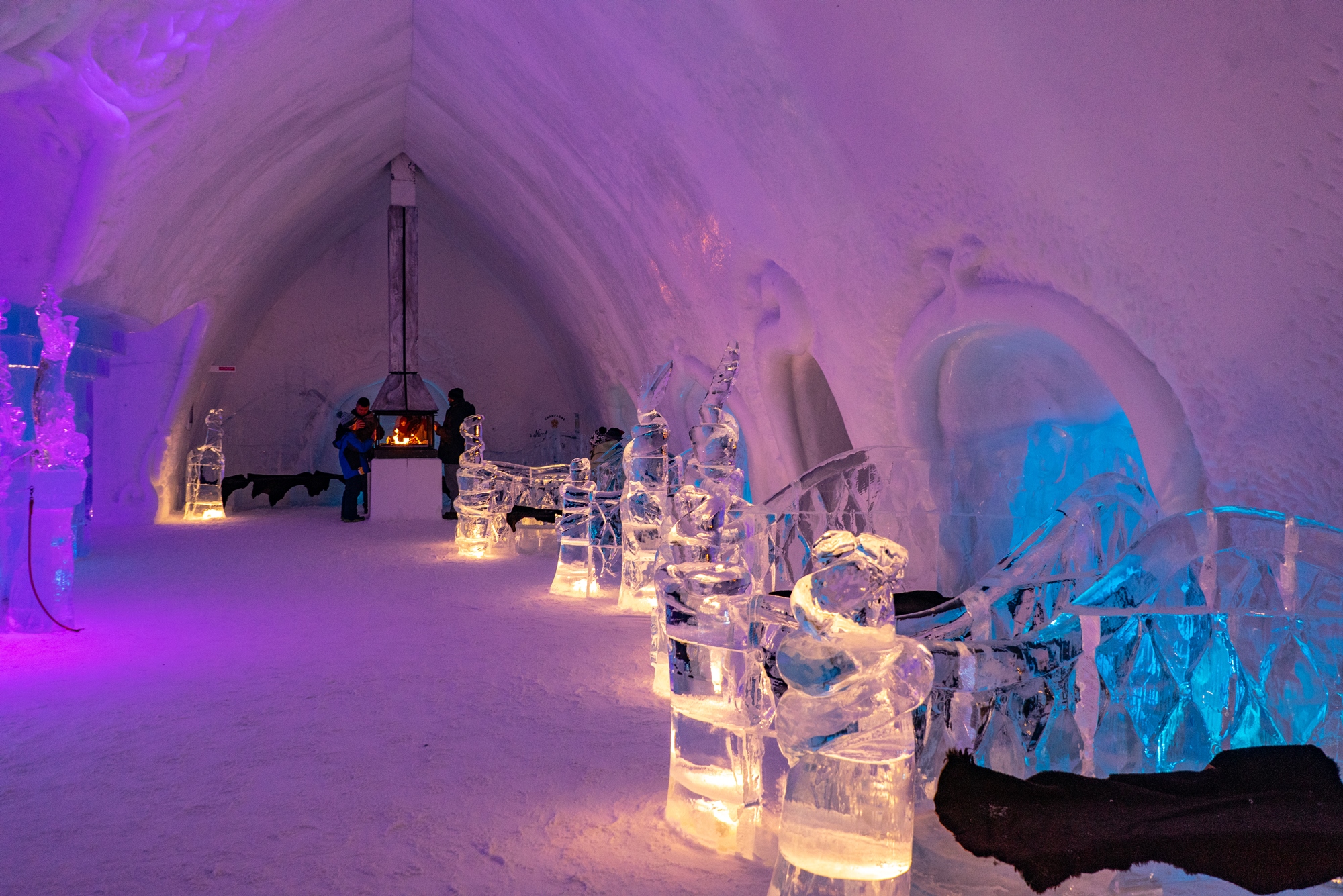 The hotel is pretty busy all day, with tours being given (which you should definitely sign up for whether or not you choose to stay the night), but by the time 9:00 p.m. rolls around, the visiting hours are finished and the hotel room hallways grow empty and silent as a tomb. Since you can't exactly hang out in your hotel room comfortably, everyone who is staying the night hangs out in the ice bar, which becomes a chilly nightclub complete with flashing lights and a DJ. There are booths made of ice with furs to sit on to keep your bottom dry, as well as a free-standing fireplace to crowd around if you need to warm up. On the night I was there, they had an ice sculpting activity where we got to test our carving skills out on a block of hard-packed snow.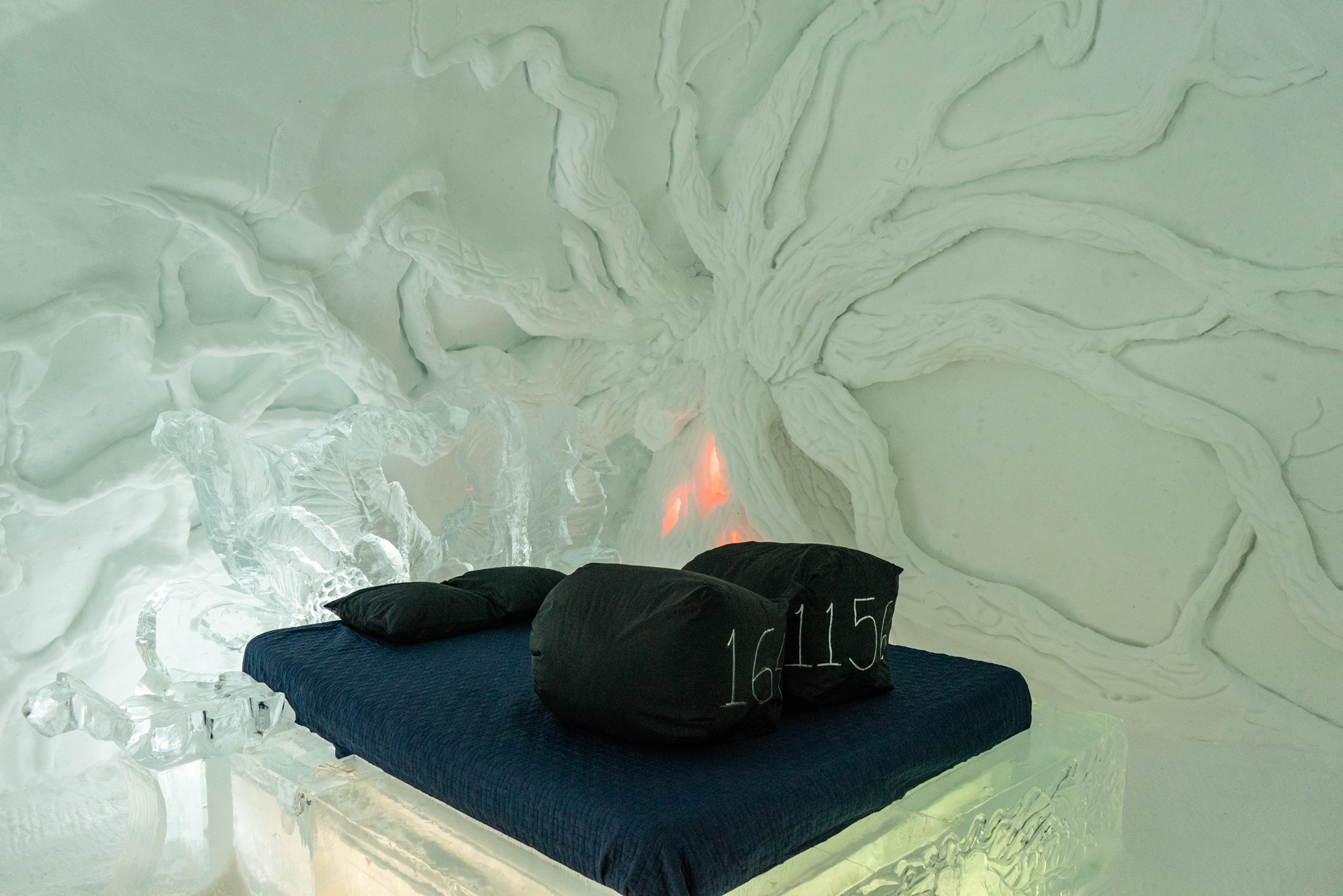 Once you are ready to turn in for the night, there is an entire routine you have to go through, which is one of the many things you learn about in that mandatory meeting I mentioned earlier. Thankfully, though outside temperatures have been known to be as low as -13°F (-25°C), the rooms never get colder than 23°F (-3°C). Still, that is pretty cold, so you better check out the website's guidelines on what to pack to ensure a warm night. The meeting gives you advice on everything from how to properly zip-up your sleeping bag and how to position your boots while you're sleeping to what to do with your outer layers (a waterproof bag is supplied for your clothes, though I recommend stuffing them down at the bottom of your sleeping bag, so they will be warm in the morning). The sleeping bags provided are made to resist temperatures as low as 5°F (-15°C) and involve a lining you slip into before getting into the actual bag, so as long as you wear light layers, you should be fine. The bag is designed to pull in tight around your neck via an interior bungee cord and then tight around your face via an exterior bungee cord – I ended up burrowing down inside like a caterpillar in a cocoon and I was more than toasty enough.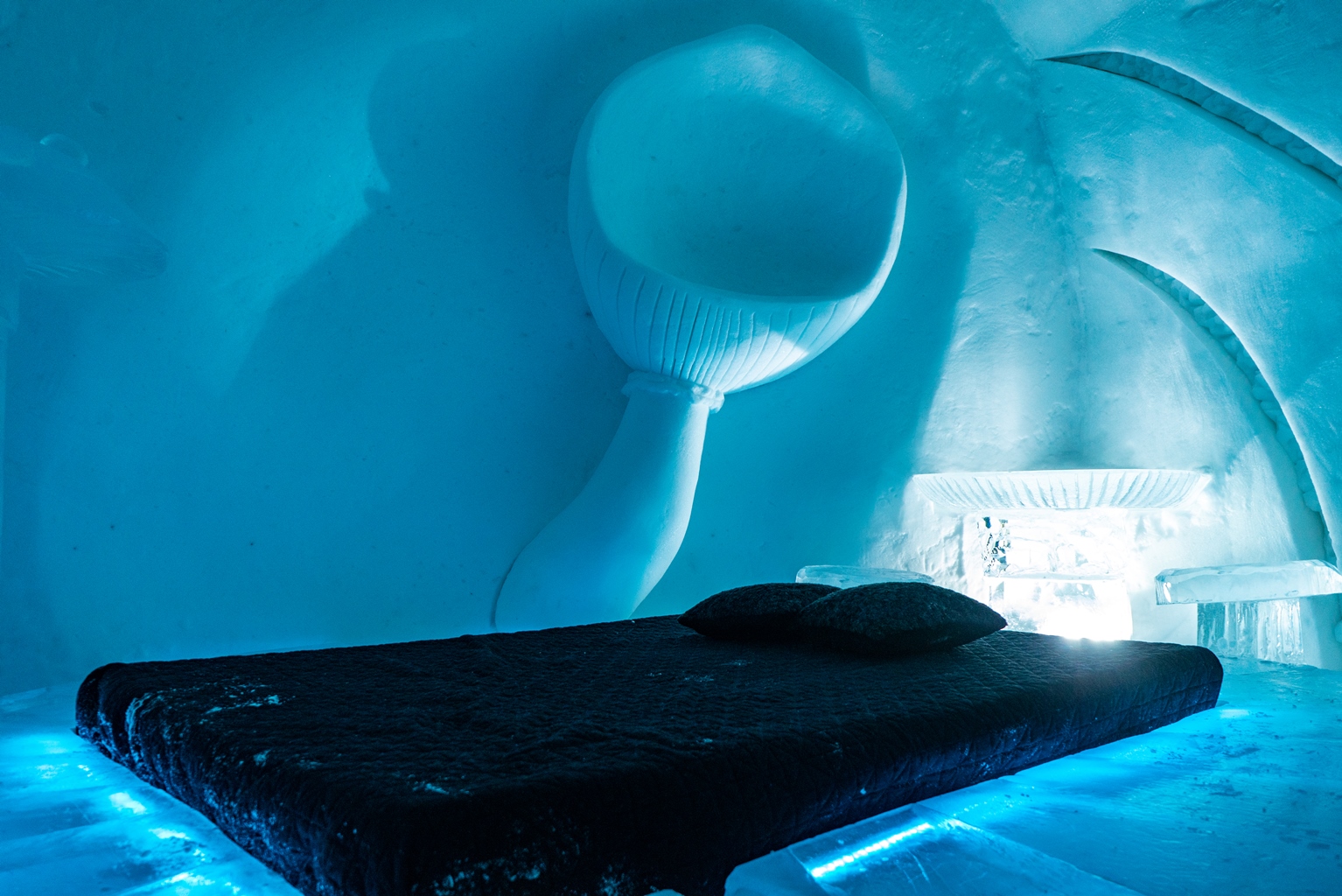 Before I showed up and actually saw the rooms, I really had no idea what to expect. No, your room will not have a bathroom. You are literally in a box made of ice – though if it is a suite, then it is a much prettier box. If you have a standard room, inside it you will find an ice platform with your mattress on top (there is a wood plank in between) and a sleeping bag – which is put in place once visitor hours end at 9 p.m. If your room is a suite, it is a lot more elaborate. You might have ice furniture or even a fireplace (which is only there for ambience and emits absolutely zero heat...for obvious reasons), but no matter what suite you have, there will definitely be unique and unbelievable images carved into the walls. I stayed in a mushroom themed room by sculptor Martin Ernst, which had giant ice mushrooms by the front door and huge mushrooms carved into the walls. The platform my bed was on was a huge circular mushroom itself, which was actually pretty slippery to stand on, so be careful. Oh and no, there are no actual doors. Instead, each room has a curtain that separates you from the hallway.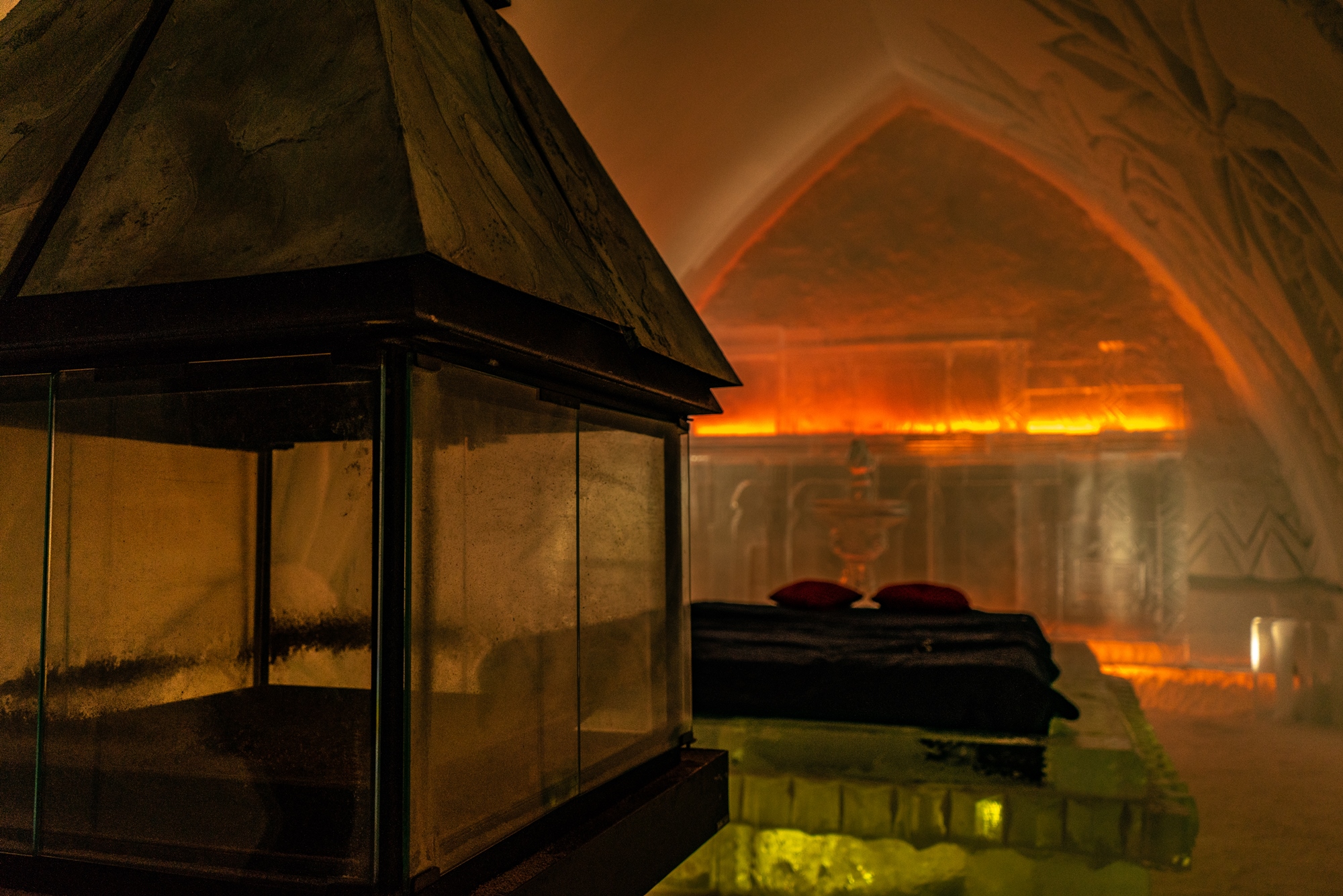 Before you go to sleep, it is recommended that you use the Nordic Area to raise your body temperature. Used only by guests of Hôtel de Glace, this outdoor area includes several hot tubs and a sauna. It is a great way to get to know your neighbors while warming up underneath the stars. I have a few tips on what not to do when using the Nordic Area, which can be found down below. Once you are done warming up, you dash into your back-up hotel room in the larger Hôtel Valcartier. Oh, I didn't mention that?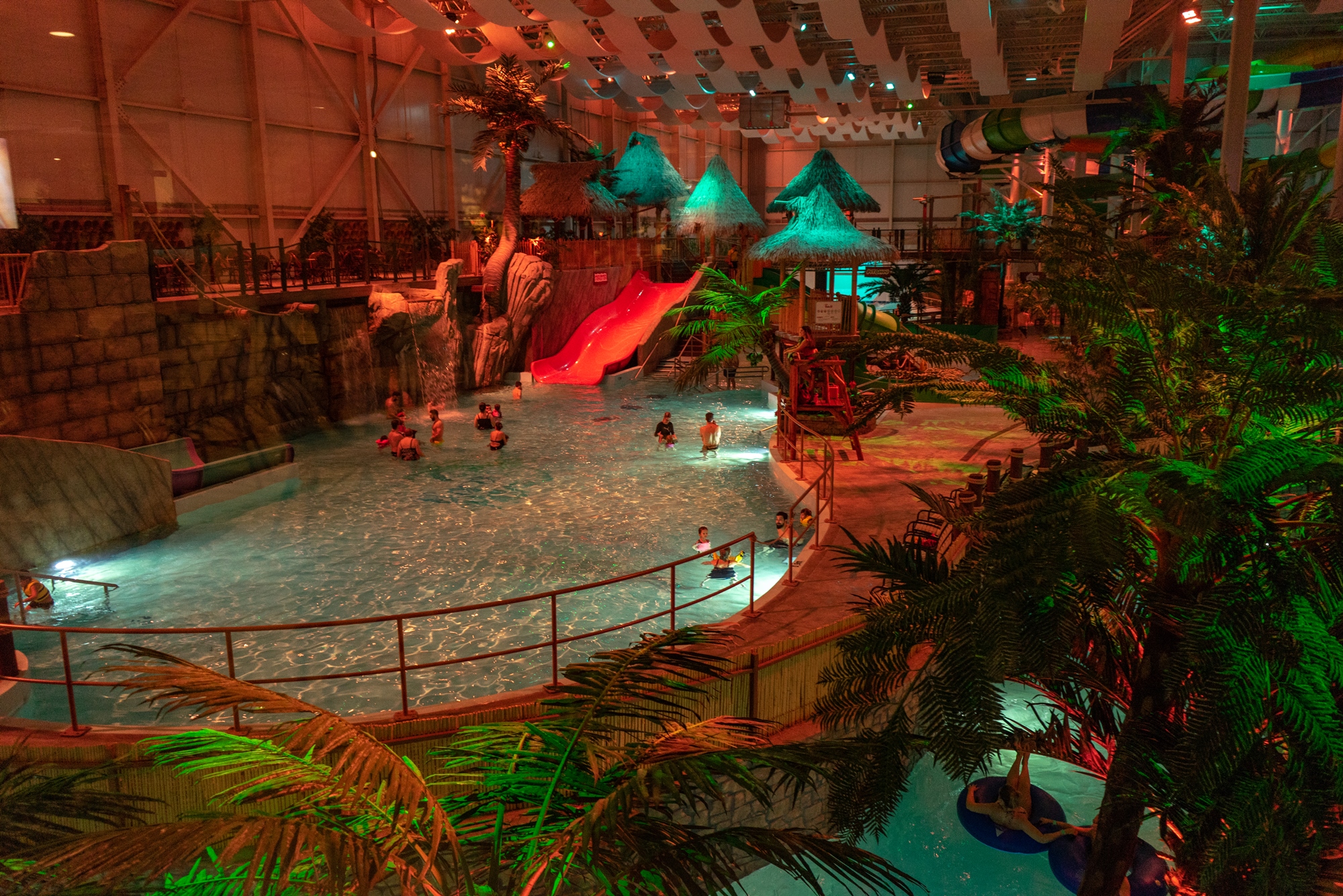 Hôtel de Glace is actually part of the much larger Hôtel Valcartier, which literally holds an indoor waterpark named Bora Parc and a huge 10,000-square-foot Digital Game Room. The hotel also has its own Aroma Spa that offers the usual treatments, as well as a Thermal Experience that is based on the Scandinavian tradition of cold and hot water cycles, and plenty of restaurants, including the four-star O'Grill. Outside, to the right of Hôtel de Glace, is the Winter Park, which is where you can go snow tubing and snow rafting down the mountainside, and enjoy some ice skating.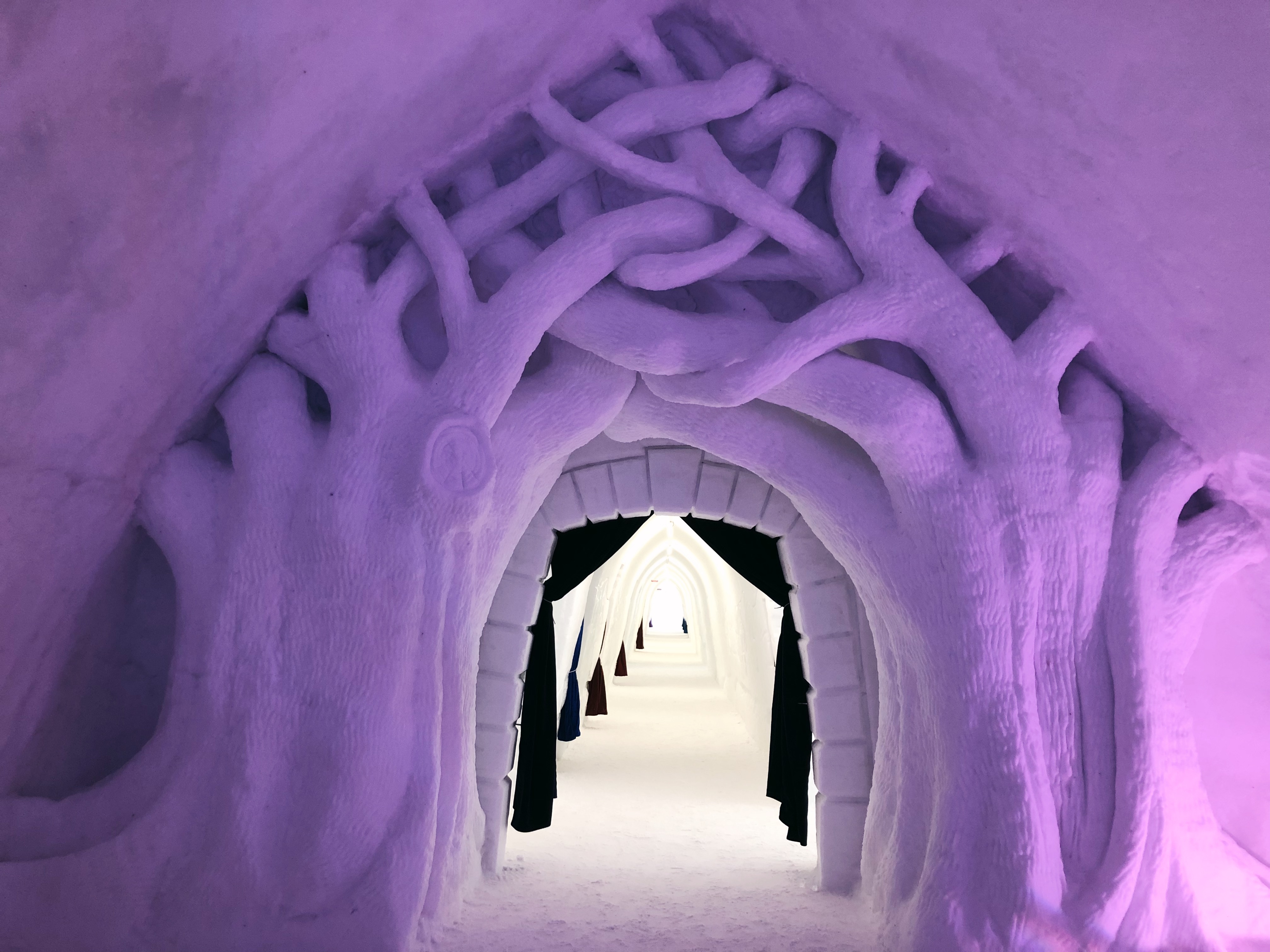 When you book a room at Hôtel de Glace, they give you an accompanying room in the main hotel. It is in this room where you put your bags, hang out, bathe and change. And yes, if you wake up at 2 a.m., freezing in your hotel room of ice and can't handle it anymore, you can wander to the main hotel and go to sleep in the warmth of your other room. I really don't recommend bailing though. How many people can say they slept in a room made of ice? Besides, you have to be out of your ice room by 9 a.m. (they have in-person wake-up calls at 8:15 a.m. and 8:30 a.m. to make sure you're up, so they can clean it up for public viewing), so it's not like you will be sleeping late anyway.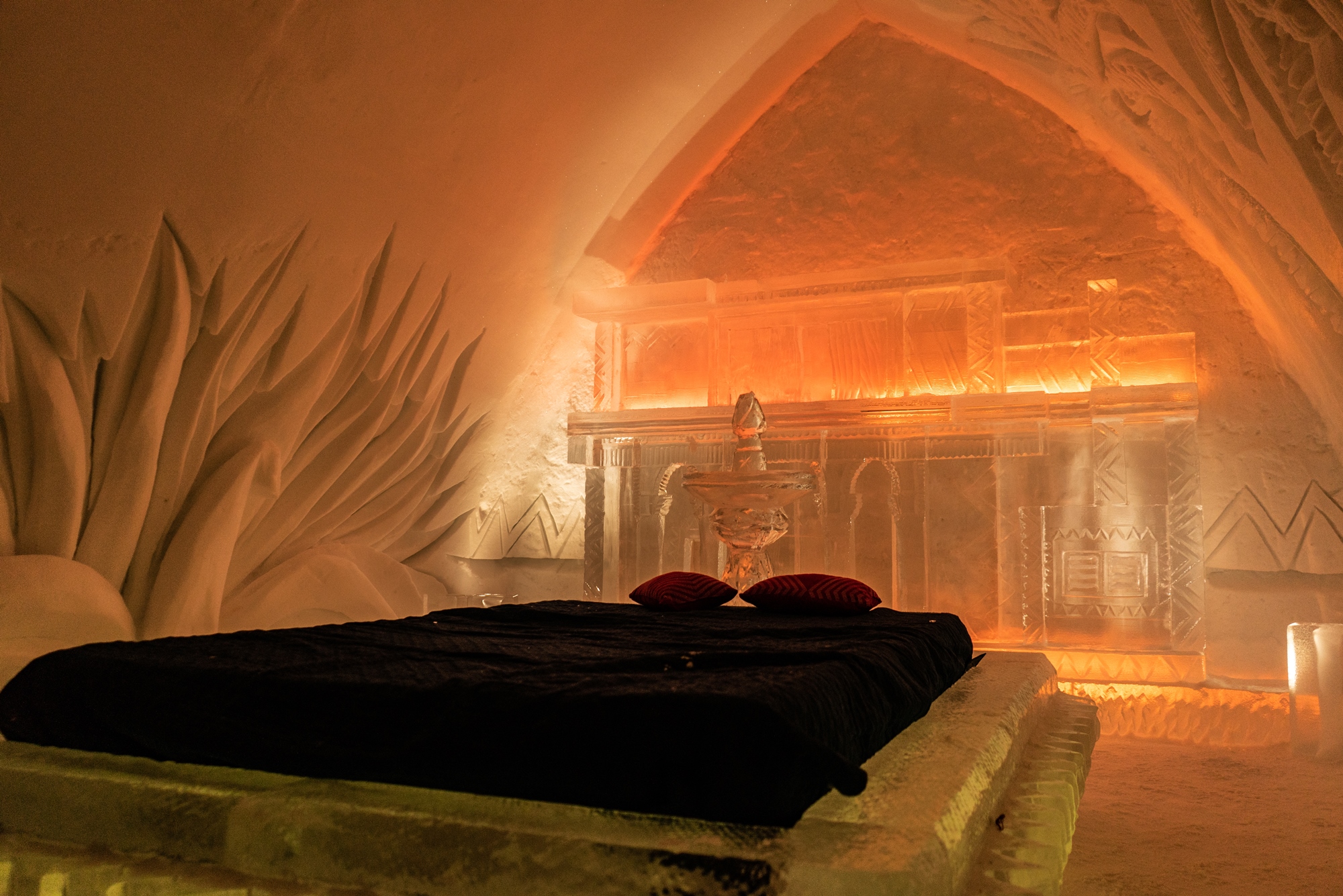 Here are some tips if you want to survive the night:
Make sure to pack an extra pair of socks and an extra hat that you will be wearing only while sleeping. The hotel staff really stress that these items need to be clean and 100% dry, which means if you wore that hat already, you probably sweat in it.

Take a warm pair of gloves or mittens to sleep with.

Pack an extra pair of long underwear or some sort of base layers to sleep in – make sure they are made from synthetic materials. I wore my Ninja Suit and I was perfectly warm.

Don't forget to take a swimsuit you don't mind wearing in front of strangers while sharing a hot tub and sauna.

Take some sort of warm hat for the hot tub. Even if there isn't a breeze, your ears will freeze if you don't keep them covered. If you forget a hat, you can also wrap a towel around your head.

Do not dip your head under water unless you plan on getting out the second after – your hair will completely freeze.

Pack a pair of slip-on sandals that you can stick in your robe's pocket while you are in the hot tub. I wore strappy sandals and left them on the ground by the hot tub. Big mistake. Huge. They got wet and were totally frozen by the time I got out, leaving me standing in the freezing cold while dripping wet, desperately trying to jam my feet into frozen sandals (I ended up just sprinting for the main hotel doors while barefoot).

Do not put anything on the ice furniture overnight – that ice table is for looks only! Whatever you put on the ice will most likely end up being part of the ice by the time you wake up. If you wear glasses, keep them inside the sleeping bag next to you. The same goes for your cell phone. Or just leave it all in your other room.

While there are heated bathrooms positioned outside Hôtel de Glace, I recommend limiting your fluid intake before sleeping. Having to go to the bathroom in the middle of the night means crawling from your warm cocoon, dressing, folding your sleeping bag just right so the warmth will be trapped within and then hustling to the bathrooms outside. Once you're done, you have to do everything over again to nestle back into your bag.

The hotel provides a little pillow with your sleeping bag and I was told to slip it underneath the bag, not inside it. If I were to ever do this again though, I would put it in the bag with me. It is very hard to position a pillow just right once you're cinched up in your bag and can't use your hands.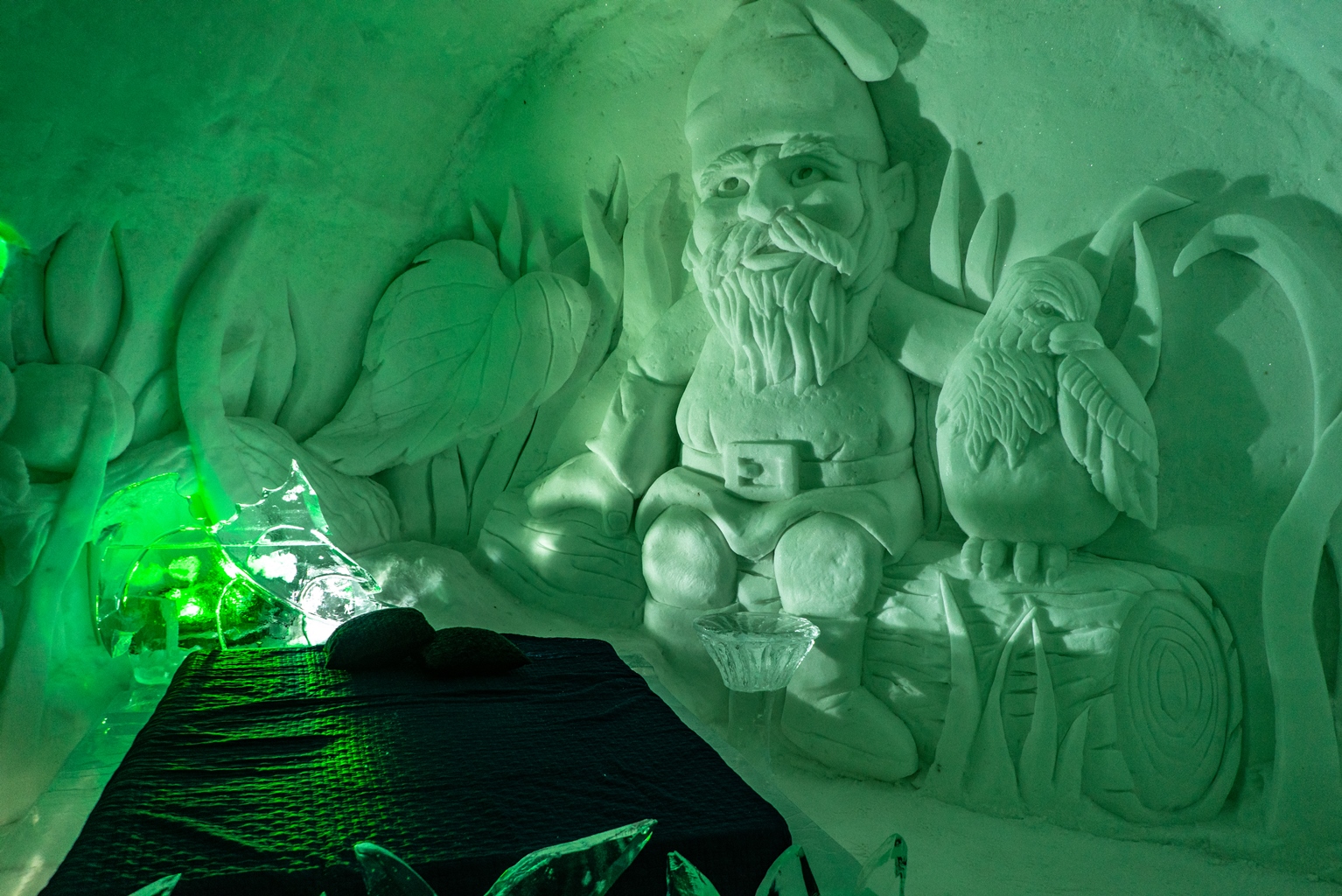 The standard room at Hôtel de Glace is currently priced at $495 a night, but if you're going to stay here, you may as well go big and get the deluxe suite with a fireplace and a private hot tub and sauna for $895 a night. The deluxe suite also comes with a bottle of Rosé Champagne served in an ice flutes. All room reservations also grant you discounts on activity tickets, the spa and an additional reservation at Hôtel Valcartier for the night before and/or after your stay at the Hôtel de Glace, so you will have plenty of time to get all the activities in.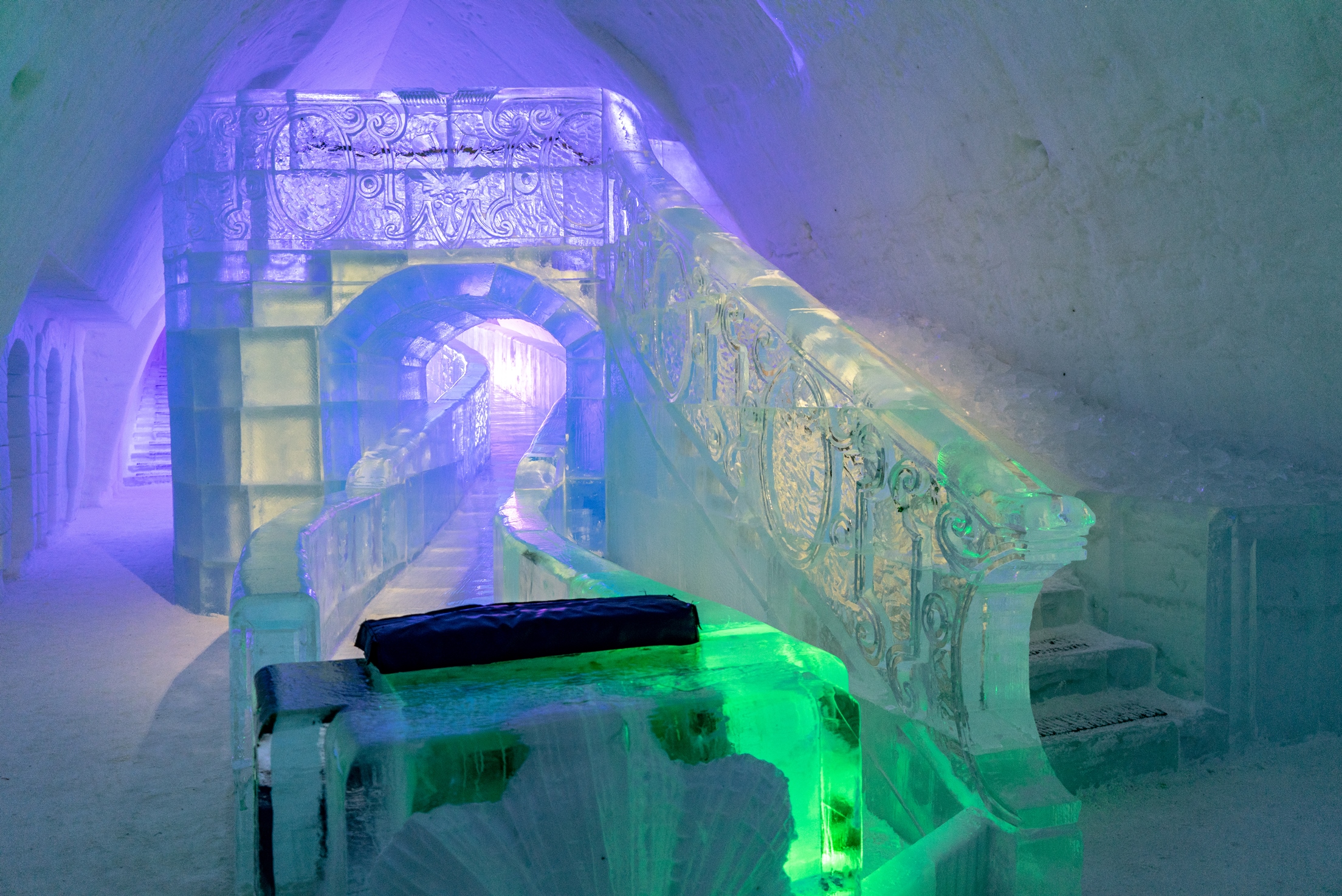 In the end, would I do this again? I didn't think I would, but the more time that passes, the more I realize that I definitely would. Not only was part of the fun was experiencing it with people, the hotel rooms will also look completely different next year and it is unbelievably fun wandering from room-to-room, discovering each new design for yourself. So, book yourself a room immediately. You won't regret it.