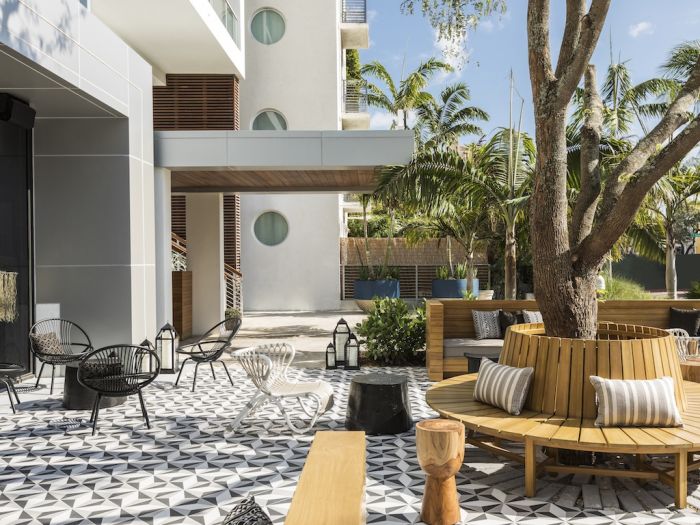 Minnow Bar Patio
Design enthusiasts will be eager to stay at the newly designed Kimpton Angler's South Beach Hotel. San Francisco-based design studio NICOLEHOLLIS was commissioned to create a chic environment for the 85 guest rooms, Minnow Bar, a new rooftop pool and sundeck. The new addition joins the original, existing structures that are also being renovated and redesigned and feature one-, two-, and three-story guest rooms and suites, studios, lofts, spa villas and poolside bungalows. There will be a total of 135 rooms ranging in size from 400 to 1,000 square feet. The official, grand debut is slated to take place this Spring.
The Kimpton Angler's will be the newest addition to the revitalized Washington Avenue section of South Beach which is just steps away from the bustling beach and the Art Deco District and a few minutes drive to Lincoln Road. The surprisingly lush landscaping allows the property to act as a relaxing and rejuvenating refuge for the weary traveler who wants to take a step back while inhaling the fresh sea air and letting the balmy breeze take his cares away, if only for a moment.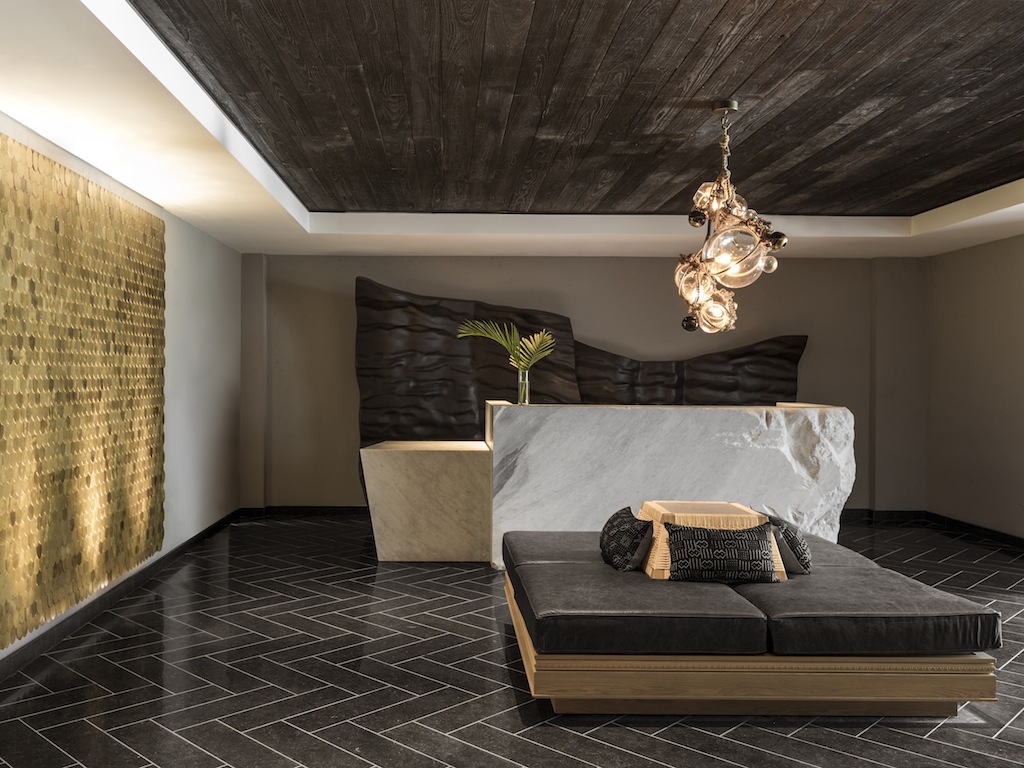 Living Room Lobby
Upon arrival, guests will be mesmerized by the glamorous lobby with its black and white tile floor laid in a three-dimensional geometric pattern. The mood-setting design elements pay homage to Miami's rich trade and agricultural past through the use of both refined and raw materials with both light and dark finishes. The dark theme is found in the lava rock-textured coffee tables and the textured walls while the lighter elements are displayed in the vibrant, tiled floors and the hand-hewn furnishings and custom-designed accent pieces that all blend seamlessly, lending an overall sense of uncomplicated sophistication.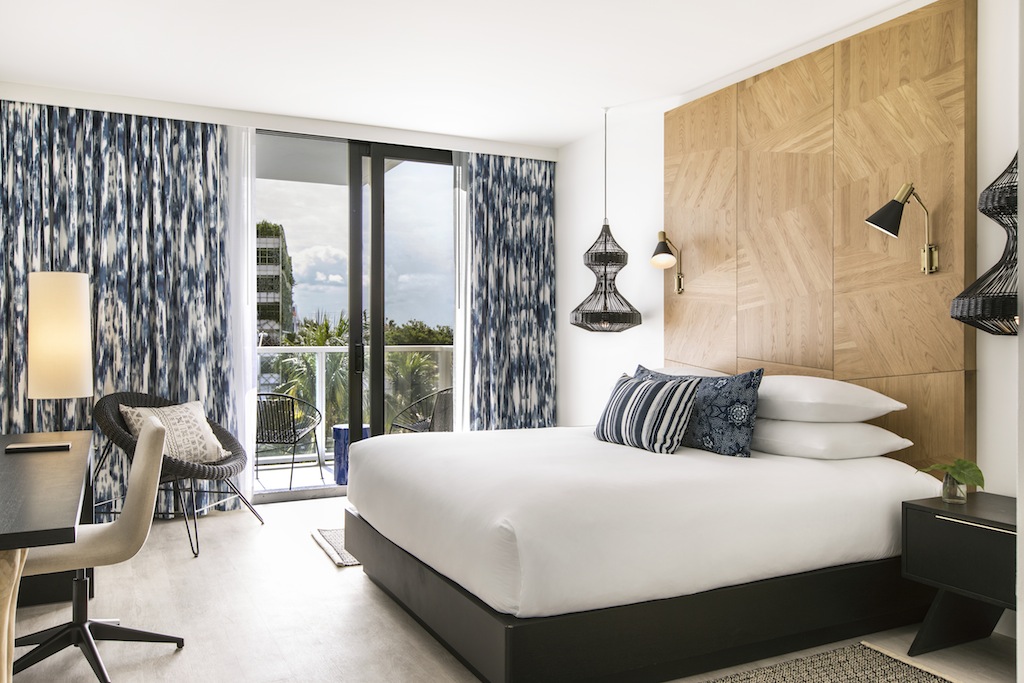 Studio Terrace King
In stark and deliberate contrast to the dark reception area, the guestrooms are bright, airy and festive with cobalt tile in the stunning bathrooms and large windows and balconies that remind you why you chose Miami for your getaway in the first place. The exotic headboards are made of inlaid wood paneling that grazes the ceiling and stands out from the neutral backdrop while woven wicker accents tie the theme together.
After checking into your room, you should make sure to stop by the new Minnow Bar (just off the lobby) for a celebratory cocktail. We opted for the elegant and refreshing Gucci Gucci for its Miami-vibe. The seductive drink is made with Tito's vodka, in-house made pineapple vermouth, Aperol, St-Germain and cucumber. Next, we tried the distinguished Clover Club of Edinburgh Gin, raspberry, blanc vermouth, lemon and egg white. We paired our libations with spicy and tart Deviled Eggs and a buttery and decadent Lobster Roll. Minnow Bar serves breakfast and small-bites while the hotly anticipated Seawell Fish & Oyster restaurant will serve as the hotel's full-service dining venue when it opens in late Spring.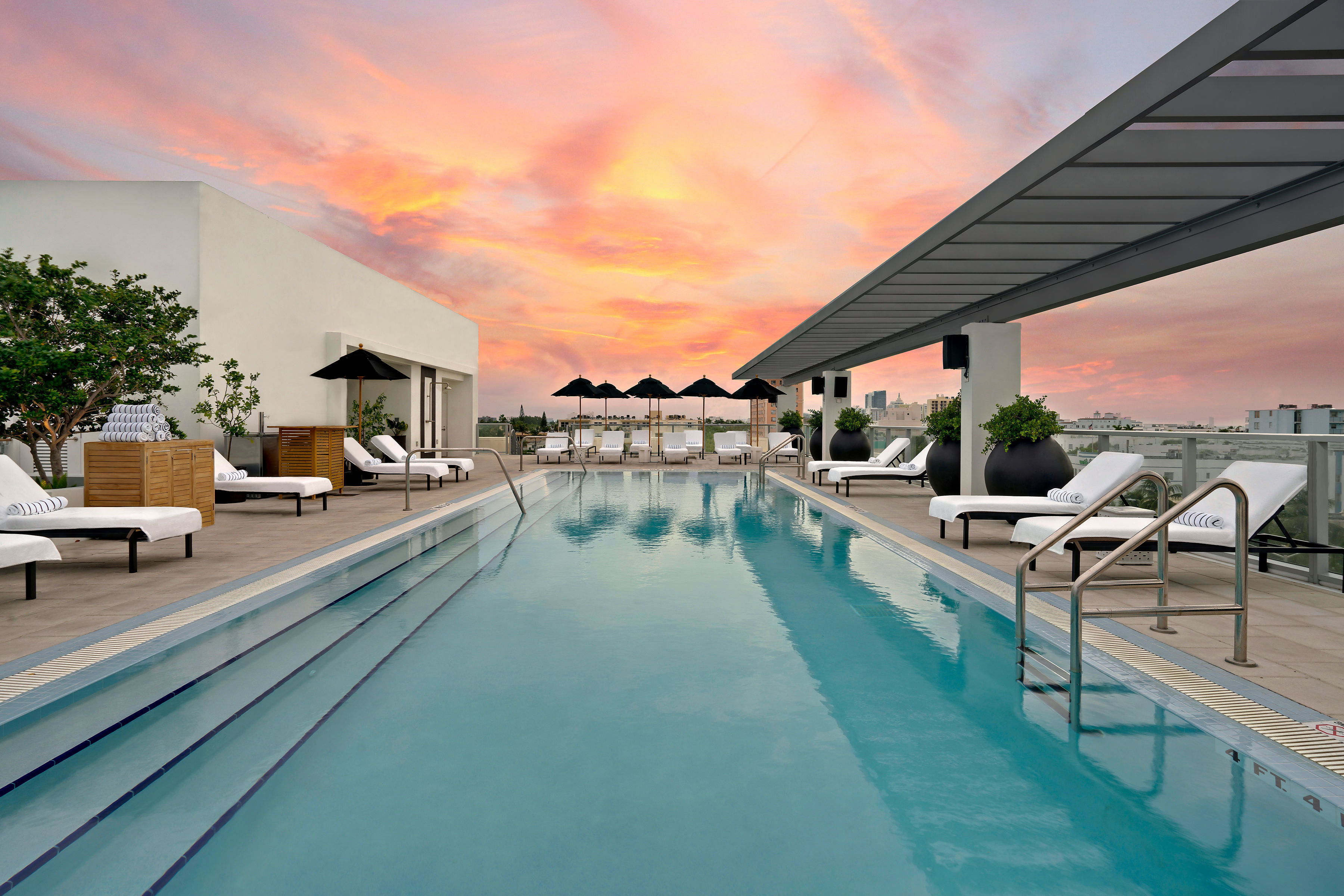 Pool Deck
Guests of Kimpton Angler's are treated to perks such as a hosted nightly wine hour, complimentary morning coffee and tea, PUBLIC bikes, yoga mats, and on-the-go beach bags, towels and umbrellas. Also, there is no need to leave your furry friend at home as pets stay free. For those inclined towards health and wellness, Kimpton Angeler's employs leading local pros to assist guests with their needs. Allow on-site fitness guru and local athlete, Karlee Whipple, to take you through the paces with a complimentary HIIT workout on the stunning sun deck. Afterwards, either poolside or in-room, enjoy a facial, massage, or body treatment by K'Alma Spa at the Angler's. The treatments use only organic and natural products, addressing five areas representing a desired state of mind: Happiness, Serenity, Healing, Connection and Energy. Massage treatments start at $160.
Sitting atop Kimpton Angler's new wing on the 6th floor is the rooftop pool deck and an expansive sundeck that can be used as event space. Though intimate and quiet, you can feel and see the energy of the city all around you as you take in the panoramic views of South Beach and the colorful Miami skyline. Large hand-made clay planters, rattan loungers and wooden stools provide a chic poolside, retreat that you will find difficult to leave.
Luxury Hotels by Justluxe