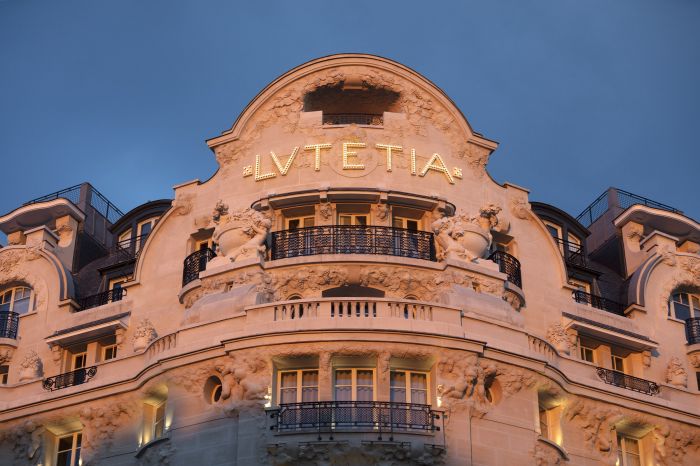 Image courtesy of Hotel Lutetia
Signaling an exciting new era of Parisian chic, the iconic Hotel Lutetia has reopened its doors with an artfully neoteric design and a renewed spirit to match. Recently taken over by Set Hotels—a group known for the exquisite revamps of multiple landmark European properties, Hotel Lutetia has once again reasserted itself as the crown jewel of Saint-Germain-des-Prés; an unofficial distinction it has held since its original opening in 1910. Towering majestically over the heart of the 7th arrondissement at the corner of Boulevard Raspail and Rue de Sévres, Hotel Lutetia's mythical lore and legendary pedigree is exceptional. In its early days, the hotel was the gathering spot of choice for luminaries from the worlds of literature, art, fashion and politics. French President Charles de Gaulle, James Joyce, Albert Camus were among the regulars, while Pablo Picasso, Henri Matisse, and Josephine Baker (after whom the hotel's elegant and lively bar is named) each lived at the property during various points throughout the hotel's early years.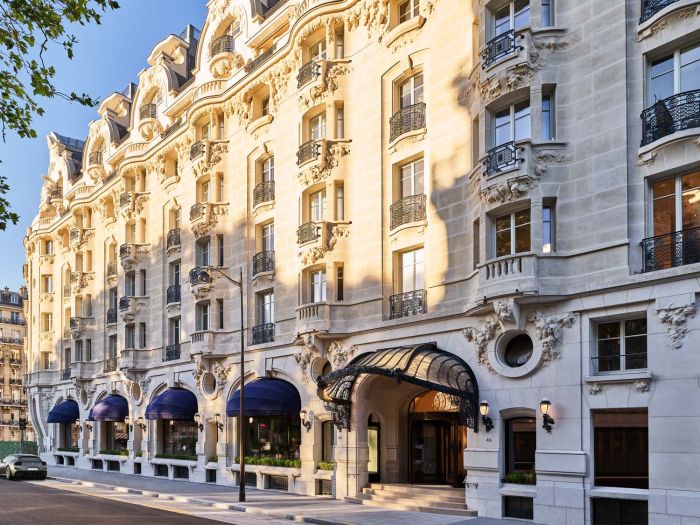 Image courtesy of Hotel Lutetia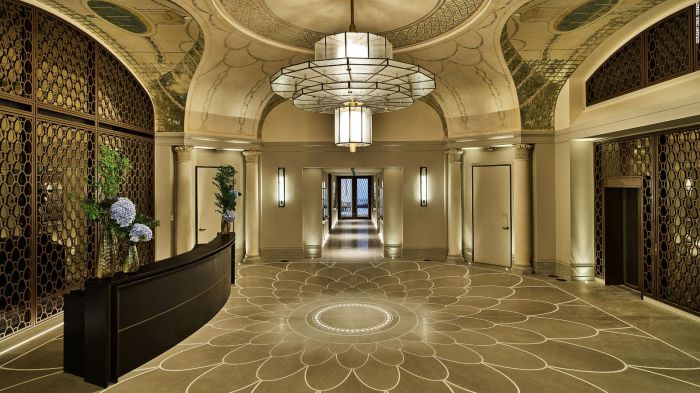 Image courtesy of Hotel Lutetia
Redesigned by Paris-born architect Jean-Michel Wilmotte, the new Hotel Lutetia has retained many of its charming distinctions. Most notable of which is the hotel's grand ocean liner-inspired silhouette, abundantly cloaked in fanciful carved floral motifs and graceful wrought-iron balconies. "The building has such a strong personality, but it really needed to be refreshed," says Wilmotte of Hotel Lutetia's evolution. Given its rich and established history, a heavy-handed homage to the past would have been understandable, if not expected. Instead, however, Wilmotte and his team have taken a curatorial approach to the redesign of the property. The classic Art Nouveau façade now flows seamlessly into its newly redesigned interior, where Wilmotte has balanced deference to the hotel's heritage by pairing key elements of the original architecture with modern design influences. Artfully navigating the sometimes tricky terrain of innovation and preservation, Wilmotte has succeeded in creating a new home for Hotel Lutetia that is uniquely equipped to simultaneously embrace both its rich past and exciting future.
An unearthed original fresco of soft pinks and green garlands now adorns the ceiling and welcomes guests at the hotel's entrance. Painted in 1910 by Adrien Karbowsky the fresco was meticulously restored by Stéphanie and Cyril de Ricou, who discovered the masterpiece under a century of time and patina. A reported 17,000 hours and 7 layers of paint later, the original fresco has now been returned to its original splendor. It exists not only as a thing of exceptional beauty but also a poignant reminder of the hotel's remarkable and layered historical significance.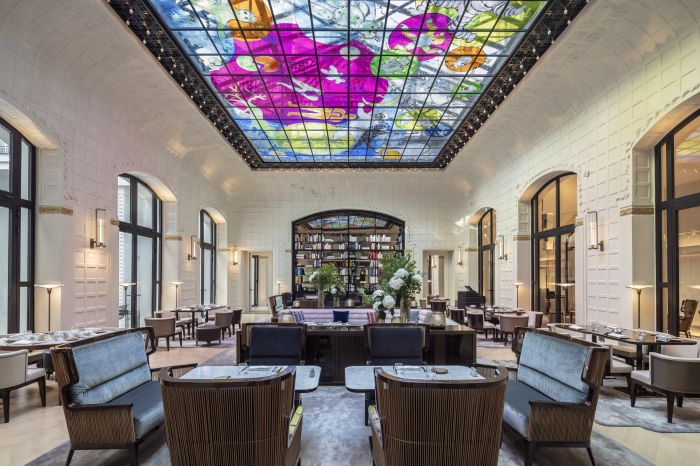 Image courtesy of Hotel Lutetia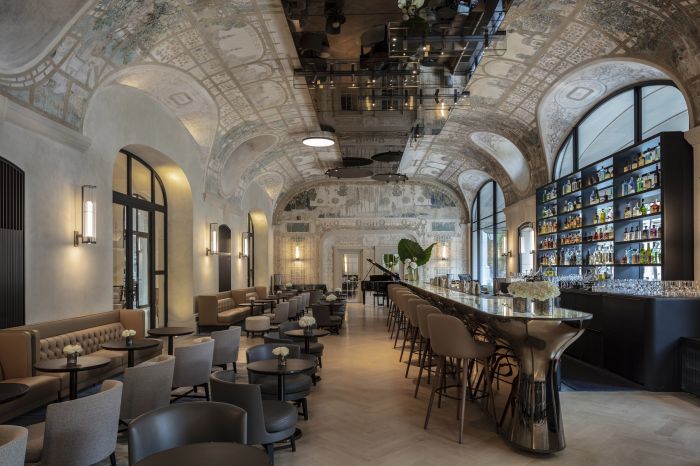 Image courtesy of Hotel Lutetia
Bold design choices and nuanced attention to detail strike a near-perfect balance of relaxed informality and old-world refinement that is evident throughout the property. The expansive and inviting lobby is minimally decorated, yet full of life with multiple communal spaces teeming with social activity throughout the day. Perhaps the lobby's most buzzed about feature is the multi-colored, glass ceiling of the Le Saint-Germain Restaurant in the hotel's parlor. Illuminated by natural sunlight, local artist, Fabrice Hyber's brightly colored stained glass is a menagerie of emblematic characters—think Santa Claus and the Michelin Man—and the jewel-hued centerpiece of the hotel.
Just across the hall is Bar Josephine, an iconic landmark of Belle Époque Paris, where again, your eyes will be drawn up the sculpted walls and towards the towering frescoed ceiling; which during the day, is illuminated by natural sunlight from large nautical porthole windows overhead. If that doesn't catch your attention, the well-heeled and wonderfully chic Left Bank locals who gather after work for exquisitely prepared cocktails and spirited conversation, make for epic people watching. Add nightly live music to the mix and you now have the perfect place to enjoy a memorable evening in a space that embodies classic Parisian style, served up with modern grandeur.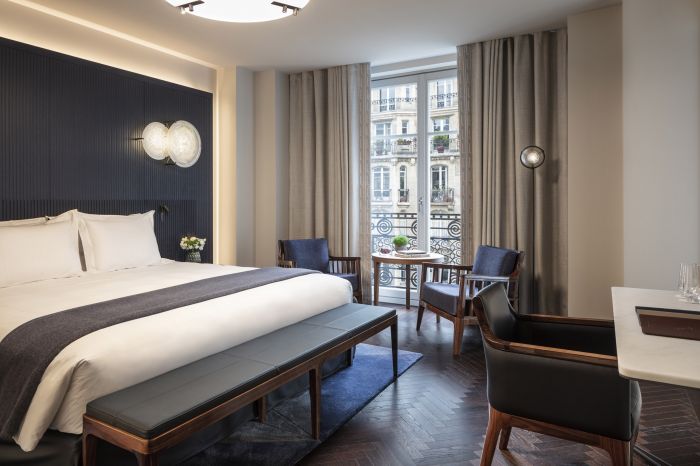 Image courtesy of Hotel Lutetia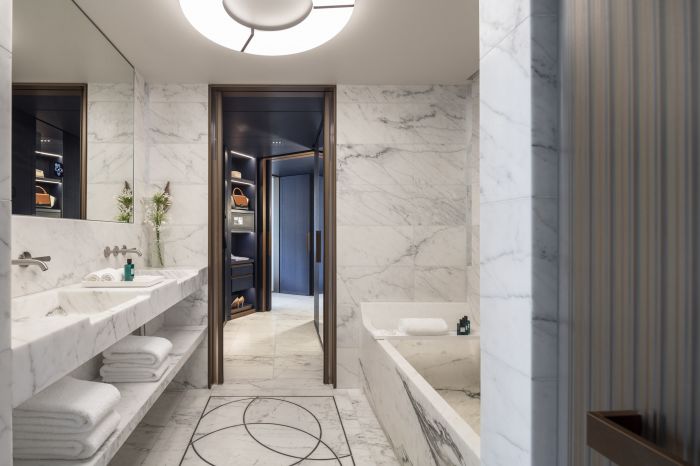 Image courtesy of Hotel Lutetia
Though the original rooms and suites of the hotel were partially gutted and fully reconfigured, the Lutetia's original spirit lives on through various architectural and design elements. New bedroom chairs draw inspiration from original Art Deco pieces, with Art Deco-inspired mirror and wood-paneled hallways leading to expansive rooms and suites that could easily be mistaken for a fashionable Left Bank pied-à-terre. Designed for 21st-century living, multiple spaces allow for maximum comfort and privacy, with separate sleeping, lounging and dressing areas in the larger suites. Many of the exterior facing rooms have been designed to take advantage of postcard views of Le Bon Marché and the Eiffel Tower from the balconies.
It is the bathrooms, however, that take center stage, with soaring ceilings and an oversized bathtub carved out of a single solid rectangle of Carrera marble. Be sure to request one of the suites outfitted with floor-to-ceiling French doors leading onto a private balcony. The decadence of which must be experienced to be understood––and of course photographed, for a most envy-inducing Instagram moment.
As if that weren't opulent enough, Hermès personal care products and plush french linens bring the life of luxury full circle.
With a respectful nod to the past and a progressive eye toward the future, the new Hotel Lutetia has succeeded in redefining Parisian chic and reestablishing itself as not only an iconic Left Bank landmark, but a new Parisian social axis and contemporary hotel designed for life and luxury travel in the 21st century.
For more Luxury Hotel Reviews visit our Paris City Guide