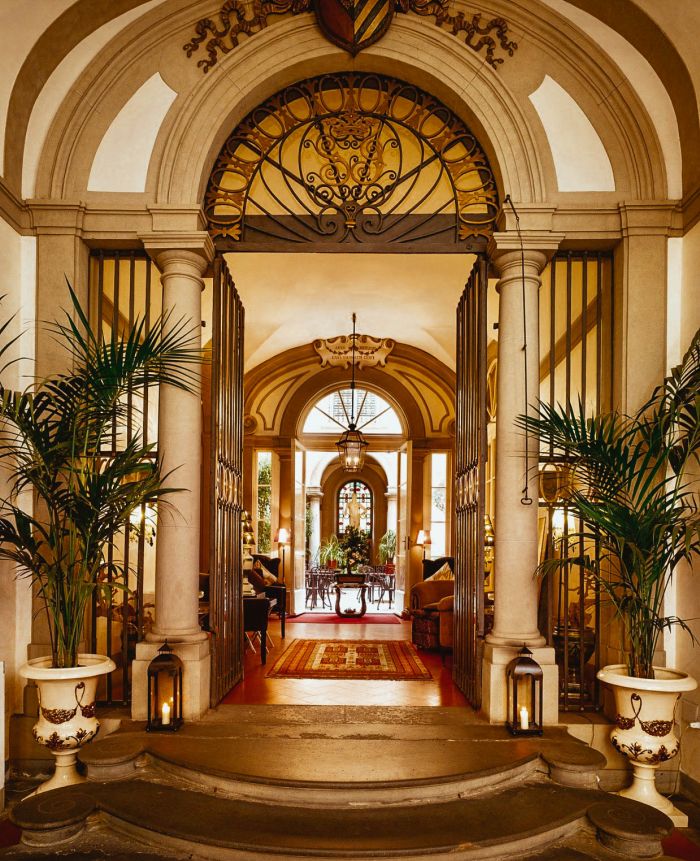 Baglioni Hotels
To experience Florence at its most luxurious, a stay at the Relais Santa Croce by Baglioni Hotels is a must. Perfectly situated in the historic center of Florence, this 18th-century palazzo bursts with old walls telling stories of its many past lives. The original structure of the building has been preserved yet doesn't neglect the modern comforts that today's well-versed traveler requires. The hotel is based on a Leonardo da Vinci design that supports a 10-foot chandelier in the center of its elegant ballroom. If anything, the property feels more like a palace than a hotel, surrounded by fine art deco and furnishings that sit under sumptuous frescoed ceilings.
The original French word relais comes from the meaning relaxation but is also associated with the Italian word rilascio which means relief or relay. And Relais Santa Croce is just that. The location of the hotel is ideal with it steps away from the buzzing Piazza of Santa Croce. Being situated in the eastern part of the city provides plenty of benefits for travelers seeking time to discover Florentine treasures. You'll find the Sant'Ambrogio market nearby, with a plethora of wonderful restaurants, cafés, and shops within walking distance. Casa Bounrotti, the Duomo, and the famous Uffizi gallery are all just a mere 8-minute walk away.
Inside the 18th-century palazzo, you'll find yourself in one of the biggest mansions in the city. The top floors of the hotel retain plenty of its earliest features with original wood panels still in tack to support the structure. Impressive hallways and grand stairways provide luxurious ways for elite guests to enter into Santa Croce's magnificent rooms and public spaces. The soaring ceilings are detailed with intricate carvings and delicate stone material that prove small details can surely make a place rather impressive.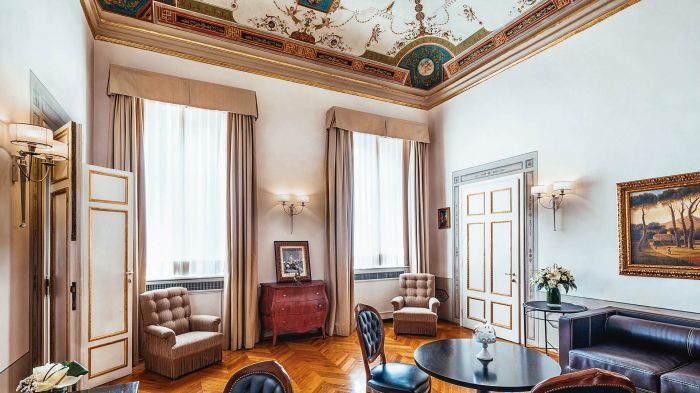 Baglioni Hotels
In Santa Croce's grand ballroom (or simply known as the Sala di Musica—the communal lounge) serves as an ideal place for an early evening aperitif. It also acts as an oasis for those looking to unwind from a day of roaming such a bustling city as Florence. Guests are warmly welcomed to come down and relax on its deep leather sofas while listening to the grand piano which keeps guests entertained in the evenings. Cocktails are served in the bar or in at the in-house Guelfi e Ghibellini restaurant.
With 24 contemporary rooms, these classics yet elaborately styled rooms come bedecked in soothing tones with the few bold splashes of color thoughtfully placed. Polished antiques add to the decor keeping up with the grand aesthetics of the property. A few rooms are attended with their own terraces while all come with wonderful views of the Santa Croce Church and the surrounding Florentine rooftops.
Relais Santa Croce is also home to one of the largest suites in Florence with its De Pepi Presidential Suite clearly interpreting the definition of true luxury. With fittings that gloat a fresh and chic look, think vaulted ceilings, lavish walls, and Egyptian- Cotton Pratesi sheets. Further, the presidential suite comes with a large separate living room with its own fireplace and original 18th-century paintings. And just to top it all off, there's a Turkish bath area with a bubbling jacuzzi to convince you that really, there is no real reason to leave.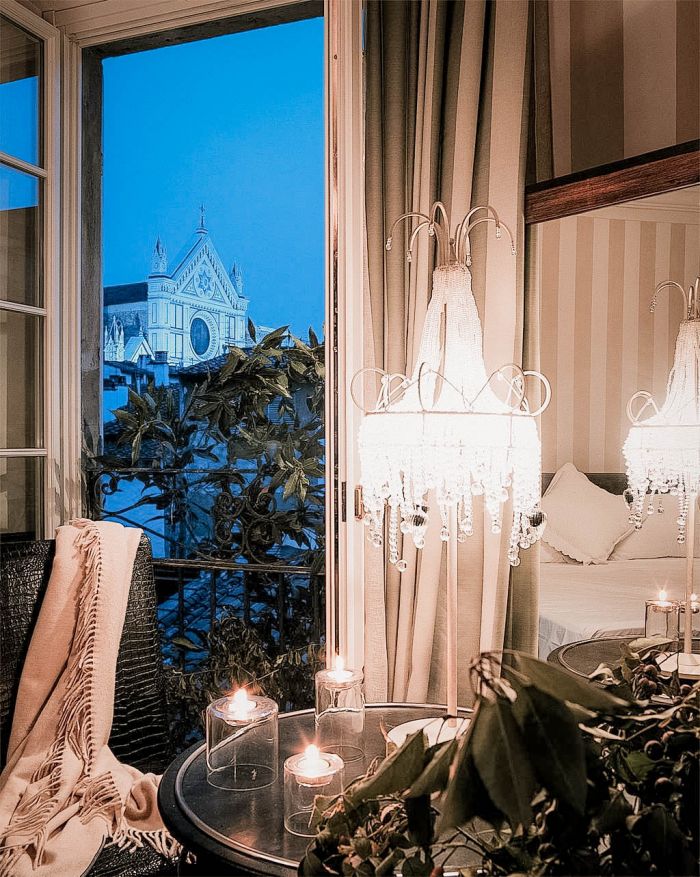 Baglioni Hotels