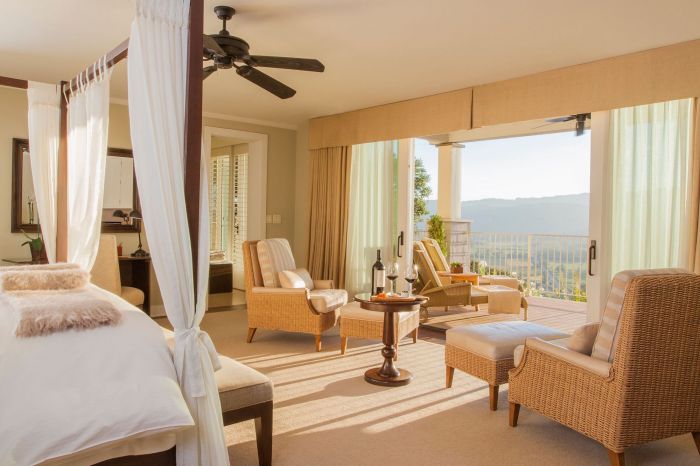 One of the greatest aspects of travel is finding the hidden gem in the place you're visiting—and, as we just recently discovered, Poetry Inn in Napa Valley is like stumbling upon the Hope Diamond.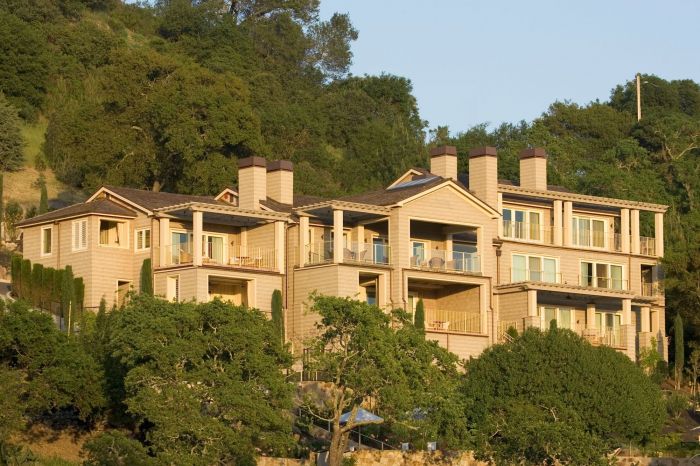 Photo Credit: Poetry Inn
"Wine is bottled poetry" is a line from Robert Luis Stevenson's travel memoir "The Silverado Squatters" (1883); the quote hangs on a sign welcoming visitors to Napa Valley and serves as inspiration to Poetry Inn's name. The luxurious, five-room Inn certainly honors its epithet. Each room, ranging in size from 950 square feet to a palatial 1,450 square feet, is named after a famed poet—Emily Dickinson, Walt Whitman, e.e. cummings, Robert Frost, and of course, Robert Louis Stevenson. The Farmhouse—a separate three-bedroom, four-bathroom building also located on the property—is available as a monthly vacation home; but you'll be lucky to find it vacant, since many families book far in advance to be able to retreat to the residence on a yearly basis.
In 2002, Canadian born Bordeaux enthusiast, Cliff Lede (pronounced lady), purchased a 60-acre estate in the Stags Leap District of Napa Valley, which included an inn perched upon a hillside. Lede originally intended turning the inn into his private home, surrounded by his newly acquired vineyard, but realized the view was too breathtaking not to share.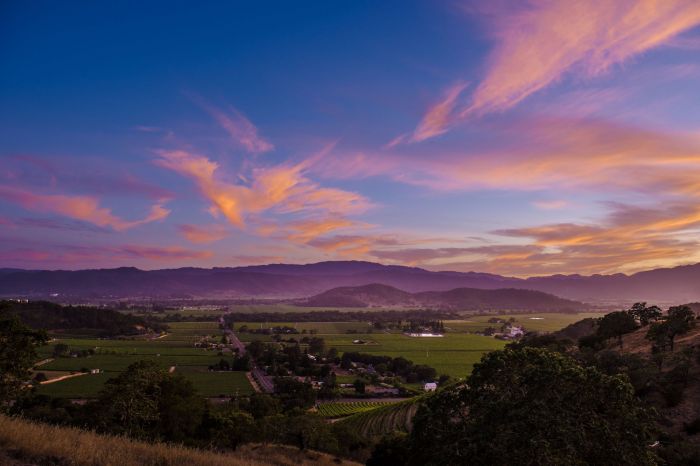 Photo Credit: Poetry Inn
Three years later, in 2005, Poetry Inn opened as the only accommodations in the Stags Leap District. The renovated property was designed by world-renowned architect, Howard Backen. Beyond its private, gated entrance, travelers relish the luxury amenities, understated elegance, and unparalleled views of the area's stunning vistas and sprawling valley floor. (If you're up early, you can catch a glimpse of Napa's hot air balloons rising with the sun over the horizon.) But there's more to boast than just aesthetics—every ounce of comfort is accounted for.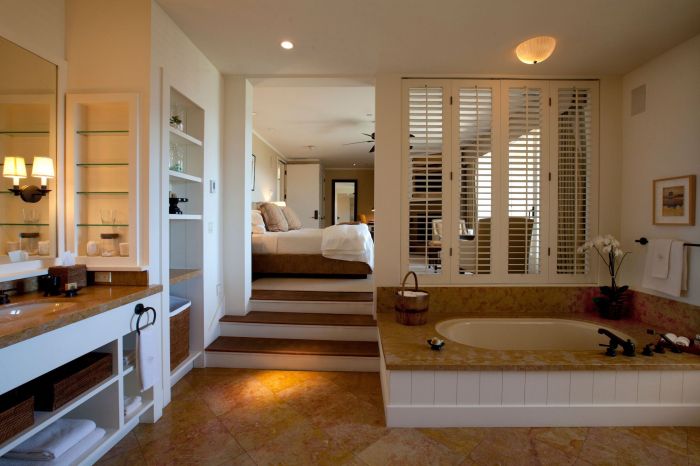 Photo Credit: Poetry Inn
Poetry Inn boasts its own spa, wine cellar, and heated pool. Each guest room includes a private terrace with chaise lounges, a wood-burning fireplace, well-appointed complimentary mini bar, and Apple TV. The sanctuary-like marble bathrooms are fitted with heated floors, large soaking tubs, both indoor and outdoor showers, and toiletries provided by L'Occitane. A scented candle, collection of poetry books, and pair of binoculars are little amenities that prove Poetry Inn goes above and beyond in considering every detail to make your stay truly special.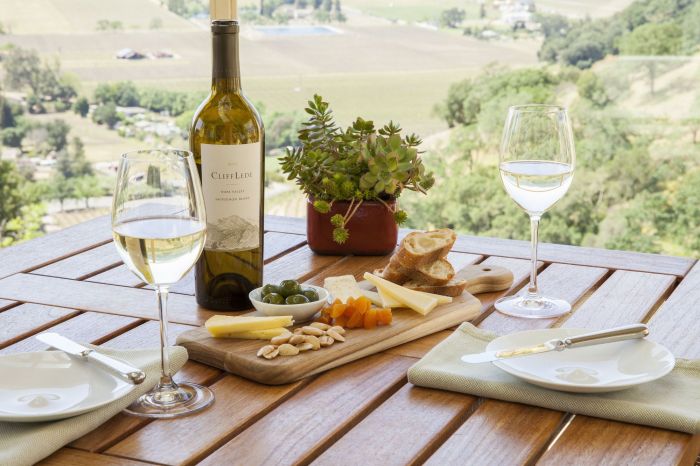 Photo Credit: Poetry Inn
The innkeepers hardly miss a step when it comes to pleasing guests, from greeting you upon arrival with a glass of wine to setting out fresh cookies and a night cap before bed. Guests are asked to fill out a brief questionnaire before arrival; it includes conventional questions about dietary restrictions and estimated time of arrival, but inquiries about pillow preference and favorite music genre, let you know that a highly personalized experience awaits.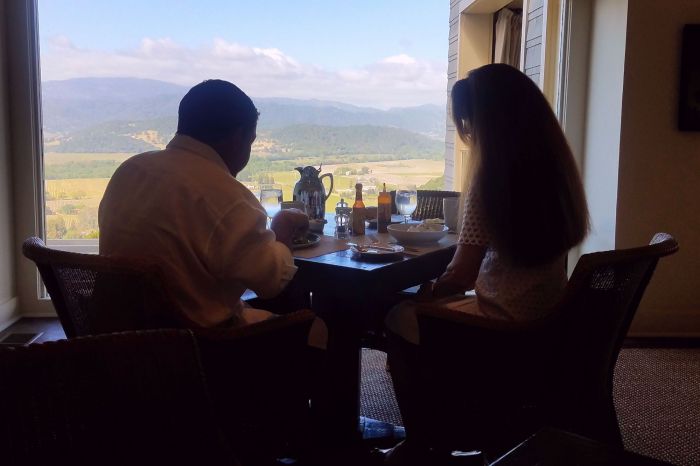 Photo Credit: Djani Schafer
Poetry Inn is unique; you won't find a restaurant on property—instead, a private chef to help you start the day. Mornings are a luxurious affair at Poetry Inn. You can have French-press coffee brought to your room as a quieter, less offensive wake-up call than a typical alarm. With that, a fresh-baked pastry from Bouchon, a Michelin-star rated restaurant just down the road in Yountville. Once you make it out of bed, you can head to the main lounge or veranda for the rest of your breakfast—a two course meal based on seasonal ingredients, with the option of fresh-squeezed orange juice.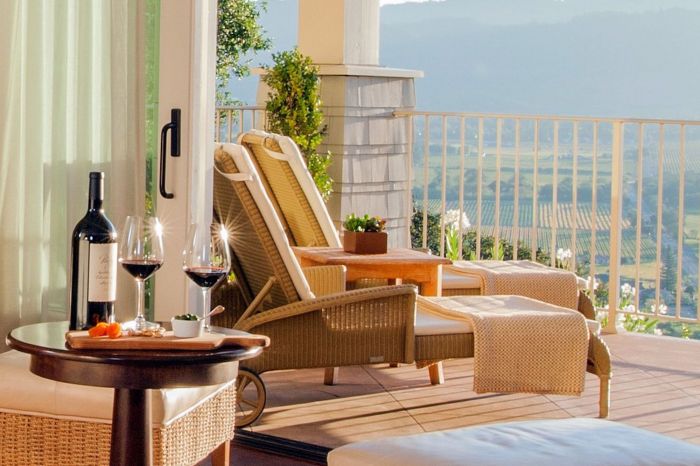 Photo Credit: Poetry Inn
Those looking to hole up and escape from reality for a few days will find a sanctuary within the Inn. But how can you resist the award-winning libations of wine country? A compromise: you don't have to leave Lede property to sample some of the Valley's best offerings.
Poetry Inn is set amidst Cliff Lede Vineyards. You can actually peer down at the rows of vines from your own private terrace back at the Inn.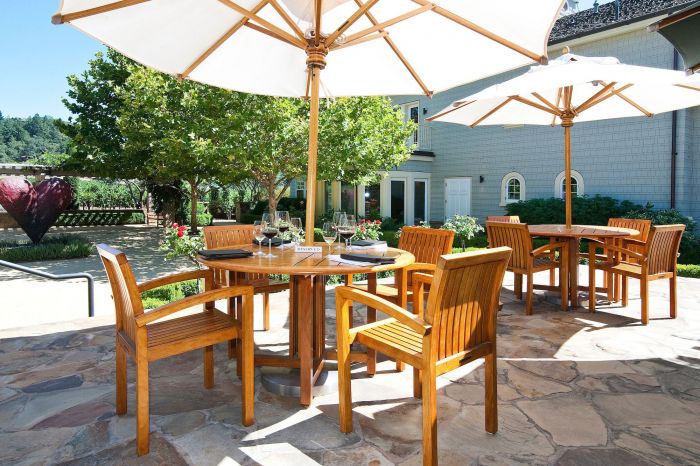 Photo Credit: Lede Family Wines, Robert Vente
The juxtaposition of the Inn and winery are perhaps best explained through a poetic metaphor. Like a beautifully-descriptive haiku, Cliffe Lede Vineyards is the fun surprise punctuating the last line of the serenity and subtle splendor of Poetry Inn; Cliff Lede is the rock 'n' roll—literally—to the Inn's romantic, peaceful sonnets.
The Vineyards offers the complete experience—wine, art, nature—with a classic-rock edge. The tasting room, which was also designed by Howard Backen, is one of the few in the region to welcome walk-ins. You can also enjoy the warmth of the California sunshine and sip your glass of wine out on the veranda or in the FEL pinot garden. Wine Club Members have the opportunity to enjoy their wine in the "Front Row"—a shaded courtyard that is furnished with comfy lounge chairs and boasts impressive views of the vineyards and surrounding palisades.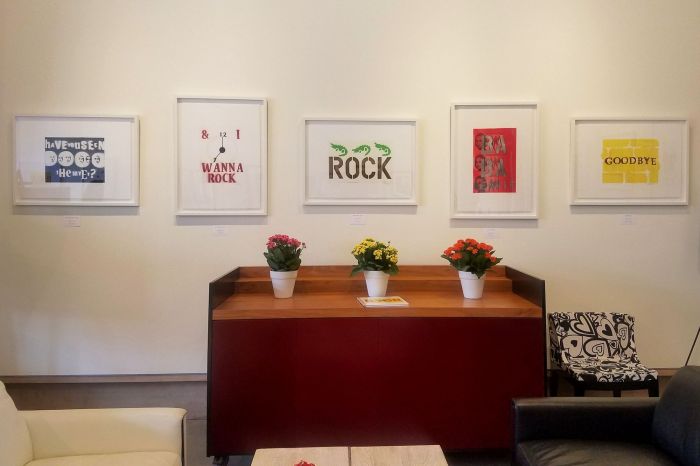 Photo Credit: Djani Schafer
The Backstage Tasting Lounge is cool enough to rival a backstage pass to a Muse or Black Keys show (both bands have have visited the vineyards while in the area for BottleRock and their signatures can be found on guitars decorating a gallery wall). The lounge features a rotating art exhibit, soundtrack of classic rock music, and access to Cliff Lede's limited production wines.
When we snagged our "pass," the headlining exhibit was Reflections: The Art of Bernie Taupin, a collection of original works in celebration of 50 years of collaboration with Elton John. Each piece of art was a tribute to their greatest hits.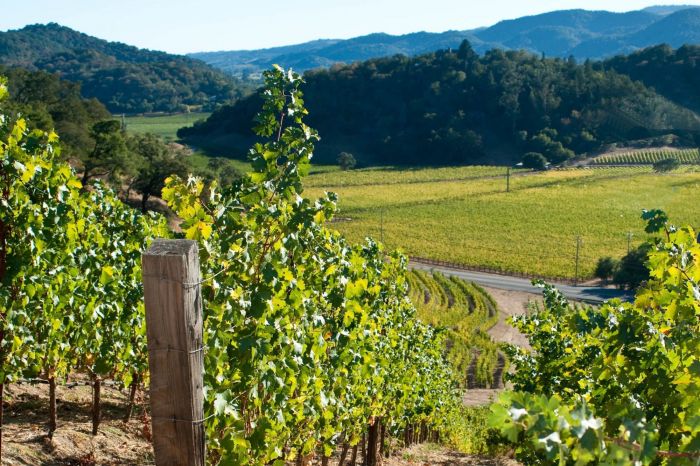 Photo Credit: Lede Family Wines
Since purchasing the original vineyard, Cliff Lede expanded his assets to include FEL Wines (named as an homage to Cliff's Mother) in Anderson Valley, which encompasses their estate Savoy Vineyard. This opened up his collection to include cooler climate varietals, forming a complementary portfolio under Lede Family Wines. In this range, winemaker Christopher Tynan crafts a variety of Cabernet Sauvignon and Sauvignon Blanc for Cliff Lede that remain true to their source and vintage. FEL Wines, helmed by winemaker Ryan Hodgins, produces Pinot Noir, Chardonnay, and Pinot Gris from the Anderson Valley and the Sonoma Coast.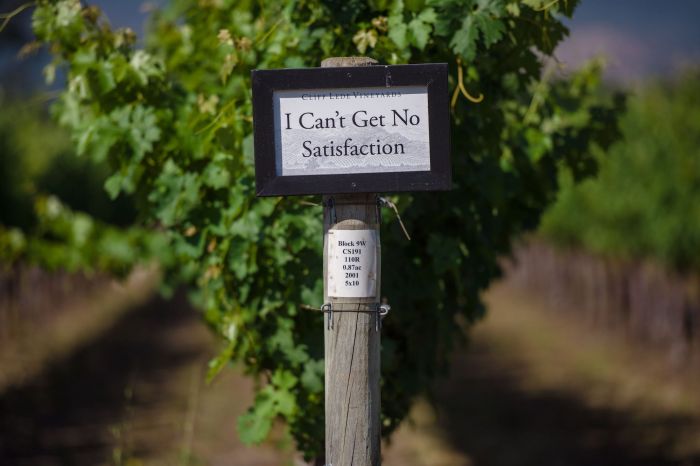 Photo Credit: Lede Family Wines, Bob McClenahan
At Cliff Lede Vineyards, each block is named after one of Lede's favorite rock songs and albums—from "Bohemian Rhapsody" and "Hey Jude" to "Ziggy Stardust" and "Smells Like Teen Spirit." These are known as the Cliff Lede Vineyards "Rock Blocks." Every year, grapes from two blocks are combined to form a new and exciting blend. This year's release was a sultry Cabernet Sauvignon, 2016 "Soul Fire" (derived from The Yardbirds' "Heart Full of Soul" block in the Poetry Vineyard and The Doors' "Light My Fire" block in the Twin Peaks Vineyard). Past iterations of the Rock Block Series include "Cinnamon Rhapsody," "Landslide Fire," "Moondance Dream," "Beautiful Generation," "Stardust Heaven," and "Moon Fantasy."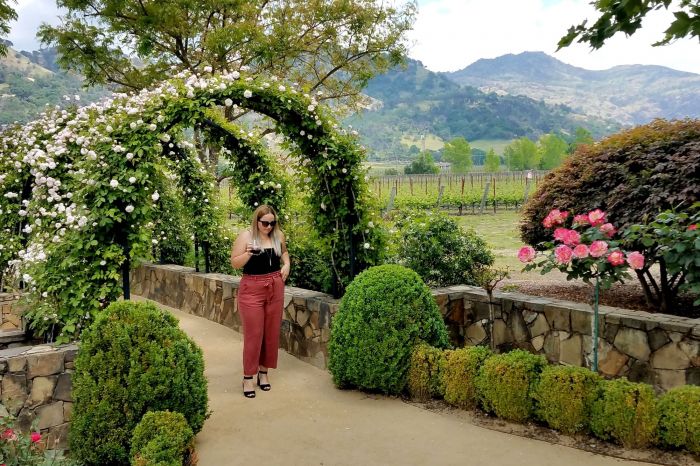 Photo Credit: Amanda Miyahira
Just as a good poem reveals nuances very time you read it, so does each sip of a Cliff Lede wine and each new experience at Poetry Inn. Inspire yourself to write your own epic poem or ode to Napa Valley and book your stay at the Poetry Inn.