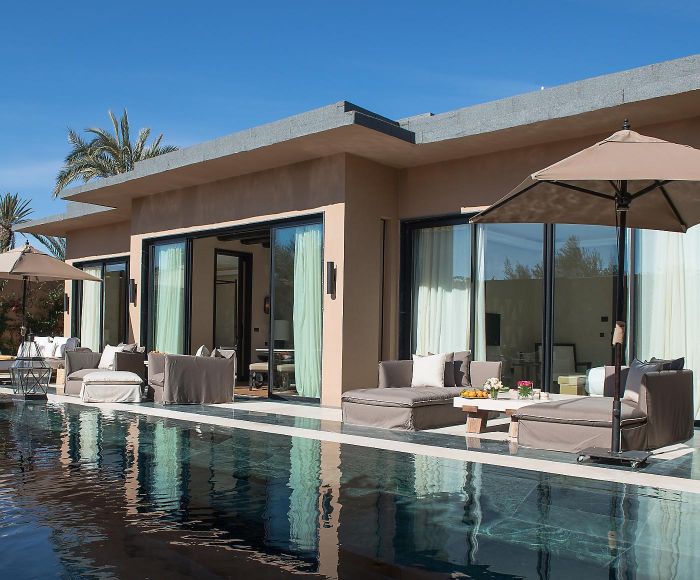 Mandarin Oriental Marrakech
Marrakech is a desert city in Western Morocco with a traditional energy and modern flourishes. It follows that the opulent, isolated Mandarin Oriental Marrakech embodies these themes. Spread out generously over a verdant landscape affording view of the Atlas Mountains, the property consists of 54 fashionably appointed, 3,000 square foot private villas and nine even larger suites of 4,500 square feet each. Amid olive groves, scenic roses and jasmine, the majority of the villas feature a majestic entrance on a large courtyard bordered by walkways and paths to residential quarters, and centered by infinity pools. Outdoor furnishings include sofas and pool chaise lounges. There are also exterior pantry spaces appointed with bars, refrigerators, sinks and mini-bar. Enter the sliding glass doors to a living room detailed in contemporary white couches and cushions and handsome tile. Spacious bedrooms continue this pattern, under vaulted ceilings, all fronting on a private Jacuzzi outside yet another sliding door. Next, the bath is a white tiled wonder with its circular tub, separate shower room and WC, and patio doors. Among the bath and personal care products is the Nectarome line, with its lovely fragrances.
Guests will bask in these personal enclaves. The larger suites sleep a family. The Mandarin offers bicycles for touring the grounds and gardens, or call the front desk for a driver to collect you in a golf cart styled buggy to lunch, spa appointment or activity. Explore the Vegetable Garden, register your young ones for the childrens' program Kids' Kasbah, which includes a farm experience on the grounds, treasure hunting, livestock, and a cooking class for those so inclined. Play golf next door at Golf Amelkis. Guests also may access nearby clubs Royal Golf or Golf Al Maaden. Opportunities and settings for peaceful walks abound, what with all the flora, pools, shade, and glorious interiors.
There is private breakfast served in villa, or guests may enjoy the daily buffet. Lunch in leisure at the Pool Garden. The staff is appropriately attentive, and prompt in response. If you are not familiar, ask for suggestions in traditional mint teas, coffees, pastries, fruits, breakfast pancakes or sausages, hookahs, or a private suite barbecue.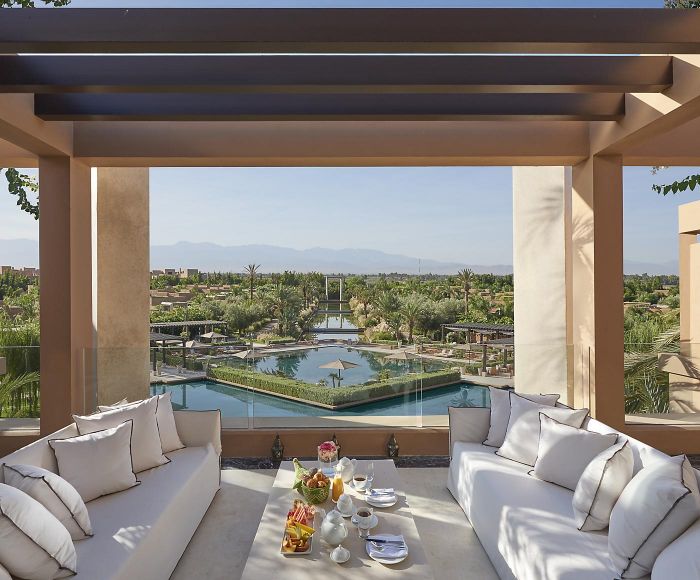 Mandarin Oriental Marrakech
Among the many attractive options on the spa menu is a Hammam, or Turkish bath. The Spa is a tranquil trove of Moorish design. The property is only 10 minutes from the old walled city known as The Medina. One fun way to explore this is via a sidecar motorcycle tour with the company Insider Experience. In the city are museums and other attractions which speak to the Berber culture and historical elements. No visit is truly complete without local shopping for anything from fabrics to gourmet delights.
Early risers may even book a hot air balloon excursion with Ciel D'Afrique, whose views take off before spectacular sunrises, and bring one even more magnificent vistas of the Atlases. Spend another day in The Medina, or relax amid your villa comforts. Close the day by dining at the hotel's excellent Asian restaurant Ling Ling (the exotic cocktails there are a special surprise), sample Moroccan fare at Mes'Lalla, or go international at Le Salon Berbere.
The possibilities at Mandarin Oriental Marrakech are as endless as it reflective pools- staff may assist you in planning tours into the Atlas Mountains or Essaouria, overnight desert stays, camel or horseback rides, or even customized upscale shopping in The Medina. The lobby boutique is also a must stop for the chic. Whether it's calm, culture, cuisine, or collectibles you seek, you will find them in and around the Mandarin Oriental Marrakech.
For more Luxury Hotel reviews visit here