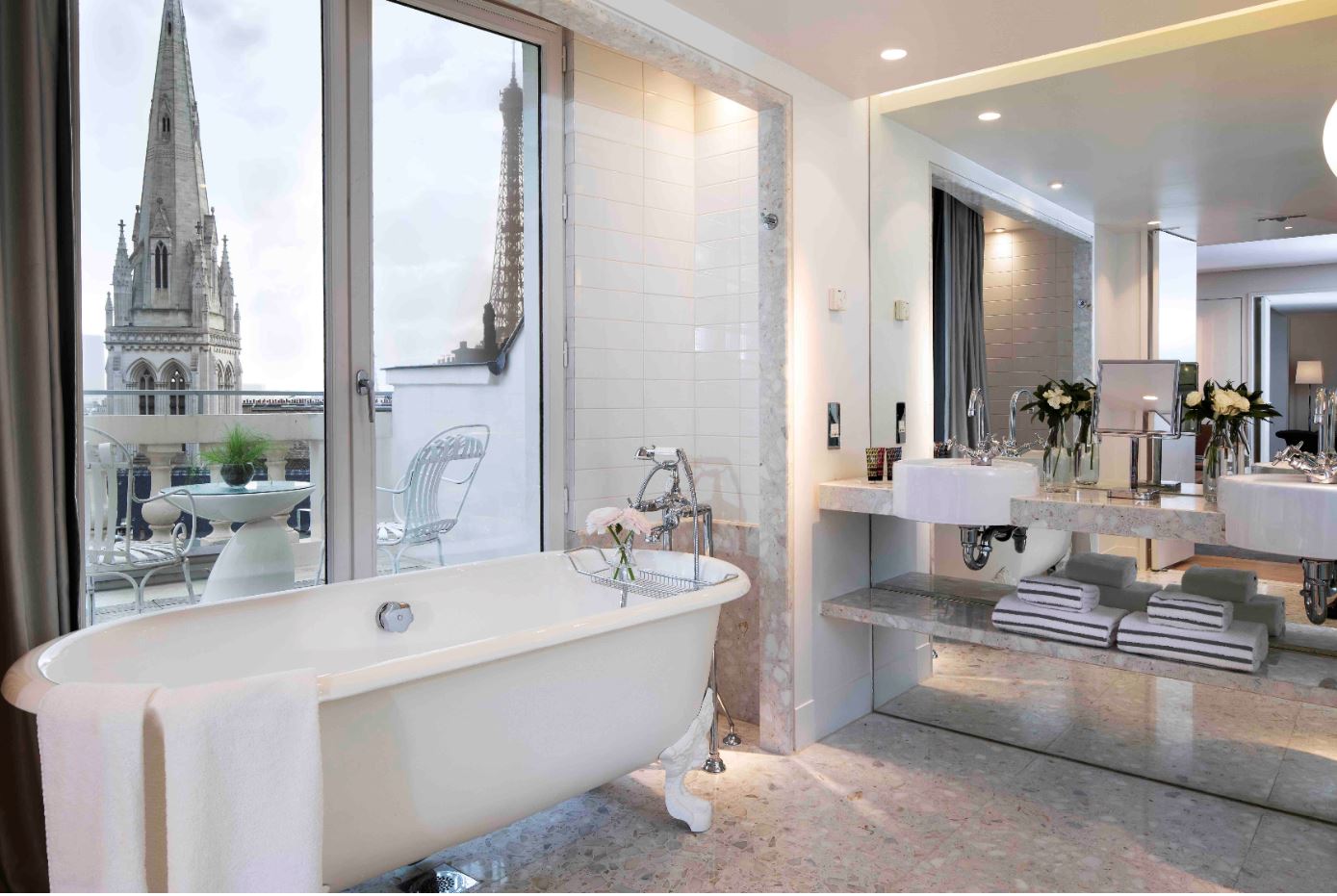 Luxury baths like this are just one reason to stay in
In a city the size of Paris, one can go dizzy finding a hotel that's just right— intimate enough to feel like a private Parisian pied-a-terre, yet full of the sophisticated finery and attentive service you'd expect of a five-star stay. Hotel de Sers is just such a place.
Built in 1880 as the private residence of the Marquis de Sers, an aristocrat and accomplished military man, this chic 8th arrondissement abode has had many incarnations. Ultimately, however, the Marquis' mansion was transformed into a hotel in 1935, and in 2010 became part of B Signature Hotels & Resorts that count five Parisian hotels, a chateau and spa in Brittany, and a tropical oasis on the French island of St. Barth's as part of their impressive portfolio.
After a major facelift in 2015, the Hotel de Sers sparkles like Paris herself. Rooms and common areas have been fully fluffed up to an elegant yet contemporary style, and a dash of historic aesthetics reminds guests of the building's illustrious past. The main hallway and gallery was once the horse-drawn-carriage entrance, the walls are lined with 17th and 19th century paintings (including a portrait of the Marquis), and you can almost hear the silk ball gowns swishing down the ornamental staircase. But don't worry 21st-century wayfarers---all the amenities, technology (free WiFi), and friendly service you'd expect of a mini palace are on point.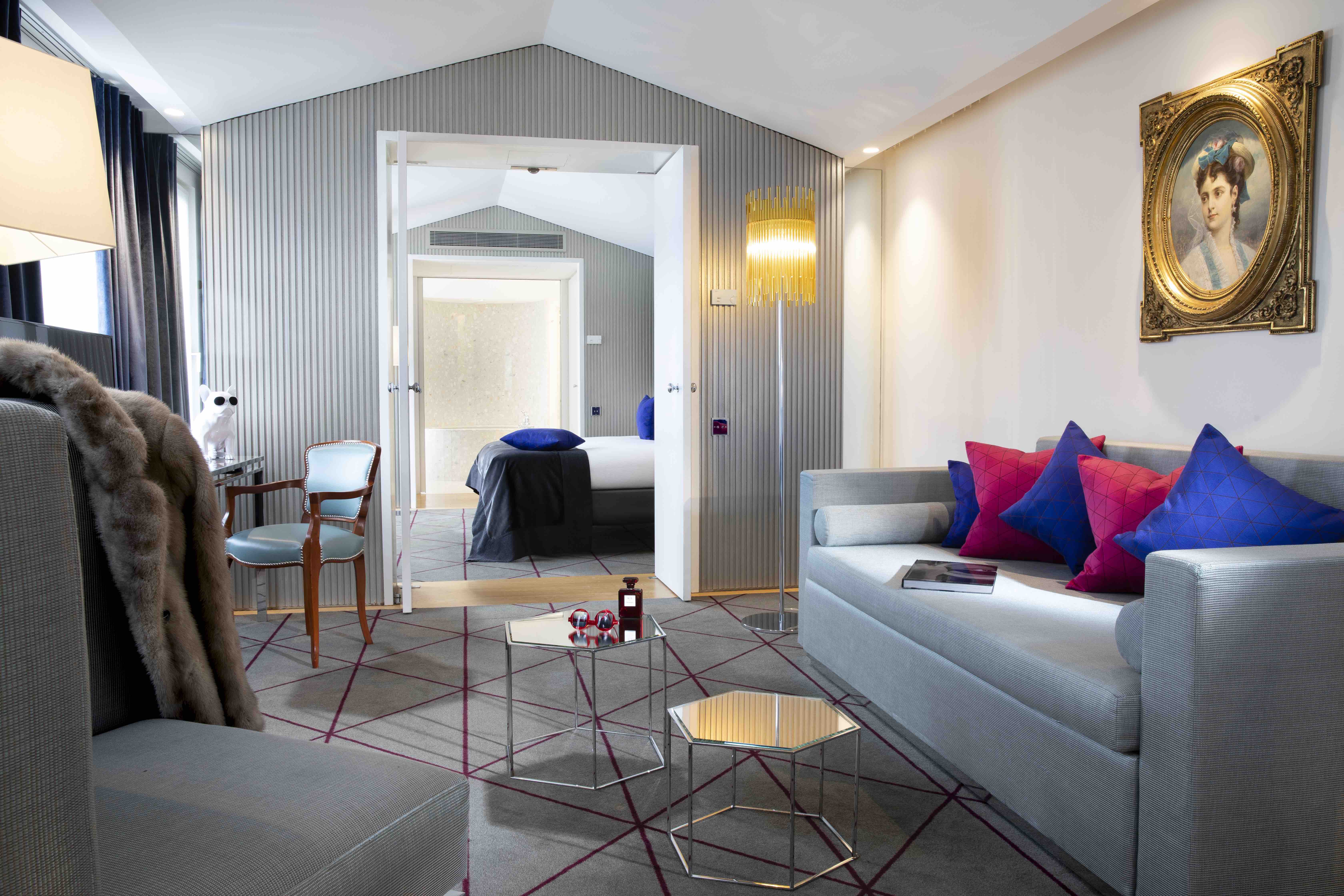 Photos Courtesy of B Signature Hotels & Resorts
If you've been to Paris, you know hotel rooms are notoriously miniscule. But the 52-bedrooms and suites at Hotel de Sers are roomy (no using your suitcase as a bedside table here), between 270 and 860 square feet, and have been decorated with punches of bold color, plush textures, mid-century modern furniture. Some rooms have balconies while others have luminous atrium-like extensions.
The pièce-de-résistence, however, is the magnificent, 860-square-foot panoramic apartment that has an oh-la-la terrace overlooking the rooftops of Paris---a perfect place for morning coffee, a private cocktail party, or an intimate nightcap while watching the Eiffel Tower twinkle.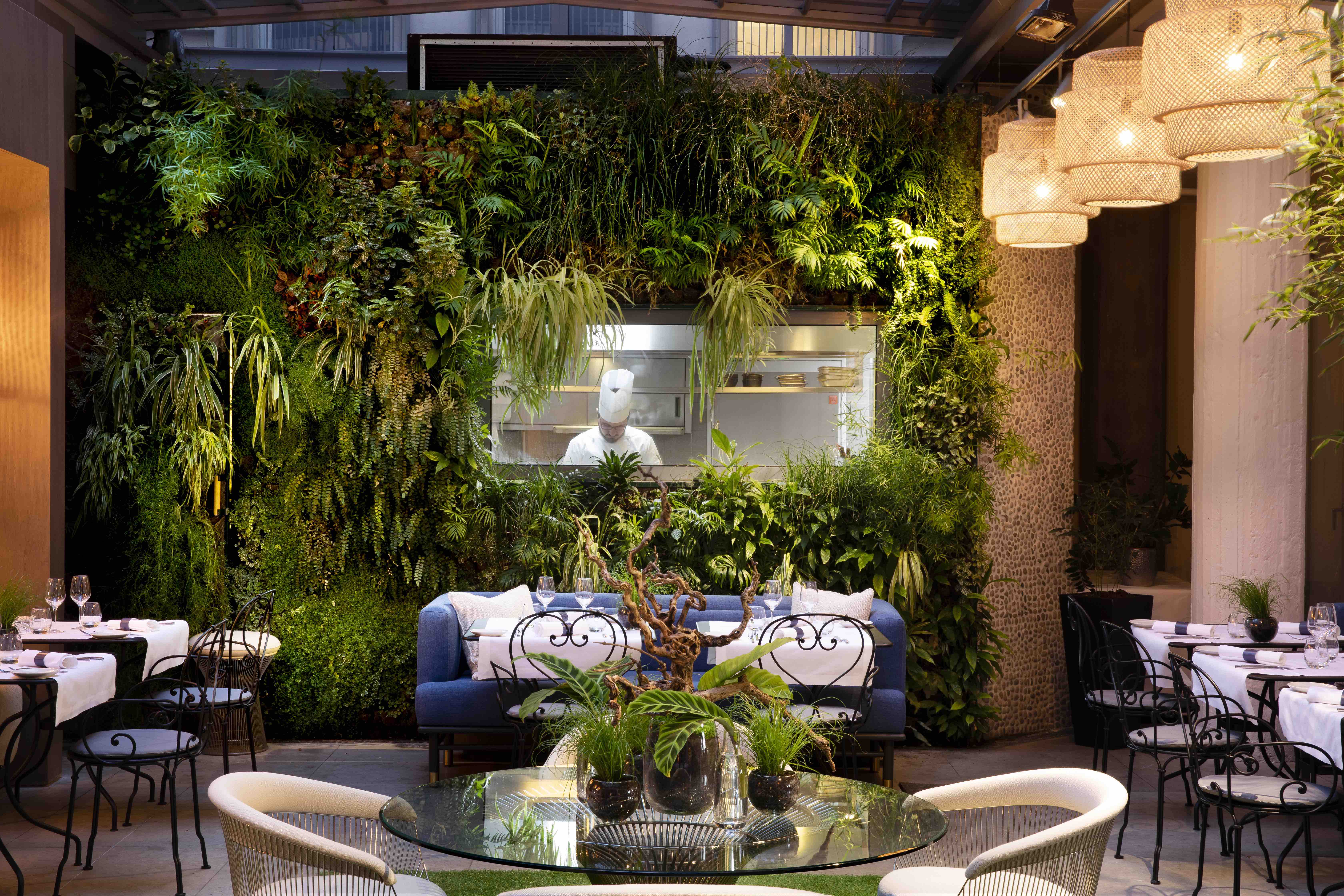 Restaurant de Sers
No stay at the Hôtel de Sers would be complete without lunch or dinner at the gastronomic Restaurant de Sers, with a serene garden-like patio dining room that can be covered in the winter and open to the skies during summer. Order à la carte from seasonally-shifting gastronomic dishes, such as foie gras with peach verbena and lobster with Espelette pepper, or choose a set 3-course lunch or dinner menu. There is also a Sunday brunch and daily breakfast.
The hotel's S'Bar invites you to sink into a sofa, listen to Jazz, and sip on custom cocktails during the daily happy hour from 4— 8 P.M. You can also book in-room spa services.
If you can tear yourself away, the petit Hotel de Sers delivers big outside the front door, too. For touring, the Champs-Elysées, Arc de Triomphe, and the Eiffel Tower are within a 10-minute stroll. If shopping is your bag, you're in luck--- French luxury boutiques such as Chanel, Dior, Louis Vuitton and others are just a credit card toss away.
All this is reason enough to book tout de suite, and the Hotel de Sers is just the gem to crown your stay in the French capital.