Image courtesy of Eden Roc
A bastion of Miami's enduring allure since its beginnings, Eden Roc Resort first came to fame in the 1950s as the host to Golden Era Hollywood greats like Elizabeth Taylor, Frank Sinatra, Katharine Hepburn, and Humphrey Bogart. Today, the recently revamped resort continues to enchant guests and celebrities alike, providing a glamorous escape and impeccable service to all who enter. More than just a hotel, Eden Roc is a destination which fully embodies and embraces the chic and laid-back lifestyle that has come to define contemporary Miami living. From world-class fine dining, to beach life, to cutting-edge health and wellness programs, Eden Roc offers something for everyone. Distinguished by its unique architecture, Eden Roc is one of the great examples of Miami Modernism. Each of Eden Roc's 415 rooms and suites are designed to offer a welcome respite from city life. Beachy neutral hues with pops of color and floor to ceiling glass opening up to spacious balconies with 180º views set the scene for a luxurious stay.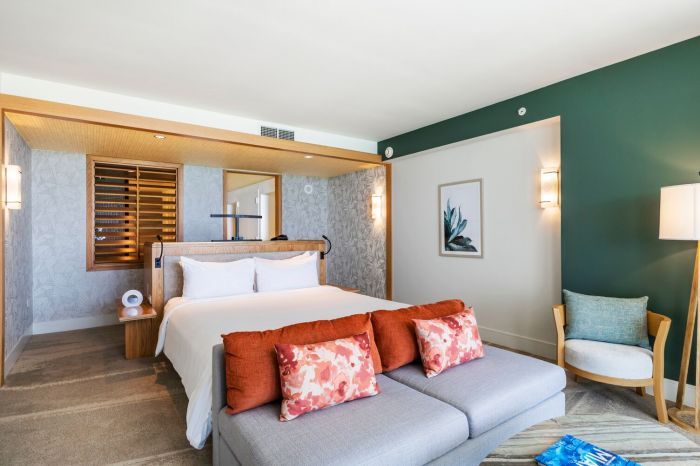 Image courtesy of Eden Roc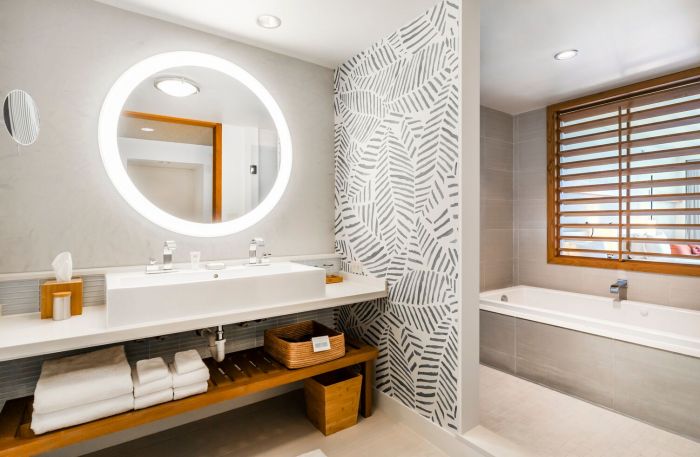 Image courtesy of Eden Roc
Eden Roc's beautiful rooms and suites are just the beginning, with amenities spanning across two properties - including the adjacent Nobu Hotel - guests have access to multiple options all under the same roof. Perhaps the best of which is direct access to two of Miami's most buzzed about eateries, the internationally renowned, Nobu and recently opened beachfront café, Malibu Farm. Boasting one of the most stunning interiors in all of Miami, Nobu is the place to not only see and be seen, but to also enjoy one of the finest meals in South Beach. Helmed by Chef Nobu Matsuhisa, Nobu offers a range of traditional Japanese dishes along with Matsuhisa's signature Peruvian-Japanese fusion specialties amid contemporary and elegant interior architecture—think Noguchi inspired pendant lamps, subtle flashes of metallic gold, and dark walnut surfaces contrasted by soaring sculptural walls hewn from twisted blonde bamboo—While the spectacular decor certainly sets the stage, cuisine is the real star of the show. Classics dishes such as spicy tuna atop crisp sushi rice are paired with unusual delicacies like Japanese sea bream and grilled black cod subtlety dressed with miso.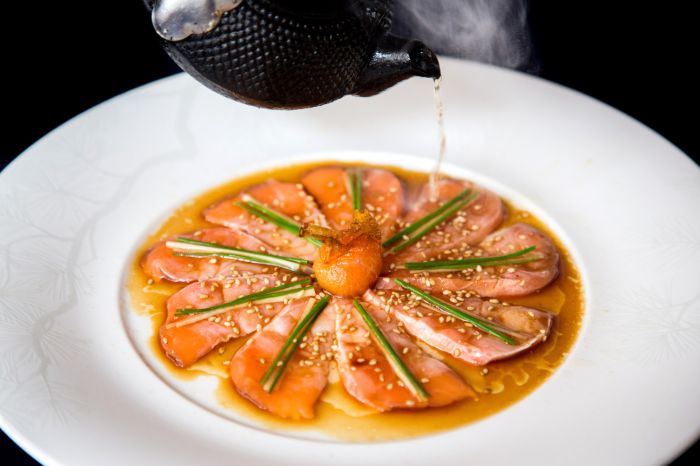 Image courtesy of Eden Roc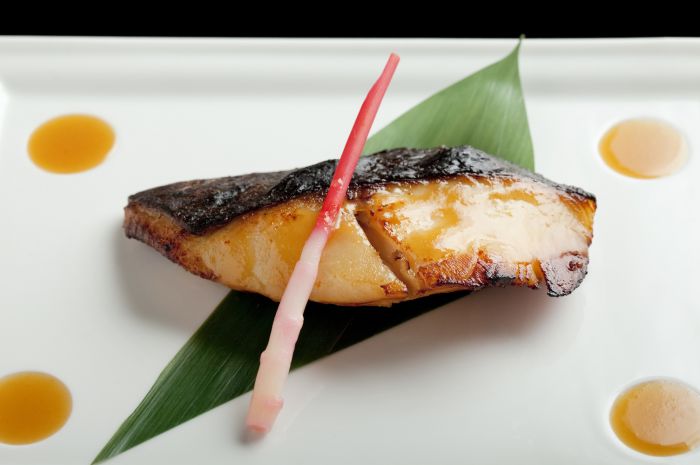 Image courtesy of Eden Roc
Guests seeking a more casual (yet equally decadent) beach scene can head over to Malibu Farm Café, Eden Roc's newest addition to its culinary scene. The Malibu-based organic farm-to-fork restaurant by Chef Helene Henderson is one of Miami Beach's only beach front restaurants and overlooks the South Beach boardwalk and the Atlantic Ocean just footsteps away. With a menu comprised of healthy and organic dishes such as vegan coconut tofu with seasonal vegetables, saffron couscous and free range chicken ricotta burgers. The bright and airy outdoor bar and lounge area creates a chic and lively social scene where guests of the hotel and local scenesters can mingle and enjoy a range of organic and plant-based cocktails and fresh juices.
Image courtesy of Eden Roc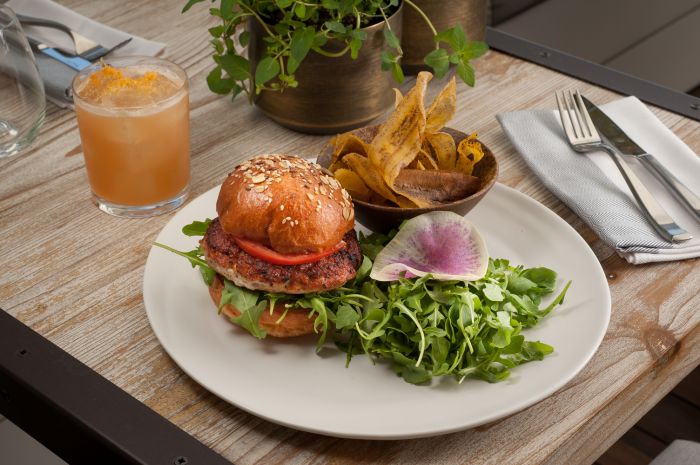 Image courtesy of Eden Roc
Once you've wined and dined, you won't have to venture very far to find the ultimate in modern wellness at Esencia Spa, Eden Roc's on-site, full-service wellness retreat. A world unto itself, Esencia is a realm of refined relaxation where Eastern tradition meets innovative Western techniques. The result is a therapeutic and relaxing environment designed to rejuvenate the mind and restore the body from the stresses of city life. While the East meets West philosophy isn't exactly novel, Esencia manages to give its each of its treatments bit of contemporary Miami flair. Nowhere is this best demonstrated than with the South Beach Revival Body Treatment. A full clay body mask massaged into the skin for the ultimate in stress reducing detoxification. The real standout however is the Nagomi Ritual. A full-circle sensory experience where a floral foot bath is paired with traditional Thai and shiatsu massage techniques, rounded off with an anti-cellulite carboxytherapy that leaves you ready for a day on the beach or a night on the town.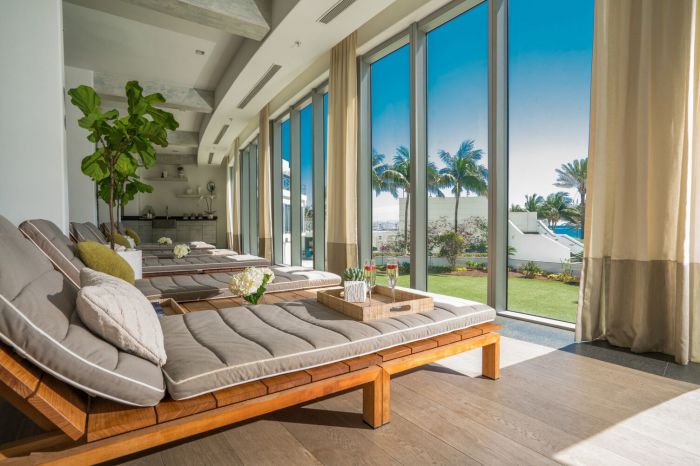 Image courtesy of Eden Roc
Image courtesy of Eden Roc
With the turquoise waters of the Atlantic Ocean as your backyard, Miami's main attraction is literally at your door step. Eden Roc guests can move freely between serviced beach chairs or cabanas, at any one of Eden Roc's three luxurious swimming pools. Aquatica Bar, the hotel's pool and beach bar is the ideal place to take in the ocean air (and the spirited social scene) while enjoying seasonal cocktails and organic, locally sourced dishes. Beach days often give way to city nights at the elegant Lobby Bar, located at the heart of Eden Roc's famous Morris Lapidus-designed lounge, the Lobby Bar is the pulse of the resort and the perfect backdrop for a cocktail before heading out on the town, or a hand-crafted nightcap upon return. Outside of the resort, guests have access to a plethora of shopping and dining options all within a short walk or drive. Fashionistas will appreciate Eden Roc's close proximity to the Bal Harbour shops where even the most seasoned shopaholics will be impressed by the roster of designers, including Gucci, Fendi, Prada, Versace alongside specialty boutiques like The Webster and department store staples like Neiman Marcus and Saks 5th Avenue. Eden Roc is also the perfect home base for exploring the best of Miami Beach's cultural offerings both on and off the beaten path. Guests looking for more local flavor can take advantage of the Eden Roc's knowledgeable and intuitive concierge team who can curate a custom itinerary that may include true insider destinations such as Miami's Vizcaya Museum and Gardens, a walking tour of Wynwood, or perhaps one of the buzzing restaurants and bars of the increasingly popular Little Havana.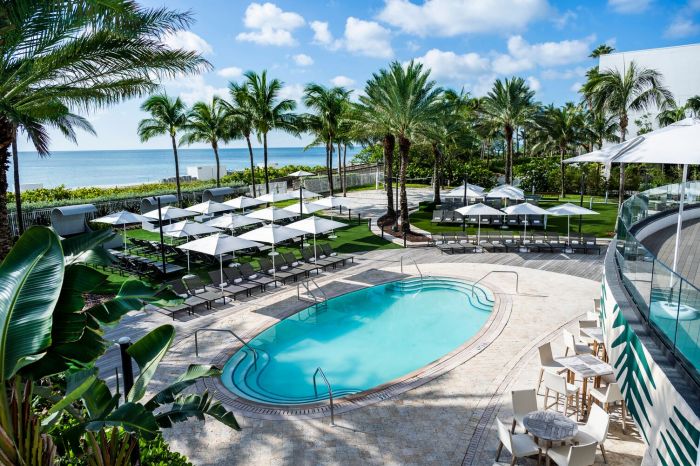 Image courtesy of Eden Roc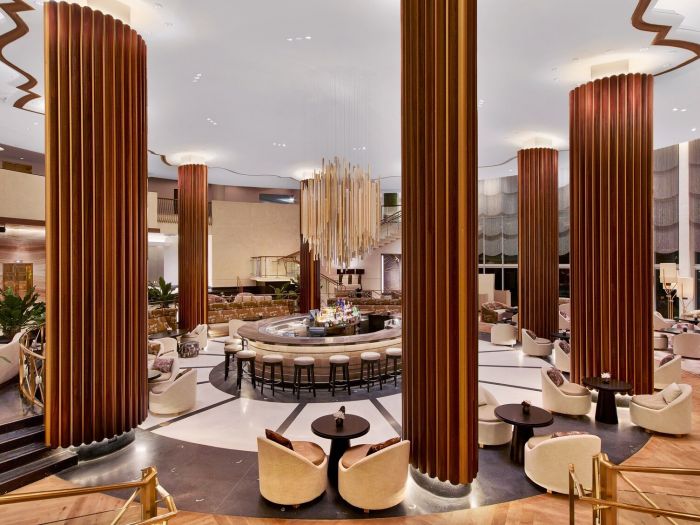 Image courtesy of Eden Roc
More than just a place to vacation, Eden Roc has distinguished itself from the crowd by curating a luxury-focused lifestyle that both guests and locals can experience in a multitude of ways. As a playground for the world's trendsetters for over half a century, Eden Roc Miami is a hotel that continues to pay homage to its rich history, yet remain on the cutting edge of hospitality's coolest trends. With recreation, wellness, and of course, ambiance, Eden Roc continues to define Miami's rare brand of "Coastal Contemporary" for the 21st century traveler.
Eden Roc
425 Collins Avenue
Miami Beach, FL 33140