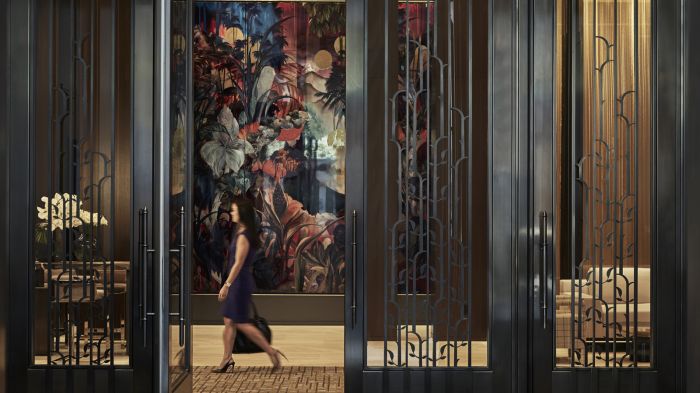 Four Seasons Hotel New York Downtown
Like other New York hotel icons - think The Palace, The Pierre, and The Carlyle - Four Seasons Hotel New York Downtown is greater than the sum of its parts. Yes, it has the requisite fine dining establishment, spectacularly spacious rooms with views over which to swoon, and a luxurious spa. The service is top notch (natch) and the vibrant lower Manhattan/financial district location is currently the place to be. Together, these amenities create five-star sumptuousness that any guest appreciates. But those who 'get it' know - Four Seasons Hotel New York Downtown is much more than a posh place to rest; it's a lifestyle.
Illustrative of this premise is the hotel's unique celebration of the festive season – allowing guests to fully immerse themselves in the magic that is New York City. The hotel's exclusive Martinis & Mistletoe package (from November 22, 2019 to January 31, 2020) includes the best that Downtown has to offer. The overnight experience includes a personally curated VIP shopping experience at nearby Brookfield Place and Westfield World Trade Center, Priority/VIP access to One World Observatory for stunning sunset views, the Veuve Clicquot VIP Skating Package at Winterland Rink on The Rooftop at Pier 17, and a four course tasting menu dinner for two in the hotel's signature restaurant CUT by Wolfgang Puck.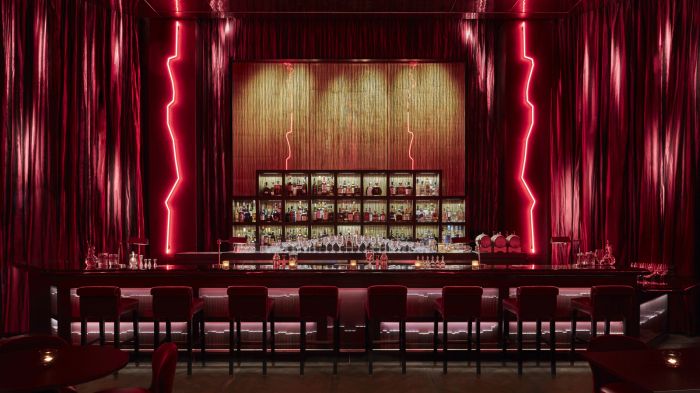 Cut by Wolfgang Puck. Photo: Four Seasons Hotel New York Downtown
Also illustrative of the lifestyle concept is the hotel's collaboration with New York trend setters, wellness experts, and gastronomic guides. Each of these alliances allows guests to step into a New York state of mind. Celebrated fashion designer and well-known New Yorker Marc Jacobs, for instance, partnered exclusively with the hotel to introduce a limited edition New York Fashion Week 2019 Sweatshirt that celebrates the union of two-storied institutions and a mutual love for all things New York City. Featuring an apple motif that pays homage to New York and to the iconic brands of Four Seasons and Marc Jacobs, the sweatshirt is the first collaboration of its kind for both brands.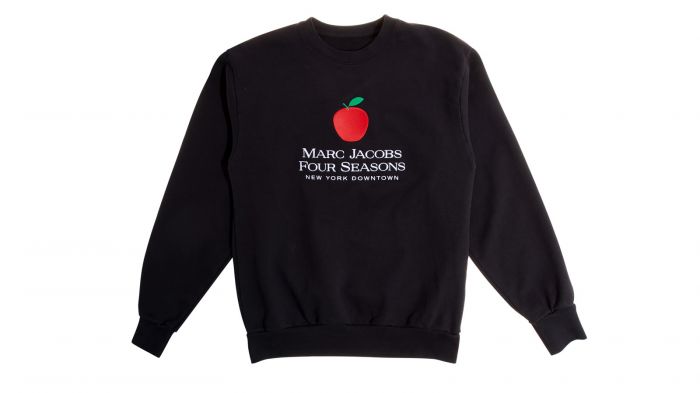 Four Seasons Hotel New York Downtown
Only those hotels confident in their distinctive product and service can offer a bespoke Holiday Gift Guide, and Four Seasons Hotel New York Downtown presents a plethora of ideas to please everyone on your list. Curated by Senior Spa Director Tara Cruz, the guide includes a wide selection of merchandise and experiences for individuals and couples, and caters to six distinct categories including The Fashion Forward, The Jetsetter, The Wellness Guru, The Fitness Junkie, The Adored, and The Ultimate Host. A few of the more exclusive products include the aforementioned Marc Jacobs sweatshirt, a Signature Four Seasons Hotel New York Downtown candle, the collection of which features five distinctive scents - one for each season and the ever-green spa scent - allowing guests to take home a piece of their New York experience, and a Personalized Wellness Oil Collection blended by a wellness expert to enhance mood, physical wellbeing, and emotional balance.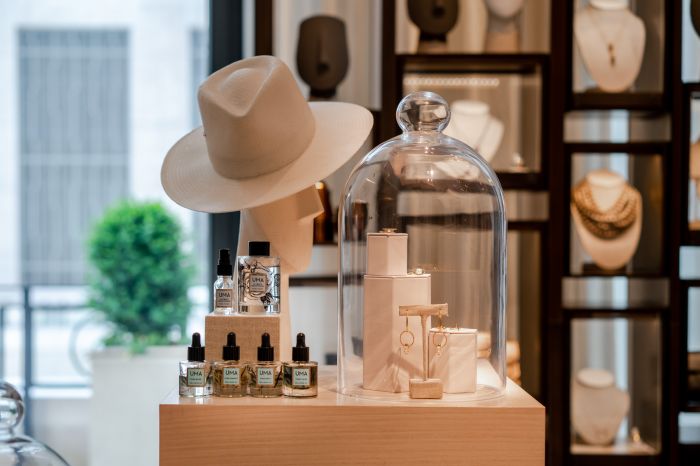 Four Seasons Hotel New York Downtown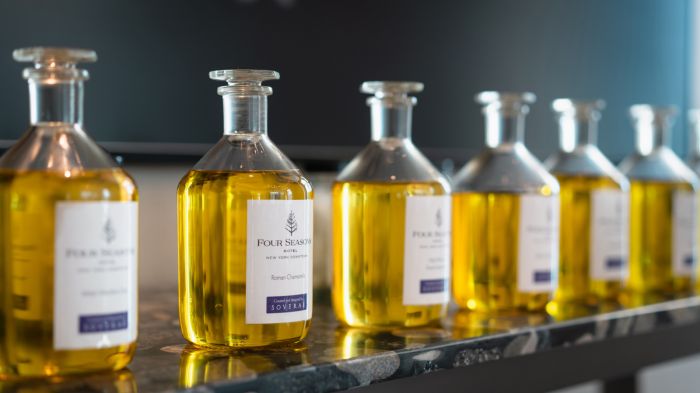 Four Seasons Hotel New York Downtown
For those looking for a more experiential gift, highlights include the Sleep Well, Live Well Experience designed around the search for, and commitment to, the perfect night's sleep. The experience includes a 50-minute Sleep Serenity Massage for two, overnight accommodation in a room or suite, and a customizable take-home Four Seasons Queen Bed, featuring the new mattress and topper collection, designed exclusively by Simmons Bedding Company for Four Seasons.
The Resident Healer Session includes time with one of the hotel's four experts, Deganit Nuur, Rashia Bell, Show Shimazu, and Michelle Pirret, each of whom tailor their sessions to individual need. Nuur is a certified acupuncturist, herbalist, clairvoyant intuitive and meditation instructor whose goal is to improve spiritual and overall well-being. Bell helps guests explore the healing energy of crystals while practicing mindful meditation. Shimazu is a certified travel wellness specialist who incorporates meditation, yoga and advanced massage therapies into her healing methods. And Pirret delivers profound auditory exploration that stimulates the imagination and connects one to their intuition and higher self.
The Soak Service in a Hudson Suite includes an overnight stay in one of the hotel's luxurious Hudson Suites with a deep soaking tub. Choose a curated experience based on unique needs from a menu that includes restore, soothe, detox, seasonal options or the ultimate – a rose revival for two.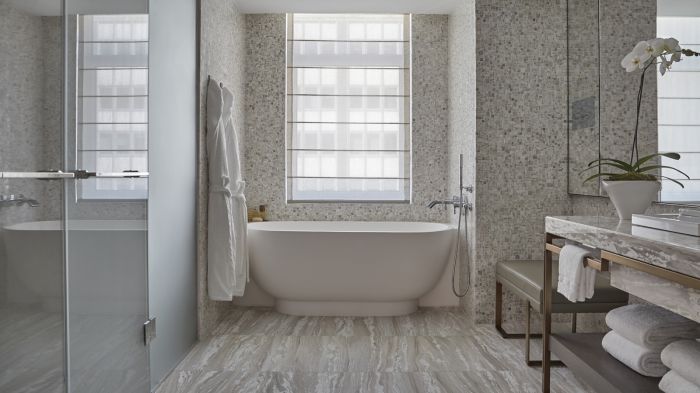 Four Seasons Hotel New York Downtown
A Club27 12-month Membership is the ultimate gift for the Fitness Junkie. The Wellness Membership includes access to amenities including a 75 foot (23 metre) indoor heated swimming pool, eucalyptus steam room, locker rooms, and private sundeck from 6:00 am to 9:00 pm daily, 24 hour state-of-the-art fitness centre with laundry service, luxury amenities and daily wellness elixir, quarterly complimentary 80 minute spa treatment of choice, access to private or group yoga, boxing, meditation, aqua-fit and personal training classes, including one complimentary initiation class, 9+ guest passes, and access to the hotel's concierge.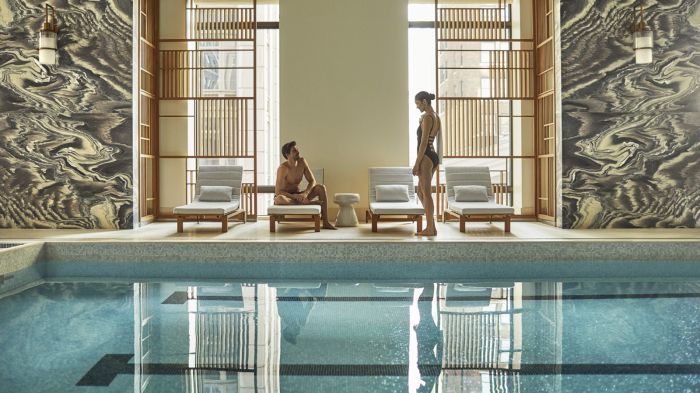 Four Seasons Hotel New York Downtown
Finally, the hotel's The LocA-LIST packages offer local, domestic, and international travelers exclusive 'A-LIST' year-round access that only Four Seasons can provide. The foundation package is available for all weekends throughout the year and includes a two-night stay, in room dining breakfast for two, and parking. Guests can then choose from three diverse 48-hour itineraries each curated by local experts in Health and Wellness, Food and Beverage, and Art and Culture. Partake in all of the offerings of a single itinerary or choose one or multiple experiences from one, two, or all three itineraries to create a lifestyle – even if fleeting – that you'll want to reclaim again and again.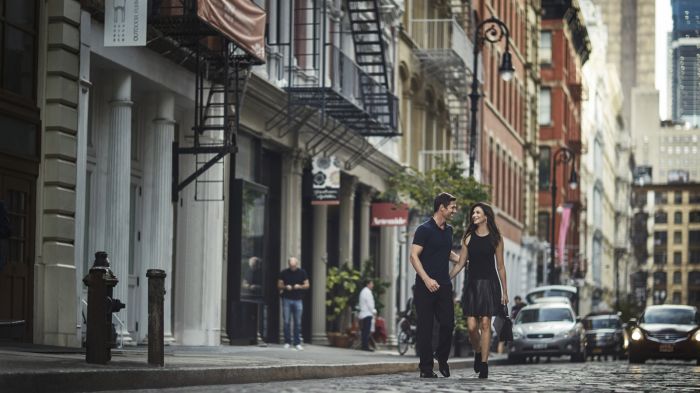 Four Seasons Hotel New York Downtown