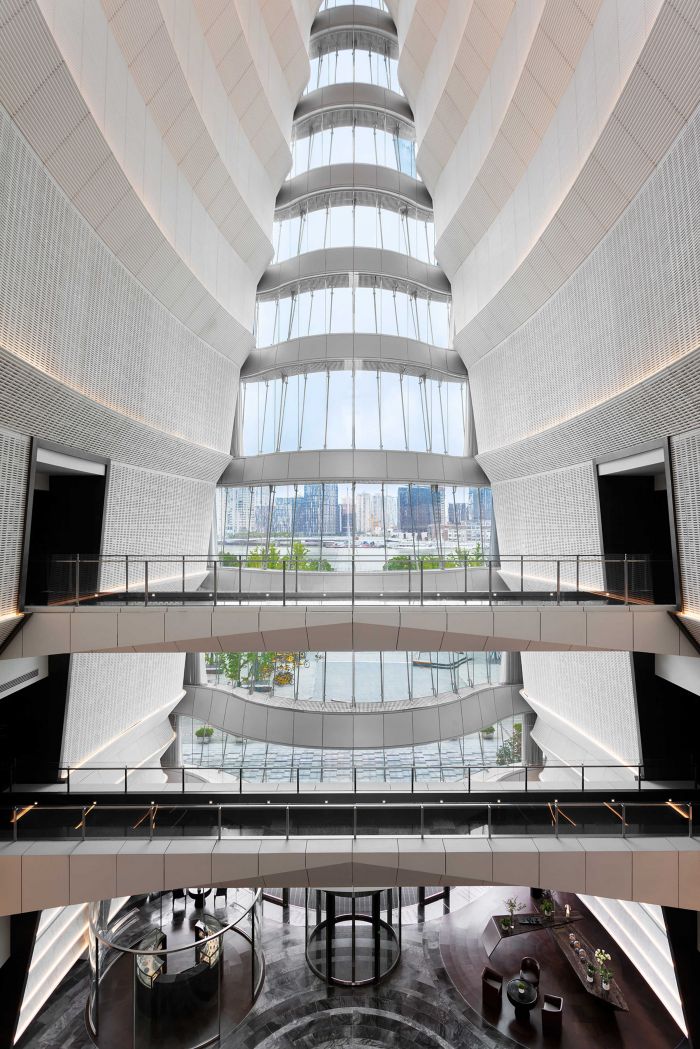 JW Marriott Marquis
My boat drifted down the Huangpu River at night. A crisp breeze swirled around me as I gazed upon the dazzling skyline that spanned both sides of the river. Impressive skyscrapers were lit up and sparkling as far as the eye could see, illuminating the night sky.
Shanghai's massive skyline is known for being ever-changing, and there is a new landmark addition to it- the spectacular JW Marriott Marquis.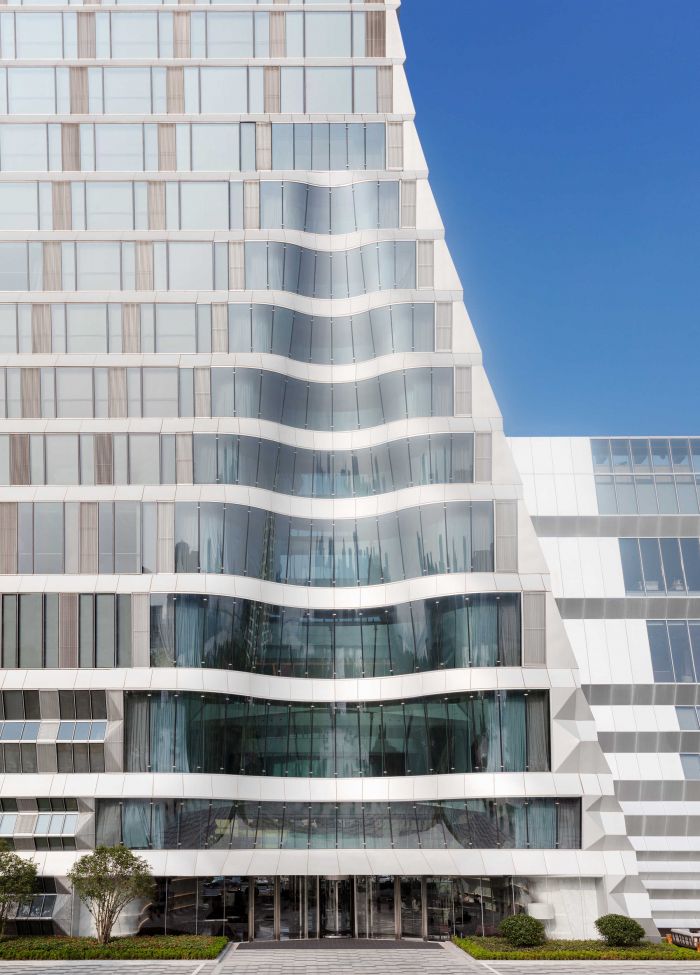 JW Marriott Marquis
This highly anticipated hotel is the first JW Marriott Marquis Hotel to open in China. Designed by the architectural minds behind Dubai's Burj Khalifa, this distinctive 39-story hotel complements its surroundings and brings fresh new energy to the district of Pudong.
The forward-thinking design of the hotel was inspired by the surrounding neighborhood, the city's rich history and unique culture, as well as the vitality of the Huangpu River it sits upon. Water elements inspired by the river seamlessly unify the exterior and interior of the building with its curves and textures.
JW Marriott Marquis' dramatic atrium plays with light and color, stunning guests from the moment they enter the building. Sustainable exterior glass panels slant 12-17 degrees to provide guests a broader view of the city's impressive landscape.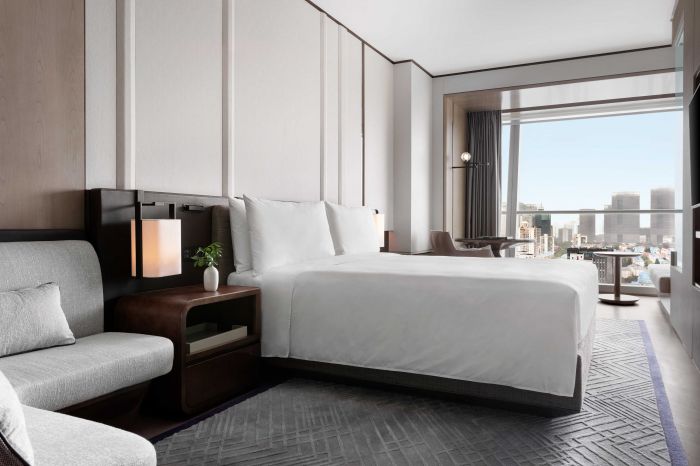 JW Marriott Marquis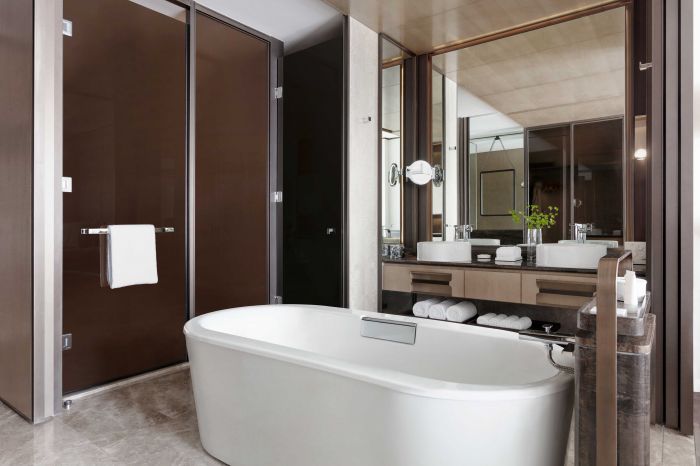 JW Marriott Marquis
JW Marriott Marquis Pudong boasts 515 guestrooms, each elegantly styled with sophisticated design elements and a mixture of modern meets classic. Soothing cream and crisp white colors fill the room, along with exquisite marble, rich fabrics, wood, and floor to ceiling glass throughout to recreate the comforts found at home. Every room is equipped with the latest luxury amenities, catering to the needs of both business and leisure travelers.
JW Marriott Marquis is inspired by principles of mindfulness and touchpoints of intentional and reflective focus, which JW Marriott is recognized for. Guests can unwind and relax at the heated indoor infinity pool with floor-to-ceiling windows on the pool deck or visit the spa for a relaxing treatment.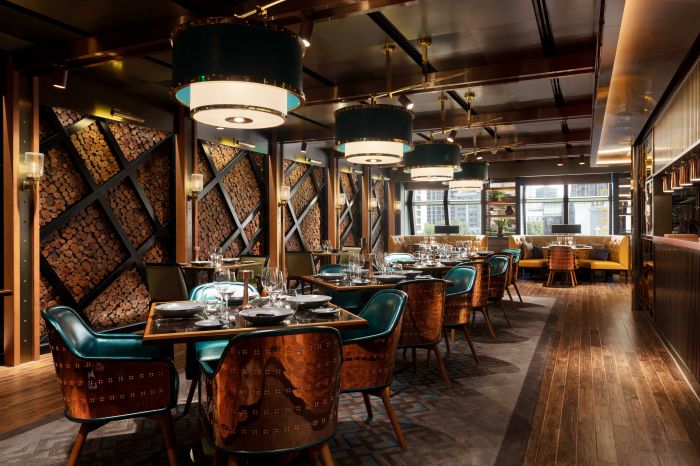 JW Marriott Marquis, Flint Restaurant
At JW Marriott Marquis, they strive to bring you on a world-class culinary journey through their three dining establishments. The Merchant Kitchen is a casual, interactive all-day eatery with different zones dedicated to many international cuisines. Flint is the hotel's very stylish upscale grill that features premium steaks, lobster, signature cocktails, and a variety of premium wines. Le Manoir Ling is a unique and special dining experience, highlighting both French and Cantonese cuisine in a creative fusion menu. Le Manoir Ling is a three-story restaurant, with each story having its own flair. You have 'The Hall' main dining area on the first floor, 'The Parlor' bar and private dining rooms equipped with karaoke and hot pot, and the scenic rooftop garden area. Any of the dining choices are sure to impress.
In true ''Marquis' form, the JW Marriott Marquis offers 12 multi-functional rooms and banquet venues that offer 34,445 sq feet of meeting space. The ballrooms provide space for 600 to 800 guests. Also available are two meeting rooms separated by a live culinary theatre with bespoke glass walls adjustable from opaque to transparent on demand, making for a spectacular cooking show.
Despite the magnitude of the JW Marriott Marquis you never feel overwhelmed. Each area seamlessly flows into the other, inviting you into the space. Attentive and kind staff eagerly await to assist you in any way possible, assuring you have the best possible stay. With Shanghai being known for one of the most iconic cities in the world, they are no stranger no luxury. At the JW Marriott Marquis you will find the ultimate luxurious stay and I look forward to one day returning to Shanghai, just to stay at this hotel again.