Exploring Spain's Costa Brava and the Old World Glamour of Hostal de la Gavina
Spain's Costa Brava runs from just north of Barcelona to the border of France. Along the coast are beautiful beaches, coves and seaside towns with their own distinct personality. In the sleepy sea town of S'Garo, on a peninsula that juts into the turquoise waters of the Mediterranean Sea, is where you'll find one of Spain's holiday treasures which have been welcoming international guests since the 1930s. It is the Hostal de la Gavina and is a hidden gem that is definitely worthy for your next Mediterranean beach holiday.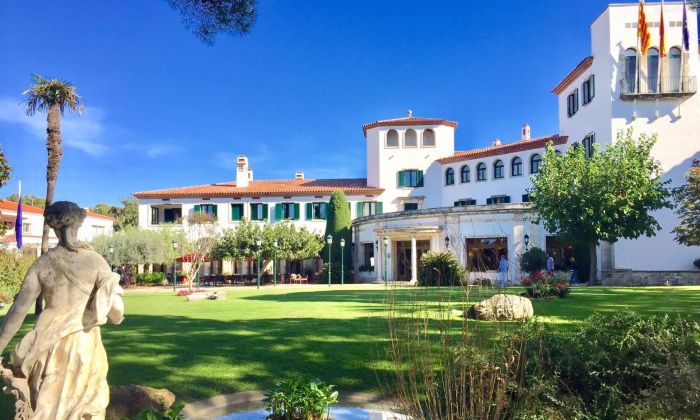 La Gavina is a national treasure that has been the seaside getaway for Europe's well-to-do for almost 100 years. It is a classic grand dame hotel with a gravitas and opulence apparent at first sight. The grounds are meticulously groomed with vibrant flower beds, bougainvillea, century-old palm, Cyprus, and olive trees as well as water fountains and garden statues strewn along flagstone pathways. The centerpiece is a classic Mediterranean styled building with imposing towers, white stucco walls, arched windows with green shutters and a richly colored terracotta rooftop.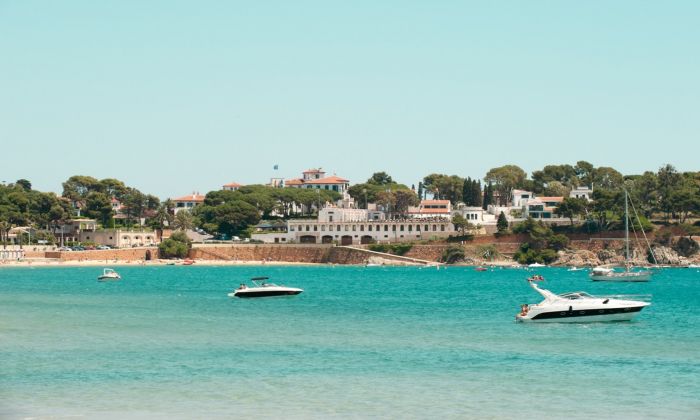 This is an authentic Costa Brava luxury resort that has remained family owned since it first opened its doors through today. Over the years La Gavina has welcomed the European aristocracy and the elite class as well as heads of state, including King of Spain, Juan Carlos I. The resort has been a peaceful seaside getaway for icons from the golden era of film such as Peter O'Toole, Ava Gardner, Elizabeth Taylor, Orson Welles and later Julio Iglesias, Sean Connery, Jack Nicholson, Robert De Niro as well as its most recent guest star, Lady Gaga.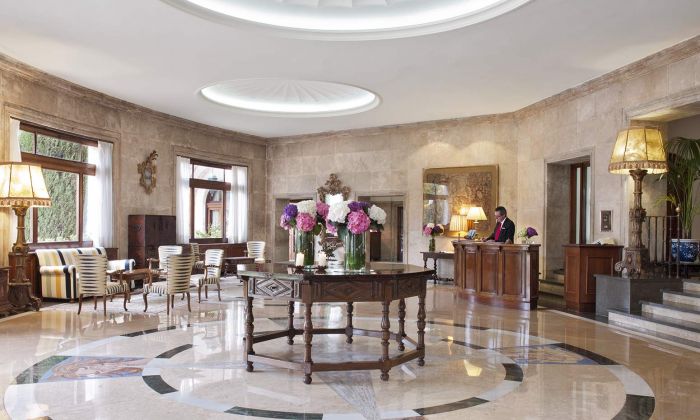 The first Leading Hotel in Spain, Hostal de la Gavina is a complete resort with 74 well-appointed rooms and suites, a spa, two clay tennis courts, and several bars and dining options as well as Candlelight By Romain Fornell, one of the top restaurants in Catalonia. The sparkling, Olympic-sized pool overlooks the Sant Pol beach and resembles a scene from the cinema with Venus statues, gazebos and day beds filled with beau monde couples lazing about taking in the Mediterranean sun. The peninsula views from around the property are decadent as well with, multimillion-dollar seafront mansions and the S'Garo's beach and turquoise seas dotted with sailing boats and yachts harboring in the calm bay.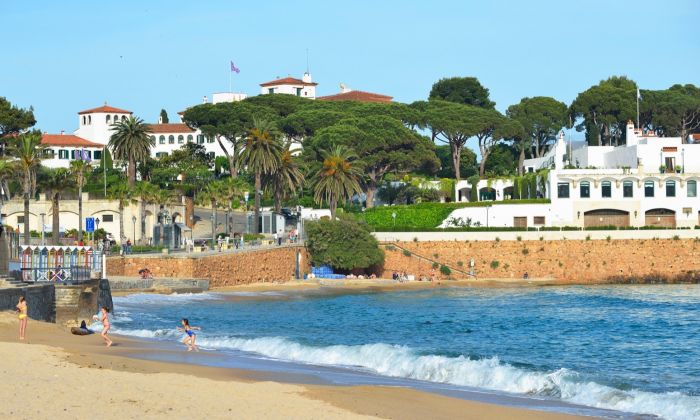 When most think of a Spain's beach holidays they'll think of some of its amazing islands such as Ibiza or Mallorca or perhaps the sandy shores of Andalucía or Valencia. The Costa Brava, or wild coast, has its own set of incredible beaches and waterfront sights to explore. S'Garo is a quaint seaside village with millionaire villas and condos, mainly used as a getaway for Barcelona's wealthy residents who take the 90-minute ride to leave behind the city's sweltering summers. Just a few minutes walk from the hotel is a calm bay fronted by some of the Costa Brava's most beautiful beaches, Sant Pol and Sa Conca. Guests will want to check in at the S'Garo Beach club and then a stroll on the long wooden boardwalk and later lunch in one of the many seafront bistros.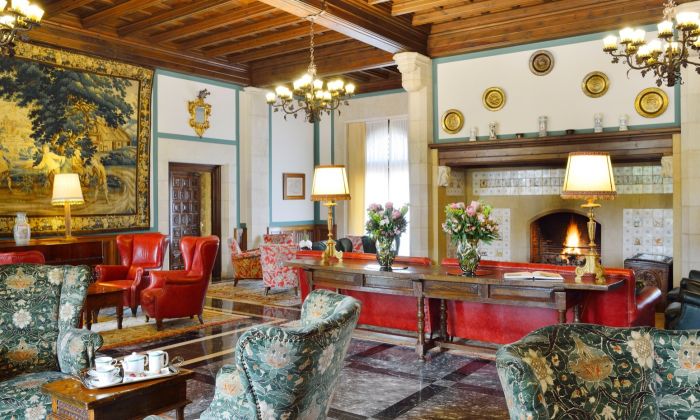 Inside the hotel is nothing less than palatial with an artistic heritage presented through wide open spaces awash with marble surfaces, gorgeous tapestries and museum-worthy antiques at every turn. Guests will want to get lost for hours exploring the hotel's grand drawing room, common areas and hallways filled with tapestries, priceless oil paintings, gilded woodwork, and riveting objects d'art.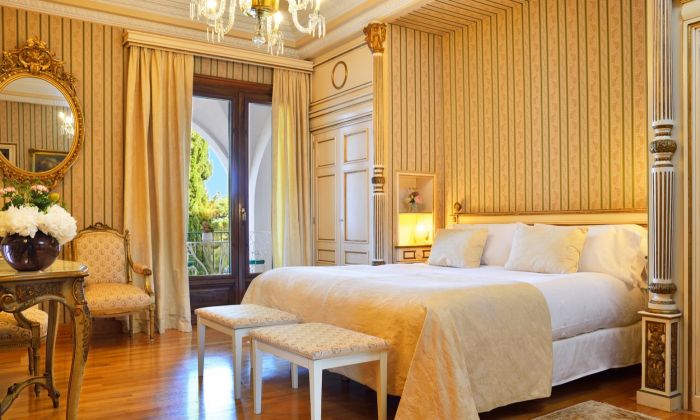 The 57 rooms and 17 suites are akin to what one would expect in a fine country estate with beautiful Venetian Murano glass lamps, fine silk upholstery, wood paneled walls, parquet floors, oriental rugs, and uber comfy beds with high-quality Egyptian linens. All are unique in design and décor varying between classic Mediterranean style to Imperial or Elizabethan, yet provide the creature comforts that today's traveler demands. The suites range in size and amenities with separate living and sleeping areas, Italian marble bathrooms with hydromassage baths. Arguably the most endearing feature of the suites is the lovely outdoor terraces and are a must for an exquisite in-room breakfast while donned in your fluffy robe and slippers with the turquoise waters of the Mediterranean Sea as the backdrop.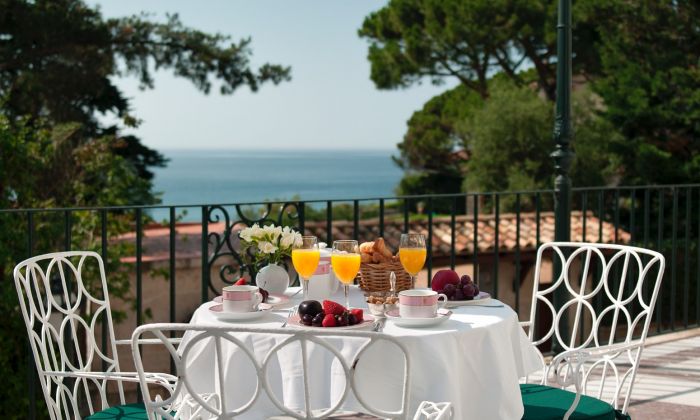 Europe's elite class are accustomed to the finer things in life and in particular when it comes to fine dining. The dining experience at La Gavina does not disappoint with several dining options from casual bistro to elevated gastronomic dining.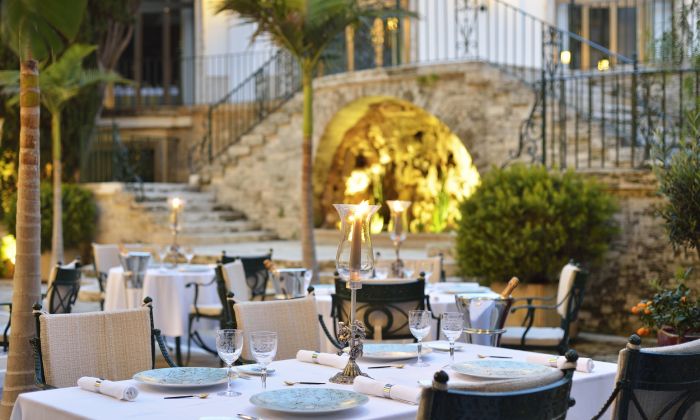 Candlelight By Romain Fornell is an intimate dining experience with only 16 tables that often requires bookings a month or more in advance. Couples dine by the light of candles from the silver tabletop candelabras indoors or alfresco by the water fountain with live piano music adding to the romantic ambiance.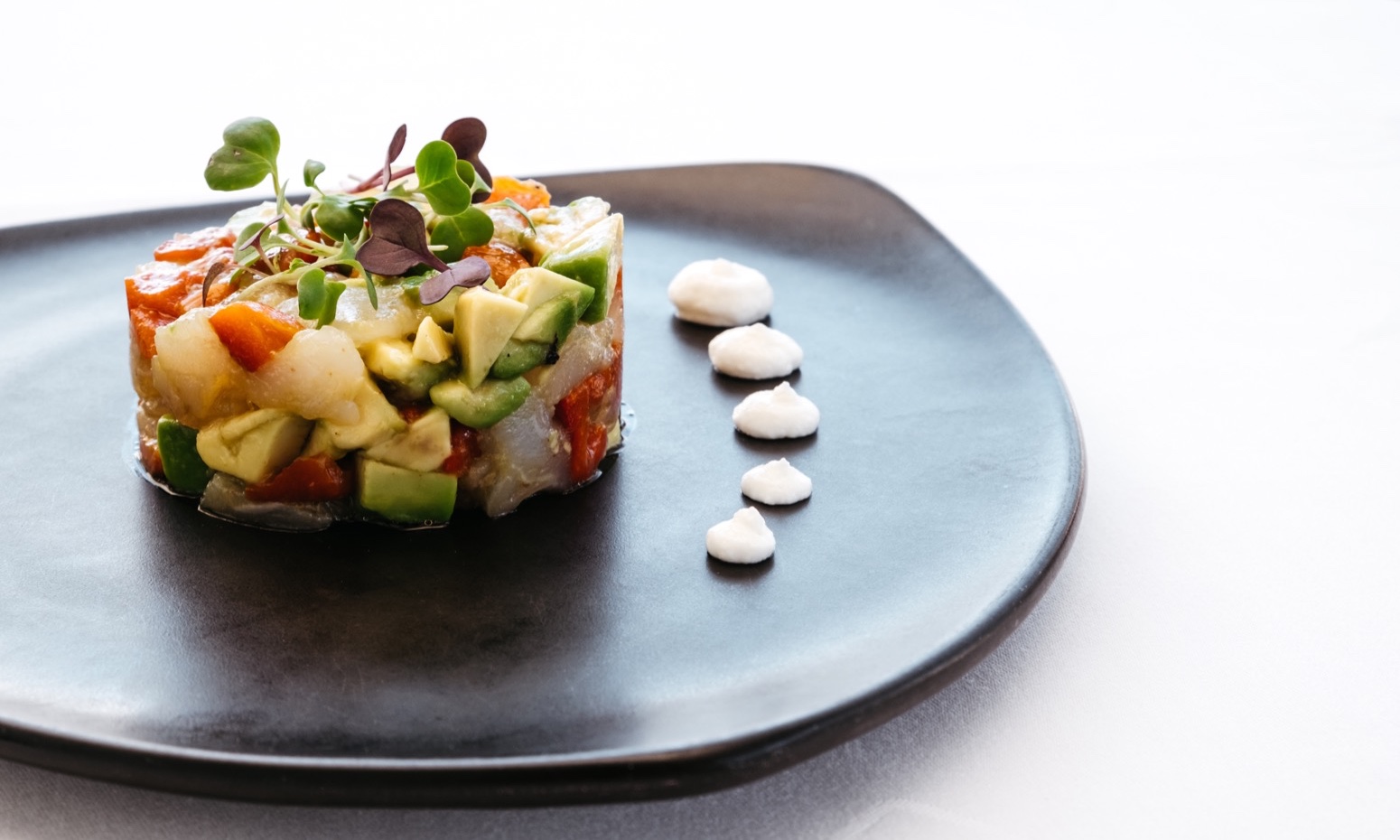 The restaurants director of cuisine is none other than the heralded French Michelin starred chef Romain Fornell who was the youngest Michelin star recipient at age 24 at his restaurant Chaldette in France. He later opened Caelis in Barcelona, where he received his second Michelin star making him the only chef to obtain his Michelin star in both France and Spain. Today, as the culinary director of Candlelight, he sets the menu and ensures that guests enjoy an evening of haute cuisine under his direction.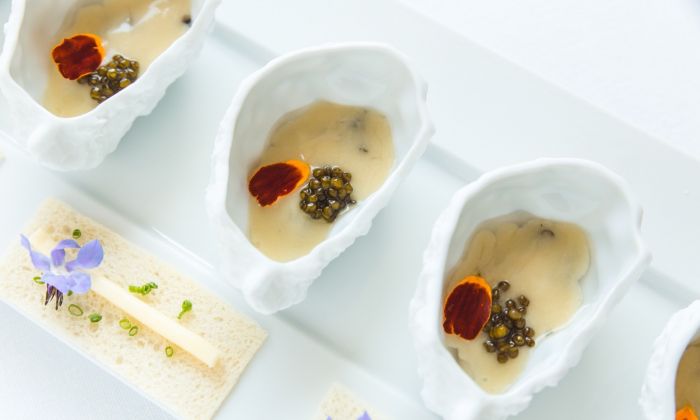 The dining experience is first and for most Mediterranean cuisine and Chef Fornell's French flair for the extravagant are apparent in the menu concepts and presentation. Expect dishes such as their Egg with caviar and sabayon, Pigeon cocotte tear pea, spiced quinoa, or the Lobster "à la Presse" with capellini. Many of the dishes are finished at your table such as the sweet ending of their Crêpe Suzette with Grand Marnier glaze. The wine menu is world-class as well with a talented sommelier there to perfectly match each dish and your tastes with pairings from their 200 references in their cellar.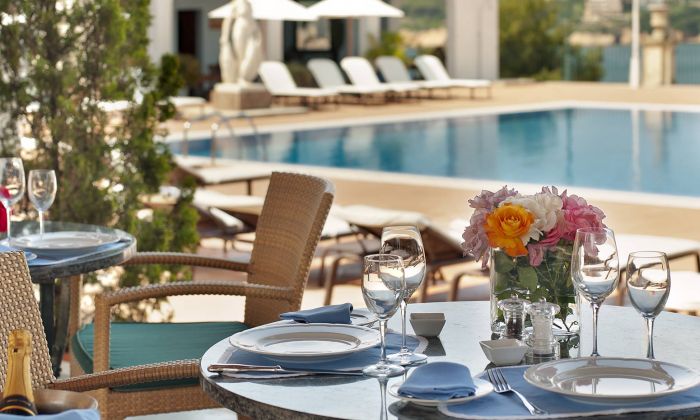 Beyond the unsurpassed dining experience at Candlelight By Romain Fornell, the resort boasts several other exceptional dining options such as their casual seafood restaurant, Piscina Garbi. Located at poolside, guests dine under the pergola on scrumptious seafood and grilled meats. Not to be missed is the seabass packed and then baked in a heap of salt and served as a whole fish at your table. The most capable waiter will then break open the salt cast as you watch with a glass of Sauvignon Blanc while your next glass awaits tableside in an ice bucket.
There are several bars as well at La Gavina to bend your elbow including an outdoor terrace ideal for an apertivo and even their unusual El Barco, that has been there for 85 years and looks like the interior of a vintage yacht with wooden walls and décor.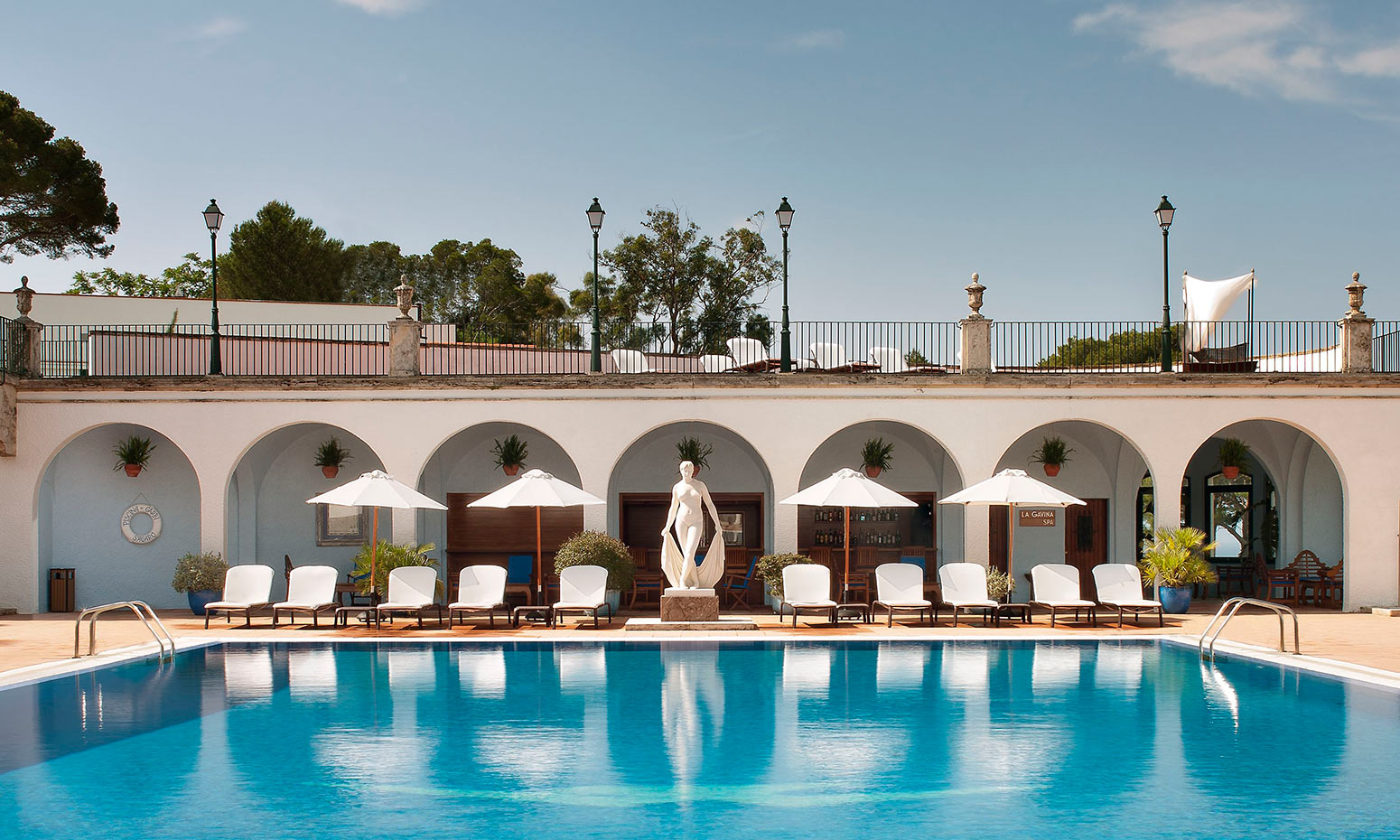 La Gavina is a complete seaside resort and boasts a world-class spa with a wide range of Swedish massages, anti-aging and beauty treatments provided by Valmont Spa. The facilities around the resort include the outdoor saltwater pool as well as an indoor heated pool and jacuzzi with floor to ceiling windows for views overlooking the peninsula. For even deeper relaxation, guests will enjoy the steam and dry sauna facilities as well. There are also two clay courts to work on your tennis backhand as well as an equipped fitness center.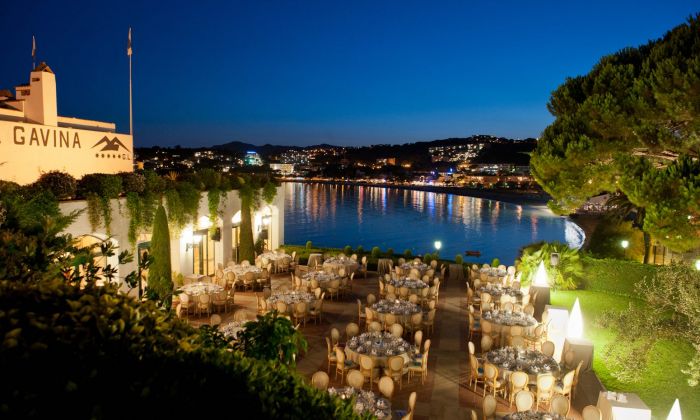 We know that Barcelona is one of the world's most popular destinations for the global explorer, and rightfully so. Be that as it may, there are hidden gems that make an ideal side trip from the city that will be remembered long after the luggage has been unpacked back home. Hostal de la Gavina is such a place that has been discreetly welcoming Europe's upper crust for a century and makes a perfect calm seaside hideaway for today's in-the-know traveler.