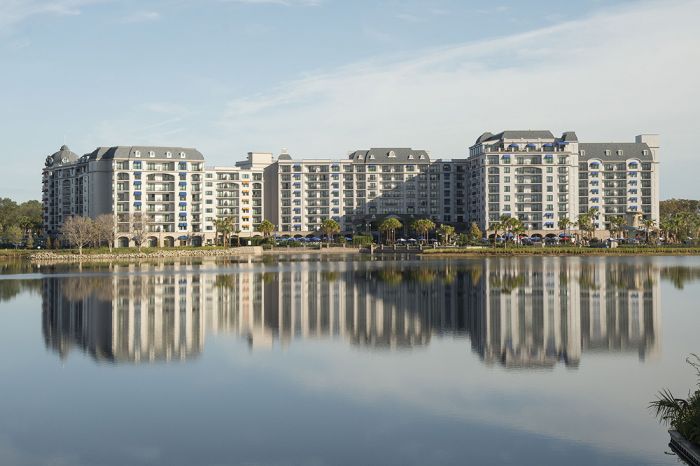 Courtesy of Walt Disney World
Disney magic is something you can feel in the air in Orlando. The meticulously curated experiences and spectacular properties a wonder to adults and children alike. Always on the cutting edge, Disney continues to build Walt Disney World to the delight of fans across the globe. The most recent addition? Disney's Riviera Resort.
Guests are greeted at the property under an impressive Porte-cochere. Characteristic impeccable Disney hospitality ensues, a cast member issuing magic bands and showing guests to their rooms, all while French versions of classic Disney tunes float through the scented air. Hidden Mickey's are woven into the fabric of carpeting, and renderings of traditional Disney movie scenes pepper the hallways. Let the Disney adventure begin!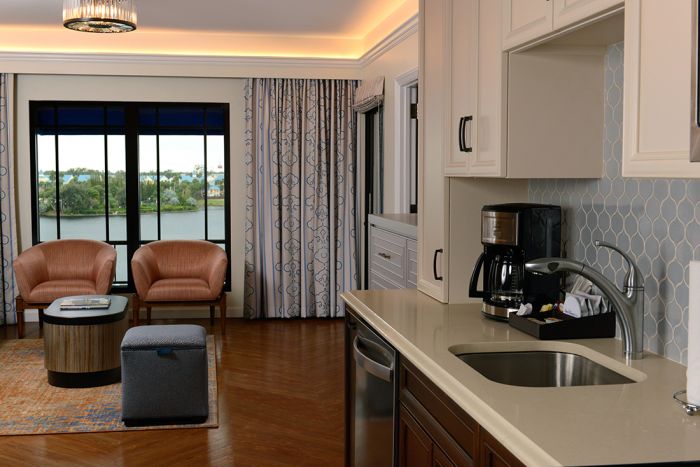 Chad Chisholm-Stunning spaces at Disney's Riviera Resort.
Our 1 Bedroom Villa is stunning, sunlight streaming into the relaxing space. A balcony overlooks the pool and lake beyond, I feel as if I've stepped into my own little slice of Europe without the jetlag. Off the main living area and kitchen space, our room is delightful and opens to a large marble-finished bathroom. A Cinderella carriage is shaped out of towels on our bed; thoughtful yet appropriate Disney touches to remind you of the magic in the making.
Walt Disney World -The lobby of Disney's Riviera Resort. 
The lobby is luxurious and affords lounge spaces and is dappled with European-style floral arrangements. Outside, the pool features bronze edifices of characters from Disney's Fantasia, spurting water and slipping down slides around a family-friendly pool. Nearby, a relaxing retreat with large pool lounge area is a perfect place to soak up some Floridian sunshine.
Walt Disney World
Topolino's Terrace is open to guests for breakfast and dinner, with a prime outdoor patio perfect for watching nightly fireworks. Ushering in flavors of the Riviera, we started with cocktails: The French Rose with Grey Goose Le Citron, Combier Crème de Pamplemousse Rose Liquor, Raspberry Agave, lemon and soda water as well as the Frizzante Anise Brezza with Ricard Pastis de Marseille, Cointreau Noir, Lillet Blanc, honey, lemon and Nino Franco Rustico Prosecco Superiore. With a seasonal menu, we enjoyed the creamy Burrata con Panna, followed by salads and flavorful Bouillabaisse and King Salmon Mi-Cuit. Decadent desserts are also there to tempt diners into a possible food coma. I wouldn't be surprised if Belle felt right at home as a guest.
Walt Disney World
Another new addition to the parks is the Disney Skyliner, an areal gondola that connects the resorts to the parks for an expeditious option from a new vantage point in the sky. On the way to the station outside Disney's Riviera Resort to connecting Epcot and transfer station, make sure to check out the jaw-dropping multi-story mosaics depicting Peter Pan's Neverland and Tangled's Corona Castle.
Whether park-hopping, relaxing at the resort or grabbing a snack at the café to enjoy in your room, Disney's Riviera Resort is a fantastic stay at Walt Disney World for the young and young-at-heart alike. For rates and reservations, visit https://disneyworld.disney.go.com/resorts/riviera-resort/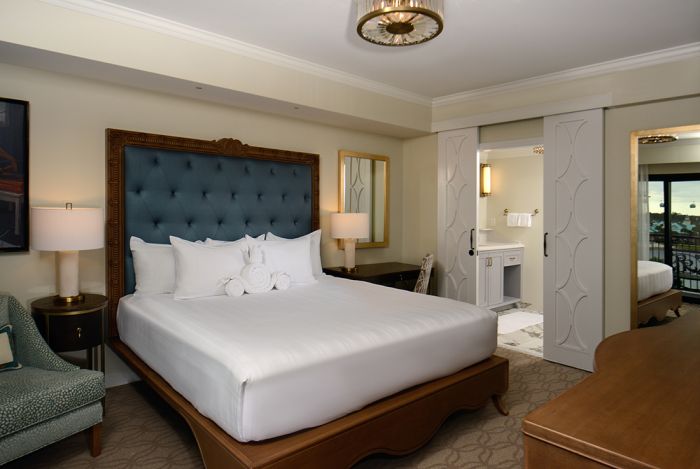 Chad Chisholm
Beautiful bedroom with thoughtful Disney touches.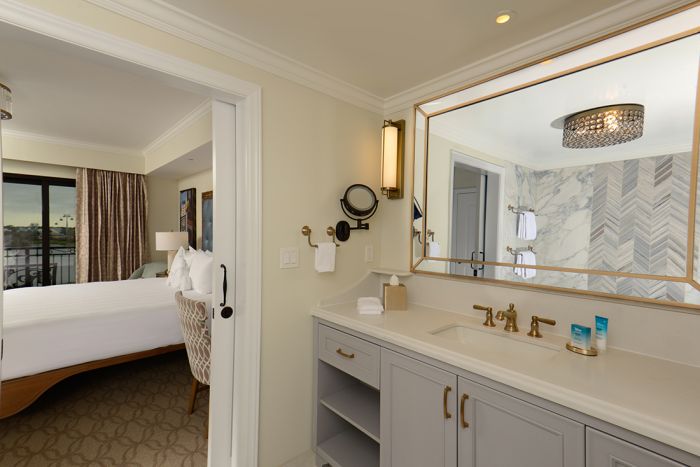 Chad Chisholm
Marble bathroom with soaking tub.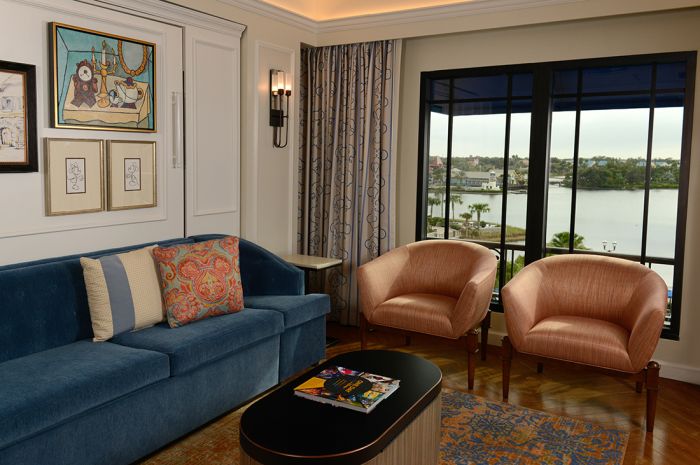 Chad Chisholm
Living room (with Murphy bed) overlooking the lake beyond.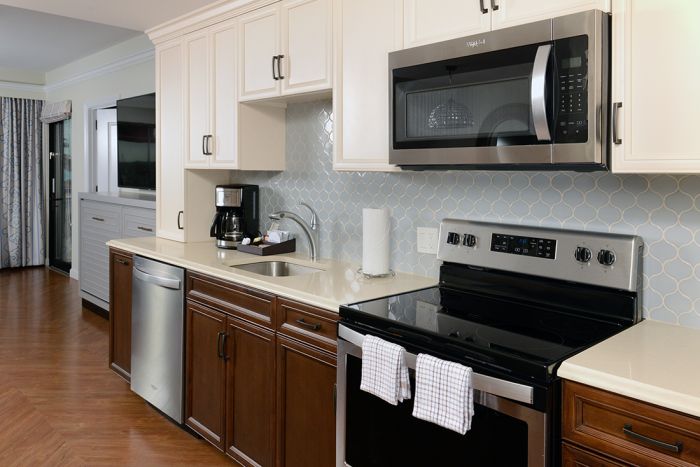 Chad Chisholm
For those looking to cook in, the well-appointed kitchen affords a comfortable space to do so.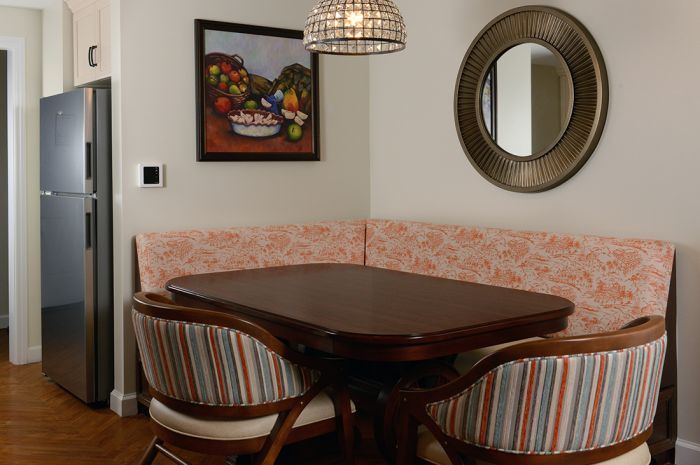 Chad Chisholm
A dining room table and full fridge perfect for dining in room.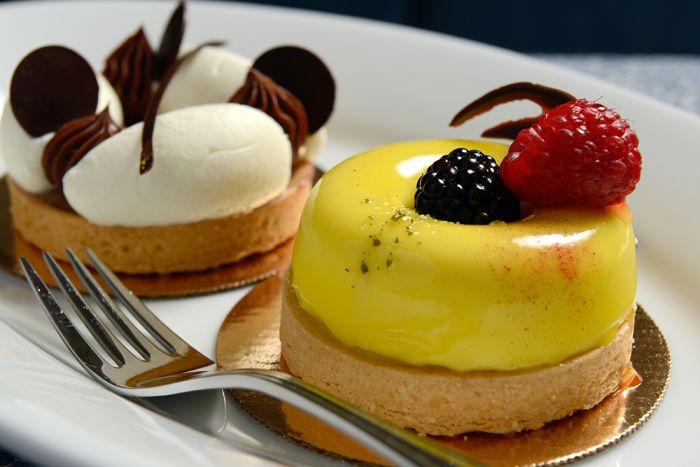 Chad Chisholm
Grab a lemon cheesecake dessert or a chocolate tart from the cafe.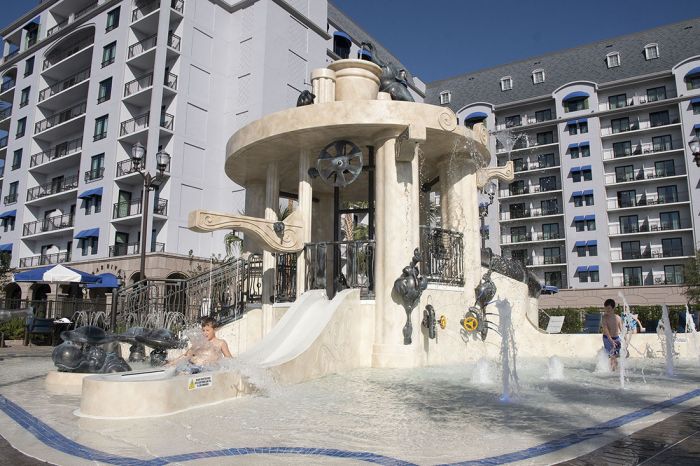 Walt Disney World
A faniciful water slide at Disney's Riviera Resort.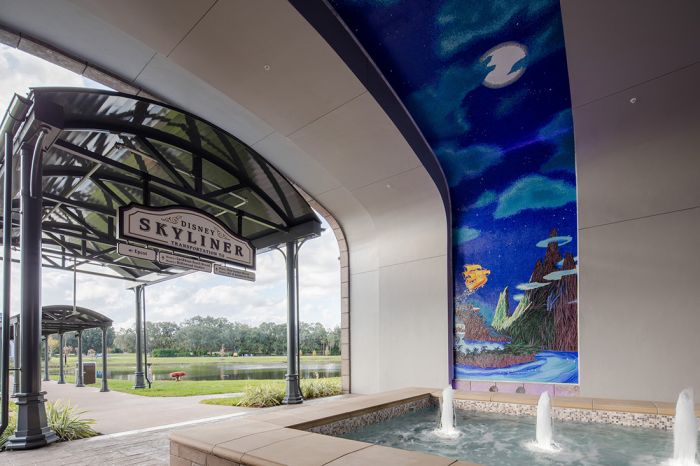 Walt Disney World
An impressive mosaic at the Skyline station.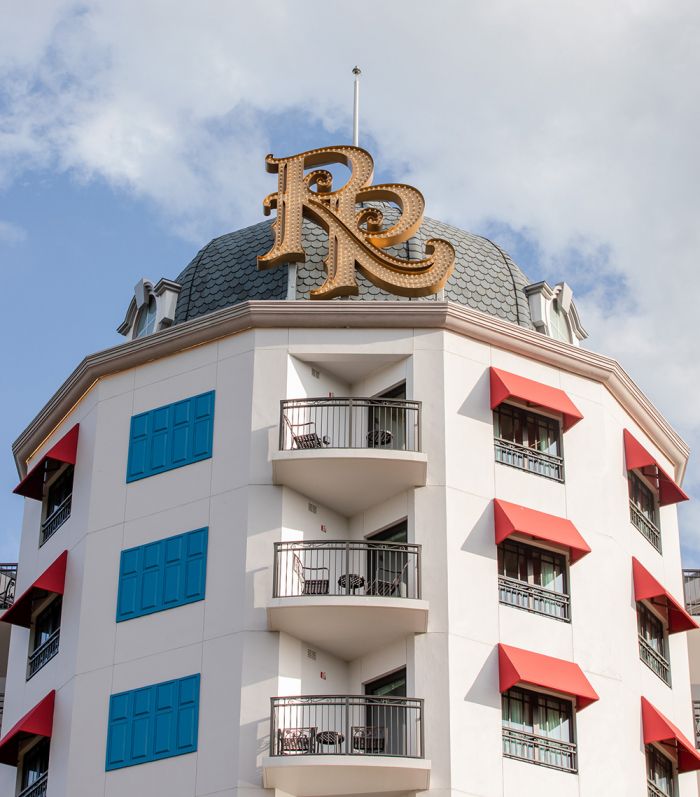 Walt Disney World
Disney's Riviera Resort welcomes guests to a European-inspired stay in Orlando.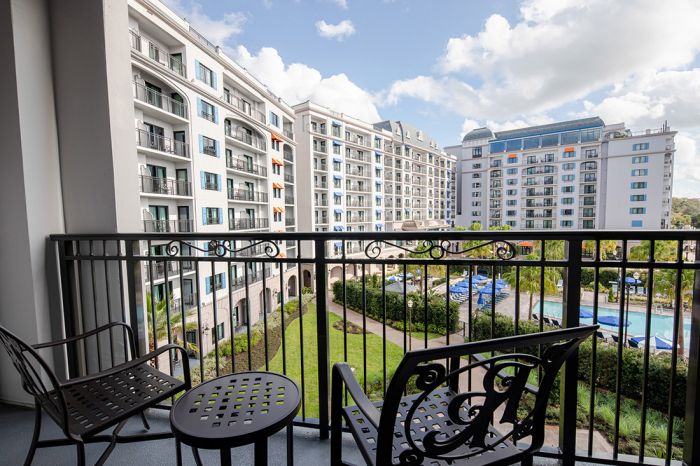 Walt Disney World
Views from your private balcony to the courtyard below.