(credit: The Ritz-Carlton, Charlotte)
In vibrant uptown Charlotte, North Carolina, The Ritz-Carlton, Charlotte stands tall infusing its eco-conscious ethos into its design, dining and spa. The contemporary 146-room, 18-story hotel is located in the largest metropolitan area in the Carolinas and only seven miles from Charlotte Douglas International airport. The LEED® Gold-certified hotel was built to provide a supremely comfortable yet environmentally mindful travel experience combined with the world-class standards of The Ritz-Carlton brand.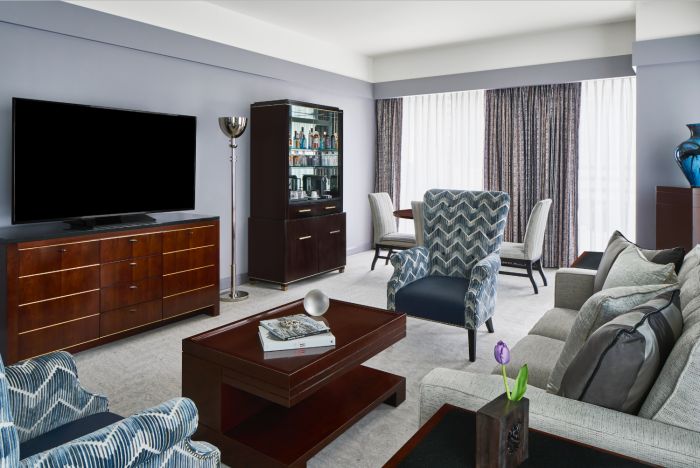 (credit: The Ritz-Carlton, Charlotte)
Recently renovated in 2018, each guestroom and suite features carpets imagined by American designer Alexander Julian and an elevated Honor Bar. Guests are welcomed to a palate of espresso wood and floor-to-ceiling windows overlooking the Charlotte skyline alongside a design pattern that pays homage to the city's history through color and pattern. The spacious and luxurious The Ritz-Carlton Suite is a massive 2,900 square feet with a spacious living room, parlor, formal dining for eight with prep kitchen, fitness room equipped with a Peloton Bike and bedroom with a king-sized bed. In the extra-large full marble bathroom, guests can sink into their oversized garden bathtub and shower and watch their favorite show on two flat-screen TVs built into bathroom mirrors.
A rarity among top-tier city hotels. the eco-focused hotel boasts a few unique features. Their green roof, which is home to a garden whose vegetables are used throughout the hotel, is also a reflective roof and home to two beehives. With 100,000 honeybees and 18,000 sedum plants the hotel makes a commitment to sustainability and eco-conscious practices. From aggressive water conservation and recycling programs to staff members wearing custom-designed uniforms made of regenerated plastic bottle materials, The Ritz-Carlton, Charlotte makes an honest commitment to bettering its practices and surrounding area. They also provide complimentary hybrid-vehicle transportation, 150 guest bicycle storage spaces and complimentary local bike usage to encourage non-motorized enjoyment of city.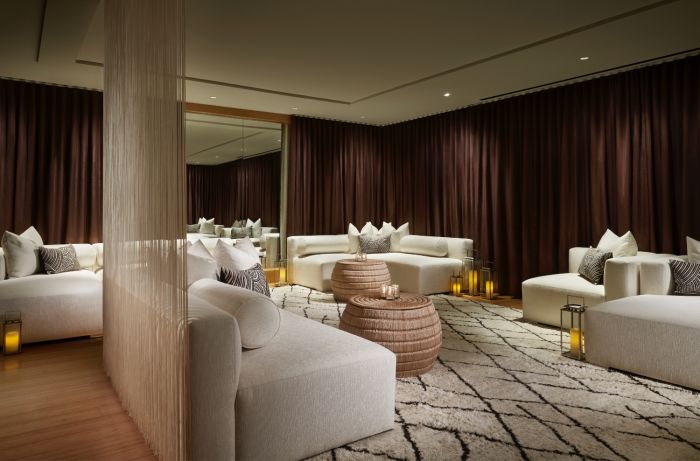 (credit: The Ritz-Carlton, Charlotte)
Following a long day exploring the surrounding area, The Ritz Carlton Spa, Charlotte invites guests to awaken their senses with a full selection of natural eco-based treatments. The 13,000-square-foot bi-level penthouse Spa & Wellness Center uses 100% organic products that offers treatment rooms, ladies' and gentlemen's Vitality Lounges, a state-of-the-art fitness center, Aqua Lounge with a swimming pool and whirlpool, a nail salon, and a pink Himalayan salt room. The hotel is also in the midst of finalizing details for the upcoming renovations for the Spa and also the hotel's meeting space, scheduled to start June to August 2020.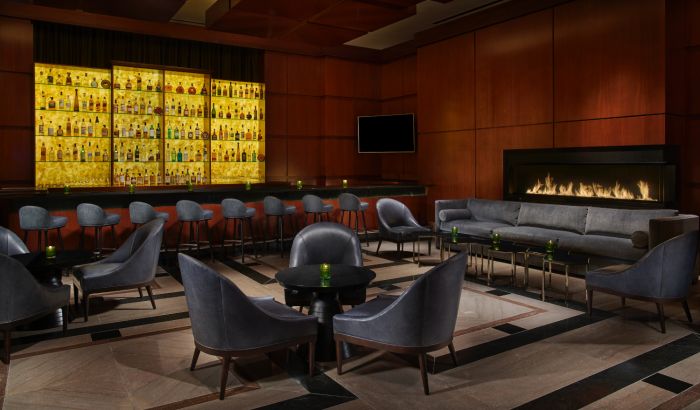 (credit: The Ritz-Carlton, Charlotte)
With five dining options on property, chefs use a mix of local flavors along with roof-cultivated herbs and honey in their cuisine and cocktails. The Uptown Charlotte hotel invites guests and those looking for a taste of North Carolina cuisine to the lobby's Bar Cocoa all-dessert dining, the sophisticated K Lounge with shared plates with farm-to-table flavors and the 15th floor where intimacy, glamour of the 19th century and craft cocktails can be had at The Punch Room. Ensconced next to the front desk, the Hidden Wine boutique offers wine and cheese pairings along with the opportunity to hand select a collection of European, American, and sparkling wines and champagne for their in-room or next dining experience. Off the main lobby, BLT Steak, created by renowned chef Laurent Tourondel, offers a nationally acclaimed menu of customizable steaks, sauces, sides and desserts creating a perfect blend of a French Bistro with a stylish, urbane boîte.
Offering a taste of North Carolina from its menu and décor, The Ritz-Carlton, Charlotte is within convenient walking distance of many of Charlotte's shopping, dining, cultural, sports, entertainment, and business destinations. Offering five-star luxury with distinctly local touches, this property surely isn't to be missed on your next jaunt to the Queen City.