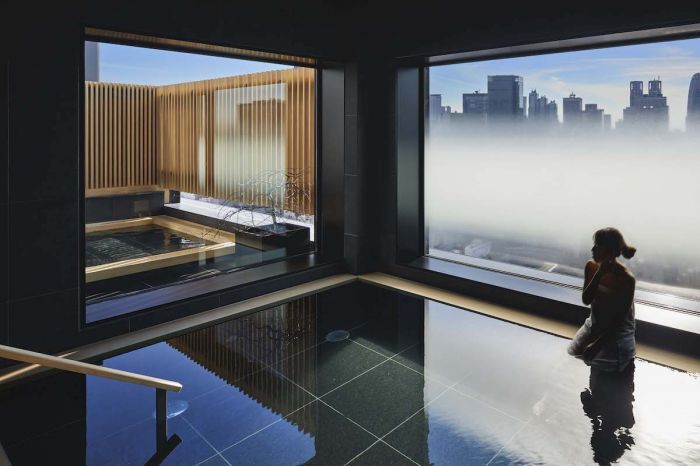 Nacesa & Partners
The quintessential Japanese experience of "rotenburo onsen" (open-air hot spring bath) isn't something generally associated with one of the liveliest neighborhoods in downtown Tokyo, but the delightful Onsen Ryoken Yuen Shinjuku turns that notion tastefully on its head. From the classically styled sukiyamon-style gate and blue noren curtain by the entrance to the hotel's sleek 18th floor communal baths filled with natural hot spring water from Hakone, here modern minimalism meets traditional Japanese style architecture and makes for a truly enchanting stay.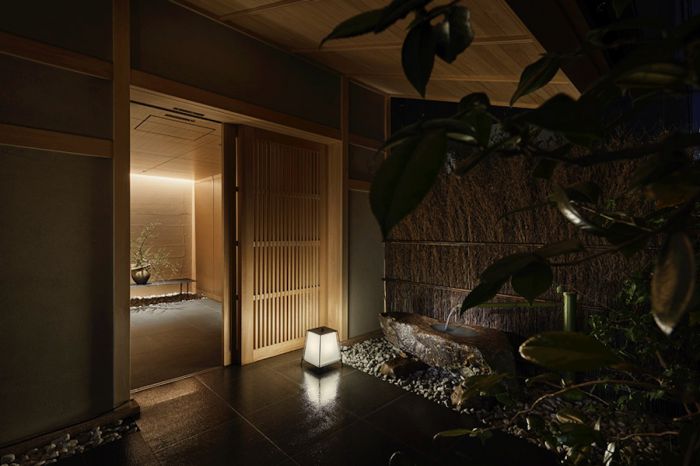 Nacesa & Partners
Multi-Sensual Minimalism
Essential ryokan features were skillfully 'edited' by UDS Ltd to fit the needs of modern travelers with the resulting contemporary design elements and traditional Japanese aesthetics blending seamlessly throughout the property. A pebble-lined walkway decorated with lanterns and punctuated by a flowing water feature leads to a minimalist lobby where bamboo shadows dance on white polished glass screens that look like Japanese paper. It's peaceful. Tones are hushed but not stuffy. Ikebana flower arrangements feature throughout; the aroma of burning incense lingers in every hallway.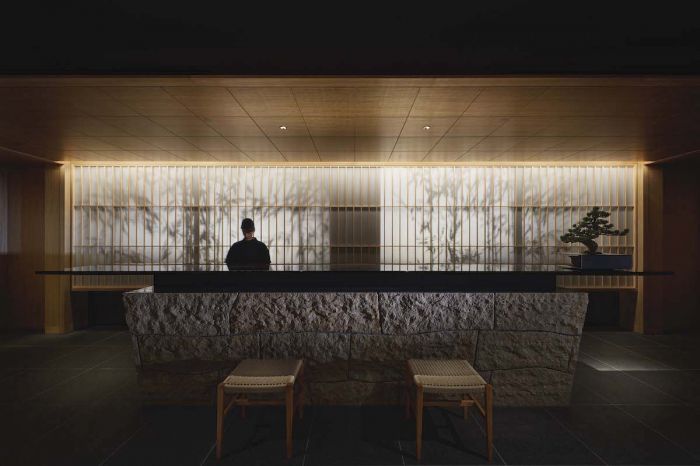 Nacesa & Partners
Simple Luxury
Although many of the 193 rooms are compact (measuring from 129-square-foot for a small double) with limited storage, they come with plenty of thoughtful touches and amenities, including tea sets for two, plus sweet and savory packaged treats tucked inside tiered wooden jubako boxes.
Neatly folded at the end of perfectly made-up beds, cotton yukata robes, yellow sash, and split-toe tabi socks are a joy to behold. Larger rooms in high floor suites (up to 548-square-foot for the Yuen Suite) boast superior views and for those with extra luggage are well-worth the upgrade.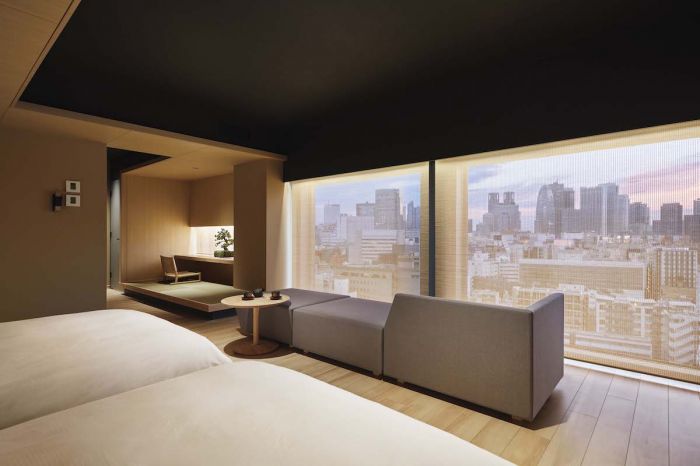 Nacesa & Partners
18th Floor Onsen
After a day spent exploring one of the world's most exciting metropolises, a late-night soak in the open-air 18th-floor hot spring framed by views of the neon-lit Tokyo skyline is a real 'pinch yourself' travel moment. Both male and female communal baths were relatively busy just after opening at 6 a.m. although night owls, anyone hoping to shake jet lag or shy types can enjoy the space until 2 a.m. Sitting back to take in its city views with a post-soak ice pop or two in the co-ed relaxation lounge is highly recommended.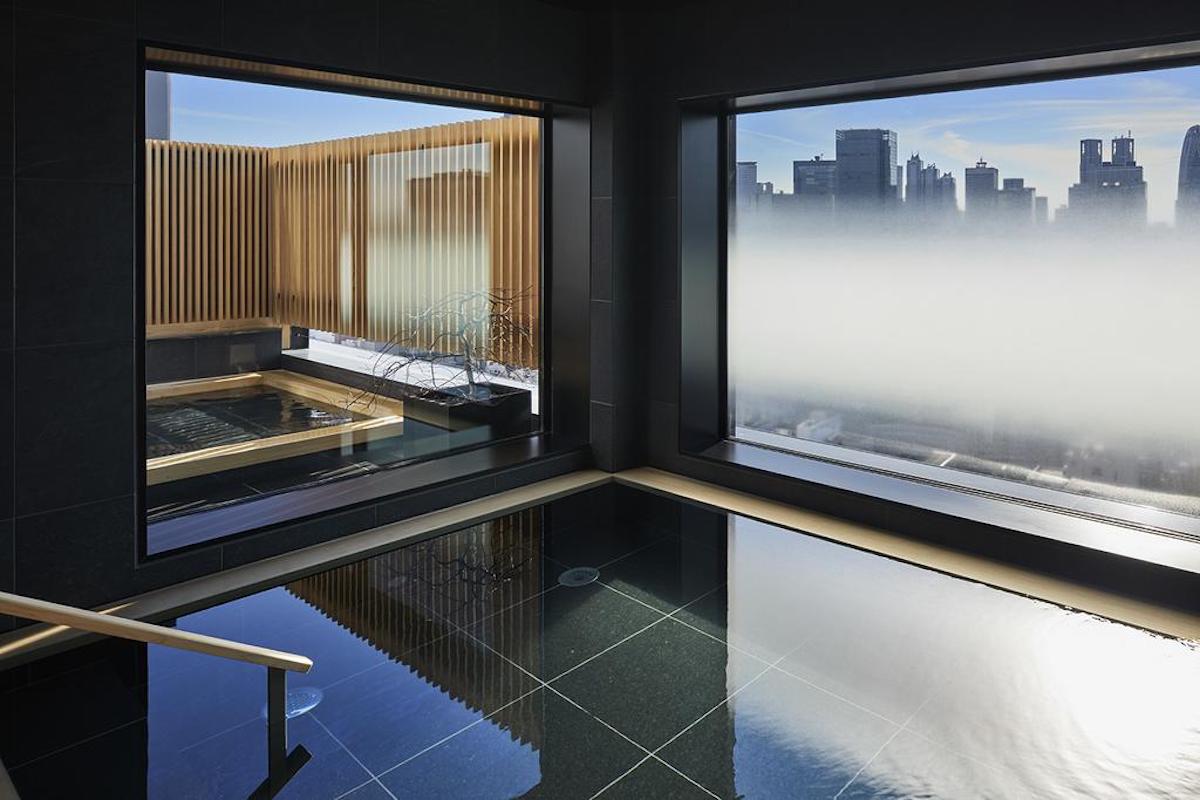 Nacesa & Partners
Contemporary Cuisine
As throughout the rest of the property, sophisticated natural elements, including warm woods and grey stone, anchor Kakatojo restaurant. Serving breakfast (¥1800), lunch (from ¥1290), and dinner course (from ¥6,600) seasonal menus highlight ingredients from across Japan.
The cuisine is exceptional and ranges from tempura and assorted sashimi to teppanyaki flat-grilled meats often served kaiseki style in a series of beautiful boxes and dishes. Breakfast is a particular highlight and sets one up nicely whether headed to the airport or for a day out exploring.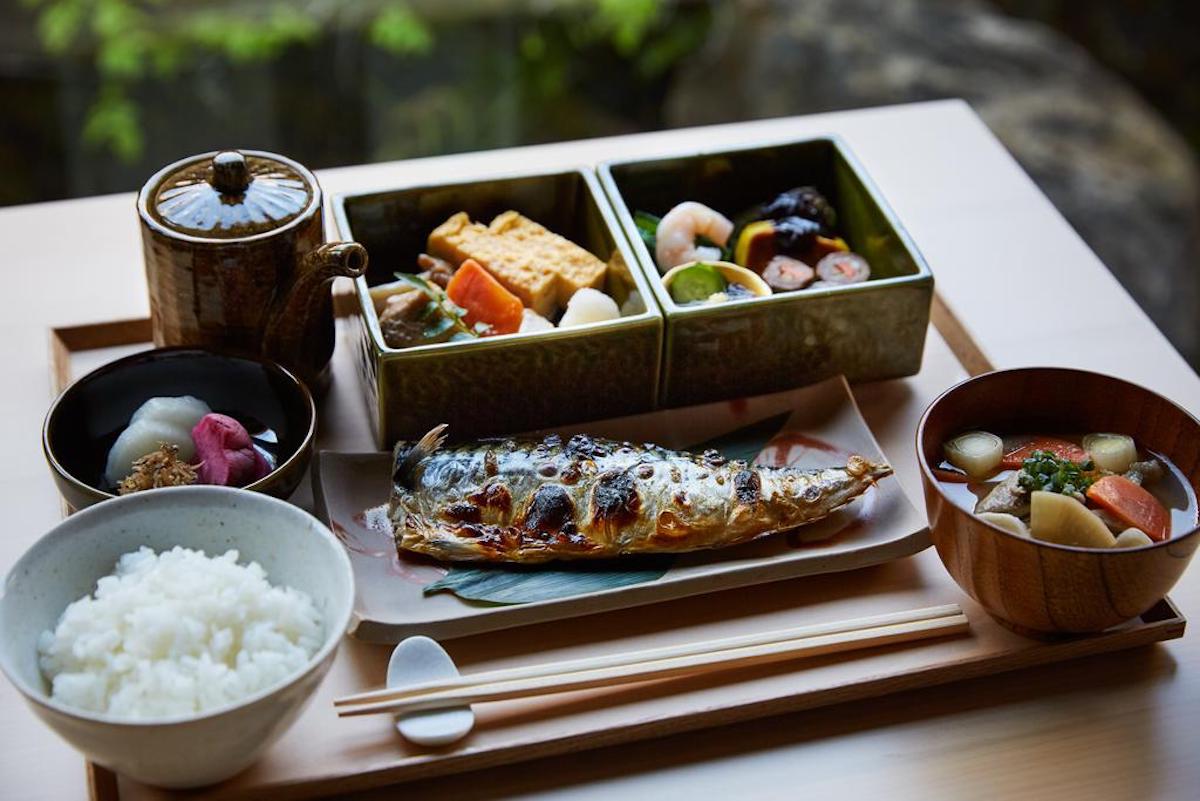 Nacesa & Partners
Urban Oasis
Shinjuku's reputation as an entertainment district might be synonymous with karaoke rooms and non-stop nightlife but located on a quiet street in the fifth district (Shinjuku 5-chome) an easy 15-minute walk from Shinjuku Sanchome and Shinjuku-gyoenmae subway stations, Onsen Ryoken Yuen feels a world away from the hustle and bustle.
Home to a myriad of small bars and restaurants big on post-war albeit quirky charm, the buzzy Golden Gai area is also 8-minutes away on foot. And, should cravings hit for a delicious fluffy egg salad sandwich and bottle of Sapporo, there's a 7-Eleven handily located across the street.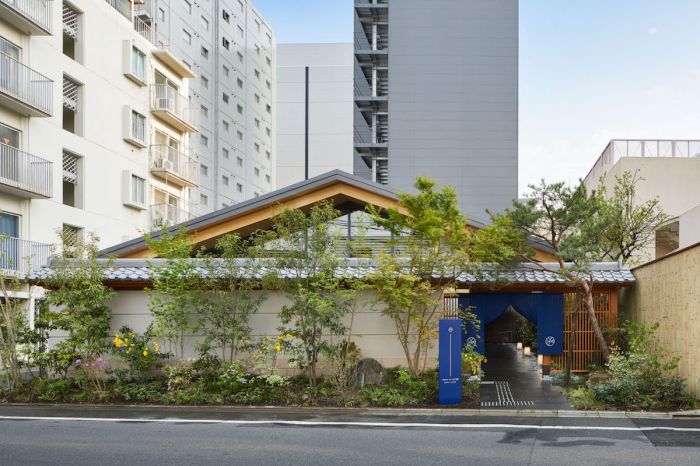 Nacesa & Partners