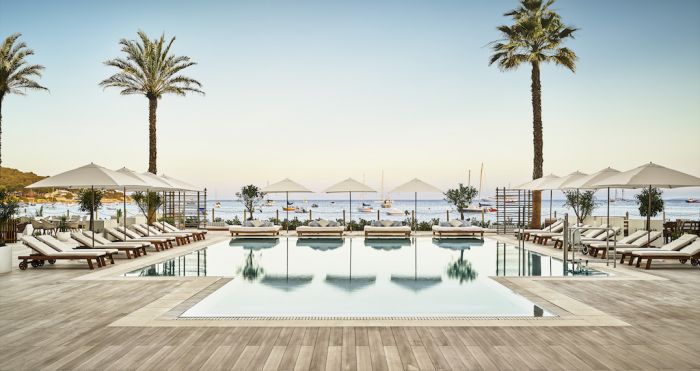 Nobu Hotel Ibiza Bay
When it's safe to travel again, Nobu Hotel Ibiza Bay, Marbella Club, and Hotel Excelsior Venice Lido Resort — will welcome guests back with a treasure trove of exciting, reimagined experiences and offerings, whilst always keeping in mind the safety and comfort of all guests.
Nobu Hotel Ibiza Bay — an imitable five-star Balearic hotspot on the shores of tucked away, Talamanca Bay — has launched their new "Penthouse Ambassadors" program, a luxe add-on to the currently offered, Live the Suite Life package. Here, the hotel enhances its top-line personalized and exclusive services — including breakfast in bed and one daily spa treatment — for guests in the Presidential, Royal, and Penthouse Suites. Minimizing interactions and ensuring a hassle-free stay, appointed ambassadors handle in-room requests, reservations for the hotel's various facilities, currency exchanges, and trips to the pharmacy and grocery store. Due to their spaciousness, the suites offer privacy and seclusion, a perk made possible by intimate individual terraces, the chance to bring the restaurant to the room with your own Nobu chef on-call for in-suite dining, a private bar for libations, and your very own whirlpool tub for self-rejuvenation. Guests looking to leave the premises —while maintaining social distancing due to its small, intimate group size — can sign up for the "Ojo de Ibiza" experience. Not usually open to the public, excursionists will receive a private tour of Dieter Meier vineyard, where in addition to a tasting, they will learn about grapes, the wine-making process, Ibiza's varietal history, and illuminating insight on how their organic red wine is the island's first and highest caliber. Newly reopened, these experiences are available to guests now and through October 2020 for the seasonal closure, and again for next season beginning April 2021.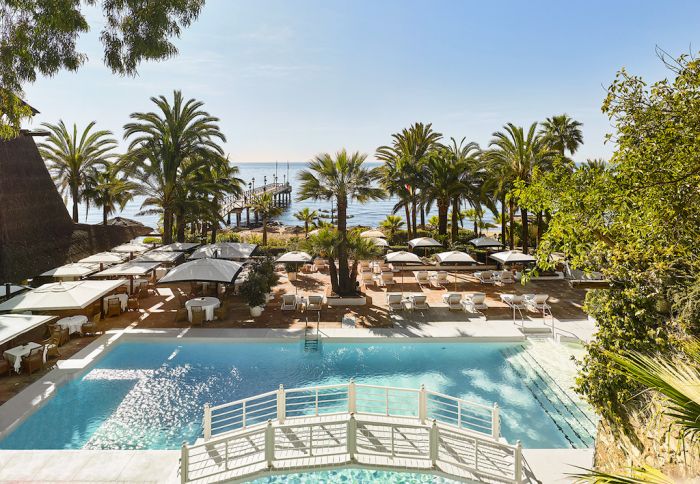 Marbella Club
Spain's timeless beach boutique resort, Marbella Club, has introduced re-imagined experiences that protect the health and safety of Marbella Club guests and staff, without changing the genuinely warm and authentic Andalusian spirit of the resort. Guests can experience new carefully considered packages, including the new multigenerational Family Time package that prioritizes privacy, to help friends and family reconnect after months spent apart, as well as an immune-boosting Restorative Getaway package, which provides a much-needed antidote to quarantine life and embodies the resort's 360-approach to preventative health. Marbella Club's dining venues now offer distanced dining for guests with two set meal times to maximize on space and adhere to distancing. Marbella Club features 13-acres of spacious sub-tropical gardens and vast light-filled private rooms and suites as well as private bungalows and expansive villas – ensuring all guests have enough space to feel comfortable and safe during their stay.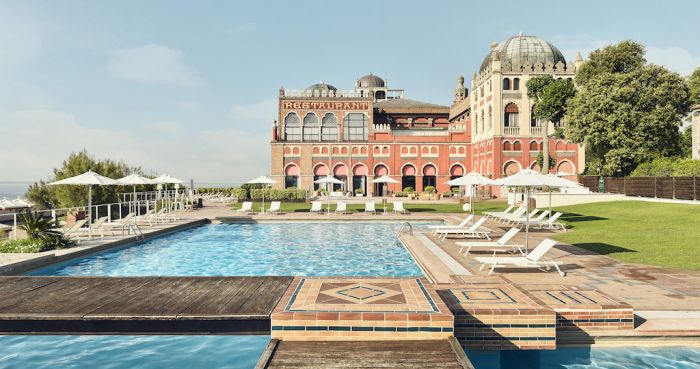 Hotel Excelsior Venice Lido Resort
Hotel Excelsior Venice Lido Resort — a tranquil and self-contained beach resort hideaway on the Venice Lido which reopened on July 11 — features plenty of social distancing space on the property, from the wide-open, private beaches, to the big corridors and the spacious rooms and suites, which are the largest in all of Venice. New this year, guests booking the Adriatic 1-bedroom suites, Lido 2-bedroom suites, and the Iconic suite, will experience the Luxury Ambassador Service, where they will be appointed an ambassador to provide them with a bespoke luxury experience throughout their trip. The Luxury Ambassador Service includes amenities such as a meet & greet transfer by boat, in-suite check-in, daily beach cabana and access to Kids Club, welcome beach drinks, daily training sessions and more. Newly introduced curated experiences tailored to guests' needs include the Beach Package for access to a secluded cabana, which is spaced out across the length of the beach for maximum personal space, so that guests can soak up the Venetian sun, indulge in a personal beauty treatment, or toast at sunset with an aperitif accompanied by typical Venetian "Cicchetti" for an Italian sundown experience. For those guests who want to take the opportunity to enjoy the historical city of Venice at a unique time when tourists are not visiting in droves, the hotel offers a private speed boat service reaching the city in just 15 minutes. These experiences are available to guests now and through October 2020 for the seasonal closure, and again for next season beginning April 2021.